BRAY WANDERERS WANTS to build homes on a redeveloped Carlisle Grounds and then rent them out to fund a new stadium, the club's general manager has said.
Speaking to Fora, Martin O'Connor added that it was only a small section of fans that was opposed to plans to redevelop Bray's home ground.
He said Bray is at an "advanced stage" to buy a suitable property for a new stadium and added that the club's chairman, Gerry Mulvey, will help fund the construction of the facilities.
It's believed that Bray wants to build hundreds of apartments on the Carlisle Grounds, which is located on prime development land in the heart of the town.
O'Connor also accused Wicklow County Council of holding up redevelopment work on the Carlisle Grounds and said that the club does not regret the provocative – and in places bizarre – statement issued last week, which gained international media attention.
"There was a time constraint (in writing the statement), and maybe I could take the blame on that. Within five minutes of it being released we got a call from an FAI official saying he thought our website was hacked," he said.
"Would we do it differently? No. When we issued the statement we got the council (Wicklow County Council) to engage with us, so it worked.
The lack of engagement from the council has been shocking, we had to do that to get them to engage.
Wicklow County Council, which owns the Carlisle Grounds, has confirmed that it has no plans to rezone the site.
Financial problems
The issues at Bray Wanderers first caught public attention when the club's then-chairman Denis O'Connor issued a statement during a match in June that questioned the viability of continuing to run a Premier Division team with poor attendance numbers.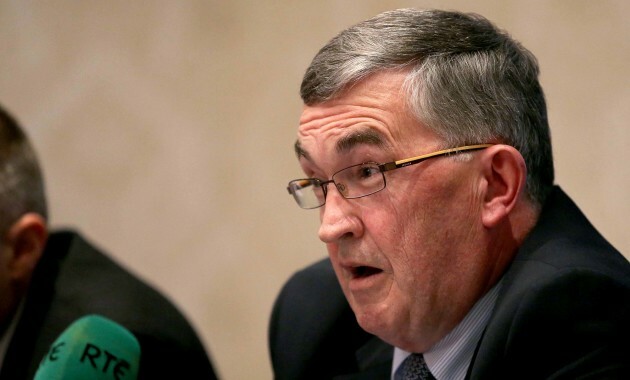 Donall Farmer / INPHO Denis O'Connor Donall Farmer / INPHO / INPHO
In 2015, O'Connor had paired with businessman Mulvey, who was previously the majority owner of St Patrick's Athletic, to take control of Bray Wanderers through their company, Millway Dawn.
At the time, the club was close to the bottom of the league and was plagued by financial and organisational issues. Mulvey and O'Connor spent big on top players and the performances improved, with the team climbing to as high as third in the league.
Former chairman Denis O'Connor issued his statement when it appeared that Mulvey had withdrawn his financial support. Mulvey could not be reached by Fora to comment for this article.
The player's representative body, the PFAI, claimed that players were told that the club only had enough money to cover the next week's wages.
Since then, there has been confusion about the financial situation at the club, with Denis O'Connor resigning as chairman and Mulvey taking his place.
This culminated in the statement issued last week, in which the club branded Wicklow County as "the North Korea for business".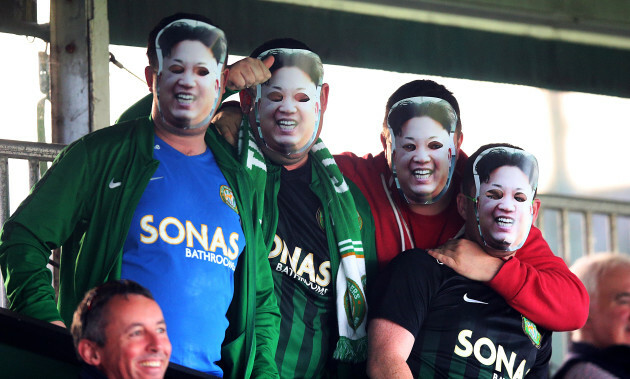 Donall Farmer / INPHO Bray Wanderers supporters Donall Farmer / INPHO / INPHO
Developing the Carlisle Grounds
In the statement, the club said that it will be looking for Wicklow County Council to rezone land at the Carlisle Grounds to help it pay to build a new stadium and academy.
The Carlisle Grounds, the FAI League ground with the longest history as a sports venue, is owned by Wicklow County Council and is leased to Bray for a nominal rent until 2036.
The council almost immediately contradicted Bray's statement, saying the next day that it "has not been approached or had any discussion with Bray Wanderers with regard to the redevelopment of the Carlisle Grounds".
Bray then issued a second statement, in which it said that 'some council members have immediately shot down our proposals'.
Martin O'Connor, who is Denis O'Connor's brother, told Fora that Bray Wanderers has asked the council to consider rezoning the Carlisle Grounds but has received little response from the council.
He confirmed that the 'rezoning' referred to in Bray's statement referred to allowing homes to be built on the grounds.
New homes
The Irish Independent reported this week that the club would like to build as many as 400 apartments at the site.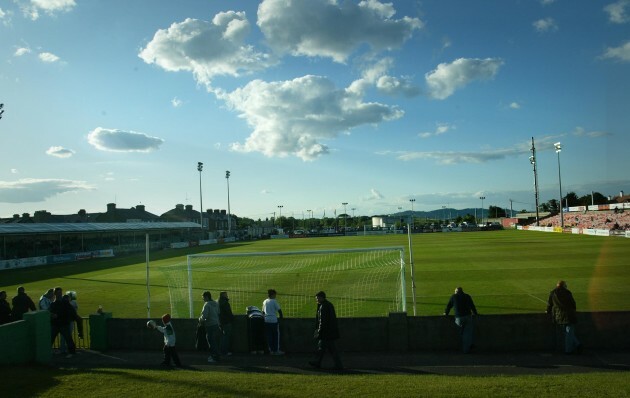 James Crombie / INPHO The Carlisle Grounds James Crombie / INPHO / INPHO
This is likely to prove controversial, with some people close to the club accusing the owners of a property play.
Denis O'Connor has previously told Fora that the club was not planning to redevelop the grounds.
Despite this, Martin O'Connor said: "We want to build residential units on it, residential is where the money is.
"You would sell some of them to fund a new academy, but you would keep some so that you could pay player wages and establish yourself as a top-three side. We have to aspire to challenge Dundalk and Cork."
The plans to move to a new grounds first emerged last year when the club said that it was thinking of building a new 4,500-seater stadium and a new training facility. The Carlisle Grounds has a seated capacity of just over 3,000.
But a spokesman for Wicklow County Council reiterated this week that the local authority had "no plans to sell or rezone the land".
In a statement to Fora, the council said its executive had "never been approached, up until now, by the current O'Connor/Mulvey ownership of the club either verbally or in writing.
"Mr O'Connor previously addressed the Bray and Municipal District Council giving their vision for the club that did not include this proposal. The council's preference is to see the Carlisle Ground used for sporting purposes."
Tommy Dickson / INPHO Bray Wanderers celebrate scoring a goal Tommy Dickson / INPHO / INPHO
When asked about this opposition to the grounds' development, O'Connor said it was coming from "a small group, they are part of the old regime".
"The Carlisle Grounds are not fit for purpose, we've always had a vision to build an elite football academy for Wicklow," he said.
"Everything we do in Carlisle is just sticking a plaster on the problem. There's no cover for away fans and the toilets aren't suitable, you'd be embarrassed to ask your wife or girlfriend to go there."
Bray financial backing
Martin O'Connor said that the initial statement that his brother released in June was prompted because of short-term financial issues.
"I think that the mistake we made was telling the players. If we hadn't been upfront they would've been paid, and no-one would've been any the wiser," he said.
O'Connor claimed that the club is in "advanced negotiations" to buy a site on which to build a new stadium, however he declined to say where the new grounds would be located.
It would be remiss of me to go into the location in case it would not helpful to discussions, but they were at an advanced stage to acquire a suitable property.
He said that the construction of a new stadium would be largely funded by the hypothetical proceeds from selling and renting apartments on the Carlisle Grounds, as well as from Mulvey.
"There is no sheik, no Chinese investors. We've got business heads on us, and Gerry Mulvey is the money man for Bray Wanderers," he said.
Sign up to our newsletter to receive a regular digest of Fora's top articles delivered to your inbox.
Written by Paul O'Donoghue and posted on Fora.ie
Written by Fora Staff and posted on TheJournal.ie