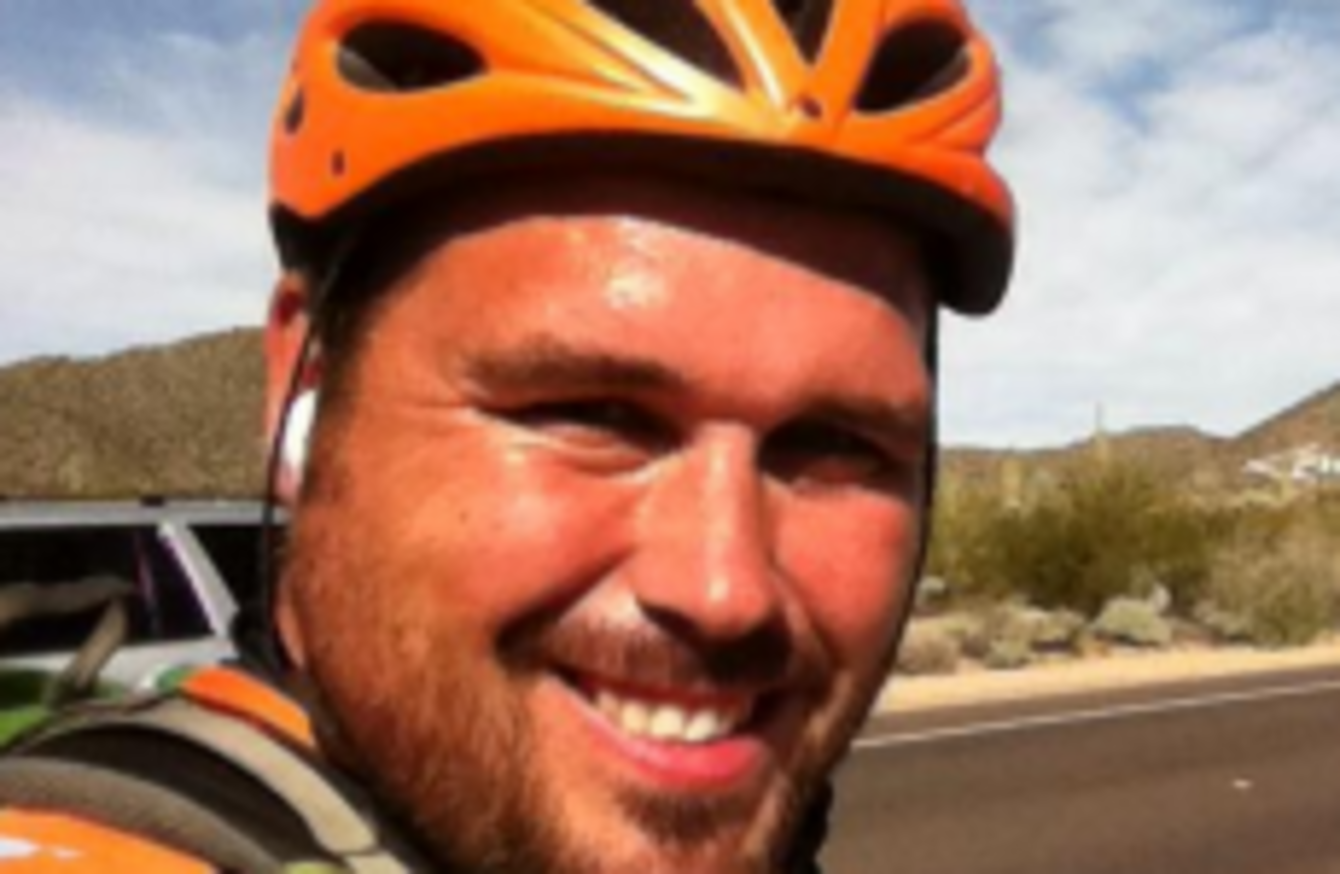 Earley has been cycling around the world for the past year.
Earley has been cycling around the world for the past year.
WHEN BREIFNE EARLEY picks up the phone to The42, he sounds excited.
The 33-year-old Leitrim man is speaking to us from Flagstaff, Arizona, and promptly reveals that he is on his way to the Grand Canyon. He sounds happy, confident and full of life — a stark contrast from the situation Earley found himself in just over four years previously.
Back in 2010, Earley was at his lowest ebb. He was overweight, single, bitterly unhappy and working in a job he had become disillusioned with, and as consequence of these issues, he began to contemplate suicide.
"I was in my room one night thinking about how I was going to take my life and a few things happened that changed my mind — a text message from a family member, a conversation I had the previous day, a movie I watched —

The Bucket List

— starring Jack Nicholson and Morgan Freeman. And a few other things happened, so I decided I wasn't going to take my own life."
From this dark experience, Earley ultimately emerged with a new outlook on life. The date was 10/10/2010, so to commemorate the occasion, he set himself 10 challenges for the coming months. They included losing weight, going on a blind date every week, visiting 10 new countries, saving 10% of his salary, getting a new job, running a marathon, learning to swim and doing a triathlon. And by 2011, all these aims had been achieved.
He developed a love for cycling in particular, and soon came across Cycle Against Suicide — an initiative established in 2012 by Irish entrepreneur, Jim Breen, which aims to promote mental health, as its title suggests.
Source: PedalThePlanetTV/YouTube
Earley participated in one of the organisation's cycles in 2013, and their core message immediately had a huge impact on him.
"That organisation was about motivating people to choose to live rather than taking their own life, and I decided that was an organisation I wanted to be involved with," he explains. "I approached them with the idea of cycling around the world, and Jim couldn't have been more supportive."
A year on, and Earley has completed a substantial part of this formidable 18,000-mile journey. Moreover, of the four individuals who started the challenge, he is the only one who has yet to give up.
"One person pulled out after a week, one lasted a month and the final person got disqualified for taking a taxi. This is the second time they'd organised the race and 11 had started in 2012, and only three finished. With only three finishing, 25% is about the average. So hopefully I finish — I do plan to."
And while he often finds himself alone during this arduous challenge, Earley seldom feels in anyway isolated. In fact, he invariably enjoys the solitude that the experience regularly entails.
"I like being on my own, whether it's in the desert or the mountains or along the bank of a river — most of the time, the view is absolutely spectacular. And it gives you time to think and plan and get your head around the situation."
However, notwithstanding all this breathtaking scenery, Earley barely hesitates when asked what's been the highlight of his trip so far.
"The people," he says. "They've really restored my faith in humanity. The goodness and generosity I've received from people at home and people I've met has been phenomenal."
Finding places to stay at night has therefore rarely been a problem. If all else fails, he checks into a cheap motel, but often, he'll be granted a room to stay in free of charge for the night from one of the countless individuals he has befriended during his extraordinary journey.
(Earley meets Pádraig Harrington in Arizona)
Earley cites one specific example highlighting the level of warmth that he has routinely been afforded from complete strangers over the course of the past 12 months.
"I pulled into a bicycle shop in San Diego, as I had a tyre problem," he recalls. "An American guy came over to say 'hello' and asked me where I was from, and I said I was Irish. He then asked me if I spoke Irish and I said that I did. He then said: 'Conas atá tú?' And then I spoke back to him, but he confessed that he only had one or two phrases.
"But I got chatting to him and two other guys. One of them had two parents from Galway and being a Connacht man, I was able to identify with him quite closely. But two of the guys lived in Phoenix and they offered me a place to stay, tickets to the Phoenix Open (where he proceeded to meet Pádraig Harrington), and one of them even had a sushi restaurant — he looked after me with a lovely meal.
"These people opened their home for me and it felt like I was part of their family for the duration of the time I was in Phoenix. And I've had that experience with countless people in countless countries — the colour of my skin, my religion, where I'm from… It hasn't come into consideration, no matter what country I am in. It's been just about one human helping another."
Yet although there has been no shortage of life-affirming moments for Earley throughout his travels, that is not to say the trip has been an unremittingly positive experience. The Leitrim native has had to deal with sickness, robberies and crashes among other significant obstacles. Mental and physical fatigue also make life difficult at times — on average, he cycles 500-600km per week, and only takes breaks "when my body tells me to".
(The Pacific Ocean at dusk — one of the many stunning sights Earley has seen over the course of his journey)
"I was in India climbing a mountain, with no water or food in 45-degree heat. And it was a similar situation when I was climbing a mountain in New Zealand and I'd just left a group of friends, and I really didn't want to get back on the bike. So for maybe five or 10 minutes, I lost hope. But overall, in the year that I've been away, I don't think there's ever been a serious thought about coming home.
"I look at the situation I was in four-and-a-half years ago, when I almost took my own life, and I think I'm now in a position where I can cycle around the world and say I've done that. I'm doing it as much for myself as for other people — to show that no matter how dark your situation is, no matter how bad life appears to be, there is always a bit of daylight at the end of the tunnel and if you work with people, and ask people for help, you can make a difference in your own life.
"Just talk, open up and relax, and you'll be amazed at the support you get, because I've received the most unbelievable support from so many people over the last four-and-a-half years — I wouldn't be here without them."
Getting regular exercise and becoming physically fit, Earley says, has played a key part in his recovery. It's a pertinent issue, especially from an Irish perspective, with childhood obesity reaching unprecedented levels, and figures last year suggesting that only 12% of 10-18 year olds in the country meet the Department of Health and Children's physical activity recommendations of at least one hour of moderate-to-vigorous exercise per day.
Source: RTENewsNow/YouTube
However, Earley is also eager not to simplify the problem and present exercise as a guaranteed solution to people's mental health issues.
"It's very important to realise that we're not all the same and each of us has different situations, but it certainly helps if you're in a fit body. I have a lot of friends who say cycling and physical activity keeps them sane, and it's definitely that way with me too.
"The experience I have when I'm on a bike or when I go for a run or a swim — that's what gets me in a good humour. If I'm having a bad day and I get on a bike, it feels better immediately. Knowing now that I can go for a swim or a hike or a run and not be worrying and thinking: 'Will I actually be able to do that' — it's huge.
"It's also about self-confidence. I used to be very conscious about my weight and my physical appearance, but now, it's not the case. I just get on with it and it doesn't worry me. But it's taken me a lot of years to get to the situation where I genuinely don't care about my appearance, or what people think of me, or what I think they think of me.
"But people are different. They need to find out what pushes their buttons, whether it's physical exercise, or medication, or talking to people, or getting therapy. But it's important that they ask for that help."
With well over half his journey complete, the end is now in sight for Earley. He will be back in Ireland in April for the Cycle Against Suicide, and is subsequently due to finish up in London around mid-June, following a stint in Spain.
But despite being away for a whole year at this stage, his family and friends aside, there is little he misses about normal day-to-day life.
"Today, I'm in beautiful Flagstaff, standing by the National Park mountains, on my way to see the Grand Canyon," he says. "The alternative, if I was at home, would be sitting at a desk, doing the same job I was doing five years ago. But this has been a huge experience for me in terms of what's out there — you don't have to continue to stay in the rough. It's possible to change your life and it's possible to make any bad situation better, and I'm living proof of that."
You can like Breifne's page on Facebook here and follow him on Twitter here. For more information on Cycle Against Suicide, click here.
*************************
If you have been affected by any of the issues in this article, please contact one of the following helplines:
Samaritans 116123 or email jo@samaritans.org
Teen-Line Ireland 1800 833 634
Console 1800 247 247
Aware 1890 303 302
Pieta House 01 601 0000 or email mary@pieta.ie
Childline 1800 66 66 66