OFFALY NATIVE BRIAN Gavin has announced his retirement from inter-county refereeing.
Gavin was one of the highest profile officials in the game, taking charge of four All-Ireland senior hurling finals between 2011 and 2016.
The 40-year-old told GAA.ie that the physical demands of refereeing at the highest level was behind his decision to call it a day.
"I'll definitely miss it, there's no doubt, but I just feel I've come to the right decision," he said.
"It's getting harder every year. Even though I'm only 40 I'm still 20 years older than some of the players, so it's getting tougher and tougher.
"I really enjoyed my time, I had four All-Ireland finals and four Munster finals. I'd probably say now I would have liked to get five All-Irelands, but when I started off I would have been thrilled with even one, never mind four. So, I definitely have no regrets.
"The modern player is so fit now it's just unbelievable. It's a challenge for referees as well to raise their standards but I have to say in the last 10 or 15 years that the standard of fitness of referees has gone well up above wherever it was and you can see it now in matches because referees are covering between 10 and 12km.
"I think in the 2016 All-Ireland hurling final I covered 11km. I'd be a big broad fella and it would take a lot of work to get me fit but when I got fit I could maintain it.
"I never felt as good as I did that time. I remember in the last five minutes I was just really flying, and that's because I'd done a lot of work that year.
"Referees just have to do that hard work every year and repeating that hard work over a long period of time is the difficult part."
Brian Gavin's All-Ireland hurling finals

2011 – Kilkenny v Tipperary
2013 – Clare v Cork
2014 – Kilkenny v Tipperary (replay)
2016 – Kilkenny v Tipperary
The Clara clubman used the same four umpires for the vast majority of his career – his father Michael, his brother David, his fellow Clara club-man William Flynn, and Ferbane-Belmont club-man PJ Lawlor.
"I'd say there were only one or two occasions when one of them might have been on holidays and I had to use someone else," said Gavin.
"They've been with me since day one. People in refereeing would understand when I say reliable umpires are crucial to have. One or two bad umpires could bring you down, but I was steeped lucky with the four lads I have.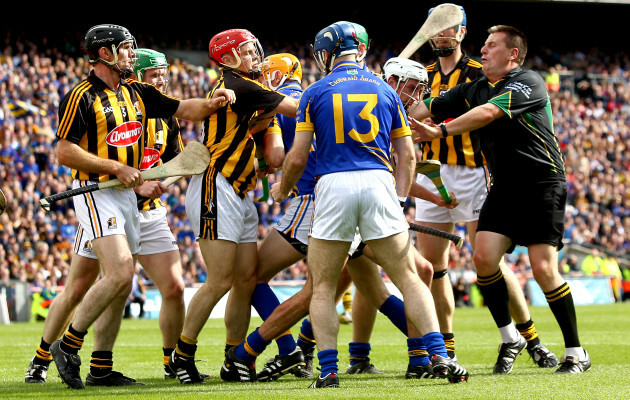 James Crombie / INPHO James Crombie / INPHO / INPHO
"And luckily enough one of them was my father and one of them was brother which always added to All-Ireland finals because my brother would have brought his family as well. We had marvellous days, especially in the build up to the All-Irelands."
He said his most memorable game to referee was the 2013 All-Ireland hurling qualifier between Kilkenny and Tipperary in Nowlan Park. He famously received the end of Tommy Walsh's hurley to the nose during the 2011 All-Ireland final between the same two counties.
In total he refereed 38 All-Ireland SHC games between 2004 and 2017, including the four All-Ireland deciders, plus four Munster finals, and one All-Ireland U21, minor, club and Division 1 league final.
Gavin is currently the chairman of his native Clara, while he's also part of Midlands 103′s GAA coverage.
The42 has just published its first book, Behind The Lines, a collection of some of the year's best sports stories. Pick up your copy in Eason's, or order it here today (€10):