AHEAD OF THE interview, Caradh O'Donovan and I both order a coffee.
The hot beverages arrive moments later, each with a complimentary biscuit that is not much bigger than a piece on a draughts board.
"You can have it," O'Donovan says, pointing to the tiny snack.
Her words provide a small insight into the level of discipline top-level athletes must routinely adhere to. O'Donovan is in the middle of cutting weight for her sport. Sugary products, no matter how minuscule, should be avoided.
It is far from the only sacrifice she has made in pursuit of athletic excellence — a journey she began unwittingly while growing up in her native Sligo.
"I loved every sport, but I couldn't join the football club," she tells The42. "I went to try to join the local GAA side and they just didn't have a girls' team. I was told 'no, get out'.
"It didn't happen for me — I know I'm going back 20 years ago or whatever.
So for me, there was no option there. I went down to the kickboxing club and I thought 'this is going to be the same thing, they're going to tell me they don't have girls,' and they didn't really. But the coach there was brilliant and just said come on in.
"So I trained there for the first couple of years with mostly boys.
"I just loved that sport from the start and when you're 12, you're not really thinking about opportunities like 'will it be professional' or 'will I get to the Olympic Games'. You're just like: 'This is fun, this is great, I'm winning, so I'll keep doing it.'
"I played other sports in school like basketball or a bit of athletics, but we didn't have much facilities — running around the car park was your athletics training.
"But I think I was just born fighting, to be honest. I'm definitely more of an individual sport (person). I've struggled with team sports. I guess there's always the pressure of having to perform for someone else, but also relying on other people to pull together.
I think it was all chance that I ended up with (kickboxing)."
O'Donovan's fiercely competitive nature ultimately drove this precocious talent to become a star of her chosen sport. During her time as a kickboxer, she enjoyed countless memorable moments, winning World Cups, becoming a European Champion, picking up nine Irish Open titles, earning three bronze medals at the World Association of Kickboxing Organisations (WAKO) World Championships, as well as claiming world titles under different kickboxing bodies such as The WKC (World Karate and Kickboxing Commission). In addition, as recently as last year, she was ranked as the world number two in the sport.
The accomplished Irish athlete achieved all these impressive feats over the course of more than a decade, while she was either managing a job or studying in college simultaneously.
O'Donovan competing in the Point Fighting Cup.
When she's not immersed in training, the 33-year-old currently works as an athlete mentor with the Dame Kelly Holmes Trust and the Sports for Schools scheme, which launches in Ireland later this month. Importantly, both guarantee flexible hours to accommodate her intensive training schedule.
Previously, O'Donovan has been employed in administrative roles with both Special Olympics Ireland and the Irish Athletic Boxing Association.
"I came in the year before Rio," she says of her role with IABA.
The media side of it, I couldn't believe the difference of what the reality was and what you'd read in the paper the next day.
"What was really incredible was to see the level of training, the level of performances, even though Rio didn't pan out well. Prior to that, the World Championships the year before was incredible. And there was that really high level, yet behind the scenes it was just mental. How they did that, and how the coaches were able to keep that in the boxers was phenomenal.
"I left a week or two before they got on the plane to go (to the Olympics). It was making me sick. I was working so many hours and it was nothing really to do with what was going on with the boxing, it was a personal decision, I was going to focus more on training. I was going to have to give up one or the other — I was going to have to stop being an athlete or not focus on the career. I was a bit burnt out. I decided I no longer wanted to work in that kind of area.
Had I known there were issues around Billy Walsh and the organisation, I probably wouldn't have taken the job. It was my dream to work with him for a long time. He was the best coach that there was.
"When I started working with (Billy), he was under so much pressure. I probably didn't see the best of him, but it was an incredible experience to be there for the year and I met some amazing people."
And what of the infamous controversy that ultimately prompted Walsh to leave the set-up and link up with Team USA?
"I didn't see any of that coming and then all of a sudden, I had started and you realise there are two clear sides, there's them and us. It was quite intimidating to go into that environment.
"I worked in the high-performance unit, my direct manager was the CEO, so I was kind of torn between (the two).
"I loved (the chief executive) Fergal Carruth, he was very good to me. A lot of people got an awful lot of stick but I have great respect for what he was trying to do. I probably don't agree with all the stuff that went on throughout that time, but I don't want to take issue with either side.
I felt gutted for them seeing how things went over (in Rio) after how hard they worked. The training those guys had done — even though I didn't work there anymore, it was heart-breaking to watch.
"It was probably one of the biggest learning curves that I've ever had. You get to see how the whole system works, how they send a team to the Olympic Games. It was a great experience, even though it was a controversial time in (Irish) sporting history."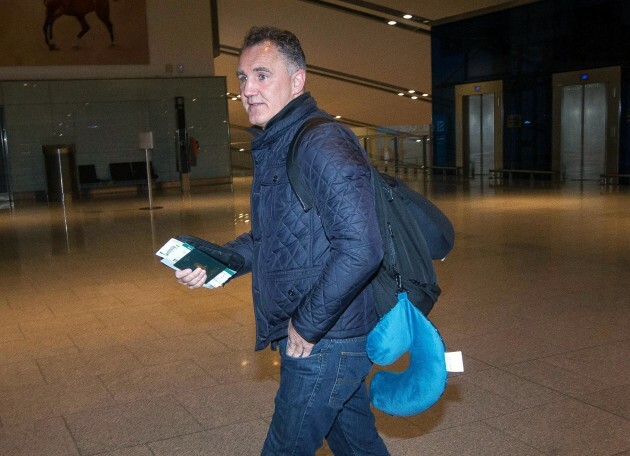 Ryan Byrne / INPHO O'Donovan worked for IABA and witnessed some of the problems that led to Billy Walsh's departure. Ryan Byrne / INPHO / INPHO
Before the IABA experience, O'Donovan had completed a Sports Management course in University College Dublin as well as a Sports Psychology master's in Waterford Institute of Technology. The latter was particularly helpful in her athletic pursuits.
"Not only did I learn what's going on with myself and all the thoughts you have prior to competitions, you learn different ways to cope with stress or anxiety, and you're getting an awful lot of insight into your opposition as well, learning what the physical signs of anxiety are.
"It's really good for analysing your opponents and learning the skills to deal with any kind of stress or anxiety or mind games, which is a huge part of competitive sport."
While this background may give O'Donovan a slight edge in the mental stakes, she strongly suspects certain opponents are gaining an advantage over her by less respectable means.
Some people may assume a sport such as kickboxing would be less prone to attracting drug cheats, given that there is far less money to be earned compared with the more high-profile likes of cycling and athletics. O'Donovan, however, thinks otherwise.
I've seen it with my own eyes," she says. "I've seen people try to make weight in kickboxing. They're not getting money for it, they just want to win at all costs. There are one or two people who are blatantly cheating that I've seen and it absolutely boils my blood.
"The rest of us are all in the same boat, we all to have to make weight. That's one of the major reasons you would go into the doping side of it in combat sport. You just see people who are cutting drastic weight in about two weeks and then they recover within five minutes.
"You're doing it the legitimate way and you see people making miraculous injury recoveries. Sometimes you do raise a few eyebrows — I have absolutely no time for it. I'd like to believe that most people are honest and doing it the right way, but there are always one or two that ruin it for everybody.
I think it comes down to your character. Obviously, a huge amount of it is about money, but in every industry and in every sport, there's going to be people who have to win so badly that they'll do anything. There's no limit to what they'll do, even if it's not a huge reward — that's what it comes down to."
Despite these perceived obstacles, O'Donovan has managed to prevail more often than not when competing. Nevertheless, in 2014, she encountered a challenge of a different sort as her life was turned on its head.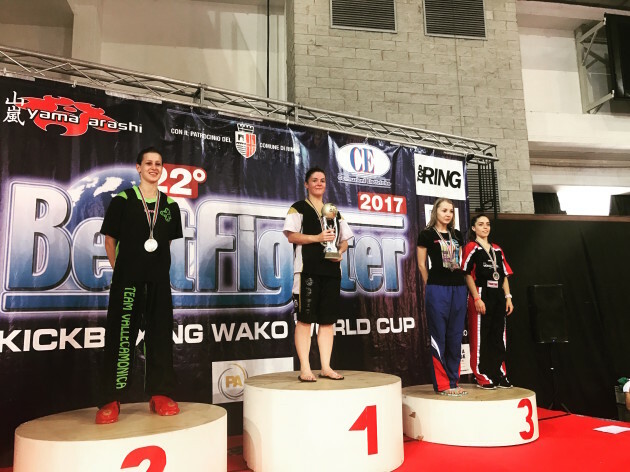 O'Donovan pictured on the podium at the World Cup in 2017.
The beleaguered star had been ill quite regularly for years, but this problem came to a head during a week-long holiday to the Canary Islands with her mother and sister. She spent virtually all of the trip in the bathroom vomiting blood and suffering diarrhoea while sitting on the toilet for hours. Her mother eventually caught her crawling out of the bathroom. Both began to cry during this distressing moment and O'Donovan eventually decided to address the issue having hidden these problems from those closest to her for so long.
The kickboxing star was subsequently brought to a hospital where she was diagnosed with Crohn's disease, which is described by the Health Service Executive's official website as "a chronic (long-term) condition that causes inflammation of the lining of the digestive system".
The website adds: "The cause of Crohn's disease is unknown. However, research suggests that a combination of environmental and genetic factors is responsible for (its onset)."
O'Donovan says the fact that the disease simply could not be eradicated was "the hardest thing I had to accept".
She adds: "It was more a case of 'you're just going to have to deal with it, there is no cure for it…' This was going to be something that would affect me forever."
What was remarkable was that she had still enjoyed such success in the kickboxing world despite being sick for "most of my 20s really".
When I looked back and think of the pain I was in, I don't know how I did it," she says. "I was literally spending hours vomiting and five minutes later, I'd have to go and compete.
"I never really spoke about it. I hated having that excuse for why you lose: 'Oh, I was sick.' It sounds like you're being a bad loser, but really, that was what was going on.
"You want to be a little bit humble or gracious in defeat so you just say 'well done'. At the same time, I got so bad that I just did nothing about it.
"Now I've kind of learned how to manage it. I take medication every week. I have a really good team — my GP and doctors in St Vincent's are brilliant. I'm so lucky that if something goes wrong, they'll help me.
"I've learned what I can and can't eat. So I'm managing it much better. I just have to decide that if it just shows up one day, that's it. I'll just need to deal with that when it comes to it. Touch wood everything's going great (at the moment)."
Following a period of rehabilitation, O'Donovan returned to kickboxing and got back to her best, winning titles and continuing to dominate opponents having dealt with this serious setback. It continues to linger in the background, of course, but she is now well versed in combating the disease's effects.
"I'd go into Vincent's every three months, but that's probably no more often than most athletes would visit their GP to get flu vaccines and stuff like that, because the medication I take to keep the Crohn's under control weakens my immune system, so when somebody has a cold, I'm like (keep away from me).
But it's still worth the trade-off. 10 flus is nothing compared to a flare up of Crohn's disease. I'm lucky that I take an injection for it — that's all permitted under the WADA (World Anti-Doping Agency) rules. I don't even need to worry about TUEs (an exemption to allow use of a banned substance for therapeutic purposes) or anything at the minute."
O'Donovan adds that this increased awareness of its limitations has given her body a new lease of life, ostensibly helping the Irish athlete to become a stronger competitor in the process.
"I'm in my 30s and I feel fitter and healthier now than I was 10 years ago. At the minute, I feel like I can go for another 10 years. And I still think I've yet to get to my best in sport, so I'm excited."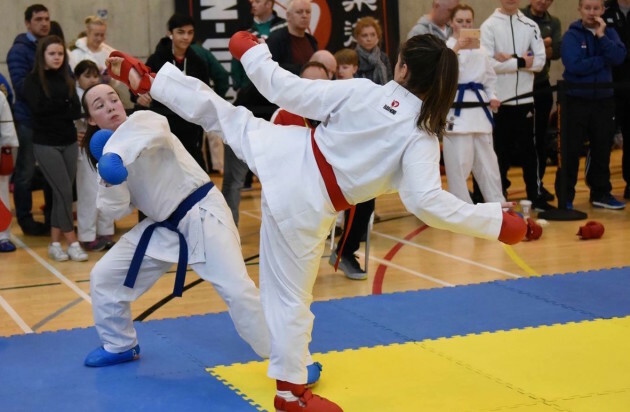 O'Donovan pictured competing in karate.
The difficult experience in getting to this point prompted O'Donovan to reassess her life to a degree. Missing the odd kickboxing tournament no longer seemed like the end of the world. Last year, almost as a hobby on the side initially, she took up karate.
"At the time, I thought it would be nice to have something that's not stressful or not really competitive, because kickboxing had become quite stressful. It was all 'you have to win, you have to win' — pressure I was probably putting on myself. So I was thinking I'd try something else two or three days a week. I knew it would have to be something that I would be fairly decent at. The two sports are similar.
"Within about six weeks or two months, I decided I'm going to compete. I'm just competitive by nature, so I entered the senior national championships and I won that. Then I just thought: 'This is something that I'm really starting to enjoy.'
Throughout the summer, I was losing interest in kickboxing, I didn't have a passion for it anymore.
"While I'd been involved in a kickboxing, we'd always been told we're nearly there, Olympic recognition is going to come in. Since I was 12, that's what I've been talking about.
"It got to the stage where I thought: 'This isn't going to happen in my time, I love this new sport, why don't I just focus 100% on this and go for it?' After a couple of internationals as well, I realised I'm close to the mark and I'm only half training.
"If I was to stop splitting my focus between the two sports and just focus 100% on (karate), I had no doubt that I'd start winning medals pretty quickly, so that was the decision behind it."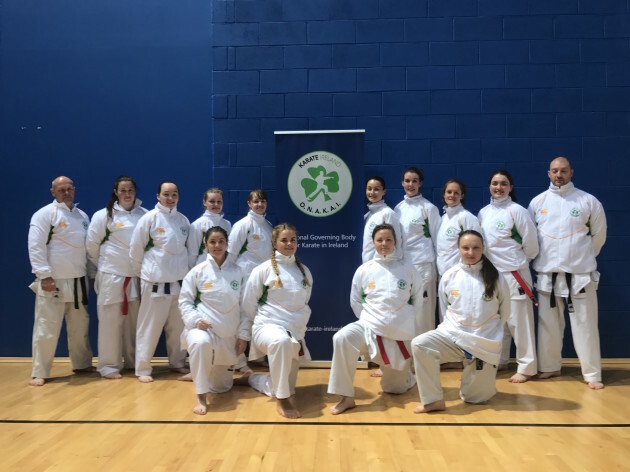 O'Donovan pictured with the senior women's karate team.
The change was a fairly big one. In August 2016, it was confirmed that for the first time ever, karate would be part of the Olympic Games in 2020. The announcement ultimately paved the way for O'Donovan to switch sports and start attempting to qualify for Tokyo.
I thought I loved kickboxing and I did really, but I've never found a sport that I loved as much and I can't believe it's taken me until my 30s. So because I love it so much, (the transition has) been quite easy.
"It's been challenging trying to learn the differences between them — one of the biggest differences and the one that affects me the most is that it's only one two-minute round in karate, whereas I'm used to having three two-minute rounds.
"I would have probably been a slow starter. I might give away a few points or spend a minute or 30 seconds trying to suss out my opponent or what the tactics are and you just don't have the time in this sport to do it. That's the biggest reality check. If you give away a point in the first 30 seconds, you're most likely going to lose that fight.
"It's really hard to get points back, so that was a challenge, as was learning about the contact. Kickboxing is full contact, this is far more limited. It's much more controlled — that was the biggest challenge for the first six months. I was probably knocking people out and getting in trouble for it, so I think I've got (to grips with) all that now.
"Since my last competition, I've been training every day in this sport. I've a competition next week and I'm really confident that I'm going to take a gold medal at that one.
It's exactly a year (since I took up the sport), but only about three months since I started training properly. Olympic qualification starts in July, though you need to have a really high ranking before the qualification period opens. This year is going to be mental, travelling as much as I can afford to basically."
Not for the first time in her life, the odds are stacked against O'Donovan. She receives no funding from Sport Ireland and hopes to attract more sponsors to support her ambition. As a latecomer to the sport, some may doubt whether her dream of reaching Tokyo is achievable. However, her unshakeable self-confidence is clear and that quality, coupled with a voracious work ethic, has silenced plenty of naysayers in the past.
"It's obviously going to be difficult to get to, as there are only two places available, but that's always been the dream. The dream has been to get the medal at the Olympics, the medal that I don't have. Part of it will be qualifying for the Olympics, but really I'm only in it to make sure I get a medal. I could die happy if that happens."
The42 has just published its first book, Behind The Lines, a collection of some of the year's best sports stories. Pick up your copy in Eason's, or order it here today (€10):