JOHN MUPRHY WAS first drafted in when Liam Hayes was in charge in 2005.
He made his debut under Paul Bealin's stewardship in 2008.
And now 13 years after he started life as a Carlow senior footballer, is embracing his best opportunity to reach a Leinster final with Turlough O'Brien at the helm.
Carlow's last outing on Leinster semi-final day was a forgettable one, shipping four goals as part of a 14-point beating to Wexford in 2011.
Murphy was pitched in for the last ten minutes that day, he's a mainstay in the Carlow team seven seasons on as they prepare to face Laois on the last four stage next Sunday.
Committing to the Carlow cause was not always a straightforward decision, weighing up the unstinting effort required with the prospect of scant reward in return.
"You would (question it), especially when you've dark days there and you've been hammered and people go back to the club," reflects Murphy.
"I was living in Dublin, I was in college and then working there, and it's hard work to motivate yourself.
"But then come November-December time, you just kinda fall back into it. You miss it and everyone starts talking about football again, and you just say, 'Yeah, sure I'll give it another go'.
"The biggest day before the Kildare win would have been against Louth in 2011, (before) the Wexford semi-final. Louth had the Leinster final in 2010 against Meath, so that was their next game back then and we caught them on the hop.
"For ourselves that was a great win, through to the Leinster semi-final, the first time for Carlow in a long time. But I suppose that year we got a bye in the first round and didn't have great form coming into it.
"This time we have great form coming into it after beating Louth and then beating Kildare, so we're a lot more confident and there's a lot more belief in us."
He pinpoints the day that Carlow changed course on their championship road as a Sunday in mid May in 2016.
They were soundly beaten by Louth and given they had shipped 2-24, it wasn't difficult to find the root of their problems when they went through the post-mortem.
"They hammered us and we were wide open at the back and they just cleaned us out.
"And then we just said, 'Ah here, something has to change', because basically it was like I was centre-back and Ledge (Daniel St Ledger) was full-back, and it was just open season.
"We just basically had two defenders, everyone was caught up the field. They were playing a defensive game plan and we fell hook, line and sinker for it.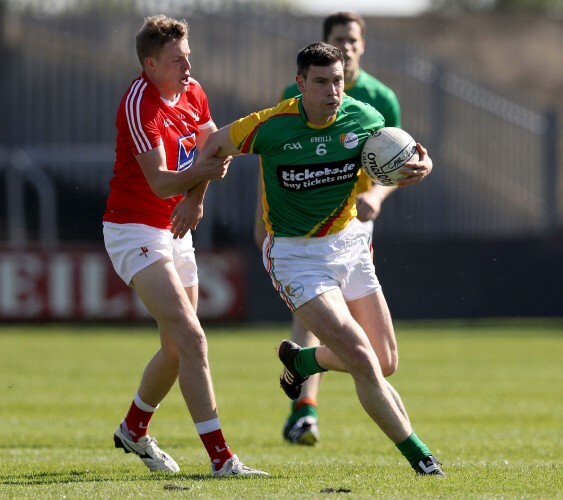 Ryan Byrne / INPHO Louth's Jim McEneaney and John Murphy of Carlow in opposition in 2016. Ryan Byrne / INPHO / INPHO
"So then we played Wicklow, and we set up a more defensive structure against Wicklow, and we beat them in the qualifier. Then we went up to Cavan with a depleted team, we had a few injuries and suspensions, and Cavan beat us by five points.
"But we got a lot of belief that day because we played badly and if we were any good at all, we would have got over the line. It was kinda one of those days when you're walking off the day, saying, 'Jeez, we really should have won that game'. They probably underestimated us.
"So I think to lose the second round qualifier was disappointing, but we felt we were onto something. Stevie (Poacher) was after doing one or two training sessions and there was talk of him going to be around more often the following year, so you're thinking, 'Okay next year could a real positive if he sticks around'."
And they made incremental progress. They ended last year's league under a cloud of disappointment before building up some momentum as they careered through the championship.
A couple of qualifier wins, a couple of marquee days in front of the Sky Sports cameras and then they attacked the 2018 season with sufficient vigour to realise their league promotion goal.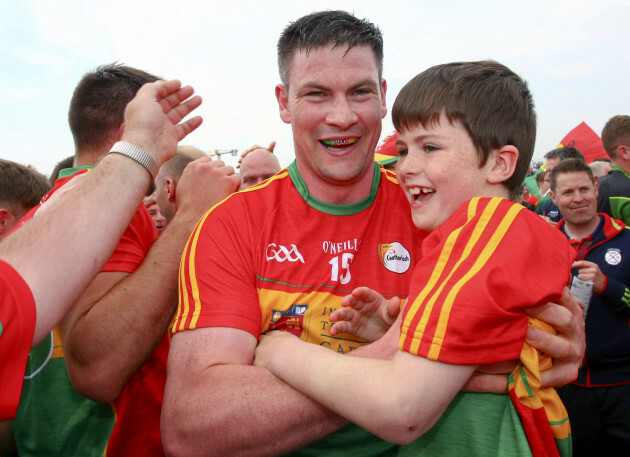 Ken Sutton / INPHO John Murphy celebrates Carlow's win over Kildare in Tullamore. Ken Sutton / INPHO / INPHO
Colliding with neighbours Laois on Sunday adds some spice into the pre-match mix.
"I got married last year, and my wife (Ciara) and all her family is from Laois so there's great craic there. I think I have her turned now at this stage, but we'll see on Sunday!
"They all went to school in Carlow, they all go out in Carlow, so there is a massive crossover. I'd know a few of the Laois lads so it all adds to it, it's all about the rivalry."
Laois overturned Carlow twice in league jousts in the spring but on Leinster quarter-final weekend, Murphy had a clear sense of what pairing he desired in a semi-final.
"There's great craic to it. I'd prefer to be playing Laois in a Leinster semi-final than Westmeath because I don't really know that many people from Westmeath.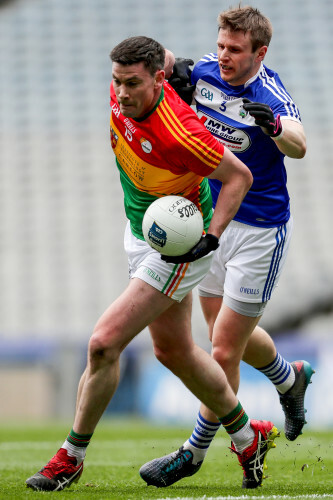 Laszlo Geczo / INPHO Carlow's John Murphy and Mark Timmons of Laois in action in the Division 4 league final. Laszlo Geczo / INPHO / INPHO
"On (the) Saturday evening I was following the game on Twitter and hoping Laois would advance.
"I went into work on Monday and I can't say it was the most productive day in the world, you just kind of end up reading papers and going through the game again in your head. I was delighted, thrilled to bits.
"The fact that we're playing Laois makes it easier to keep the heads. To get one over them would be ideal, now."
Carlow are aiming to end a 74-year wait for a Leinster final spot. Murphy has spent enough seasons in the doldrums to appreciate the magnitude of this chance.
Time to seize it.
The42 is on Instagram! Tap the button below on your phone to follow us!