'PRESSURE MAKES DIAMONDS,' Cian Healy told us once upon a time.
Ireland's loosehead prop is usually good for a succinct motivational mantra, but there's no snappy sayings this week. For Healy, there's no room for looking back at the World Cup clash between the sides or a sense that the notorious defeat in 2013 will ward off complacency. Only a firm focus on the challenge at hand.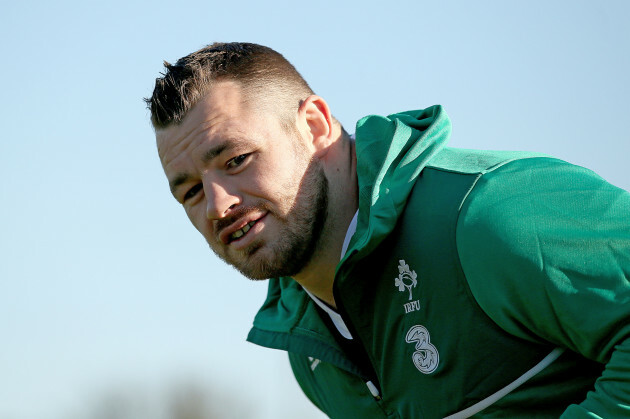 Dan Sheridan / INPHO Dan Sheridan / INPHO / INPHO
"There are a lot of defeats that would itch away at my head, but I try and leave as many of them behind me as possible," the prop says with his considerable arms folded in a Carton House library.
"It's just one of my own things is not going back. I don't really go back to draws or wins or losses. Take what you want from it and then go forward, staying in the moment of the week."
It's been a while since this squad had a win to try and move on from.
Five Tests and five months have passed since Ireland defeated Italy in the Olympic Stadium on the way to topping World Cup Pool D and only France have been beaten. After a draw and two defeats in this campaign, the message from Ireland has been consistent:  they are not far away from tilting results the other way. But this weekend only a win will do.
"That feeling of winning is a want, almost a need now, but it's something we haven't forgotten," said scrum coach Greg Feek.
"We certainly know how to win and it's about making sure we keep living in those moments, clinically, and cutting down a few times when we turn over the ball, or might not win the ball or get that go-forward."
Dan Sheridan / INPHO Cian Healy's last home game for Ireland was the Six Nations win over England a year ago. Dan Sheridan / INPHO / INPHO
Battles on home turf are always that bit more favourable. Though Schmidt's charges have struggled of late, he has still yet to preside over a home defeat in the Six Nations.
Having missed out on the opening fortnight of this Championship and the World Cup warm-up games last summer, Healy doesn't need more motivation than the prospect of his first international in Dublin for a year.
"To me it's first-home-game treatment," says Healy.
"We have a lot of pride in what we do. We wouldn't want to be losing to anyone in Dublin. It is something that we are trying to build on for the last couple of years to make home a very hard place for people to come to and we don't want that to change."
"It is a big thing not having the win, but it is not going to change your game plan. We are very confident in what we do, how we train and how it is all put together. We are just working on the latter stages of our phases and keeping them as strong as possible."
The42 is on Snapchat! Tap the button below on your phone to add!