IRISH SPORT DOESN'T produce many physical specimens like Cian Healy.
At 6ft 1ins and somewhere around 112kgs, his dimensions are not altogether rare in high-level rugby, but the fact that the 26-year-old is also explosive and lean is what makes him unique.
Far from being a heavy, slow-burning strongman of a prop, the Clontarf FC clubman is made up of fast-twitch fibres and possesses a metabolism that continues to fire at rapid rate despite the advancing years.
The Leinster and Ireland loosehead prop believes he is still making progress as an athlete from year to year, even if strength gains are difficult to produce in-season. An early start in the gym during his Belvedere College days was one of the keys to reaching his current levels of strength.
Since the start of the Six Nations, I've only done about 10 gym sessions. I've been given a bit of a maintenance thing lately. It's all kind of turned from weights to rehab and just looking after the body instead. But there's always space to get fitter, faster and stronger.
"I was lifting weights from a young age, so I was always ahead of the pack with that one. I just liked it; there's a lot of satisfaction in being able to lift a lot of weight."
Two new PBs [personal bests] in the gym this season are clear evidence of Healy's belief that he can continue to gain strength as his career advances, with a 185kg bench press leaving him behind only former prop Stan Wright on Leinster's records wall.
Morgan Treacy / INPHO Healy pictured at Castle Avenue, where Clontarf will play the BaaBaas next Wednesday. Morgan Treacy / INPHO / INPHO
The modest Healy – who was promoting the clash between Clontarf and the Barbarians on the 23rd of April – is not keen on sharing his other PBs, but he does admit that "in squatting, no one has come near me."
A quick glance at the 47-times capped international's Instagram account would suggest that major amounts of food play a part in his day-to-day activity, while Healy has also admitted to eating "a lot of crap" in the past.
However, his metabolism remains fast, meaning he operates at body fat levels that other props would certainly enjoy attaining. Healy requires lots of calories to maintain and build mass on a daily basis, although the content of his diet has changed over the years.
Ah, it's changing a bit. Drico [Brian O'Driscoll] and the lads have some craic off me because they constantly rub in how much crap I eat. He keeps telling me that one day my metabolism will catch up with me and I am getting heavier.
"The idea is to keep as lean as possible and not get a belly," continues the Leinster prop. "I still pig out but I just don't eat as much sweets. I try and limit it because I do enjoy healthy eating and cooking.
"When I was 22, I was getting four or five Domino's pizzas a week; it was literally do what you want. But I have to try and be a professional rugby player as well."
As with any athlete, genetics play a role in Healy's make-up, but the desire for lifting weights "wasn't something that was picked up through the family." His father did a bit of cycling, but rugby and gym work were Cian's self-discovered passions.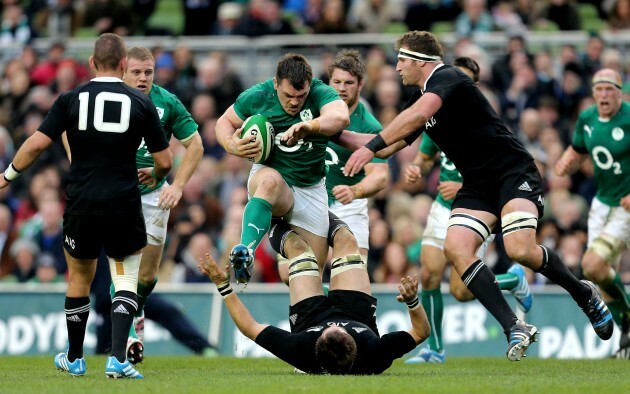 James Crombie / INPHO Healy runs over the top of Richie McCaw. James Crombie / INPHO / INPHO
While there is isolated enjoyment in being 'large and in charge', the strength Healy has built and is blessed with is an important part of his on-pitch ability. The Leinster man points out that the crossover into scrummaging is helpful, although meaningless without efficient technique.
"If your legs are able to lift whatever weight, your chest and back will be the same because you've got such a strong core. You should be able to transfer it over to scrummaging, but a lot of people can't.
There's a lot of props out there who are freakishly strong but they don't know how to scrummage. I think I've gotten it to a decent level where I've figured out a way of transferring the gym work."
Leinster and Ireland scrum coach Greg Feek is important to what Healy is achieving at the scrum, while the new laws around engagement this season have been a real boost.
"They suit me perfectly. It takes away the heavy fellas throwing their weight at you and dropping it down on the back of your neck. It's pretty much a muscle off and if you keep technically sound then you're grand."
'Feeky' does his best to convince Healy that in-depth video work and study of scrummaging can help him develop even further, but the 26-year-old will never be like scrum guru and teammate Mike Ross in that regard.
"I was always more of a do-er than a reader," says Healy.
Healy benches during the 2013 Lions tour.
Healy's approach is something of a contrast to the dedicated scrum nerdery of Leinster loosehead competitor Jack McGrath. As Healy explains, his younger rival is a fan of doing extensive homework.
"Jack studies way more than I do; Jack knows so much more about the game. He's a big fan of sitting, watching through it, making sure he knows a lot of that stuff. I'm more of a fan of getting out and doing it, find out that way.
"But he's got a great work rate and you can appreciate that when you see someone coming through who puts so much effort into their work, then you know that you can come on and see other stuff."
Mental preparation is an integral aspect of Healy's scrummaging performances, as well as his ability to transfer gym strength onto the pitch. He doesn't like to begin his amping-up process until game day, a routine that has changed slightly with age.
I'd be as hyped up [as when he was younger], I just wouldn't be showing it as much. I was never one of those screaming and headbutting the wall people, I think that's stupid."
Healy doesn't see the sense in "two lads head butting each other in the warm up" and points out that an approach of that nature is uncommon in the professional game anyway.
Does he use the services of Ireland's sports psychologist on a one-to-one basis, as several of his international and provincial teammates do?
"No, not really. Just the group stuff. I'm happy enough in my own angry little head space."
Cian Healy was launching the 'Battle of Clontarf' between his home club Clontarf FC and the Barbarians at Castle Avenue in Dublin on the 23rd of April.