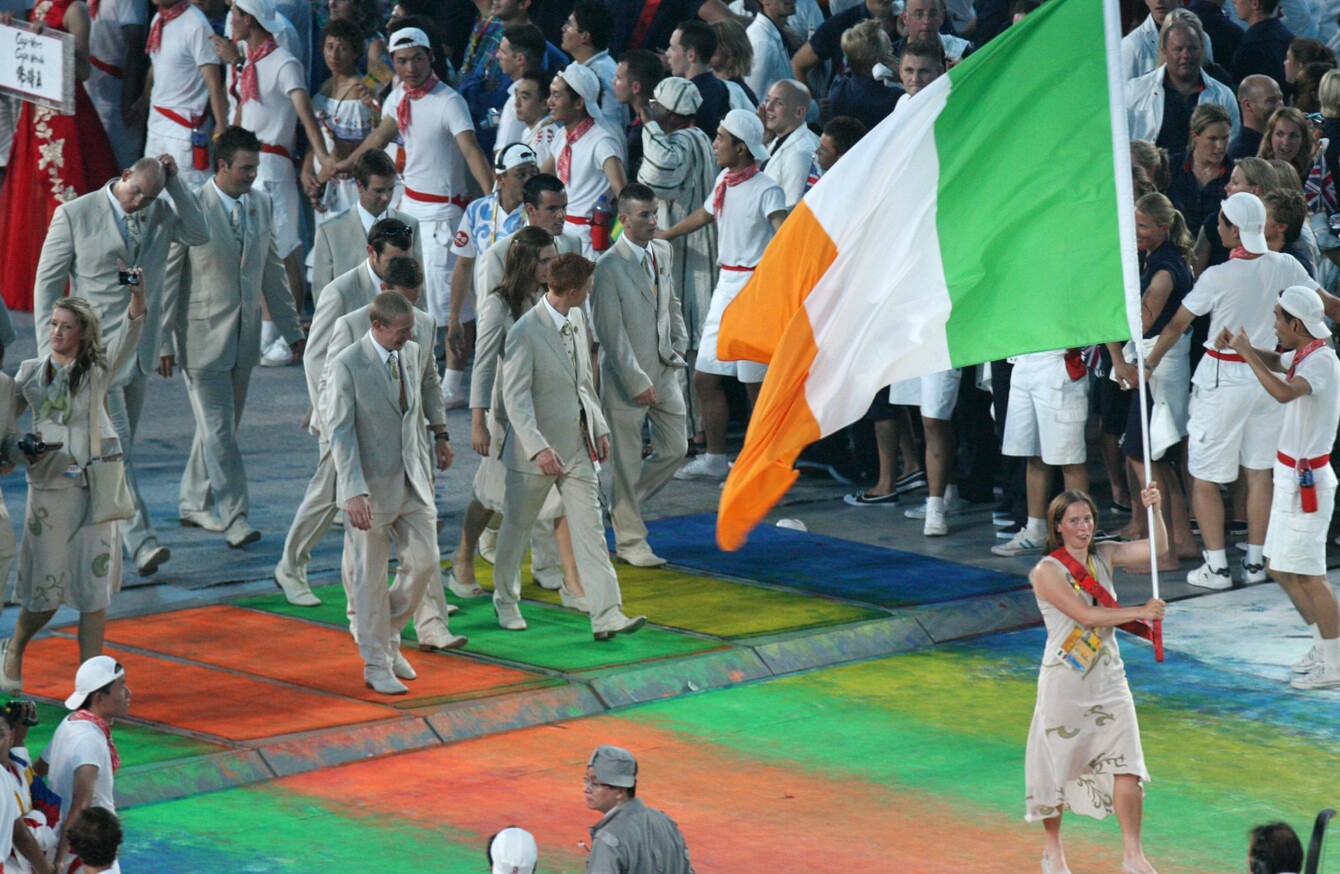 Peelo carried the Irish flag in Beijing.
Image: Lorraine O'Sullivan/INPHO
Peelo carried the Irish flag in Beijing.
Image: Lorraine O'Sullivan/INPHO
IN THE EARLY hours of tomorrow morning, Paddy Barnes will lead Team Ireland into the famous Maracana Stadium as the eyes of the world turn to Rio for the start of Olympic Games.
The Belfast boxer has been bestowed with the honour of becoming the 21st athlete to carry the tricolour at the traditional curtain-raising Parade of Nations during the Opening Ceremony.
Some of this country's greatest athletes, and Olympians, have performed the ceremonial role previously — Taylor, O'Sullivan, McCullough and Delany — but only a select few have ever been granted the responsibility.
Eight years ago, a visit to the Olympic Council of Ireland's offices heralded the beginning of a truly unforgettable experience for Ciara Peelo.
"I thought I was going to meet the Sailing Performance Director as I'd just returned from an event in Germany," the sailor, who is now retired, tells The42. "I had absolutely no idea, no idea whatsoever."
Peelo had qualified for the Beijing Games in March of that year, securing the final place in the women's laser radial class.
"It was a great time in my life," she continues. "Qualifying for an Olympics was what I'd worked so hard to do and then getting picked as the flag bearer only added to the experience.
"I remember getting told a month or so before and I couldn't tell anyone. Close family I could tell but it was very strange. To be honest, training took up so much of my time and I was so busy with preparations that I didn't even really think about it.
"Looking back now you'd ask yourself, why me above all the other athletes from all the different sports? I don't know the answer to that but it just added to the whole experience. It was just massive."
With 91,000 people crammed into the iconic Bird's Nest stadium, and a further 6 million watching from all over the world, this was very much Peelo's moment in the spotlight.
She had toiled for years to reach the Olympic Games — and all of a sudden she was in the very middle of it.
"We had to wait in the holding area outside the stadium for a while," the Malahide native recalls. "It was such a unique experience and it was very surreal to be leading the whole country, your country, into the Olympic Games. The cameras will be solely on you.
"There's so few people who have actually done that, it was huge. But at the end of the day it wasn't the primary reason I went to Beijing."
At 29, Peelo knew this was her one and only chance — and she wasn't going to let it pass her by. Days after that heady night in the Bird's Nest, she finished 20th in her event. A performance to be proud of.
Yet she'll always be remembered as the Olympian who carried the Irish flag. Whether she likes it or not, and whether it overshadows her exploits on the water, Peelo has learned to deal with being in such esteemed company.
"The primary focus for any athlete is always about your competition and I know when people are talking about me they'll say 'oh Ciara carried the flag at the Olympics', whereas I would say I competed at the Olympics and carried the flag.
"I guess I've never really looked back on it and thought about it that much. Obviously it's a massive honour to do it and it's amazing to be afforded that opportunity.
"I don't know if I view it the same as my career because that was something I had absolutely no control over. I didn't do something directly to make that happen.
"I think it's just one of life's unique and special moments. It's definitely up there with the best moments of my career."
From the exhilarating highs of Beijing, came the difficulty of returning to home to normal everyday life in a country in the throes of an economic depression.
Peelo had set her sights on prolonging her career and working towards qualifying for London but after a cycling accident left her nursing broken bones in her hand, life moved on and that was that.
But it wasn't easy. Having trained as a full-time athlete for four years, Peelo had to start again. A core group of friends rallied around her during those difficult times and ensured she came out the other side.
"When you come back from the Olympics, people recognise you. They know who you are but time passes and then nobody has a clue who you are and then you just go to work everyday like everybody else.
"I was lucky to have great friends around me. Ireland wasn't a good place to be living back then and I was thrown back into normal life. I had visions of staying on but I just naturally drifted out of it.
"It wasn't easy looking for a job but would I change it? No, I'd still go back and do it all again and come home to the same situation."
While Peelo's days as an elite athlete are long over, the next two weeks will rekindle memories of what she describes as the 'best time of my life'.
As a self-confessed sports fan, she will be engrossed by proceedings in Rio and lending support from afar to close friend Annalise Murphy, who competes in the laser radial on Monday.
Firstly, she will enjoy tonight's Opening Ceremony with a different perspective to the rest of us
"I'm always being told the 2008 one was so good but even though I was part of it, I've never actually seen it," she admits. "We missed most of it as we were outside and I've never actually watched it back.
"When I watched London I had this appreciation for what was going on. It's that different experience between the spectators and what the athletes are actually experiencing."
As her former colleagues and friends are putting the finishing touches on their preparations for their respective events, Peelo is back home getting ready for the start of the new school year.
As a PE teacher in Malahide, she remained very true to her roots and used all her sporting experience to shape a career out of it.
The coastal town in north Dublin has a long history of producing Olympians, and while Peelo now describes it as a former life, she's still very much a local hero.
"I joined a local running club about six months ago and one of the girls recently said she'd seen my picture in DCU and she said 'you never said you'd been to the Olympics, I can't believe you've been to the Olympics.'
"I was just like 'oh yeah'. It's not a big deal for me anymore but when people find out about it, you can tell they look at me differently. It's something to be very proud of and every two years you're just kind of reminded of how lucky you were."
The42 is on Snapchat! Tap the button below on your phone to add!