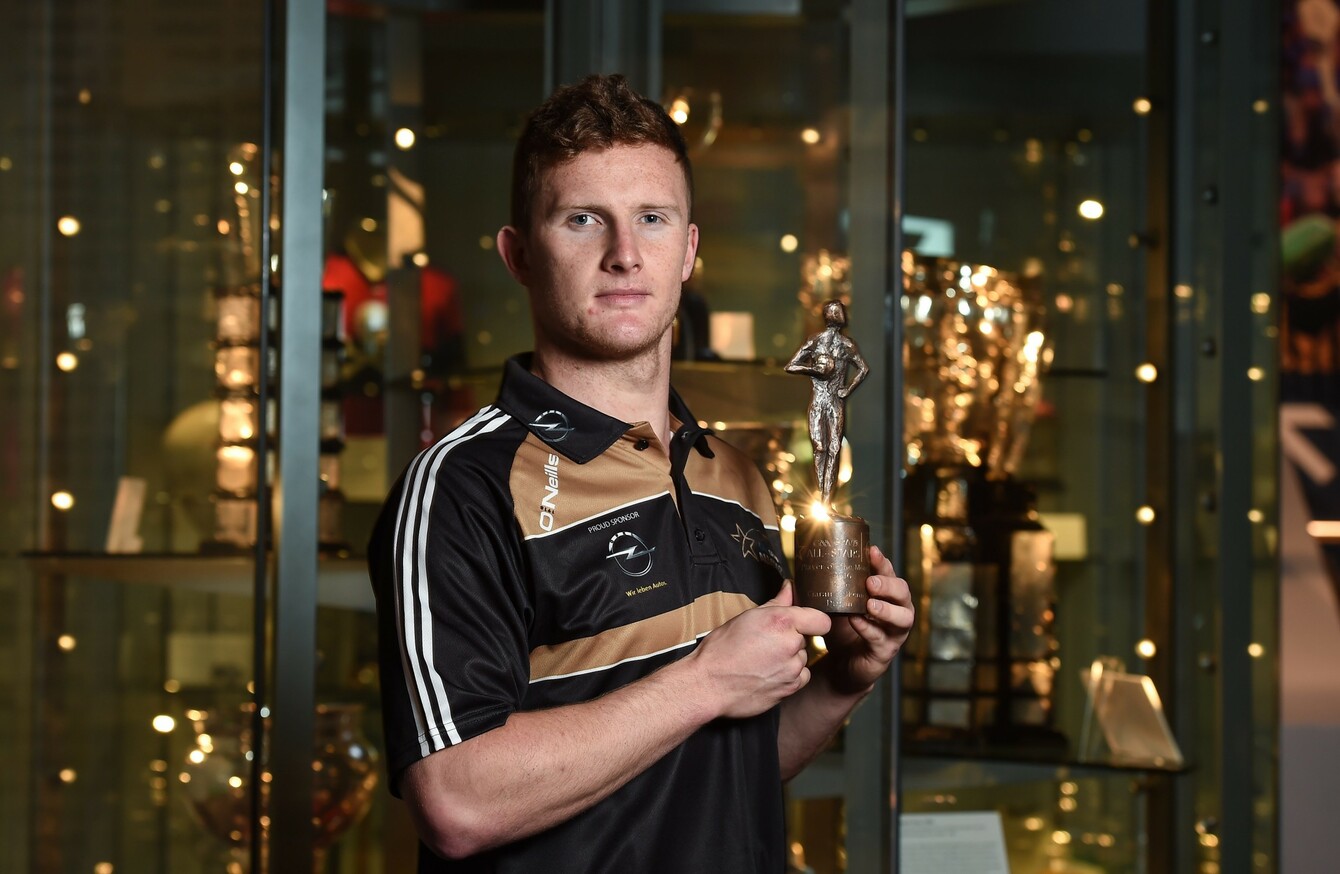 Kilkenny collecting his POTM award at Croke Park yesterday.
Image: Brendan Moran/SPORTSFILE
Kilkenny collecting his POTM award at Croke Park yesterday.
Image: Brendan Moran/SPORTSFILE
IT'S BEEN AN enjoyable couple of months for Ciarán Kilkenny.
The 22-year-old has hit the ground running in 2016, helping Dublin win a fourth straight Allianz League title and he's since led Castleknock to a big club championship victory over St Oliver Plunkett's-Eoghan Rua.
Yesterday, the Dublin forward was in Croke Park to collect his Opel GAA/GPA Player of the Month award and admits he's looking forward to getting back in the dressing room after a couple of weeks away.
"We had a great league campaign, and then it was great to be with the club for three weeks – it was great to go back," he said. "We won our first ever senior championship game and I got to go play a hurling game with the club, so it was brilliant to go back.
"They're local rivals (Plunkett's) and obviously I know a few of the lads from playing with Dublin, so there was a bit of craic floating about.
"To win it with the lads, with whom I'd played all the way up, it was brilliant and great for the club and the young lads who were at the game.
"It's our second year senior now, we won the intermediate two years before that, and two years before that we won the junior. So, Junior A starting out and we went on a bit of a run and now we're senior, so it's great.
"The same crop of lads as well, we're all 22-23, so we've all known each other since we've been younger. And we've a few elder statesmen as well.
"But in saying that, you're buzzing and excited now to get back with Dublin. You miss the lads, you miss being around the dressing room, having the craic and training.
"So really looking forward to get back training and focusing on the first game, in two and a half weeks."
Jim Gavin's men have their sights firmly on Nowlan Park and the first hurdle in their quest for another Leinster crown but for Kilkenny, the immediate focus is on exams.
The forward is in his final year studying History and Irish in St Patrick's in Drumcondra.
"I'm flat out with exams at the minute," he continued. "Trying to cover the whole course in a few days is difficult enough – and then we were with the clubs for the last three weeks, so a lot to keep me busy.
"These exams are tough going, it will be like a big load of bricks off my back gone, and then I'll just be able to go out and enjoy my football. I'm looking forward to going back and enjoying playing, the buzz of training, and to go back to that intensity – the preparation before the Laois game."
Kilkenny is relishing a meeting with the O'Moore County and the start of Dublin's championship campaign, and it comes as no surprise.
After struggling with injuries last year, the Castleknock man has worked his way back to full fitness and looks well conditioned ahead of a busy summer.
By his own admission, he's in better shape now than he was this time last year.
"I feel great at the moment, I feel fit at the moment," he added. "I have the sort of body or physique that when in the off season with a bit of food the belly comes straight away.
"I enjoy the off season but I'm lucky that I have that sort of body that I can lose it straight away then as well. The lads do be slagging me that I do be a lot heavier than everyone else when I come back. I'm at my peak fitness now, probably need to lose a little bit more but feel good, feel fit and looking forward to the summer.
"When I did my cruciate you have to learn to balance things a lot and after the All-Ireland last year I played in one or two games with the club but I took a break after that and that's kind of really stood to me and I'm fresh at this stage going into the championship."
Once his academic worries are eased for the summer, it will be full steam ahead for Kilkenny – and he says the excitement levels are growing for the trip to Nowlan Park on 4 June.
"Everyone is buzzing about the game. My own club are getting a bus down to the game in Nowlan Park, I think there's a festival on the same time," he added.
"Laois gave us a great game – I was actually injured in 2014 – in the Leinster championship. It was very competitive. So they'll be looking forward to it. It will be a good game. Just get these exams out of the way.
"It's similar enough to exams. If I go into an exam and I don't do any preparation, anything can happen on any given day. You can prepare as well as you want but anything can happen on the day.
"We're really enjoying our football at the moment. We've a lot of trust in our team. Just try and get our preparations right. Laois have a game under their belts so they've a bit of form going into the game. So it's going to be a good challenge."
The42 is on Snapchat! Tap the button below on your phone to add!