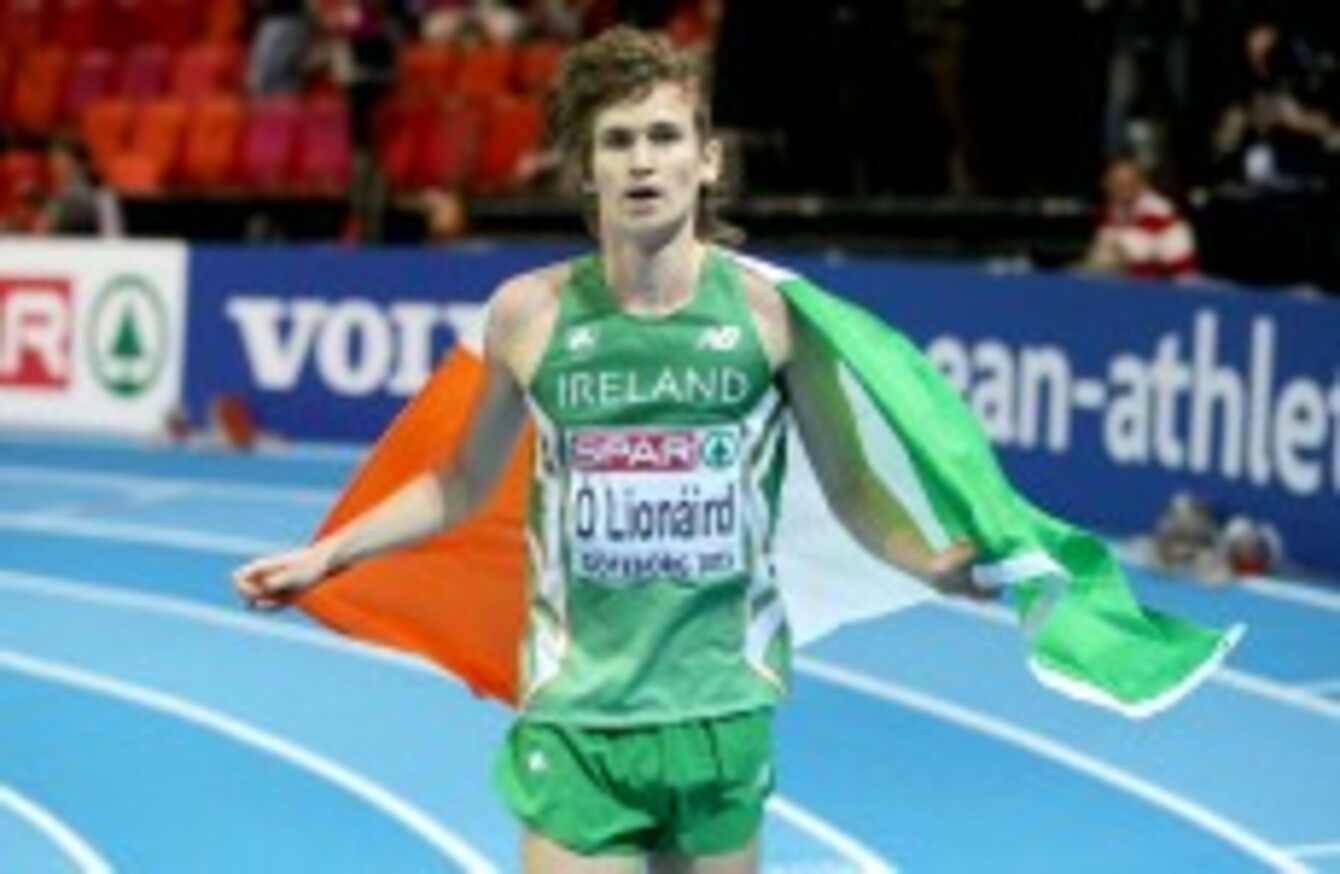 Ciaran O'Lionaird celebrates taking bronze in the Men's 3000m Final last March.
Ciaran O'Lionaird celebrates taking bronze in the Men's 3000m Final last March.
IRISH ATHLETE CIARÁN O'Lionáird has backed calls for athletes to protest Russia's controversial LGBT laws at the upcoming Winter Olympics in Sochi.
O'Lionáird is an ardent supporter of LGBT rights, and believes other athletes need to step up and show support for the cause.
Speaking on Newstalk's Off the Ball, he said: "Obviously Russia's made some decisions politically that are not in line with what I would agree with, in terms of discriminating against the LGBT movement."
On the Winter Olympics, which begin in less than a month, he said:
"They've made protests pretty difficult — they have their protest zones 20km from the arena and that's going to encourage a demonstration.

"At the end of the day, LGBT rights is the big social issue now. It was race back in the time of John Carlos and it was people who were being discriminated against because of the way they were born, and that's how I see this. And it's not fair."
Moreover, the Cork native says he believes sporting figures have a responsibility to show solidarity with the LGBT community.
"A lot of the time, athletics and sport in general is seen as a place where the LGBT community hasn't had a lot of support, especially in male team sports — there's maybe less of a tendency to speak out and sport is seen as a macho kind of thing. And it's really good that things are changing now in that regard, because athletes do need to speak up, especially at a spectacle like Sochi.
"Society is obviously progressing and in Ireland especially, it seems like the rights of LGBT people are being promoted. If there's injustice and it permeates our world, as athletes, we should have the right to fight back."
In addition, O'Lionáird reflected on his own experience at the 2012 Olympics, admitting that ongoing problems with his achilles throughout that year "took all the enjoyment out of sport for me".
He added: "I probably threw myself into the really hard training, and obviously, as a result, picked up an injury. And that was a hugely disappointing time."
But despite suggesting he was set to quit athletics in the wake of his Olympic heartache, he has since recovered, and subsequently won a bronze medal at the European Indoor Championships last March.
"The thinking after [London] was, we're going to get a really good result and get out of [the Olympics] mentally.

"So once we got that positive result at the European Indoors with the medal, we decided that this would be a good time — three years to Rio — to get [the injury issues] dealt with once and for all."
Consequently, having undergone treatment for his troublesome achilles, O'Lionáird now feels significantly healthier.
"We have dealt with it, it's in a really good place and I'm now pain free," he said.