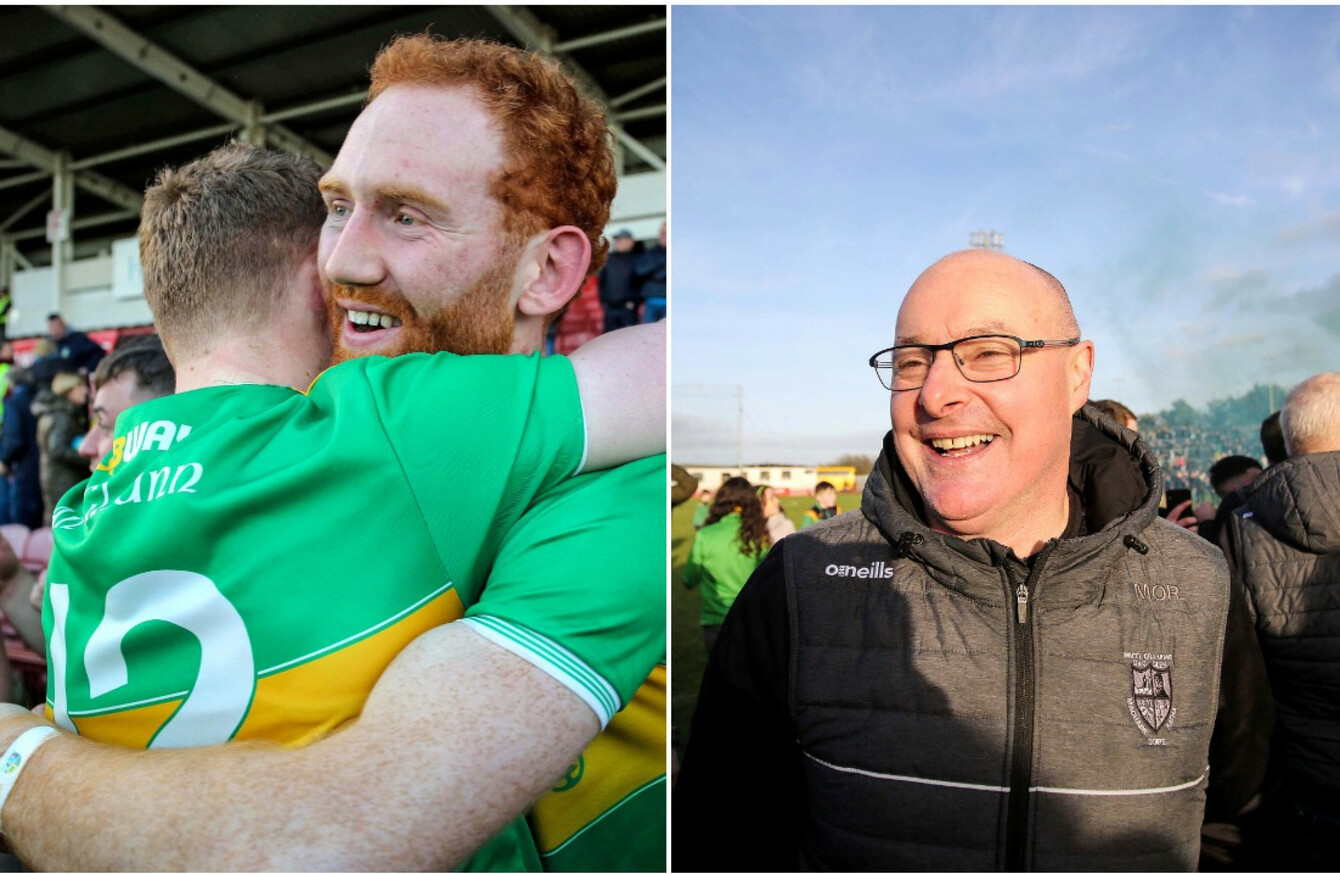 Conor Glass and Malachy O'Rourke.
Image: INPHO
Conor Glass and Malachy O'Rourke.
Image: INPHO
CONOR GLASS HAS lined out on the inter-county stage with Derry this year and has experience of professional sport coaching in Australia after his lengthy spell with AFL club Hawthorn.
But right now it is his club manager Malachy O'Rourke that Glass is learning from.
And the 24-year-old is the latest to rave about the capabilites of O'Rourke, the former Monaghan Ulster-winning manager who has the golden touch at club level, as evidenced by his latest achievement in guiding Watty Grahams Glen to their first Derry senior title recently.
"Wherever Malachy goes, success usually follows," remarked Glass today at the launch of the 2021 AIB GAA club championships.
"He's just good to be around. He talks with all the players, he talks with all the management and he's obviously very good in the community as well. A very technical, tactical manager. He's just an all round manager, which is good to have at our club.
"He'll pick up the finest of details, whether it be in the opposition or in our own performance. He goes through every blade of grass. He's just so engrossed in the sport.
"He's a good right-hand man in Ryan Porter. He does all the physical and all the training side of it. Malachy obviously does the final motivational words, so they work well together."
The county final win carried a deep significance for Glass.
Two years ago he was present when they lost the final by a point to Magherafelt, but was unable to play due to his AFL commitments, cast into the frustrating role of observer.
"I only really thought about that (the 2019 final) when I was making my decision to come home. At the time I was still contracted and I was still trying to find a way out in the AFL. But I had the experience of that defeat, which was obviously difficult to take. It definitely played a part in the reason for coming home and the justification I kind of got a few weeks ago, tt was pure emotion.
"We had a comfortable lead going into the last five minutes. I was able to take in the occasion and atmosphere but even after the final whistle went, it was pure relief to finally get over the line."
It is just over a year since it was officially confirmed that Glass was calling time on his AFL career with Hawthorn, heading home to aid the Derry football cause.
"I miss the lifestyle a bit. Waking up when it's three degrees here and it's dark at 4pm or 5pm, it can be not that nice. The lifestyle of some of my friends out there, they're probably at the beach. I miss that aspect of it, but then you have the aspect of having your family and friends around. You can pick bits and pieces, but I don't regret my decision at all."
He agrees it has been a tougher experience recently for Irish players in the AFL.
"I think Conor Nash only got home for the first time in two or three years. It would have been tough in that regard. The list sizes have decreased because of Covid. Some of the international rookie spots have been taken away. The pathway is a bit harder, but it shouldn't limit the impact that the Irish players have out there."
The latest recruit from GAA to Aussie Rules is a high-profile one with the reigning Young Footballer of the Year Oisin Mullin switching from Mayo to Geelong.
"He's one of the best defenders in Ireland before he left," says Glass.
SEE SPORT
DIFFERENTLY
Get closer to the stories that matter with exclusive analysis, insight and debate in The42 Membership.
Become a Member
"He's still a young age as well and he's played against the best players in Ireland, so he has that experience of playing at the highest level. If he can transition, learn new skills out there, there's no reason why he can't be one of the top level players in the AFL.
"One piece of advice was just give everything you can, don't be going in half-hearted. If you go in with the mindset of, I'll give it a crack for a couple of years and if it doesn't work out, and then I'll come back to the GAA, you're not going to succeed out there.
"He'll have the guidance of Zach Tuohy and Mark O'Connor out there, which will benefit him in the long run as well."
Glass will be in action next Sunday when the club championship starts out in Ulster as Glen face Donegal's St Eunan's. It's the next focus after a season where Derry made progress.
"Yeah, it's been a good year. Obviously, we got promoted with Derry. That's two of the goals that I came home with ticked off. I've got to make up another two or three goals going forward.
"Thankfully, we've had the success this year and we're on an upward trend. Hepefully, we can just keep it going.
"The end goal is to win an All-Ireland with Derry. That's the ultimate. Obviously, we're going in the right at the minute. It might take a few years with the age bracket that we have in our team."