Liveblog

Result: Galway 1-15 Cork 1-12
*****
Afternoon all and welcome along to Croke Park as we build up to the 2021 All-Ireland senior camogie final.
It's Cork against Galway, throw in is 4.15pm.
Late changes on both sides. Orla Cronin, after getting a late reprieve to play following her sending-off against Kilkenny in the semi-final, comes in to start in attack instead of Linda Collins.
Galway draft in Carrie Dolan for Niamh Hanniffy.
Here are the starting teams in full then:
Cork
1. Amy Lee
2. Pamela Mackey, 3. Libby Coppinger, 4. Meabh Cahalane
5. Saoirse McCarthy, 6. Laura Treacy, 7. Laura Hayes
8. Hannah Looney, 9. Aisling Thompson,
10. Chloe Sigerson, 11. Fiona Keating, 12. Ciara O'Sullivan
13. Katrina Mackey, 14. Amy O'Connor, 26. Orla Cronin
Galway
1. Sarah Healy
2. Shauna Healy, 3. Sarah Dervan, 4. Dervla Higgins
5. Siobhan Gardiner, 6. Emma Helebert, 7. Catriona Cormican
25. Carrie Dolan, 9. Niamh Kilkenny
10. Catherine Finnerty, 11. Sarah Spellman, 12. Aoife Donohue
13. Siobhan McGrath, 14. Orlaith McGrath, 15. Ailish O'Reilly
Kilkenny's Liz Dempsey is the referee for this one.
Source: Evan Treacy/INPHO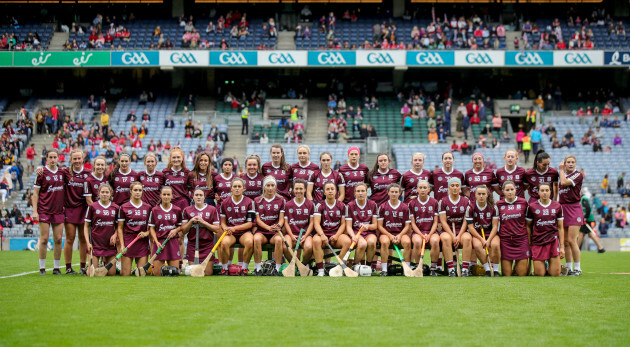 Both teams out for the pre-match parade, countdown on here at Croke Park.
Galway 0-1 Cork 0-0
2 mins – Early score on the board for Galway as Carrie Dolan slots over a free.
Galway 0-2 Cork 0-0
3 mins – Another free converted by Dolan, this time after a foul on Ailish O'Reilly wins the free for Galway.
Galway 0-3 Cork 0-0
4 mins – Flying start from Galway as Siobhan McGrath picks off a lovely point from the right wing.
Galway 0-4 Cork 0-1
5 mins – Now Ailish O'Reilly gets in on the scoring act for Galway after being supplied by an Emma Helebert delivery. Vital point by Aisling Thompson then for Cork to get them off the mark.
Galway 0-5 Cork 0-1
7 mins – Well worked between Orlaith McGrath and Siobhan McGrath, culminating in the latter pointing for Galway.
Galway 0-5 Cork 0-2
9 mins – Super score by Cork's long-range specialist Chloe Sigerson.
Galway 0-5 Cork 0-3
11 mins – Nice interplay for Cork by Ciara O'Sullivan and Saoirse McCarthy, the move is rounded off by midfielder Hannah Looney picking off her point.
Galway 0-5 Cork 0-4
12 mins – And it's Looney again who points for Cork from midfield. The gap is down to one now as Cork have settled into this contest.
Galway 0-6 Cork 0-4
13 mins – Dolan nails another free for Galway, her third of the match so far.
Galway's Ailish O'Reilly and Meabh Cahalane of Cork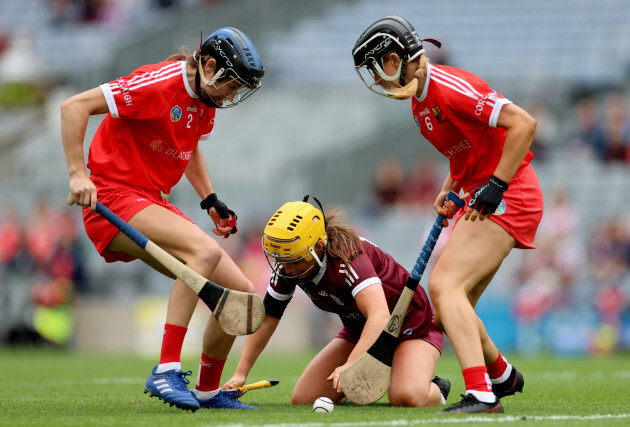 Cork's Pamela Mackey and Laura Treacy with Siobhan McGrath of Galway Source: James Crombie/INPHO
Flag
Water break: Galway 0-6 Cork 0-4
18 mins – Cork unlucky not to grab another point, Fiona Keating's effort hits the upright after brilliant approach work by Orla Cronin.
Galway 0-7 Cork 0-5
20 mins – First score of the day for Orla Cronin as she converts a close-range free following a foul on Amy O'Connor. Galway respond with Aoife Donohue winning a free that Carrie Dolan scores.
22 mins – Dolan can't find the range on this occasion for Galway from further out.
Galway 0-7 Cork 0-6
22 mins – Half a goal chance for Amy O'Connor as she bursts onto a break before swivelling under pressure and smashing over a point for Cork.
Galway 0-8 Cork 0-6
25 mins – Niamh Kilkenny pushes Galway two clear, moments after Orla Cronin saw her free for Cork fly off target.
Galway 0-8 Cork 0-7
29 mins – No mistake from Cronin on this occasion for Cork with a free, Hannah Looney did brilliantly to win the free initially.
Three minutes of injury-time in this first half just as Orlaith McGrath shoots wide for Galway there.
Cork 0-8 Galway 0-8
32 mins – All square as Katrina Mackey points for Cork, Orla Cronin somehow winning possession in a scrum of players, turning and laying off the pass.
Galway 0-9 Cork 0-8
33 mins – Wonderful point for Galway by Aoife Donohue restores their advantage.
Flag
Half-Time: Galway 0-9 Cork 0-8
So little in it at the break, Galway in front by one against Cork.
Here are the first-half scorers:
Galway: Carrie Dolan 0-4 (0-4f), Siobhan McGrath 0-2, Niamh Kilkenny, Aoife Donohue, Ailish O'Reilly 0-1 each.
Cork: Hannah Looney, Orla Cronin (0-2f) 0-2 each, Aisling Thompson, Chloe Sigerson, Katrina Mackey, Amy O'Connor 0-1 each.
Second-half action about to start now.
Niamh Hanniffy on for the second half for Galway.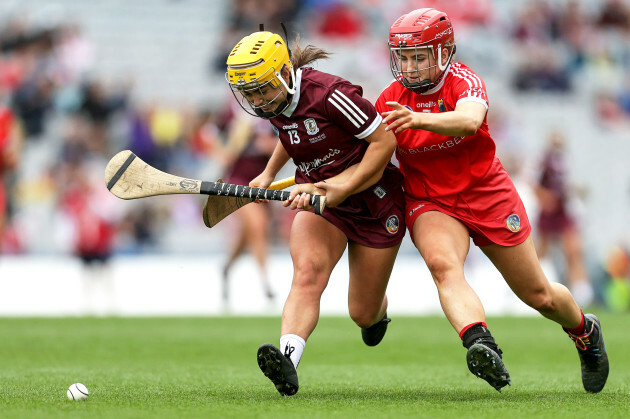 Source: Laszlo Geczo/INPHO
Catherine Finnerty the player to make way for Galway at the interval.
Galway 0-10 Cork 0-8
31 mins – Super stuff by Niamh Kilkenny as she jinks and weaves under pressure from the Cork defence before making the space to score.
Sub: Change for Cork as Linda Collins replaces Ciara O'Sullivan.
39 mins – Big goal chance for Cork as Amy O'Connor does brilliantly to put pressure on Galway goalkeeper Sarah Healy, turns over the ball but her shot from a narrow angle flashes wide with Sarah Dervan pressurising her. Still two in it.
Galway 0-10 Cork 0-9
42 mins – Yellow card for Galway's Shauna Healy for fouling Amy O'Connor as the Cork attacker threatened to break free. Orla Cronin pops over the resultant free.
44 mins - Chances missed at both ends. Carrie Dolan has sight of goal for Galway as Cork's defence is opened but Hannah Looney gets back to execute a terrific block. Cork counter but Linda Collins can't avail of the point opportunity.
Galway 0-11 Cork 0-9
45 mins – A Carrie Dolan free sends Galway two clear.
Galway 0-11 Cork 0-10
46 mins – Another yellow for a Galway defender as Siobhan Gardiner is booked for a foul as Cronin charged through for Cork. The free is despatched between the posts by Cronin.
Flag
Water Break: Galway 0-11 Cork 0-10
So we're heading into the last quarter here, Galway clinging on to that one-point advantage.
Galway 0-11 Cork 0-11
46 mins – All square as Orla Cronin fires over for Cork from play.
Flag
Cork 1-11 Galway 0-11
49 mins – Massive moment in this match as Katrina Mackey hits the roof of the net for Cork.
50 mins - Brilliant work by Linda Collins to win the ball on the right and spot Mackey in space with the pass. She gave Sarah Healy in goal for Galway no chance.
Cork 1-11 Galway 0-12
51 mins – A Carrie Dolan free leaves Galway two adrift. Then Rebecca Hennelly comes on for Dolan after that.
Cork 1-11 Galway 0-13
52 mins – Ailish O'Reilly takes over the free-taking duties for Galway and hits a super score from the right wing. Strong response by Galway to that Cork goal.
55 mins – A Niamh Kilkenny chance to tie the match for Galway but her shots flies to the right and wide.
Flag
Galway 1-13 Cork 1-11
56 mins – Siobhan McGrath is on hand to finish tidily to the net for Galway and now they're two points clear.
Galway 1-13 Cork 1-12
58 mins – Brilliant play by Orla Cronin and she fires over a badly-needed point for Cork. Back to one in it. Cliona Healy in for Cork for Fiona Keating.
Subs: Galway bringing in Ann Marie Starr for Catriona Cormican.
Sub: Galway bring on Noreen Coen for Sarah Spellman.
Three minutes of injury time as we head into that stage now.
Galway 1-14 Cork 1-12
61 mins – Orlaith McGrath points and Galway are two clear.
Galway 1-15 Cork 1-12
63 mins – Orlaith McGrath points again!
Flag
Full-Time: Galway 1-15 Cork 1-12
All over and Galway are the champions after a three-point victory.
A brilliant win by Galway as their powerful finish to the game secures the spoils for them. They outscored Cork 1-4 to 0-1 after the concession of that goal. A tough end to the season for Cork but Galway get to celebrate a second title win in three seasons.
So that's it from our liveblog coverage as Galway celebrate after captain Sarah Dervan lifted the O'Duffy Cup.
We'll have more later with a report and reaction from Croke Park through The42′s Sinead Farrell.
Thanks for joining us.
Gavin Cooney
Reports From Qatar
Get Gavin's exclusive writing and analysis from the 2022 Fifa World Cup
Become a Member
Contribute to this story: