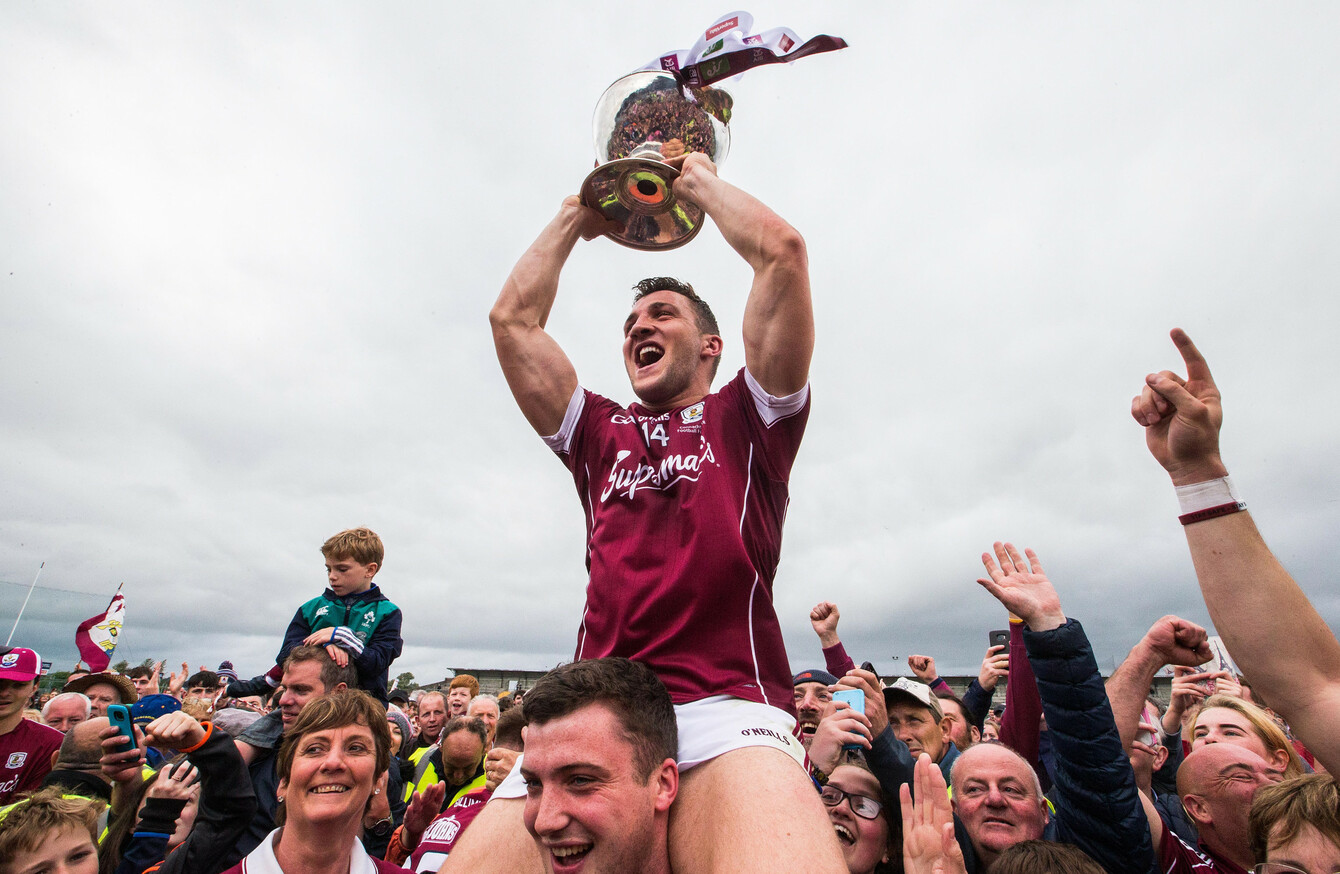 Damien Comer celebrates after the Connacht final for Galway.
Image: INPHO
Damien Comer celebrates after the Connacht final for Galway.
Image: INPHO
THE FINAL WHISTLE and the aftermath brought a natural wave of emotion for Damien Comer.
The manner of Galway's Connacht final victory after a second-half comeback prompted a clear sense of satisfaction while being captain meant this was a landmark moment for the forward.
But there was another aspect to his second provincial senior triumph. Unlike when he won his maiden accolade in 2016, one of Comer's biggest supporters was not present to share it with him. His father John passed away from cancer in January 2017.
During Damien's formative football years, he didn't have to look far for a figure to shape his passion and interest for the game.
"It's sad. He would have been a big influence on my footballing career. It's nice he was around for the first Connacht title and the U-21 All-Ireland that we won. It would have been nice to have him there the last day, I'm sure he would have been proud of it.
"I think it was 1998, probably his final year playing with Glenamaddy GAA club. He played in goal in his final year. I was only four and I climbed through the fence in Tuam stadium and ran onto the pitch to him mid-game. A mini pitch-invasion.
"He would have been out the back playing around with us as well. He trained us as well at underage for a while as well. U10, U12, U14 and that. Yeah, he would have been a big influence and probably why I'm so involved."
For his family, tracking Damien's exploits with the Galway team is something they all cherish.
"He would have gone to all the games and enjoyed going to them and that. And mam would find good enjoyment from it. She'd be mad following the hurling as well, she'd be a sportswoman too.
"All of them get great enjoyment from it and I suppose it's a distraction for them as well anything else. They get out and enjoy going to the games and obviously there are emotional times after the games.
"That all becomes part of it. You just try to make them as proud as you can by doing the right thing and doing good things for Galway football.
"I've a brother then who's living in Cork and he's actually getting married to Conor Lehane's sister. There's a bit of interest with the Cork hurling as well, and that."
Comer has become a talismanic force with his style of play in spearheading the Galway attack. Lifting the Nestor Cup seemed a natural fit given his importance to the Galway cause but he was caught off guard when Kevin Walsh first proposed at the outset of 2018 about entrusting him with the captaincy role.
"I was probably surprised I got it in the beginning. I didn't see it coming. Obviously it would have been a dream always to do it, but I didn't see it coming this year.
"Delighted, obviously. I would have learned a lot from past captains as well and that makes it easier. Gary (O'Donnell) is still vice-captain as well.
"It's a great honour, and it's great to get a bit of silverware too. A pity we didn't get the Division 1 title as well, that would have been nice.
"For me it's just about trying to set standards and trying to drive on things as much as possible. I find that if I play to the best of my ability, then lads can row in behind that.
Or if I set standards then lads will row in behind them. And they have, in fairness. The lads are good. They know what to do and have put in serious effort this year and the last few years to get to where they are and to bring Galway football back up to where it should be."
After all the major strides the Galway footballers have made this year, the next goal is to make their mark on the All-Ireland series. Next Sunday's opponents Kerry are a familiar presence to be facing at this stage.
"Last year was disappointing," admits Comer.
"But, again, if we had taken our goal chances last year, we had four good goal chances, if we had taken one of them it could have been a different game.
"I think we're in a good place. But, look, we're still a relatively inexperienced side. I think we've four debutants starting this year and it's all a new experience for them.
We've a lot of history with Kerry, but them boys don't. A lot of them have probably taken Kerry out at U21 level. Sean Andy and Sean Kelly, Mike Daly, and the boys, they would have gotten great confidence out of that.
They'll be looking forward to it and I think everyone is excited. Players, fans, are all looking forward to what's going to be three intense games coming up."