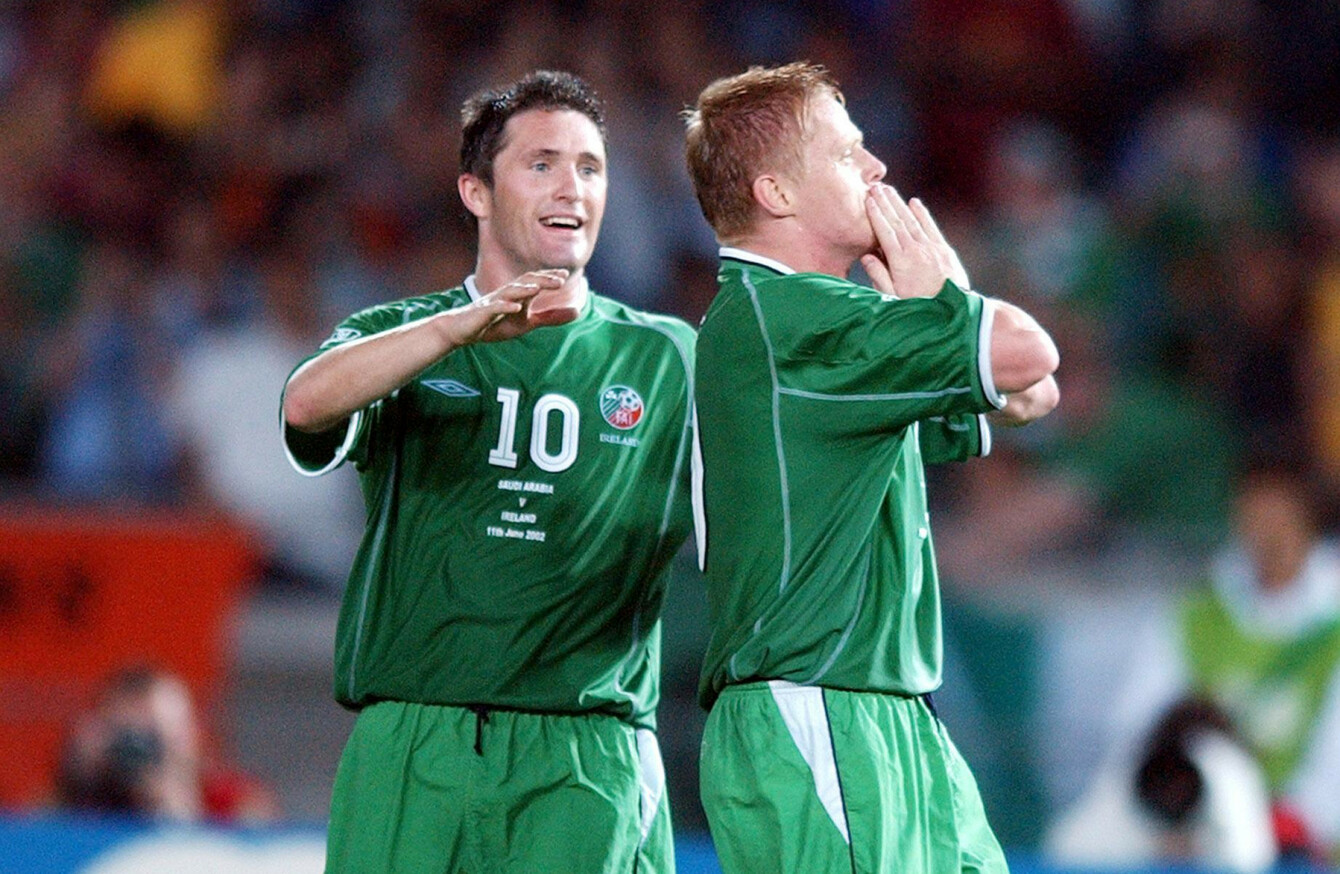 Damien Duff celebrates scoring in the 2002 World Cup.
Image: PA Archive/PA Images
Damien Duff celebrates scoring in the 2002 World Cup.
Image: PA Archive/PA Images
IT'S BEEN MORE than 16 years since the Saipan debacle threatened to ruin Ireland's 2002 World Cup bid, but that didn't stop the topic from coming up in Montrose today.
For a pre-2018 World Cup event, several RTÉ panel members were in attendance to look ahead to Russia, in addition to reflecting on past tournaments.
Saipan has been discussed ad nauseam at this stage, yet one of the key players from that era, Damien Duff, still managed to give an interesting take on its potential ramifications earlier today.
Duff's RTÉ colleague, Eamon Dunphy, was the one who put the question to him, saying: "If Roy Keane had stayed, we could have won that [2002] World Cup. I'm serious. If Roy Keane had been in that team, it would have been very different."
Dunphy went on to suggest that the weakness of the competition, in which a relatively unheralded South Korea side reached the semi-finals, was another reason why Ireland could have triumphed.
"You could argue [Roy] was the best midfielder in the world at the time," Duff said. "A massive influence in the dressing room, but again, 'what ifs,' who knows?
The Spain team weren't one of the great teams. We dominated them, went out on penalties. Looking at it from another point of view, Roy dominates dressing rooms. People were in fear of Roy — not me, not Robbie, he looked after us, we were young, we were fearless. But even at Man United, people were in fear of him, but maybe in a way, when he left, it let lads breathe.
"So we'll never know. He could have driven us on to the final, but other players who played well might not have played as well because Roy was barking down their neck for 90 minutes."
Speaking to journalists later on in the day, Duff added: "From my point of view, he would have helped us go further in the tournament.
"It's all 'what ifs'. It's all people talk about is Saipan and Roy — if you're selling a book, you have to do a chapter on that."
In contrast with the 2002 side, the current Irish team are not currently anywhere near the same level.
While the recent 2-1 win over USA had some positives, last week's 2-0 loss against France was a stark reminder of how far off the Boys in Green are in terms of matching the elite of international football.
"Talking about inspiring generations — '88, '90, '94, that's when all my crew, the likes of Ronnie, Paul McGrath, what they did, they inspired us, made you love the game, made you dream of putting on an Irish shirt, so I think they had an impact," Duff said.
"I don't think the future looks particularly bright at the moment. It's up to the young lads now and the management team to play them."
Duff acknowledges that the recent friendly loss against France, in which an experimental and somewhat inexperienced Irish team registered just one shot on target in 90 minutes, provided cause for concern.
"Up against that quality, you end up on the edge of your box a lot of the time. It's when you win it, what you can do.
It just didn't seem like there was a willingness at times to keep the ball, make angles, catch your breath, wave after wave for 90 minutes. Albeit, the second half was a bit better, they played further up the pitch. But I'd like to see us keep the ball for a while."
The former Ireland international, however, was reluctant to criticise Martin O'Neill for the team's failings.
"Players have to take responsibility as well. They're not stupid, they've played a lot of games, they know how to keep the ball. Everyone's quick to blame Martin, but I think the players as well need to calm down and put their foot on it."
And does Duff believe more League of Ireland players could follow in Shamrock Rovers star Graham Burke's footsteps and get capped internationally?
"Any quality that is here that deserves national recognition to play for the team, they inevitably end up in England anyway. That's what Graham Burke's possibly going to do in the next couple of weeks, so I think there are enough players in England, but why not? Graham's just got two caps as a Rovers player."
The42 is on Instagram! Tap the button below on your phone to follow us!