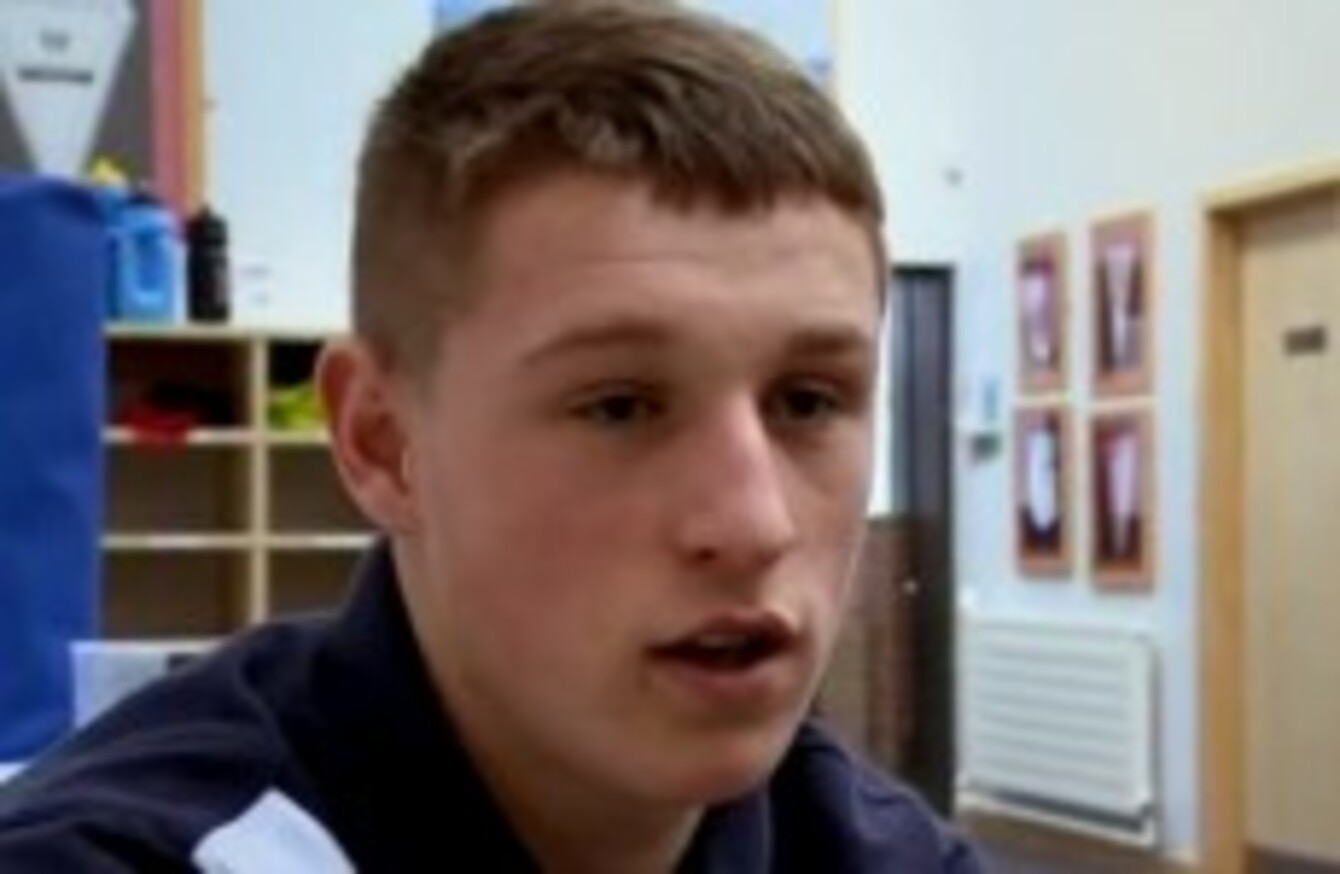 Sunderland's Dan Casey.
Image: Vimeo screengrab
Sunderland's Dan Casey.
Image: Vimeo screengrab
LAST WEEK, a new four-part series 'Football Scholars' began on Setanta Ireland.
The first episode introduced a number of young Irish footballers aiming to secure deals with top English clubs and Dublin teenager Dan Casey was one of the successful few.
We learned that Casey was captain of St Joseph's Boys but also a talented rugby player with CBS Monkstown before having to choose which sport to concentrate on.
After a week-long trial, he was offered a scholarship at Sunderland and has been developing in their academy since.
We caught up with the 16-year-old centre-half for a quick chat ahead of tonight's episode:
Hi Dan, you're one of the stars of 'Football Scholars' but did you get to watch the first installment?
Yeah, I got home last weekend and got to watch it. I was delighted with it. It's a little embarrassing looking back at it now though!
How hard was it to choose between rugby and football?
Since I was five or six it was all about rugby and football. I would be playing rugby on a Saturday and football on a Sunday. It was a either stay and play rugby or go away.
I was mad for it so it was a tough decision but there was only going to be one winner.
Is living away from home tough?
It's so much harder than people think. Everyone believes it is such an easy life but there are days when you get homesickness.
In saying that, there are a good few Irish lads over here so we're like a little family. I'm living with an Irish bloke called James Talbot. I've known him since I was 11 so it's good.
The likes of John O'Shea, Keiren Westwood and the other Irish lads all look out for us too.
Do Sunderland do a lot to help you settle?
Sunderland are brilliant. They make sure to get your family over and fly you home a lot. I talk to mates who are at other clubs and they hate it because they never get home. But we get loads of time at home which is very good.
In terms of the football, how are you getting on?
I normally play with the U16s but I've been playing a bit for the U18s and even a couple of games for the U21s so I'm happy. My target for the next few months is just to build on that.
You have earned underage caps for Ireland… 
I played for the U16s in the European qualifiers last year but there have been a few squads since that I haven't been in. There are more qualifiers coming up so hopefully I can get back in.
Source: Setanta Sports/YouTube
Watch 'Football Scholars' tonight at 7pm on Setanta Ireland