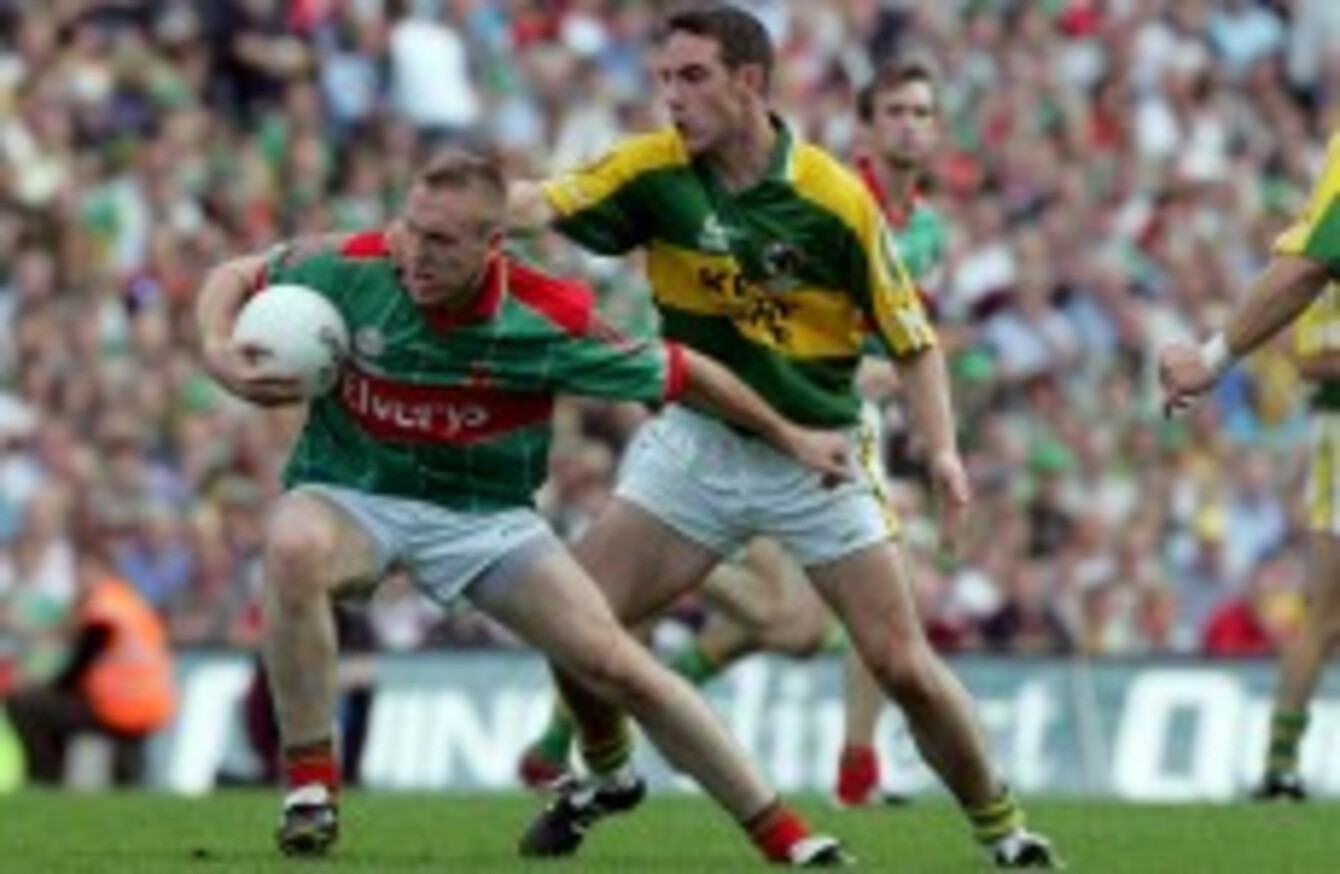 David Heaney with Declan O'Sullivan in 2006.
Image: Morgan Treacy/INPHO
David Heaney with Declan O'Sullivan in 2006.
Image: Morgan Treacy/INPHO
BACK WHEN HE was playing Kerry were feared and Mayo were free-flowing, but according to former Mayo full-back David Heaney things are different now.
In 2004 Heaney lined out at number three as Kerry inflicted a 1-20 to 2-9 hammering to his team, and two years later in the same position for the 4-15 to 3-5 rout.
"James Horan will have driven it into the players that there's no comparison with now and then, it is eight years ago when you think about it," the former skipper tells TheScore.ie however.
"Andy Moran and Alan Dillon were involved then but since Horan has taken charge Mayo have consistently beaten Kerry.
"I know it's league but I don't think they fear Kerry any more. This Mayo team have been able to shake off any other hoodoos, they've consistently shown they can bounce back and take a few knocks.
"So I don't think it'll be thought about at all, the previous beatings Kerry gave Mayo in 04 and 06."
According to Heaney the current Mayo team have a very different approach to the teams he featured on, with their physicality being a major difference.
"They seem to be a lot more built than we were. I think James Horan has brought that extra bit of steel, that extra bit of hardness.
"I suppose we were more of  an all-out-play team, especially under Micky Moran and John Morrison. Even though this team has put up big scores they're still well able to defend.
"If this Mayo team goes down five or six points you always believe they're going to come back. They're so fit, they're so physically strong and they're relentless.
"This Mayo team just keep coming back at you, they're a team I don't think many enjoy playing because they're just so physically fit and strong around the middle diamond. Teams find it hard to get an upper hand on Mayo in that area in particular."
Be part
of the team
Access exclusive podcasts, interviews and analysis with a monthly or annual membership.
Become a Member
Having lost consecutive All-Ireland finals James Horan and his team have shown huge character in bouncing back once more and reaching the last four. But how tough is it to recover from an All-Ireland final defeat, as a Mayo man?
"We didn't find it too bad but Mayo have done it for two years in a row now which is more difficult," explained Heaney.
"But yes it hurts, it stings for a good while from September definitely until Christmas. Then once January comes you forget about it and you feel revived and you're back at training for the league and it's surprising how quickly you get over it.
"Now two-in-a row though, it just shows you the resilience the lads have to come back from that and it shows how determined they are and what a good team they are.
"But I'd worry if they lost again this year; three in a row would be just unthinkable. Fingers crossed they'll get across the line on Sunday and then move on."
So as Kerry go in search of their first senior All-Ireland championship in five years, is it fair to say they no longer hold that fear factor over the rest of the country?
"Kerry come to Croke Park and they play with a confidence and a swagger, that they deserve to be there, and they do. But in reality they just haven't been as good in recent years.
"They're going through a period of transition and they're definitely not as good as they were and they don't have the fear factor — but they're still in Croke Park in August and they're still Kerry.
Looking ahead to this weekend and beyond, the Mayo legend can highlight one area Mayo need to improve on to bridge that gap, and possibly win that long-awaited All-Ireland after 63 years.
"I think Mayo need to get more from their bench and that's where Dublin are very strong and that's where Mayo need to show improvement, starting on Sunday. It really is a 20 man game now."