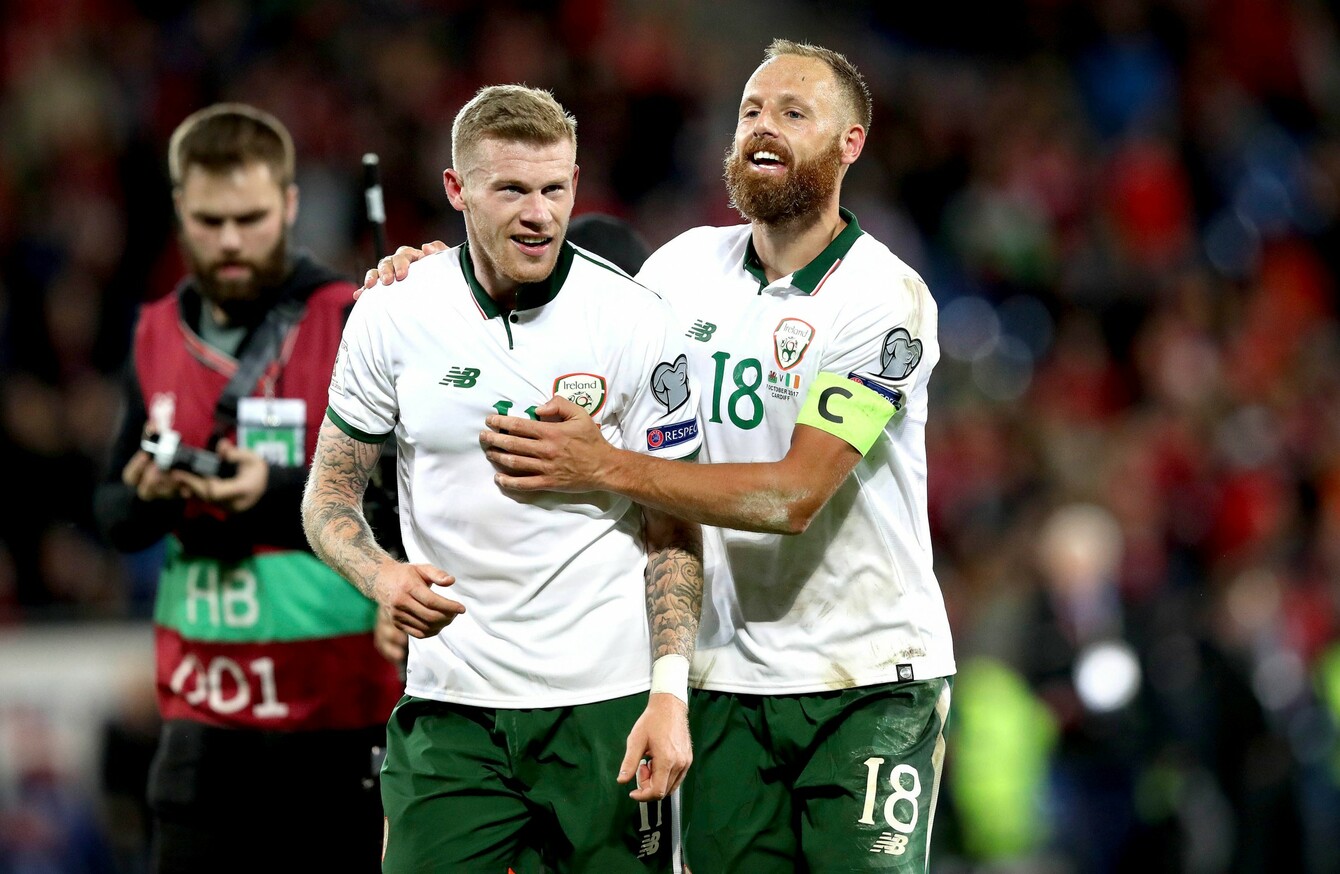 Celebrating the win over Wales with goalscorer James McClean.
Image: Ryan Byrne/INPHO
Celebrating the win over Wales with goalscorer James McClean.
Image: Ryan Byrne/INPHO
EX-IRELAND INTERNATIONAL David Meyler has joined The42 as our new football columnist for this season.
Every Friday, the former Hull City and Sunderland midfielder will give expert insight and his predictions ahead of the weekend's Premier League action, alongside the latest William Hill prices. 
Today, he remembers a high point from his playing days ahead of Ireland's Uefa Nations League meeting away to Wales and pays tribute to his former international team-mate David McGoldrick.
Wales v Ireland, 5pm Sunday
Ireland play Wales on Sunday at a ground where I enjoyed one of the stand-out moments of my international career.
Having tasted qualification to a major tournament under Martin O'Neill in 2016, we were desperate to reach the World Cup two years later.
It came down to the final night of the group stages, where it was effectively a straight shootout between us and Wales to finish behind Serbia and clinch the play-off spot.
Seamus Coleman had unfortunately suffered a horrific leg break in the home game against the Welsh and I was temporarily handed the captaincy, which was a huge honour for me and my family. Having skippered the team against Moldova — a fixture we won thanks to a couple of goals from Daryl Murphy — a few of the lads suggested I would get the nod again three days later.
To tell you the truth, I never believed that would be the case until Martin read out the team just before kick-off. Even when the starting XI was announced, I didn't know I would be captain until I walked into the changing room and the pennant was sitting on top of my gear.
Maybe subconsciously, I was refusing to take it for granted.
During my time with the Ireland squad, I would regularly have conversations with Martin as we had a very good relationship. He brought me along to a number of press conferences where I always made it clear that I was just filling in for Seamus.
In the build-up that week, the work in training had been good and the manager came to speak to me the night before the match. We chatted about a couple of things including the talk that Wales were planning to cut their anthem prematurely and let the crowd sing it a cappella in order to turn the atmosphere right up.
Cardiff City Stadium is a lot smaller and more compact than the Millennium Stadium and hearing their rendition was unbelievable. It really fired me up.
In the huddle right before kick-off, I highlighted the fact that people had written us off and said that we weren't good enough. I told the lads I believed in them and that I would do whatever it took for any one of them.
I added something along the lines of: "We're in Wales' back garden and we've just heard their anthem. What a great occasion to be involved in so let's fucking play. You've got to promise me that you're with me and we'll win this."
If you look at the opening few minutes, that's when the tone was set. Joe Allen was booked for smashing me in a tackle, and later in the game he ended up having to go off after getting caught in a sandwich between me and James McClean.
I had been involved in some big wins – Germany at home and Austria away spring to mind – and when you're back is against the wall, fellas stand up to be counted.
As captain, I felt I needed to put in the tackles, do the hard graft and help team-mates out. I wouldn't have been looking for the headlines. It's more about organising, giving instructions, encouragement and a friendly reminder if we needed more from them.
James' goal was a great finish, but the work Jeff Hendrick did down the wing to create it was exceptional. If you look back at when John O'Shea scored against Germany on his 100th cap, Jeff did wonderfully well for that too, but people are still quick to give him a hard time. He's been involved in some big moments.
The boys at the back were colossal and everyone knew what they were doing down to a tee. It's three years on but if we were still playing now Wales wouldn't have scored. We were hungry to succeed and fought for that victory. It was just an incredible night.
Transportation had been arranged to bring us from Cardiff back to our clubs afterwards and many of the lads went with their families. I was due to return to Hull but ended up flying to Dublin for a night out with a small group of us. Had we been playing at the Aviva Stadium, the whole squad would have celebrated together.
As we all know, that result earned us a play-off with Denmark. I was suspended for the away leg in Copenhagen, but we picked up a really good draw out there. We had done everything right in terms of preparation and now had 90 minutes to win a game of football and reach a World Cup finals.
As soon as the final whistle went in Cardiff, all I could think about was that play-off. Then, before I knew it, I'm sitting in the Aviva Stadium changing room at half time, we're 2-1 down to the Danes and Martin has taken me off. I'm just thinking 'Shit, the moment has passed me by'.
I'm hoping that the team can pull something out of the bag but it wasn't to be. We went for it and fell apart. I don't think it was a 5-1 game.
I recently watched Ireland play France in the Six Nations and could relate to that. I was sat at home on the couch feeling sorry for the Irish lads as they knocked balls on, dropped balls and missed tackles. It was just basic stuff that everyone would expect you to do.
So the Wales win and the Denmark defeat will always be tied together in my mind. You can't talk about one without mentioning the other.
It's still tough to take. You work so hard and dig out some big performances along the way, only to get hammered at the final hurdle.
In terms of Sunday's match, I can see a tight, cagey affair with both sides missing key players. Ireland need a goal and it probably won't come as much of a surprise that I'm predicting a 1-1 draw. 
Finally, just a few words on last week's news that my old team-mate David McGoldrick has announced his retirement from international football. 
I remember when Didzy first came into the squad, you could see straight away what a fantastic player he was and we were delighted to have him.
It's a real shame he only ended up with 14 caps to his name as there is no question he had the ability to play a lot more for Ireland. At 32, he's the current men's senior player of the year and showed fine form under Mick McCarthy, and more recently, when he lined out for Stephen Kenny.
Maybe he feels it's time to give the younger generation like Adam Idah, Aaron Connolly, Troy Parrott or whoever else it might be a go.
He will be a loss but I understand his position that he wants to focus on his club career and wish him all the best with that.
William Hill odds above correct at the time of writing. New online customers get €30 in free bets when they bet €10 with William Hill. Just use the promo code P30. For all the latest prices, visit williamhill.com. 18+, always gamble responsibly. For more information, see gamblingtherapy.org