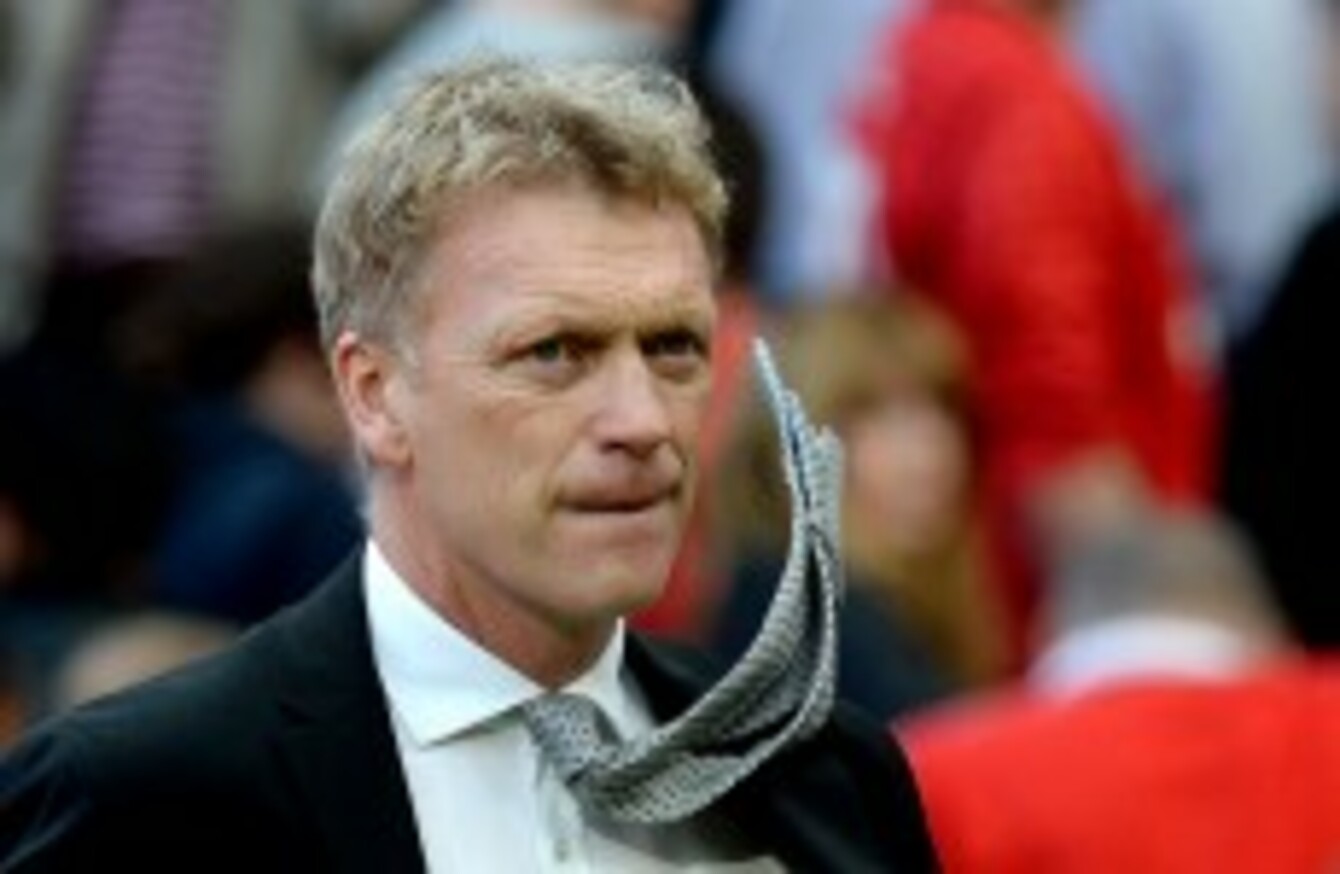 Manchester United manager David Moyes leaves the pitch after his team's 2-1 defeat to West Bromwich Albion on Saturday.
Image: Martin Rickett/PA Wire/Press Association Images
Manchester United manager David Moyes leaves the pitch after his team's 2-1 defeat to West Bromwich Albion on Saturday.
Image: Martin Rickett/PA Wire/Press Association Images
The David Moyes mantra was that Manchester United's opening five matches of their title defence were an unfair initiation as the new manager. To have to play Swansea City, Chelsea, Liverpool, Crystal Palace and Manchester City by mid-September was "hard to believe", a claim that forced the Premier League into defensive mode regarding its fixture list process.
What Moyes never countenanced was the next outing after this sequence ending as a 2-1 humiliation by West Bromwich Albion in front of the United congregation. This consigned the champions to seven points from six games to stand 12th in their worse start since 1989 that also features City's 4-1 demolition of United in the derby.
As the sense grows that United's real fight could be to claim a Champions League place, which they have never failed to do, Moyes has real problems.
1 Is this squad only of average quality?
The manager admits that United may not win the European Cup because he lacks "five or six world-class players". A further truth is the one he acknowledged privately when taking over from Sir Alex Ferguson in July that the group of players he has been left might have been better. Major surgery is required. To varying degrees the jury remains out on Anderson, Antonio Valencia, Nani, Tom Cleverley, Alexander Büttner, Chris Smalling, Ashley Young, Shinji Kagawa and Wilfried Zaha, too many for a club hoping to be the best of the elite.
2 Experience is vital, but too many key players are over 30
A corollary to the above is that although Moyes's A-list core of Wayne Rooney, David de Gea, Robin van Persie, Patrice Evra, Nemanja Vidic, Michael Carrick, Rafael da Silva, Ryan Giggs and Rio Ferdinand looks strong, only three are under 30. Of these De Gea now appears reliable but could again slip in the glare of being the United No1, Da Silva is tempestuous and mistakes remain in him, while Rooney's future could yet lie away from the club.
The defence is particularly creaky because, in Evra, Vidic and Ferdinand, three of Moyes's first-choice back four are 30-somethings. Every player has forgettable days but Ferdinand has returned two in consecutive league games, following the positional mistakes he made against City by allowing Morgan Amalfitano to nutmeg him as the Frenchman skated on towards a fine opener for West Brom.
The manner in which Steve Clarke's side later cut through United with razor-sharp pass-and-movement before Saido Berahino's winner was a further black mark against the rearguard.
Moyes said: "We should be defending better. We shouldn't be in need of the last-ditch sort of things that happened a couple of times today. And in the end, it cost us."
3 Questionable cohesion – they aren't playing as a unit
When in a dogfight, do United look like a band of brothers? Even on Saturday there was surprise when, after going behind, Rooney equalised. That the striker's fifth goal of the season required fortune – everyone including Boaz Myhill, the visiting goalkeeper, missed the ball – sums up how United are in sink-or-swim mode.
Asked what had gone wrong, Moyes said: "I don't think that was just the one department where you'd say we were lacking. It would be unfair to say it was anything [specifically]. It was the whole thing; we were lacklustre in nearly all the areas. So we've got to try to work on it and improve."
4 No goal from open play in 450 minutes is worrying
Since Danny Welbeck scored in the 4-1 win at Swansea on 17 August, United's league strikes have all been registered from dead balls. "We should be scoring more from open play," said Moyes after seeing Rooney's goal against West Brom derive from a free-kick. For a club built on a tradition of searing attack, this is a concern. This points to a lack of variety. On Saturday there were some punts downfield, an attempt to work the channels, and little else – that, in part, comes from a midfield that continues to lack a spark: the conundrum which was supposed to be solved by the arrival of Cesc Fábregas.
5 Is there actually any real money to spend?
An ongoing query from fans is what happened to the £80m yielded from Cristiano Ronaldo's sale to Real Madrid in 2009 as they question if United can really compete for the game's aristocrat players.
In July Ed Woodward, the executive vice-chairman, said: "We haven't got money burning a hole in our pocket but we have got a strategy on player purchases and if David wants to go after a stellar player he can do that."
So where are they? The argument may run that Gareth Bale wanted to join only Real in the summer but if so, why not gamble some of the Glazer family's money on the potential of a Thiago Alcântara or Ander Herrera? These targets fell down because of Moyes's doubts over their ability and value but might having constraints on the manager's budget have caused parsimony?
Be part
of the team
Access exclusive podcasts, interviews and analysis with a monthly or annual membership.
Become a Member
6 Things could become a lot worse before they improve
Next is Wednesday's tricky trip to Shakhtar Donetsk for a Champions League group game. With Moyes admitting progress is "not guaranteed" in the competition, the spectre is raised of United playing Europa League football after Christmas.
Moyes had hoped the 1-0 midweek Capital One Cup win over Liverpool at Old Trafford might kickstart the campaign but after the humbling reverse to West Brom, he has to start all over again. It could be a long road.
This article titled "David Moyes at Manchester United: where is it all going wrong?" was written by Jamie Jackson, for theguardian.com
© Guardian News & Media Limited 2014