AS I WRITE this it's Monday evening around 7:35pm, and Ophelia is 'battering' the majority of the island of Ireland (although on my doorstop it has manifested itself as a stronger than average breeze).
I find myself with a bit of spare time to piece together some random thoughts for The42 (due in no small part to the aforementioned hurricane cancelling a lot of my work this evening).
So here I sit in the Merton family bomb shelter, surrounded by cans of beans and the 74 loaves of bread I bought in Tesco yesterday — sourdough of course — in between bouts of college work, hurricane-related meme making, and re-watching WWF Wrestling Events from 1995 on VHS the following things have popped into my head:
Progress doesn't need to be complicated
One of the common misapplications of effort I see in most training programs is the use of complicated progression schemes in order to induce overload within the body.
A good, progressive training program will induce overload by means of manipulating any number of factors including (but not limited to) intensity, volume, time under tension, frequency, or range of motion. A really crappy training program will aim to overload the body using all of these tools at once in an effort to be flashy. The danger in this is that when tweaking too many variables one runs the risk of progressing none. As the old expression goes; if you chase two hares you are bound to lose them both.
Progress can be a simple case of picking one training parameter to manipulate, picking a time frame to overload within, and following a deload commencing again from a more difficult starting point.
While there is far too much writing on this subject to jam into a small subsection of an article, you can read up on some progression models in my previous one.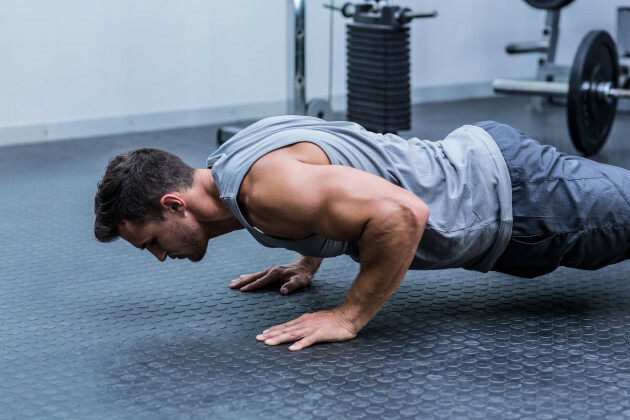 Shutterstock / wavebreakmedia Shutterstock / wavebreakmedia / wavebreakmedia
And if you want the leg work taken out of filtering all of that info into some form of useable content I've made a pretty simple beginner's program that you can find here.
The best diet training program is the one you can stick to
You've probably heard the expression "the best diet is the one that you can stick to"; usually meaning that it doesn't matter if you go low carb or low fat to reach your caloric deficit. All that matters is the means you use to get there are sustainable in the long term. I would apply this adage to programming also (and this is the last you will hear of me talking about diet in my column as that is a can of worms I simply do not want to open).
There are some people who make great progress from training three times per week and killing themselves each time with volume, load and intensity, there are people who make great progress from up to six or seven relatively lighter sessions per week instead focusing on a single body part at a time, each of these approaches can be efficacious depending on how strictly they are applied and more importantly how likely the athlete is to stick to them.
In either approach a lack of application will ruin the potential efficacy of the programme; in the less frequent but more intense approach an athlete unwilling to push hard three days per week will reap less benefits due to their infrequency of loading, in the more frequent yet less intense approach an athlete skipping days in the gym will suffer due to their loading being lesser overall when the cumulative effort of those multiple days are summed up.
The best approach is one that you will enjoy and stick to. Some experimentation may be required; for example after years of switching from body part splits to upper/lower splits to total body training, I've found that my best results come when I murder myself three days per week but also allow time in the week for some extra 'fluff work', sport practice, free play, or supplemental cardio which I generally do as unplanned and change on a whim as a way to keep myself enjoying training.
Go out and see what works for you. For the vast majority reading this, training is a recreational activity — find something you enjoy doing and stick to it, it will serve you much better in the long run.
Shutterstock / Sebastian Duda Shutterstock / Sebastian Duda / Sebastian Duda
Your body has no idea what a week is
So the seven-day week is a construct of human society, as such it has absolutely no place in nature, how does that apply to you when it comes to training? Pretty simple — it liberates you from pigeon holing all of your weeks activities into a seven day bracket.
Wanna train legs every third day? That's fine as long as you can recover in time to do it.
Got a lot of work stress and want to take a day off but worried you won't complete your Monday/Wednesday/Friday/Saturday split? What's so magic about those four days that make them absolutely essential and optimal for progress?
Wanna skip your usual Thursday session and do it Friday instead? Yeah that's cool, just hit it when you can, bro.
Exclusive Six
Nations Analysis
Get Murray Kinsella's exclusive analysis of Ireland's Six Nations campaign this spring
Become a Member
This also gives you some sweet freedom when you realise that your training split doesn't necessarily have to fit within seven days. Wanna train two days on and one day off; as in an upper body, lower body, day off style split?
No problem, start your split on Monday, Thursday, Sunday, Wednesday, Saturday etc etc
Far too often we limit our physical progress by allowing our training regime to be dictated by the constructs of modern society. Your job may work on a five on, two off basis, but your body certainly doesn't. So to echo my sentiment from the previous point, find something that works for you by avoiding limiting yourself to Monday to Friday training.
Wrapping Up
I hope at the very least this article has given you some food for thought, as always my inbox is open for any questions, friendly discussion, or all-out hate mail.
If you enjoyed this article I'd appreciate a few shares on your social media platforms, especially if you're Taylor Swift or something. If you didn't enjoy it I hope you share anyway, because I have horrible self esteem issues and shares feed my malnourished ego enough so that I can get through another day.
Dean Merton is a Dublin-based strength coach and personal trainer. For more information you can follow him on Facebook and Instagram, or you can send him a direct message here.
You can also see some of his previous articles here. 
Subscribe to The42 podcasts here: