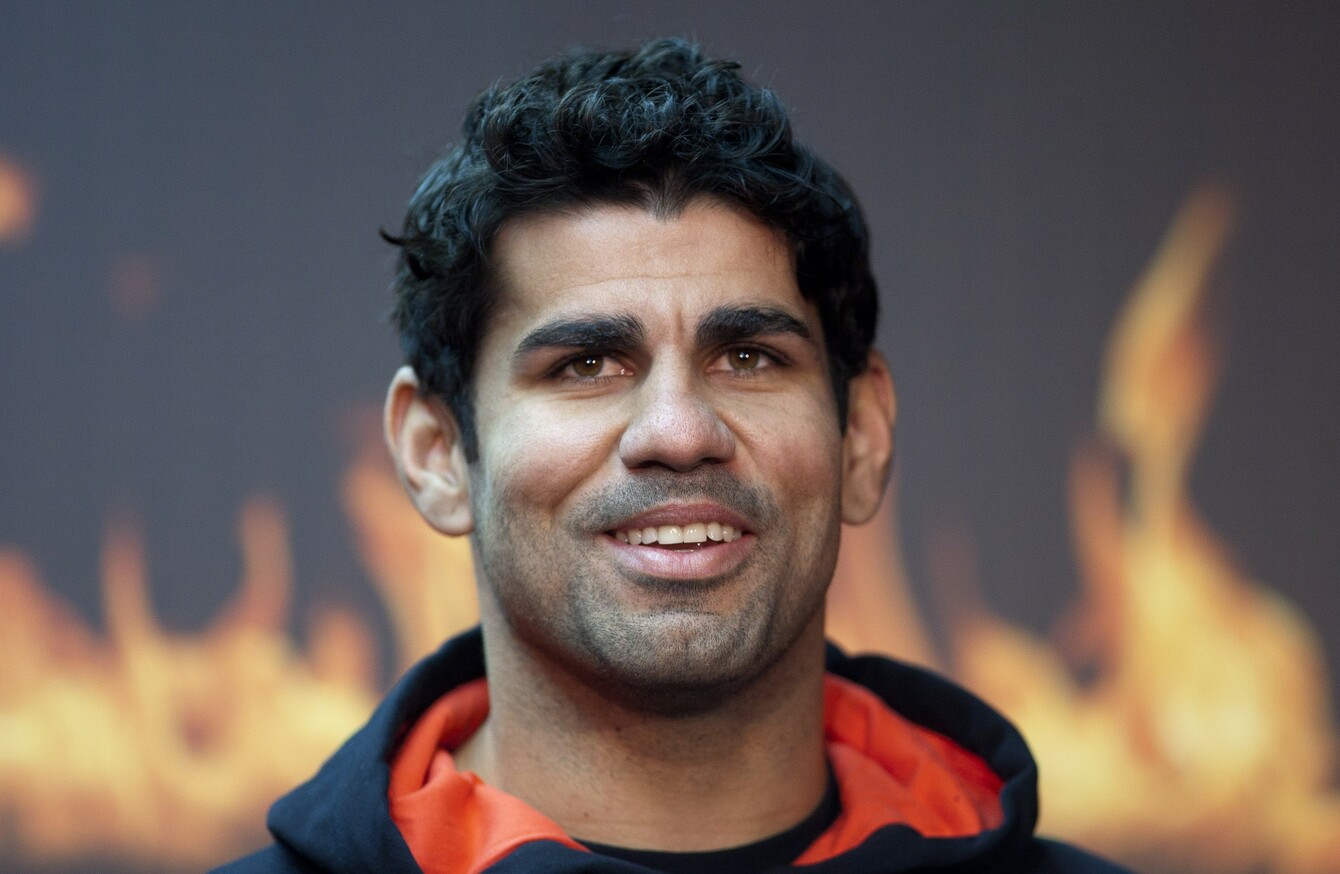 Diego Costa had a loan stint at Albacete during the early part of his career.
Image: AP/Press Association Images
Diego Costa had a loan stint at Albacete during the early part of his career.
Image: AP/Press Association Images
"DO YOU HAVE any idea who we're signing? Only the guy who's going to keep us up." Albacete coach Juan Ignacio Martínez spoke bullishly as he locked horns with the club's vice president of football, Gonzalo Panadero.
"Listen, when this guy arrives, I'm going to have to recruit two psychologists – one for him and one for you," Panadero retorted.
With the end of July 2008 approaching, Albacete were still desperately looking for one more player for their squad but not everyone agreed that Diego Costa was the best man for the job. Stories of the young Brazilian's wayward behaviour had spread far and wide, blackening his name forever in some quarters. However, the plans for his transfer to Albacete had been laid down weeks before, in the face of interest from rival clubs Nàstic and Salamanca. The player had his own ideas about the destination for his next loan move, but they were quickly quashed.
"Diego phoned me up out of the blue to tell me that Málaga's coach, Juan Muñiz, was interested in him," recalls Jesús García Pitarch, then Atlético's director of football.
"I told him that Málaga was out of the question. All I could think of was that boy let loose on the Costa del Sol. The people at Vigo had kept me informed about the things that had happened whilst he was there and there was no way I would consider Málaga. In fact, I was already thinking about Albacete. Diego wasn't keen at first but we managed to convince him in the end."
Antonio Alfaro, an agent with close ties to Albacete, was so impressed by Costa in a pre-season friendly between Atlético and Getafe that he immediately contacted García Pitarch to try and broker a move. At this point, the Brazilian had played a few friendlies for Atlético and had even travelled with them on a tour of Mexico, but had not yet secured a regular place in the first team. Albacete, on the other hand, were in urgent need of a strong player up front.
"Antonio told me that they needed a forward but that they couldn't pay for him," continues García Pitarch.
"I wasn't particularly bothered about the money and just wanted him to play, so in the end we drew up a contract which meant that the more games he played, the less they paid. Basically it would end up costing them if they didn't let him play."
The Albacete coach, Martínez, already knew the player. While in charge at Salamanca the year before he had faced Costa, then on loan at Celta Vigo. "He basically made mincemeat out of my guys, so when Alfaro told me that he was available I told him to get down to Madrid immediately and sign him up," says Martínez.
Costa signed his contract on August 22, 2008, and three days later was presented as Albacete's new striker.
Flanked by director of football Máximo Hernández and president Ubaldo González, a relaxed and smiling Costa – wearing a grey t-shirt and a black baseball cap, back to front – was perhaps overly optimistic that day. "I am determined to play in the first division and am happy to prove myself here in the second division. I will be working hard to help Albacete win promotion."
Source: CHOLISMO/YouTube
"Diego was labouring under a couple of serious misconceptions when he arrived," grins Martínez.
"First of all, he had no idea that Albacete wasn't on the coast and therefore didn't have a beach and, secondly, he thought he was coming to a much better team. The first game he saw us play was the final of the Castilla La Mancha Cup in Puertollano. He attended the match but didn't play because he hadn't yet met all his team-mates.
"I made a point of being completely up front with him about the quality of the players we had and at half-time he told me that, after having seen the kind of football we were producing, there was no way he was staying. He was adamant. He was going back to Madrid!"
Albacete midfielder Marco Navas remembers Costa telling him shortly after his arrival that his agent had sent him to Albacete. "You could tell that he had absolutely no idea where he was."
The Brazilian scored Albacete's first goal of the season, a winner in the final moments of their first match, against Sevilla's B team.
The club's new striker would also become a central figure in the Carlos Belmonte stadium dressing room.
"Definitely one of the best group of lads I've ever played with," remembers defender Francisco Javier Tarantino.
"Thursday was the hardest day of training so every Thursday and sometimes on a Monday, we'd all head over to Diego's flat."
The player had a huge terrace and would invite his team-mates over for post-training barbecues. "Although only if Diego Trotta was there," qualifies Marco Navas.
The Argentine defender was the only one who knew how to cook. Poker games would frequently drift on until 1am and Costa, who lived alone, had people coming and going at all hours of the day and night.
It was inevitable that his nocturnal habits would raise issues. One night in particular the police turned up after Costa's neighbour had complained about the smell from the barbecue.
"They lined us all up and demanded to see identification and then gave us a good talking to," says Trotta, the Argentine defender.
"Of course the meat had been cooking all this time and by the time they had finished, it was cooked to perfection."
Costa's unfortunate neighbour may have been one of the few Albacete citizens who did not appreciate the new-found togetherness in the dressing room of his hometown team.
Vicente Ferre de la Rosa, an administrator at the club, was the recipient of many of her calls. "On one occasion they had a porn movie blaring out and the poor woman came down to tell them to turn the volume down.
'What's the matter? Don't you like making love?' a wide-eyed Costa asked her sweetly."
In the end, she followed Costa's trail back to Madrid and complained directly to Jesús García Pitarch at Atléti about the menace he had sent to Albacete.
"She said that every time she banged on the wall to get them to turn down the music, they just played it even louder," he remembers.
Whilst living in Albacete, Costa also bought a dog. The big, aggressive striker did not opt for the pit bull or Rottweiler, which might have best suited his playing style. No, Costa's dog was a Yorkshire Terrier.
"I had a dog as well and we used to have a real laugh with them," remembers Marco Navas.
"Although mine was bigger, he was really scared of Diego's. That thing might have been small, but my God, it was fierce – not unlike its owner."
As the Thursday night poker club continued, Costa became almost as skilled in the game as he was with a ball. Trotta, his tutor in this new discipline, taught him well, and soon he was a regular winner at the table. The poker-playing team-mates chanced their luck in more ways than one.
"We even took part in the European Poker Tour in Madrid. We told them that we were professional players from Brazil and Argentina. What a blast!" remembers Trotta.
Even the coach ended up facing Costa's impenetrable poker face. Costa, donning his poker uniform of a baseball cap, sunglasses and a vest top, sometimes convinced Juan Ignacio Martínez to join in the fun.
"They'd usually fleece me, the bastards."
Although Costa's talent for poker was proving a steady source of income, the same could not be said for his wages. In fact, such were the club's financial difficulties that they were unable to cover the wage bill on more than one occasion during his loan spell.
The club's medical assistant, Manolo Bleda, remembers: "The club decided to pay the players but not the rest of the staff. When he heard that, Diego refused to train until everyone was paid. In 35 years I have never known anyone else take a stand like that."
"He always checked with the kit men to see if they had been paid," continues Eduardo Rodríguez Vellando, the club doctor.
"And he would give his teammates a hard time if he heard them grumbling whilst other members of staff hadn't even been paid. Then one day the president came into the dressing room. He was going round everyone shaking their hands. Diego waited for his turn, and then kept his hands by his side and asked if the kit men had been paid. 'I'm not shaking your hand until you pay them,' he said."
The team performed moderately well, with Costa playing a key role in every match. He didn't miss a league game until December 13, when Albacete played Real Sociedad at home. Martínez explains: "There had been a huge bust up between him and Jonathan, our goalkeeper. I remember it was over something really trivial — one of them had asked for the ball and the other didn't get it to him fast enough. We were playing Real Sociedad at home next and since I felt I had to be fair about it, I made both of them substitutes. It was absolutely freezing and he was sitting there wrapped up in his big jacket, looking miserable.
"I turned to my assistant, Javi Pereira, and told him to put Diego on at half-time. He hardly warmed up, just sprinted out onto the pitch and, in the 93rd minute, scored the winning goal."
The two warring players cleared the air the next day at training and sealed the deal with a brotherly hug in the middle of the training pitch.
"He was totally sincere about it and even said that, if we were sick of him and wanted him out, he'd go," remembers team-mate Carlos Merino.
Source: IbraAlliance/YouTube
The transformation between the all-in competitor and the nice guy could be instant, and subject to the strangest triggers. During a game against Nàstic, a lungbursting run from Costa was ended by a foul inside the box. He demanded to take the penalty, and found opposition from Verza, his team-mate.
Costa would not give an inch — until Verza explained that it was his birthday, at which point he happily stood down.
During training one day, Martínez decided to up the intensity and demanded more pressing from his players during a drill. Costa threw up his hands and announced he could not take any more, and stalked off to sit in the stands, sulking. His team-mates laughed it off at first, until eventually Trotta, who held the most influence over the Brazilian, was sent to talk him down.
"He was just a big kid really," says Ferre de la Rosa, affectionately.
Jesús Cabrero tells an even better tale: "We were on the bus coming back from a Real Sociedad game in San Sebastián and we stopped at a service station at about 2am. We got out for a while and when we got back to the bus we found two guys nicking our stuff. Diego just went for them. What a sight! The two guys sprinting away across a field with Diego hot on their heels, screaming and swearing at them in Portuguese and the rest of us chasing him trying to get him back. He was like a mad man."
On the pitch and in training, Costa's overwhelming competitive nature was being honed, but it was matched by a much subtler instinct for popping up in the right areas. "What surprised me was that every time there was a loose ball in an attacking situation it would seem to rebound to him," recalls team-mate Diego Mainz.
"Always. The first time can be pure luck but when it happens a third, fourth, fifth time you learn that it's not luck. It's him."
On matchday, Costa was already struggling with the reputation he had earned during his tempestuous loan at Celta Vigo. Martínez certainly felt that his striker was still paying for past crimes, but at the same time he could frequently empathise with match officials who had to provide boundaries for Costa.
"Whenever I was refereeing in training and had to admonish him for something, I always avoided looking at him. It was better to just ignore his response. He'd go absolutely nuts."
In one press conference, the coach conceded that Costa was great for 89 minutes, but that for one minute every match, it was better to avoid him. Not that his frequent over-reactions were without provocation. Whenever the team was under pressure, they would simply thump the ball long to Costa who would expertly hold it up, but his physical presence at the spearhead of the Albacete attack came at a price.
"In those days in the Segunda, players were allowed to kick him black and blue," Bleda confirms. "I'd see his ankles sticking out of the stretcher as they carried him off."
Costa thrived on conflict and was not averse to deliberately provoking opposition defenders. Inevitably, it was a tactic which invited trouble. One such incident happened in the Heliodoro Rodríguez López stadium against Tenerife. Costa earned his second yellow minutes from the end of the match and began to protest taking the name of the referee Hevia Obras' mother in vain. Obras formally recorded what happened next in his report.
"The No.19 [Costa] stopped and started to take off his shin guards instead of leaving the pitch. In response, Tenerife's No.5 [Manolo Martínez] asked him to get off the pitch. The No.19 responded aggressively and was issued with another warning. The confrontation then escalated into a brawl involving more players from both sides."
Martínez was aware of the balance that had to be struck between this raw talent and the volcanic temper that had the potential to derail it. He would frequently emphasise to the Brazilian the sheer scale of his talent and how far he could expect to go in the game. "But I also tried to make him understand that his reputation could damage him and that he had to change people's view of him," he says.
Off the pitch, Costa was fun-loving and care-free. He had become the team's DJ, and his team-mates found themselves learning the Brazilian songs they were being force-fed. The kitmen would walk into the dressing room to find their laundry basket upturned and being used as a drum by the young striker. He purchased speakers which he plugged into his mobile phone during the team's trips for away games, blaring his music at record-breaking volume. When his coach told him to dial it down, he responded: "We need it loud, boss — it will help us win."
The above passage is an extract from Diego Costa: The Art of War by Fran Guillan. More info here.