"HE'S A FREAK, a complete weirdo when it comes to rowing. It's his life. How can his athletes go faster? How can the rowing club be better? It's just a constant quest for rowing to be better" — Gary O'Donovan, 'Pull Like A Dog' documentary.
RTÉ Player Gary O'Donovan speaking about his coach Dominic Casey. RTÉ Player
When the rowing pair of Gary and Paul O'Donovan first endeared themselves to the nation at the Rio Olympics last year, we all got swept up in a 'shteak and spuds' haze.
Everyone was hooked on the 'pull like a dog' hysteria, and the fans multiplied at an exponential rate.
The talent and athletic ability of the Cork-born brothers was naturally apparent, and before their vessel had entered the water for the lightweight double sculls final, the country was already united behind them.
Their silver medal success has transformed the image of rowing in Ireland, and propelled the sport's status into the mainstream.
We have become appreciably more interested with how Ireland fare at the major rowing events, and we have more names to cheer on, including the similarly charming pair of Shane O'Driscoll and Mark O'Donovan.
Denise Walsh has also become a household name through the increased recognition of the sport.
They're all members of the Skibbereen Rowing Club – the most successful rowing club in the country with over 16o national titles already in the cabinet.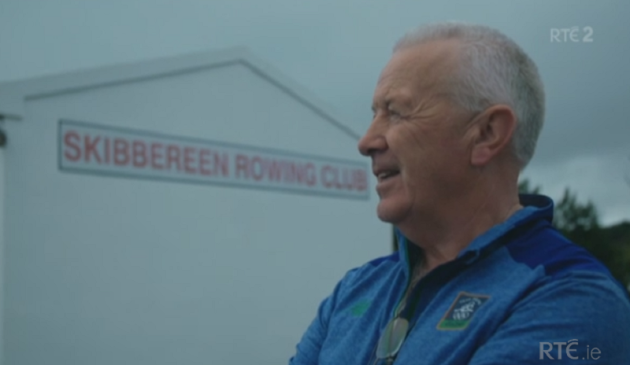 RTÉ Player Dominic Casey standing outside the Skibbereen Rowing Club on the 'Pull Like A Dog' documentary. RTÉ Player
But standing behind the curtain and quietly working away at the controls, is their coach Dominic Casey.
A former rower himself, Casey has been involved with the Skibbereen Rowing club since 1979.
He has been credited with the successful growth of the club, including their Olympic achievements, but he refrains from accepting all the praise.
And like every successful club, the philosophies are quite simple.
"I suppose but we've had a good history down through the years," he tells The42.
"We won our first national title in 1976 and we've a good programme, we keep it simple. We've a good momentum built up over the last number of years and we've people on the national team for many years.
We are where we are today because of that. I don't think it's all down to me.
Casey is a pleasant conversationalist, but he keeps his answers brief. The Skibbereen Rowing club was founded in 1970, and as a starting point, it would only be natural to inquire about what the club was like during those formative years.
He lays it on thinly with the details, but Casey's succinct description of that time suggests they came from humble beginnings.
When I started off, we used to tog off in the side of a field. Got the bag ou' of the car and togged off in the corner and headed out.
"It started from small beginnings and that's the way it went."
Casey first met the O'Donovan brothers over 12 years ago, when their father Teddy brought them to the club.
Their potential wasn't immediately evident but they were quick developers. And as Casey puts it, 'you see the people that are going to go a long way fairly early on.'
But considering the colourful personalities of Gary and Paul, it's difficult to envisage how that can marry with Casey's reserved character.
Unsurprisingly, it appears as though the boys were partial to a bit of mischief when they were younger.
During the aforementioned 'Pull Like A Dog' RTÉ programme, the boys recalled moments from when their father Teddy coached them and how they used to cause trouble during their training sessions on the water.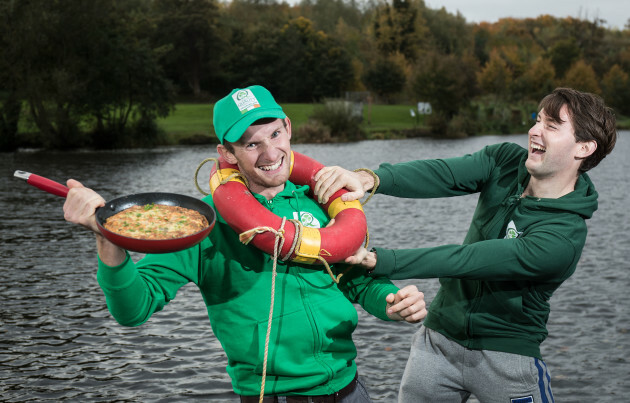 Dan Sheridan / INPHO Dan Sheridan / INPHO / INPHO
"When we got more confident and I suppose more cocky and maybe a bit arrogant about the whole thing, we thought we were the men and we didn't need to listen to him so he'd end up giving out to us and he'd stand up to give out to us.
"And when he used to give out to us, we used to shake the boat and rock it from side to side to see if we could knock him out."
They even told the Southern Star that Casey lost his patience with Gary at one stage, and banned him from the club for a week after repeatedly threatening to throw them out.
But when the story is put to the mild-mannered mentor, Casey has a different memory of the events. He even sees their giddy nature as something that benefits their rowing.
Ah no," he laughs, "that was only for a couple of hours probably. There was never a problem really. When you run a club, there's always characters coming through.
"I think they're very relaxed about the whole thing which is good and they don't worry about anything really. All they can do is the best they can every time they go out. And it reaps rewards."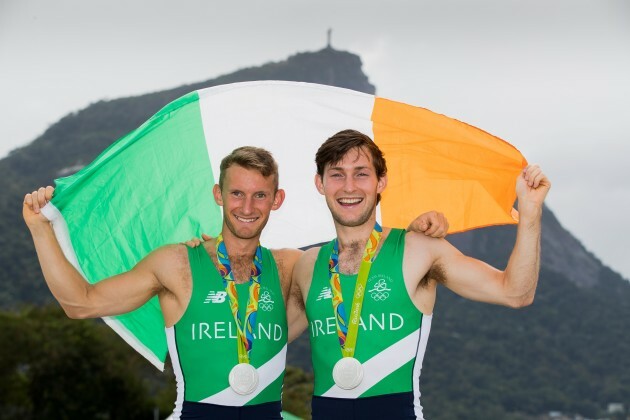 Morgan Treacy / INPHO Gary and Paul O'Donovan with their Olympic silver medals. Morgan Treacy / INPHO / INPHO
A silver medal at the Olympics is an incredible feat, but a first-place finish was within their grasp towards the end of the race.
Paul laments on the documentary about the moment when the French crew pull away to claim the gold medal, as they follow closely behind.
Like any other race, Casey has reviewed the footage of the final as well, but he looks back on it all through pragmatic eyes.
Olympic / YouTube
"I always want to see how they're getting on and how we can improve. They were very close (to a gold medal) but that's the way it worked out, you have to move on and can't do anything about it.
Exclusive Six
Nations Analysis
Get Murray Kinsella's exclusive analysis of Ireland's Six Nations campaign this spring
Become a Member
"We knew from the way we were performing that we were there or thereabouts, but you never tempt fate. You have to be cautious and just try and do a job.
"At the end of the day they did their best and you can't ask for anything else."
Ireland's rowers continue to excel against the best crews in the world, and at the end of last month, they came home from the World Rowing championships with three gold medals.
Paul O'Donovan defended his lightweight single sculls title while Mark O'Donovan and Shane O'Driscoll were crowned lightweight men's pair champions.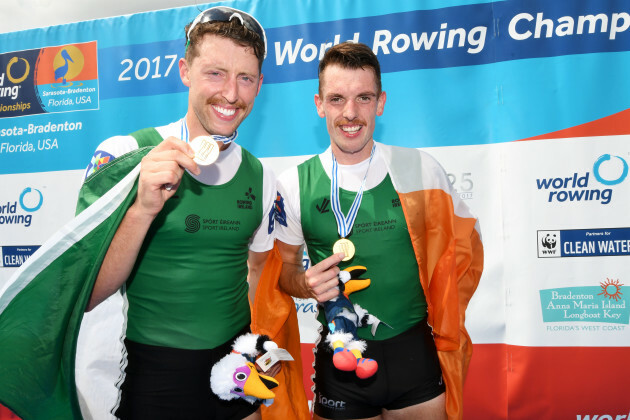 Detlev Seyb / INPHO Mark O'Donovan and Shane O'Driscoll after winning gold at the World Rowing Championships. Detlev Seyb / INPHO / INPHO
Earlier this year, they also scooped a gold medal at the European Rowing Championships. The O'Donovans, along with Denise Walsh, claimed silver medals at the event.
Moving forward, there may be occasions when the pairs may have to row against each other in competition, but it won't be a major departure for them.
Gary alluded to it after the world championships, and remarked that taking on Mark and Shane will 'be a bit of fun.'
Rivalries are a long-standing feature of the Skibbereen Rowing Club, and a key factor behind the club's sustained success.
The O'Donovan siblings were once chasing experienced rowers such as Richard and Eugene Coakley, and now that they have become established players in international rowing, they're a target for their clubmates Mark and Shane.
Success breeds success," explains Casey, "within the club and throughout Ireland. When we go to regattas, everybody's saying that they race with Paul O'Donovan. It's good for rowing to have that standard of competition for progress in Ireland."
Casey was appointed to a full-time coaching position in Rowing Ireland last year. The workload is tough he admits, and it requires a lot of travel which he doesn't particularly enjoy.
But he gets great satisfaction out of his involvement in the sport, and he does it it all in his own understated way.
"It's tough work. It's demanding and you need the bit of luck really with the whole thing going forward. Hopefully it'll all work out.
It's the nature of the job that you're up in the morning and you're out in all weather. You've a lot of travelling involved. We've been away maybe 12 weeks this year.
"Each regatta takes about a week.And then we've three training camps. You're away for long periods of time so it's probably tough that way.
"I wouldn't be a big fan of travelling but I'm surviving at the moment."