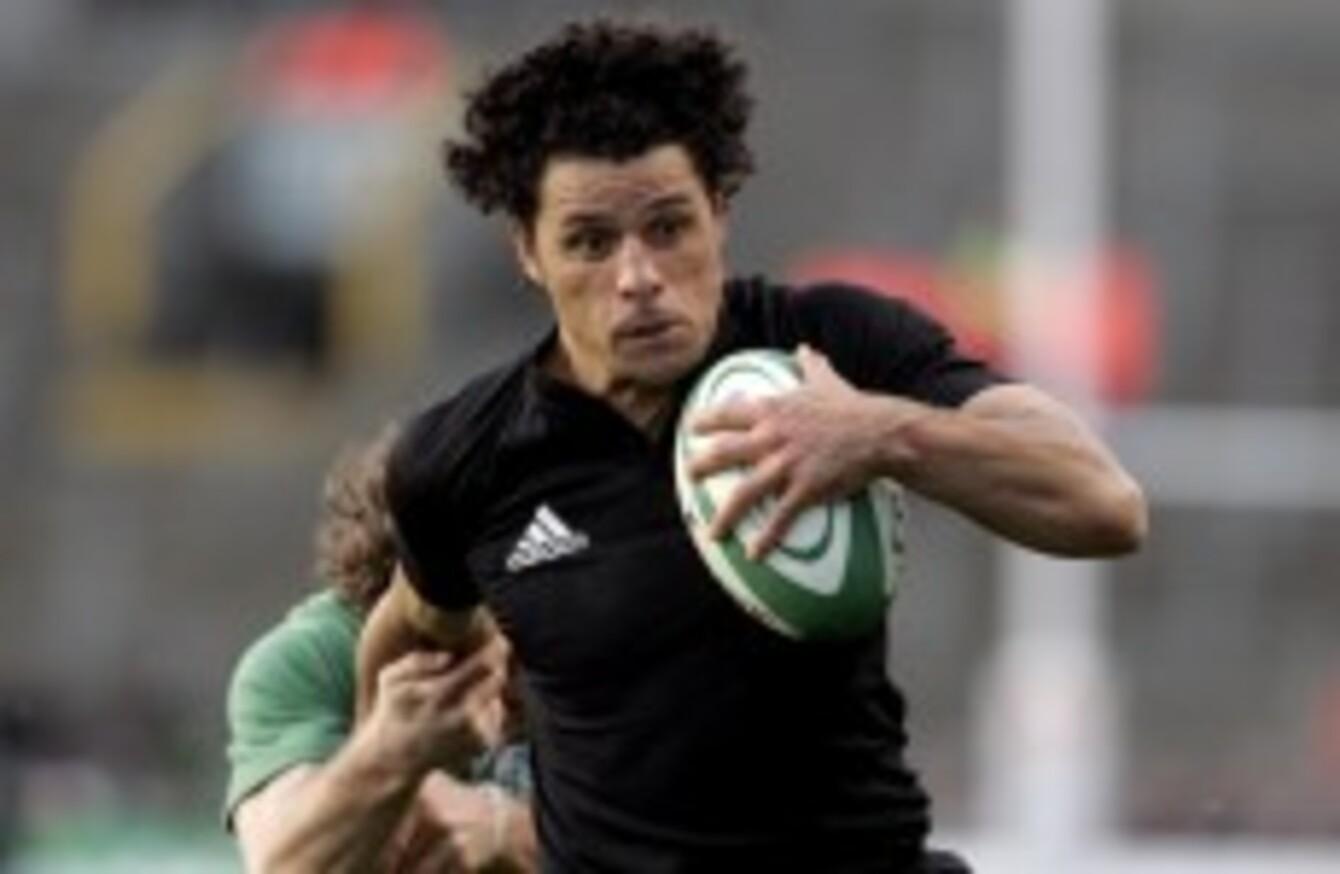 Howlett says Jonah Lomu is the best winger he ever played against.
Image: Tom Honan/INPHO
Howlett says Jonah Lomu is the best winger he ever played against.
Image: Tom Honan/INPHO
LAST WEEKEND'S INTER-pro derby was yet another reminder that no team plays better with a chip on their shoulder than Munster. Written off by fans and punters alike before their clash with Leinster, the men in red promptly channelled all the anger that had been brewing during their lacklustre opening to the season and used it to throttle their rivals.
As a former All Black, the front runner gene is ingrained into ex-Munster winger Doug Howlett like a microchip inside a Terminator. Howlett thinks Munster, and Irish rugby in general, would be better served if they weaned themselves off the bitterness and resentment drug that they have used as fuel for so many of their greatest wins.
"It it is a mentality that needs to be changed or needs to be worked on in the Munster region and I could say in Ireland, for the rugby teams," Howlett said.
"Backed into a corner, any Irish team will come out fighting and put in their best performance of the season. But if they go in as red hot favourites, there is a risk that they could underperform. It is a matter of identifying that they can lead and play from the front."
It is hard not to be more than a little envious when watching the All Blacks play rugby. Ireland has just as much people and matches New Zealand rain drop for rain drop, but that is pretty much the only two things the sides have in common.
Howlett doesn't know what the All Blacks' secret is, or if he does, he has signed the same eternal non-disclosure agreement signed by every other player to wear the jersey. Instead, he says, the team just focus on themselves rather than the opposition.
"With the All Blacks we pay a little bit of attention to our opponent, but most of our time is focused on what we are doing and how we are going to impose ourselves on the game," Howlett said.
"Reinforcing that all week gives you confidence and regardless of who you are playing you have standards that you have to meet. I think that is something that we could work on in Ireland. You need the whole team to buy into that mindset if you want to lead from the front."
That steely winning mentality has been taken to a new level by Steve Hansen's All Blacks, with the team losing just two of his 37 matches in charge, and reacting to opposition scores as if they were a personal insult to the New Zealand race.
With the play of all-time greats like Richie McCaw and Kieran Read being supplemented by gamebreakers like Julian Savea and Ben Smith behind the scrum, many are calling this squad the greatest the country has ever produced.
Howlett can only smile at that moniker being dished out for probably the tenth time since he started playing.
"Every year the All Blacks team is 'the greatest ever All Blacks team'," Howlett laughs as he mentions the different times it was applied to teams he was on.
"But the bar has been raised and raised and raised to where the players and group at the moment are exceptional. There is such a broad base to pick from and so much competition, which keeps all the All Blacks on their toes.
"They all know if they are just a little bit off, there is someone there to take their place."
After playing six seasons in Munster, it is easy for Irish fans to take Howlett for granted and forget that statistically he is the greatest All Blacks winger of all-time. His 49 tries in 62 tests is the team record which puts him ahead of stalwarts like Lomu, Rokocoko and Sivivatu.
Julian Savea is the latest powerhouse to explode out of the All Blacks production line of wingers and he is already gunning for Howlett's record, having scored 27 tries in 28 tests. Howlett acknowledges that Savea has already join the ranks of great New Zealand wings, but still thinks he can safely enjoy his record for a few more years.
"Records are there to be broken and he certainly has the potential to get there," Howlett said.
"I will congratulate him if he gets there but it is a hugely competitive market down in New Zealand and I think I have a little bit more time to enjoy the record before I hand it over just yet.
"I came into an All Blacks team and the wingers were Jonah Lomu, Jeff Wilson, Tana Umaga and myself and Julian Savea is another player in that category."
The list of backs Howlett played with is outrageous and you will be forgiven if you take a moment from this interview to indulge in this video of the All Blacks from that era executing a backline move so delicious that you will need a napkin to wipe your mouth afterwards.
Source: rugsta15/YouTube
For his part, Howlett seems to be at peace with missing out on winning the World Cup with some of those great players.
"You have your opportunity and we didn't manage to take it at the time," Howlett said.
"Time passes and you hand it on. You do everything you can when you are in the jersey and it is a shame we never got to lift the trophy ourselves."
Howlett also had the unique experience of playing against his national team in that hair-raising occasion in Thomond Park in 2008 where only a late Joe Rokocoko try (scored directly against Howlett) stopped Munster from recording a famous win.
"That game was another one of those things where you give it all you can at the time and sure there are things you would like to change but as an occasion, it was one of my best memories in rugby," Howlett said.
Source: NewZealandSportFan/YouTube
"Doing the haka in a red jersey against the All Blacks is something that might never be seen again."
There is no need to rehash all the great wings Howlett played with during his All Blacks career, because to do so would probably require another couple of hundred words, but despite the array of dazzling and destructive talent around Howlett, he doesn't hesitate when asked to pick the best.
"It is hard to look past Jonah," Howlett said.
"He was a bit before his time in that he was the biggest on the field, the fastest on the field, and he was a winger. I learnt to tackle going up against him in training.
"He was a left winger and I was a right winger so I knew my technique had to be right. All day we would be banging heads in training."
Howlett enjoyed a great second half to his career and added a Heineken Cup medal with Munster to go along with the Super Rugby medal he won with the Blues. Howlett cherishes his time in Ireland and acknowledges that while the rugby might be of a higher standard in the southern hemisphere tournament, nothing can match the European Cup for atmosphere.
"I always recommend my colleagues down under come and play in the European Cup because it is such a special tournament," Howlett said.
"The difference for me is what it is wrapped in, all the intensity, anticipation and crowd participation. All of these things were eye openers for me."
————————————————————————————–
AIG in Ireland have joined a global AIG campaign to improve rugby safety.  As official Insurance Partner of New Zealand Rugby, AIG has pledged over €35,000 to help improve safety standards in the game.  The launch of the awards program, the AIG Rugby Safety Awards, will see six clubs or schools selected to receive funding to help develop rugby safety at their club or school.
The public have until October 31, 2014 to enter and entry is simple.  The safe entries submitted via www.AIG.com/SafeRugby or using #AIGSafeRugby will be hosted on the online portal.