WHEN DUBLIN AND Kerry meet today for first time in almost 11 months, we'll see two teams in vastly different stages of their development.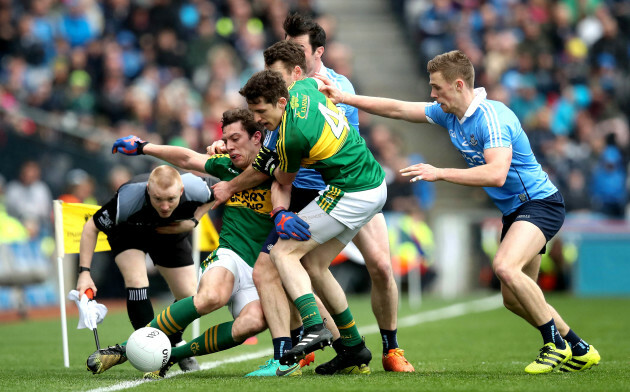 Ryan Byrne / INPHO Ryan Byrne / INPHO / INPHO
Dublin have returned for 2018 with largely the same squad that delivered a third straight All-Ireland title last September, while Eamonn Fitzmaurice is road testing various members of Kerry's four-in-a-row winning minors at senior level for the first time.
Jim Gavin has tackled the league in a broadly similar manner to 2017. He's used 29 players in their four games to date (including Bernard Brogan who'll miss the foreseeable future with a torn ACL), compared to 28 players at this stage last year.
The team has had a very settled look to it. Nine players have started every game so far: Stephen Cluxton, Jonny Cooper, James McCarthy, John Small, Brian Fenton, Michael Darragh Macauley, Niall Scully, Ciaran Kilkenny and Brian Howard.
What do you notice about that nine? They all play in Dublin's engine room in the middle third, while Cluxton dictates the tempo from the back. Gavin has started the same middle eight* for all four league games, which usually looks like:
J Cooper-J McCarthy-J Small
B Fenton-MD Macauley
N Scully-C Kilkenny-B Howard
*(Against Donegal, Eric Lowndes lined out at wing-back and Cooper played as a spare defender)
Ryan Byrne / INPHO Ryan Byrne / INPHO / INPHO
Of the veterans who are still being eased back into action, Cian O'Sullivan and Diarmuid Connolly are the two players who'll likely start come championship if they're fit.
O'Sullivan is an option at centre-back or full-back, while Connolly may move ahead of Howard in the pecking order at wing-forward. Indeed, the former is named to start at 6 today but may find himself stationed in the full-back line.
Paul Flynn – who may well make his return from injury off the bench this afternoon – is another option on the half-forward line, but admitted recently he's eyeing a spell at midfield for the latter part of his career.
"I've got a taste around the midfield over the last couple of games and going into 2018 I'd like to get more action around there and try get a run of games there," the 31-year-old told The42 last November.
"Midfield is a little bit different, you're playing a link role. You're not marked as tightly, but defensively you've got to be on the money."
Dublin have tried various in-game tweaks so far this season, with James McCarthy typically moving from centre-back to midfield during the third quarter when Macauley runs out of gas and is substituted. Pushing McCarthy forward to midfield allows him break the line with the sort of runs that won him man-of-the-match in last year's All-Ireland final.
Ciaran Kilkenny has been tested out in the full-forward line during spells and they've targeted him with direct, long balls to the edge of the square. The Castleknock man's physicality makes him a serious threat inside, as he showed with his goal against Tyrone last month.
eir Sport / YouTube
The only players without championship experience who've featured for Dublin in the league so far are Cillian O'Shea, Paddy Small, Colm Basquel and Ciaran Reddin.
In contrast, Kerry have used 15 players who don't have a senior championship appearance under their belt. Of the 22 who featured in their semi-final replay exit to Mayo in August, just 12 have started a league game so far in 2018.
For various reasons, Tadhg Morley, Killian Young, David Moran, Donnchadh Walsh, Johnny Buckley, Kieran Donaghy, Darran O'Sullivan, Fionn Fitzgerald, Mark Griffin and Anthony Maher have yet to make their seasonal debuts, while Jonathan Lyne has left the squad.
"Kerry are trying out a lot more younger guys than Dublin are at the moment," says Radio Kerry presenter Sean O'Sullivan, who won four All-Irelands with the Kingdom in the noughties.
"I think certainly this season more than any other, Eamonn is trying to introduce these young guys."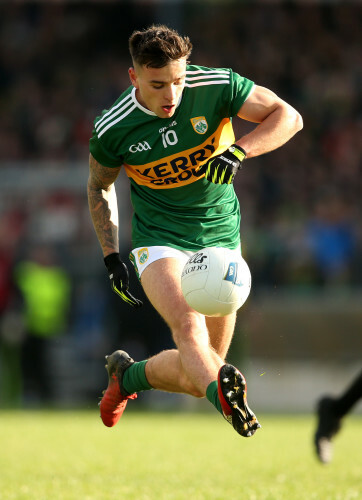 Cathal Noonan / INPHO Kerry wing-forward Micheál Burns Cathal Noonan / INPHO / INPHO
Like Dublin, Kerry have nine players who've started every league game so far: Jason Foley, Shane Enright, Paul Murphy, Micheál Burns, Sean O'Shea, Stephen O'Brien, Paul Geaney and Barry John Keane.
It's likely David Clifford and Brian Ó Beaglaoich would also be on four appearances had injury and club commitments respectively not ruled them out for one game apiece.
Interestingly, the half-forward line of Burns-O'Shea-O'Brien have been mainstays for the opening six weeks of the season.
"I like the line, I really like it," says O'Sullivan, who spent the majority of his 17 championship appearances as a wing-forward.
"What you have on that line is guys who are willing to make very hard runs diagonally across the field to be the link for our backs coming out. Seanie Shea is a just a natural number 11. He's very, very good in that spot.
"Stephen O'Brien has the pace and the directness for a wing-forward. Micheál Burns has surprised me. I knew he has the strength, the physicality and the work-rate to play on the half-forward line, but my biggest issue with him was was he going to contribute on the scoreboard and he seems to be doing that now as well."
For the big games last season, Fitzmaurice generally rotated between five players on his half-forward line: Kevin McCarthy, Mikey Geaney, Donnchadh Walsh, O'Brien and Johnny Buckley.
Kerry half-forward lines in 2017
K McCarthy-M Geaney-D Walsh
(League final vs Dublin)
M Geaney-D Walsh-K McCarthy
(Munster final vs Cork)
M Geaney-J Buckley- S O'Brien
(All-Ireland semi-final vs Mayo)
D Walsh, J Buckley, S O'Brien
(All-Ireland semi-final replay vs Mayo)
Walsh and Buckley are yet to come back into the reckoning, while McCarthy – who had fine game in their league final win against the Dubs last April – hasn't played much football but is set to make his first start of the season today at corner-forward.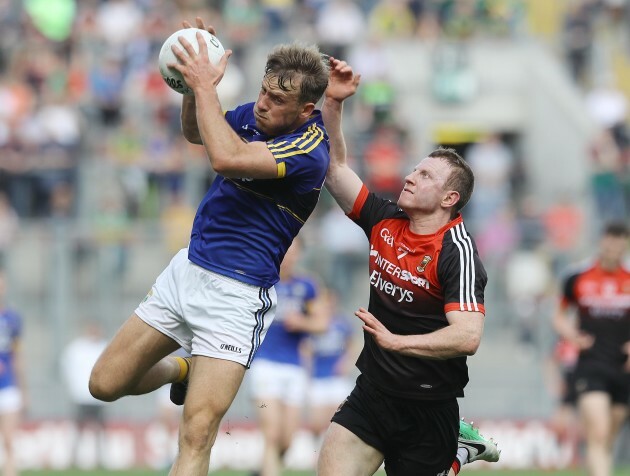 Lorraine O'Sullivan / INPHO Lorraine O'Sullivan / INPHO / INPHO
Mikey Geaney took some time away from the squad to rehab a recurring back injury over the winter, but made his return as a 71st-minute substitute in round 3 against Monaghan.
It's understood O'Brien picked up a knock at training during the week and as a result has been left out of the Kerry squad for today, with his half-forward role being taken up by Templenoe youngster Adrian Spillane.
The competition for places in attack will intensify as the summer approaches, but given their early run of form there's every reason Burns, O'Shea and O'Brien will be Fitzmaurice's preferred trio come championship.
"There's still a lot of quality players to come back in," agrees O'Sullivan, "but right now those three fellas have the jersey. I'll tell you, unless they hit a bad streak of form in the remaining games of the league, it's unlikely to see them shifted come the championship.
"They all offer you something different but the main thing they have in common is their running power and their linking of the play."
Some recent stats released by GAA website Dont Foul indicate the Kingdom half-forward line has been very productive. They've put up some impressive numbers with Burns firing over 0-5 from play, and O'Shea laying on nine scoring attempts for his team-mates.
They've also created plenty of opportunities for the full-forward line. No inside trio in Division 1 have had as many attempts at the posts than Paul Geaney, Barry John Keane and David Clifford, although their conversion rate could do with improving.
Over the four games Geaney scored 1-5 from 15 shots, Keane hit 0-7 from 13 shots and Clifford bagged 0-5 from 11 shots. (Clifford missed round 3 with a hamstring injury)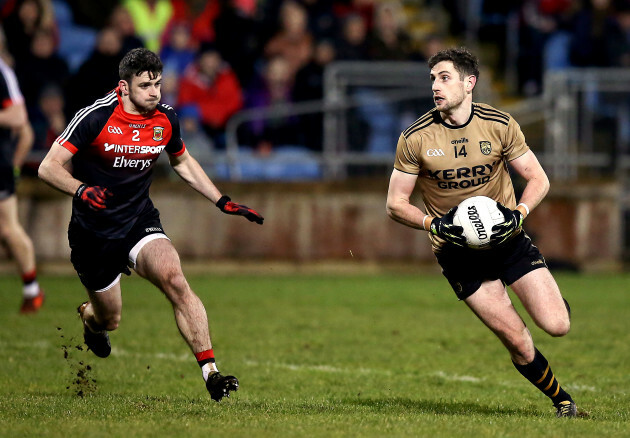 John McVitty / INPHO John McVitty / INPHO / INPHO
Of the rest of the top division, only four players have taken 11 or more shots: Paddy McBrearty, Brian Fenton, Ciaran Kilkenny and Shane Walsh.
But could Kerry's half-forwards be doing more? Some critics have observed that the ball wasn't delivered quickly enough into the full-forward line during their recent defeats against Monaghan and Galway, two counter-attacking teams who like to pack the defence with bodies.
"In those two games in particular it's been shown that Kerry are going to struggle against teams who flood their defence and break fast," says O'Sullivan.
"We resolved to a lot of lateral passing, we weren't really penetrating or breaking the lines and it played perfectly into the hands of Monaghan and Galway.
"Now, you can say Kerry got a bit of criticism for going across the field and backwards with the ball, but it's very difficult when you're faced with that in front of you to be that guy to take on the brave decision and play a forward pass or try to break the lines.
"It's an education for these young fellas and the management, that teams that are coming up against Kerry are not going to allow our forwards the space to operate. That takes a lot of work rate and intensity for 70 minutes of football.
"There has been times in those games – and even in the games we've won against Donegal and Mayo – where (the half-forwards) have taken a little bit too much of it.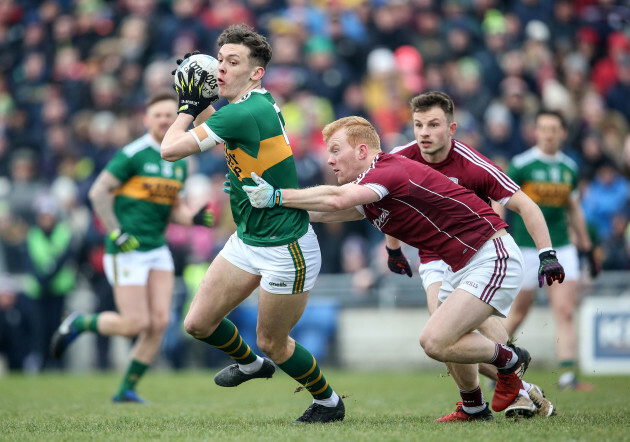 Cathal Noonan / INPHO Cathal Noonan / INPHO / INPHO
"In particular the Mayo match, I was behind the goals in the first-half towards the Castlebar end of the ground and I watched the inside line of Geaney, Clifford and Barry John. They had the Mayo full-back line in real trouble, it just needed the ball being delivered a little bit quicker.
"Now, in saying that they were playing against a slight, stiff breeze and conditions were poor so maybe the lads out the field were given the instruction in the first-half to run it that bit more. "
James O'Donoghue is believed to be a month away from making his playing return from injury, while Kieran Donaghy could add an aerial threat once he returns from his basketball sojourn.
Kerry are blessed with scoring talent in the inside line, it's now about ensuring they are supplied with enough ball.
"Certainly when you have Geaney, Clifford and Barry John inside, with James O'Donoghue hopefully to come back in, they need that quick ball," continues O'Sullivan.
"Definitely, getting the head up a little bit quicker is something they need to look at.
"But in terms of three guys you want who are going to win ball for you and link the play, I think it's an exciting line for the summer coming up."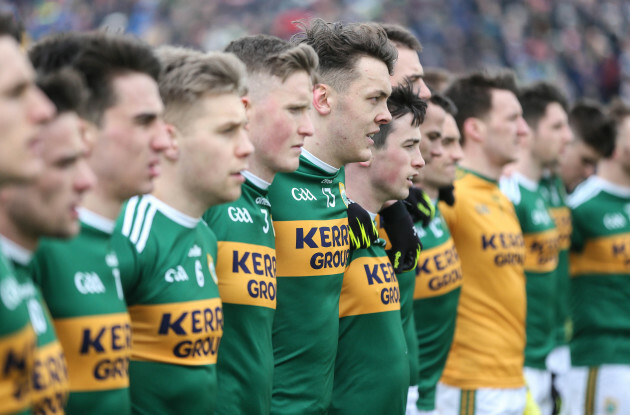 Cathal Noonan / INPHO Cathal Noonan / INPHO / INPHO
It's only early March, but Fitzmaurice's youngsters will get a serious examination of their credentials in Croke Park against the three-in-a-row All-Ireland champions at 4pm.
"The Cliffords, the Seanie Sheas and the Jason Foleys, they'll be relishing playing in Croke Park today against Dublin. Sure that's a fantastic experience for those guys. Win or lose, right now for Kerry experience is what it's about.
"At the same time, we want to stay in Division 1 as well so, if you lose on Sunday all of a sudden, you're looking to pick up one if not two wins against Kildare and Tyrone, which isn't easy.
"I'd be confident enough of us getting at least one if not two wins in our last three games."
The42 is on Instagram! Tap the button below on your phone to follow us!