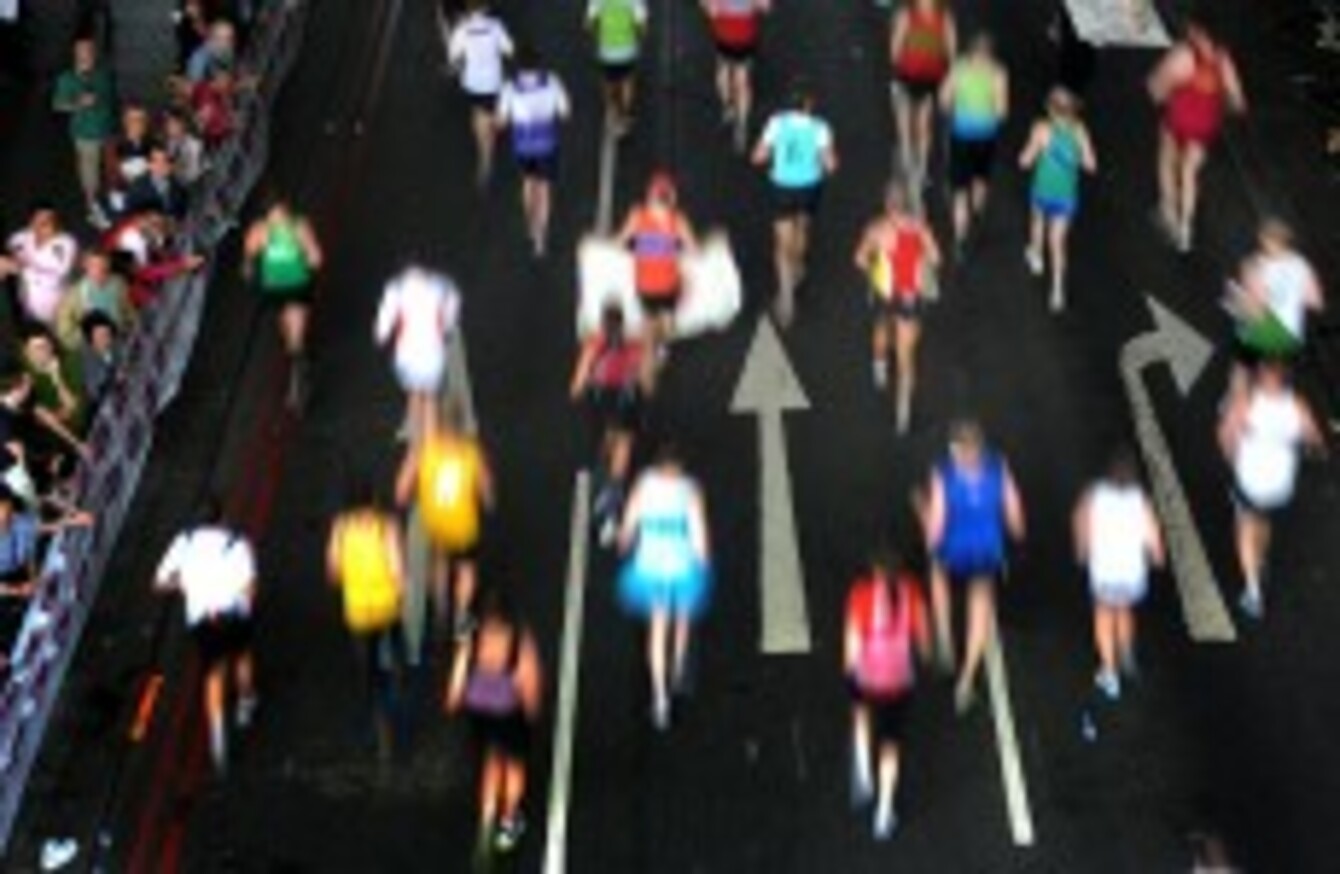 You'll have nothing to worry about once you cross that line.
Image: PA Archive/Press Association Images
You'll have nothing to worry about once you cross that line.
Image: PA Archive/Press Association Images
LET'S FACE IT; you're going to be in a LOT of pain on Monday evening after the marathon.
No matter how trained and ready and experienced you are, you're going to be in a world of hurt. That's the first thing, so accept it.
Blistered feet, cut ankles and heels, nipples chafed, cramping calves and screaming quads; it's all ahead of you.
However, this pain will subside after a few days, maybe longer if it's your first time and something else will replace it, satisfaction.
But there's pain that many runners will encounter this weekend and it can be more achy or a more acute pain than any of the above; shin splints.
You've probably heard of it and maybe you're choosing to ignore it, but it's very important you recognise what it is.
1) What are shin splints?
Shin splints are an overuse injury that presents itself after a sudden and extended period of training, particularly in athletes who have been inactive for a number of years.
2) How are they caused?
Research has shown they occur when the lining on the outer surface of the tibia (the shin bone) gets inflamed. Others believe they come from microscopic fractures in the tibia while there's also ample evidence that they're caused by running on hard surfaces and using inappropriate footwear while running.
3) Can I train or race with them and how do I know if I have them?
No, you cannot. If you do, you risk more serious, long-term damage. You could possibly have, or develop, stress fractures so swallow your pride and go to the doctor. Not convinced? See question five.
Secondly, you'll either feel a dull achy pain in your shins or a sharp stinging pain. Take no chances, unless you can see the finish line on Monday.
Be part
of the team
Access exclusive podcasts, interviews and analysis with a monthly or annual membership.
Become a Member
4) How can I alleviate the pain caused by shin splints?
Strengthening and stretching the calf muscles has been known to help while reducing – or stopping running entirely – will see a reduction in the inflammation.
Is there and risk of long-term damage?
Yes. If left untreated there is a chance of developing what's called a tibial stress reaction. This can lead to a visible stress fracture on X-ray which, if present, requires about 6-8 weeks of restricted (ie. zero) physical activity and significant rehabilitation.
A more severe condition that may develop is called an Acute Anterior Compartment syndrome. This is a medical emergency since the pressure in the compartment can go so high that it cuts off blood and nerve supply to the muscles, ligaments, and bones in the lower leg and foot. The treatment is a surgical procedure called a fasciotomy.
A fasciotomy involves cutting open a 4-6 inch section of the anterior compartment to decrease the pressure. Symptoms of this condition are extreme pain, swelling, numbness and lack of muscle control in the foot.