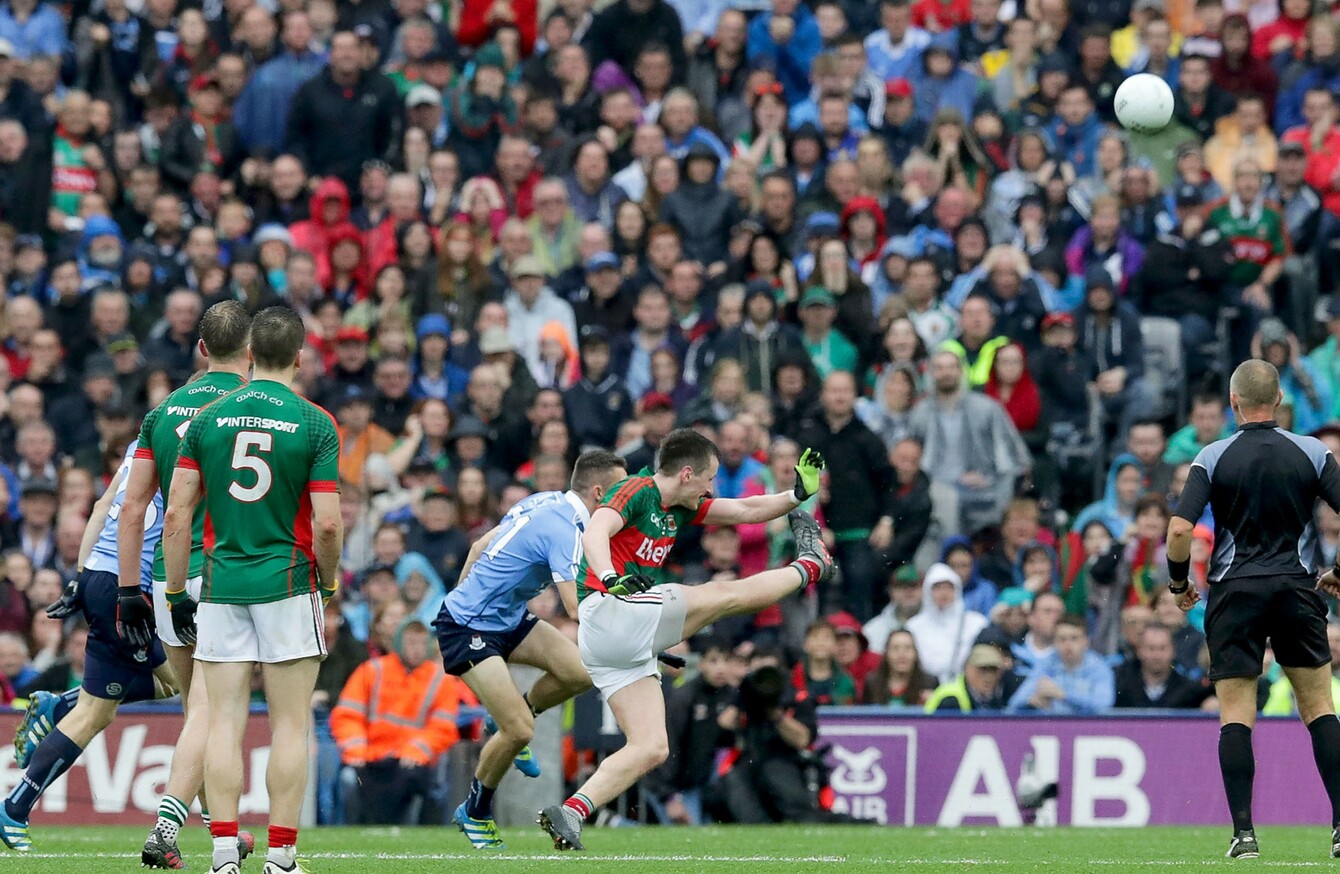 Cillian O'Connor's point for Mayo levelled the drawn game.
Image: Morgan Treacy/INPHO
Cillian O'Connor's point for Mayo levelled the drawn game.
Image: Morgan Treacy/INPHO
1. Will Dublin's attack catch fire this time?
Since Jim Gavin took over, Dublin's attack have habitually ripped teams apart. It's what they do. Take a glance at their championship scoring statistics. 13-99 in six games in 2013, 9-108 in five games in 2014, 18-118 in seven games in 2015 and 7-107 in six games to date in 2016.
It amounts to an average of nearly 2-18 per game, a staggering tally that points to the pace, power and breadth of options in their forward line. Even allowing for the weak opposition Dublin face at times in Leinster, it's impressive stuff.
It helps explain why the score they amassed in the drawn game jarred so much. Take out the two own goals and Dublin only raised nine white flags. They don't tend to struggle like that. Under Gavin's stewardship they had never failed to reach double digits in points before in a game. The closest was when they struck 12 points on three occasions (Mayo in 2013 and 2015, Kerry in 2015).
Clearly there is something to the rearguard excellence that their opponents displayed in that drawn match. Mayo's defence is one of the meanest units in the country and will be tough to prise apart tomorrow. Whether Dublin manage to will be key to the outcome. Star men like Bernard Brogan, Diarmuid Connolly and Dean Rock will not lack motivation this time.
2. Mayo's replay record
Trying to get their heads around a replay is nothing new to this group of Mayo footballers. It's the third year on the bounce, that they're back for a second attempt after the All-Ireland semi-final replay losses in 2014 and 2015.
Two years ago, they opened up a five-point lead in the drawn game against Kerry and struck two early goals in the replay but could not get the job done. Twelve months ago it was a similar tale when their four-point advantage in the second-half of the replay against Dublin was soon wiped out.
The accusations that this Mayo team lacks bottle does not tally up in our view, considering the relentless manner that they come back for an assault every season at the business end of the championship. But today they need to complete the task in a replay or else it will be a long winter mulling over whether they lost their chance on the first day out again.
3. The influence of Brian Fenton
It seems extraordinary that a 23 year-old from Raheny who only made his senior debut in a league game in April 2015, could be the critical player in this game. But there's a strong argument that Brian Fenton has become that sort of dominant Gaelic football figure in the space of 18 months.
He was terrific in the drawn game. He's comfortable on the ball and glided around the pitch to give Dublin a strong foothold and Mayo a real difficulty. Right now, he's the front-runner for the Footballer of the Year.
Dublin will want to coax a similar return from him while Mayo know he is a problem they must solve, particularly in halting those ghosting runs that threaten havoc near goal.
4. The goal issue for Mayo
The subject of Fenton approaching the Mayo goalmouth brings us neatly to another issue for Mayo. They did so much right in the drawn game – expert defending, high aggression and great courage to draw level in injury-time.
But ultimately the concession of those two first-half goals were what prevented Mayo from storming clear of Dublin. The own goals were freakish and Mayo were desperately unlucky yet Dublin still pulled them apart to create those chances.
A drop in concentration allowed Fenton to escape the clutches of the Mayo players in the build-up to the first goal and similarly Dean Rock evaded them before Diarmuid Connolly launched that stunning delivery for the second goal.
"Dublin were in there with the ball, and had created an opportunity," remarked Stephen Rochford.
"Maybe on a dryer day, there mightn't have been a need for a Mayo man to stick the ball in the back of the net. It might have been in there from a Dublin foot.
"So they're the things that we'll be focusing on."
In total over the four games where Mayo have exited the All-Ireland championships from 2012 to 2015, they have shipped ten goals. This summer has seen a notable improvement as they only conceded three goals in seven games before the drawn final.
But leaking two goals blotted Mayo's copybook the last day. Keeping a clean sheet today must be a primary target.
5. Will there be an unlikely replay hero?
2012 saw Walter Walsh parachuted in to land 1-3 for Kilkenny. 2013 saw Shane O'Donnell landed in to wreak havoc with a tally of 3-3 for Clare. 2014 saw Kieran Joyce drafted in to sort Kilkenny's rearguard.
None of that trio saw game time in their respective drawn All-Ireland finals. But all three were man-of-the-match winners in the replay, hurling heroes that were toasted in their counties.
Will that trend from hurling replays be replicated tomorrow in the first football replay since 2000? Big guns like Bernard Brogan and Aidan O'Shea have the capacity to improve.
But what about the potential infleunce at midfield of Michael Darragh MacAuley or Tom Parsons, an attacker like Paul Flynn or Diarmuid O'Connor, or someone from the bench like Paul Mannion or Stephen Coen?
Will someone bolt from left field to leave a lasting impact?
The42 is on Snapchat! Tap the button below on your phone to add!