IN THE HISTORY of sport, there has never been another figure quite like Eric Liddell.
Born to Scottish missionaries in China, from a young age, it quickly became apparent that he was a phenomenally talented athlete, excelling at both cricket and rugby during his teens.
In addition to earning seven caps for the Scottish rugby team in the early 1920s, Liddell made an impression in athletics while studying at the University of Edinburgh. And after gaining a Bachelor of Science degree, he went on to represent Britain in the 1924 Olympic Games in Paris.
However, 'the Scottish flyer' ultimately refused to compete in his strongest event, the 100m. Liddell was a devout Christian and objected to having to race on a Sunday, his day of rest.
Nevertheless, despite attracting plenty of controversy owing to his hardline stance in relation to competing, Liddell was unaffected by the hoopla and secured a gold medal in the 400m at the Paris Games, while he also took bronze in the 200m.
After the 1924 Olympics, the burgeoning star sacrificed a life of fame and fortune, choosing instead to return to the country of his birth and become a missionary.
Despite competing sporadically, Liddell effectively gave up his running career and mainly focused on teaching Chinese students.
In 1943, however, his life took a dark turn. Amid the Japanese invasion of China, Liddell was imprisoned in the Weihsien Internment Camp. Notwithstanding the horrendous conditions there, he refused to let his spirits drop, becoming a leader among the internees, teaching Science and Bible Studies to the children, helping the elderly and arranging various sporting events to distract from the lack of food and general horror of people's daily lives.
But tragically, the sporting icon died of a brain tumour in 1945 at the age of 43, with the illness having gone undetected due to the inadequate medical facilities at Weihsien.
Nowadays, Liddell is considered the quintessential embodiment of the Olympic spirit, while his incredible story gained widespread exposure upon the release of 1981 Oscar-winning film Chariots of Fire.
A recently released book by Duncan Hamilton, the two-time winner of William Hill Sports Book of the Year award, takes an in-depth look at Liddell's extraordinary life.
The42 recently caught up with Hamilton to chat about his latest critically-acclaimed work.
What made you decide to write a book on Eric Liddell?
Somebody mentioned to me that they'd seen a piece about Eric and his time in a Japanese prisoner-of-war camp. I thought, I'll go and have a look into it.
I wasn't optimistic really, because I didn't know how much material there would be. I was amazed to find not only that there was a considerable amount of written material, but also — and this what I feared the most — that there wouldn't be anybody left as a survivor. But one survivor put me in touch with another survivor who then put me in touch with a third survivor and so it went on. They're a fairly tight group, so everybody knows everyone else.
I was lucky to speak to Eric's family, who are still alive — they're all living in Canada — and similarly, to the widow of the man who beat him in his final race in the prison camp, and that was certainly something I didn't expect to be able to do.
The youngest person I interviewed was 73 — that was the daughter that Eric never met. The oldest person I interviewed was 99, and he was fitter and sharper than I am.
It snowballed then really. Once I knew I was okay in terms of getting enough information, I carried on. Then, I looked at all the stuff before he went to China, all the athletics stuff, and I actually realised how much (background) I had missed out. There was a lot there about his athletics career that hadn't been covered before.
He comes across as an incredibly virtuous figure. Is that what drew you to him, particularly given the contrast with athletics these days, and all that talk of corruption etc?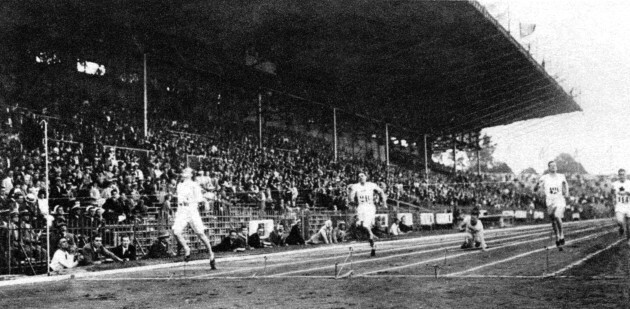 EMPICS Sport Great Britain's Eric Liddell comes home to win gold in the Men's 400m at the 1924 Olympic Games in Paris. EMPICS Sport
There were three things about that that surprised me. The first thing was that yes, he did seem far too saintly to be actually true. But when I spoke to some people, I could tell they were genuine. Some were in tears even now, talking about it 70 years after his death, because he did so much for them.
When it came to the athletics, I had no idea really that you could have earned an awful lot of money from winning a gold medal even as far back as 1924 because of the number of offers he got to go and teach somewhere or to be a figurehead somewhere or to go and write a book.
When I really got into his life and looked at what the 1924 Olympics were like, I realised that if he were alive now, he wouldn't go anywhere near an Olympic Games. It would just be against all his principles — all the sponsorship, all the drugs cheats, all the hoopla that goes with it.
He was always keen to stress that it shouldn't be a country-by-country contest. He thought it should be about individuals. So all the jingoism that goes on and the swelling of national pride, that wouldn't have fascinated him at all. I think he probably would have kept to a completely different sport.
He effectively gave up running competitively at a young age and devoted himself to the life of a missionary. You get the sense from the book that it wasn't a particularly difficult decision, and not one he had to think too long and hard about. Is that fair to say?
He gave up his place in athletics the way we would give up a seat on the bus. He had the intention for many years that he was going to go back to China and become a missionary. I find it ironic that all the people who told him before the 1924 Games that he shouldn't be running the 400m and that he should sort out his running style were then immediately saying afterwards: 'Why are you going to China? Why don't you carry on running the 400m?'
They had no doubt looking at the circumstances of both the Games of 1928 in Amsterdam and 1932 in Los Angeles, that he would certainly have won a gold medal in '28 — he would have gotten faster with proper training.
And it was certainly conceivable that he could have gone up to 800m by 1932 and you could have been looking at someone who would have been a triple Olympic champion.
But all that didn't bother him. The gold medal he got was a way of attracting people to the sermons he gave.
What impact did the film Chariots of Fire have on his legacy?
TrailerBoom / YouTube
He was well known if you have a Scottish background like I do. But generally speaking, when Chariots of Fire came out in 1981, virtually no one had remembered Eric Liddell and they had certainly not remembered (his big rival) Harold Abrahams either.
Although Abrahams went on to be a BBC athletics commentator and an administrator, and he was writing fairly regularly for The Sunday Times, so within his own circle, he was well known.
It is a beautifully shot film, it's beautifully acted and beautifully written. But what I'd say from researching the book, Chariots of Fire is right in the following aspects – he ran the 400m, won the gold medal and and it was held in Paris in 1924. Virtually everything else isn't actually true.
They had to condense things and chop things and take people out, which is what films have to do.
How daunting was the move to China for him and is there anyway he could have been persuaded to continue competing in athletics?
AP / Press Association Images Chinese women prepare to lay bouquets of flowers at a monument dedicated to 1924 Olympic 400m race winner Dr Eric Liddell, who was a detainee at the Japanese war camp where he died shortly before the camp was liberated, during a ceremony commemorating the liberation of the camp at Weifang, Shandong province Wednesday 17 August, 2005. AP / Press Association Images / Press Association Images
I think once he made his mind up and once he'd given his word, then that was like a signed contract really. I don't think there was anything that would have kept him in Scotland up until 1928. In fact, he only decided to not go to China in 1924 because his friend the clergyman DP Thompson thought that for a short period of time, he could just do some lectures and make good use of the fame that the Olympics had actually brought him.
I don't think he found (the trip) daunting. He knew what China was like from being born there and the letters he'd received from his father, his mother and his sister who were all out in China. So he knew what he was giving up and exactly what he was walking into.
Tell us about his wife and the woman the book describes a "saving" him — Florence Mackenzie.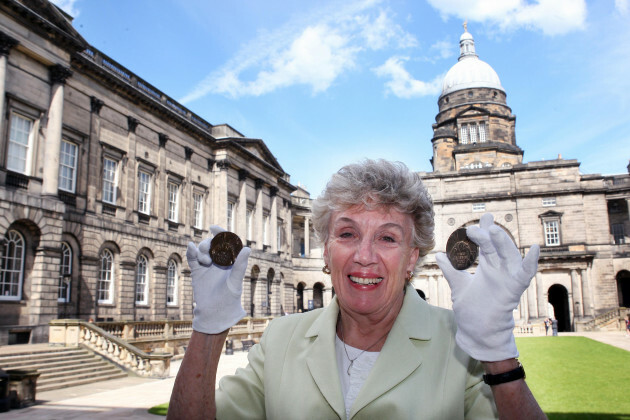 PA Archive / PA Images Patricia Russell holds up Olympic medals belonging to her father Eric Liddell at Edinburgh University before launching her sports scholarship. PA Archive / PA Images / PA Images
I think because she came from a missionary family, she obviously understood that way of life. He'd had plenty of chances to get married and there were certainly plenty of women who would have married him and wanted to court him, but it was just one of those things where he felt he'd met his soulmate and that was it.
Of course, they met for the first time when she was about 14. They were married when she was 21, so there was quite an age gap there. But talking to his daughters, there was no doubt that she never stopped loving him throughout the rest of her life.
Florence lived until 1984 so she saw Chariots of Fire come out, but she had lived without her husband since 1942. One of the nicest things I got was when I went to Canada to go and see one of his daughters, she said that she recalled getting the original pathé news film of the race. It's only a minute long, but for her mother to be able to watch that and cheer him on and then collapse in tears afterwards was one of the highlights of her life.
What she did most of all was that she seemed always to be very calm and very unruffled. She wasn't bothered by the poor state of housing in China or what the roads were like or how the violence impacted on daily life. She just got on with raising her daughters (note: with war-torn life becoming increasingly dangerous there, the family ultimately left China for Canada in 1941, though Eric Liddell stayed behind to continue his missionary work).
When Eric was in captivity, he seemed to cope pretty much as well as anyone possibly could under the circumstances. He was regarded more or less as a hero in the POW camp, wasn't he?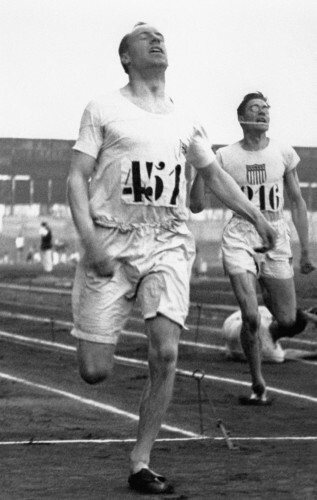 PA Eric Liddell winning the 400m flat race at the Olympic Games in Paris, 1924. PA
If there has ever been a case of anyone being trained during their whole life for the two years that he had in the camp, it would be Eric Liddell at that moment. Everything he believed in, everything he tried to do, every bit of humanity in him came out in what were really difficult circumstances.
When I went to the camp, I knew it wasn't very big and there's not that much left of it now, but you can guess where the boundaries were. It's hard to believe that at its awful peak, there were about 1800 people in a space that was the size of two football pitches.
They've preserved some of the living quarters there and they made Dickensian London look like something from the Ritz Hotel. It was so basic and when you think about all the problems they had — a succession of soldiers had actually wrecked the camp, so it had to be rebuilt, there wasn't enough food and there weren't enough clothes.
It really was a phenomenal act of strength and of personal conviction on Eric's part to get up at dawn every day, while not going to bed until 10 o'clock at night. And from the moment he got up to when he want to bed, he was always doing something for someone else.
Was there ever any moment where his faith was shaken and he experienced a degree of doubt?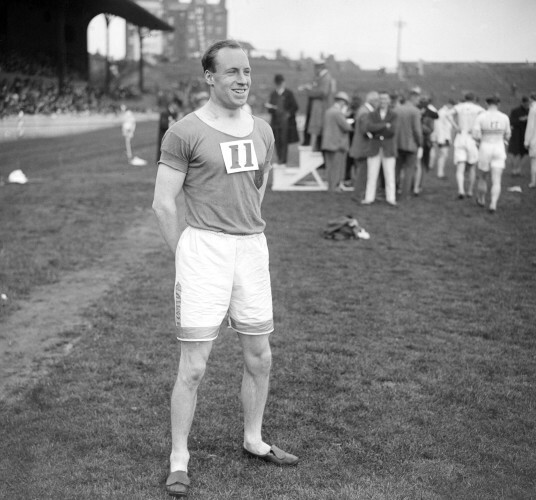 PA Archive / PA Images Eric Liddell, the Scottish Missionary who won the Gold in the 400m at the 1924 Olympic Games in Paris. His story was made famous by the film, Chariots of Fire. After quitting athletics he became a Christian missionary in China, until captured by the Japanese. He died in a POW Camp in 1945. PA Archive / PA Images / PA Images
There was absolutely none. The 99-year-old man I mentioned before was in the next bed for most of the time in the camp and they used to pray together in the mornings.
I said to him: 'Was there any point you thought his faith was going to be impacted upon or damaged?' He said 'not once'.
To the people who said: 'Why has God put us in this situation?' He said: 'God hasn't put us in this situation, but he is here with you.'
When he came to the point at which he told people that he was actually praying for the Japanese guards, at the end of about 18 months in which in certain cases, they'd been treated very badly and food had been taken from them, there were obviously some people who thought he was slightly mad.
But most people, because they knew of his faith and religious convictions, simply realised it was Eric being Eric.
Finally, how preventable was his death? It came about partially as a result of the lack of medical facilities at the camp and the failure of the people assessing him to identify the brain tumour until it was too late.
Rob Sterner / YouTube
The problem was that everybody had lost so much weight, everyone was suffering from various medical complaints, so when you saw him walking through the camp, he didn't look any different from anyone else.
I spoke to someone who's about six foot now and in his 80s — he went down to about six-and-a-half stone at that particular point. So everybody looked the same and they didn't know any different.
They knew the amount of work Eric had done (at the camp) and just assumed that over a process of years, the accumulation of that work had just worn him out and that he was mentally and physically spent.
Had he not been in the camp or if the hospital had been better equipped, they might have been able to give him a brain scan and they would have known that he had a brain tumour.
It wasn't until his friend, Annie Buchan, came into the camp and she saw him (that the seriousness of the situation became apparent). She compared him to the last time she'd seen him and she also knew that he would (generally) just shake off colds or anything like that. She knew that something was seriously wrong. It wasn't until he lost that race (that others started to realise it). It was the first race he'd ever lost in camp and he shouldn't really have been running it.
It was just a tragic set of circumstances and I'm not sure they could have saved him had he been diagnosed in 1944, because what we don't know is how particularly severe that tumour had become. But had he been back in Canada, for example, I think he would have lived.
For the Glory: The Life of Eric Liddell is published by Doubleday. More info here.
The42 is on Instagram! Tap the button below on your phone to follow us!