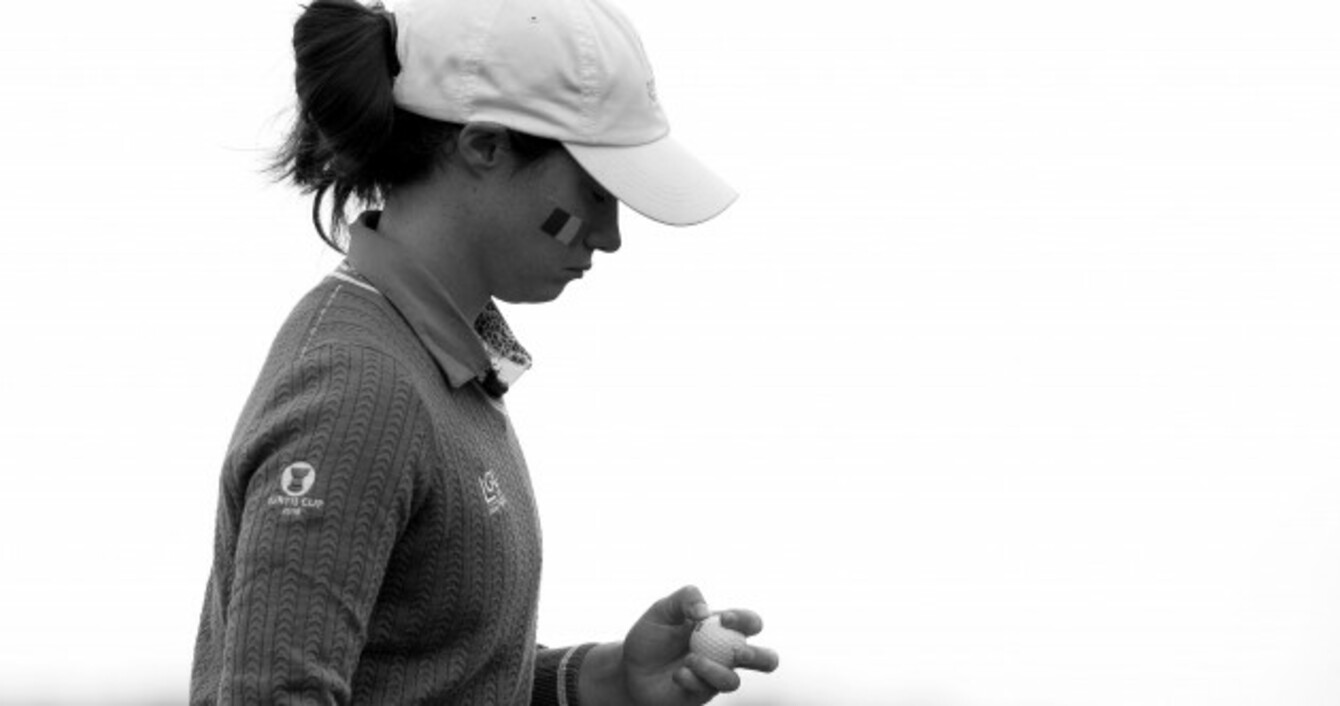 Maguire's status within the game was elevated further in 2016 but she's willing to bide her time before going pro.
Image: Colm O'Neill/INPHO
Maguire's status within the game was elevated further in 2016 but she's willing to bide her time before going pro.
Image: Colm O'Neill/INPHO
BIG THINGS HAVE always been expected of the Maguire twins.
From a young age, their golfing careers have played out in the public eye, their every step on the ladder discussed and dissected.
For years, they came as a package; the prodigious golfing sisters from Cavan, widely-heralded as future superstars of the game and Irish sport.
There has always been a giddy excitement surrounding their talent; and it has extended beyond these shores.
In 2008, the Sky Sports crew and cameras arrived in the town of Ballyconnell, near the border, to spend the day with the then 13-year-olds for a programme called Trans World Sport.
Viewers of a certain age may have just been hit with a sudden pang of nostalgia as that programme — a sports magazine show — has, and still is, a staple of Sky Sports' less-loved and watched channels.
Producers have an impressive record of identifying and featuring eventual stars as teenagers, with Tiger Woods, Usain Bolt, Serena Williams and Virat Kohli all appearing as child prodigies on the programme down through the years.
By the time the episode featuring the Maguire twins had aired, they had already taken the junior golf ranks by storm, generating headlines at home and abroad for victories on both sides of the Atlantic.
Expectations have always been high.
Even as fresh-faced teenagers, together with a pair of cheeky smiles and that unmistakable Cavan accent, there was something special about Leona and Lisa. Not only did they possess the talent but also the intelligence and maturity to complement their golf.
"It'd be great to be battling it out down the 18th for a Major one day," Leona says to the camera. "But for the minute we're just trying to take every year as it comes and doing the best we can."
They've certainly taken every step in their stride and been hurried along the career ladder with great anticipation. It has never really been a question of if, but at what stage they'll make the move to the professional ranks.
"If I had a Euro every time I was asked when I was turning pro, I'd be rich," Leona jokes.
That expectation, however, can weigh heavy. Potential is a dangerous thing and young sports stars can often burn out before burning brightly; conforming to the hype can prove to be detrimental.
But the Maguire twins have never got ahead of themselves, and that attitude comes from home. Their parents, Declan and Brenda, have always maintained the importance of education and placed it on an equal footing with golf. That measured and pragmatic approach comes across in everything they say and do.
Leona's progress has been more pronounced in recent years and her career has accelerated at a slightly different speed to her sister's. 2016 brought Curtis Cup glory, the top amateur award at the British Open and the small matter of the Rio Olympics; not a bad year, particularly when you consider she finished it back on top of the world amateur rankings.
The next step in 2017? Answering that perennial question, but perhaps not in the way many expected, or indeed wanted, but Maguire, Leona this is, has at least drawn a line under the issue for the next 18 months.
A bold, and depending on your point of view, brave, decision to withdraw from LPGA Tour Qualifying School before Christmas ended her pursuit of a full playing card for next season and postponed Maguire's transition from amateur to professional until at least 2018.
After careful consideration, the Cavan native decided that completing her Psychology, Business and Accounting degree in Duke in North Carolina while continuing her golfing education in the US college system is, at this stage, the best option.
"Playing in the Open and the Olympics during the summer spurred me on and reinforced my desire to play professional golf," she told The42. "But at the same time I also had to consider the bigger picture and I have one more year in college to get a degree that I'll always have.
"The LPGA Tour will always be there and it will be nice to have something else to fall back on or for when golf is no longer there for me. Taking this decision now helps me to have more opportunities down the line and gives me the best of both situations."
The way Maguire speaks which such clarity and conviction makes it easy to forget she is just 22 years old.
With the golfing world at her feet on the back of another stellar year, it's an incredibly courageous move to refrain from diving into the professional game having positioned herself on a launchpad. 2017 could have been Maguire's breakthrough year.
But then again we shouldn't be surprised, particularly when you think back to that grainy, but charming, footage of the two sisters sitting on the fairway of the 18th at Slieve Russell Golf and Country Club.
The ability is undoubted but Maguire has a great understanding of what she's doing and nothing will be done without 100% commitment, an attitude which stems back to her early swimming days before switching attention to golf at the age of nine.
"The lure of the Tour is always there," she continues. "Players have being going pro at a younger and younger age year on year but there's a lot of different ways of doing it. What works for some people might not necessarily work for others and I felt I had to make the decision that was best for me.
"I knew people were going to have opinions, people have been saying I should turn pro for the last five years or so now so I just had to do what was best for me right now.
"I think staying here [Duke] I'll still be able to improve my game, get better and better, and it will give me an even better chance to compete better when I do jump up."
It's probably stretching it to say Maguire had a sudden change of heart but she entered Q School towards the end of last year with every intention of securing her Tour card for 2017. She wouldn't have entered if there were any doubts.
But after weighing up advice from Paul McGinley, who she worked closely with in Rio, her coach Shane O'Grady and parents, Maguire eventually arrived at the realisation that there is much more to life on tour as a professional than golf.
"It's not as easy as everybody thinks and you have to be fully prepared to go out there when you do make that jump," Maguire adds. "You can see all the Irish guys who have turned pro over the last few years and only a few actually make it so it was being about being as prepared as I possibly could so when I do turn pro my game is in the best possible shape.
"I didn't make the decision overnight by any means but the people who I did speak to kind of reinforced what I had been thinking. They all tried to lay out the different scenarios and some were heavily weighed towards going pro and others were leaning towards staying where I am.
"I got more of a long-term perspective after the summer and it shifted it a little when things like management companies, caddies, Tour schedules and where I'd base myself came into the equation. I probably wasn't ready to throw myself into all that right now."
Again, it comes down to Maguire's personality and the want to do it her way and only her way. There are different paths to a destination, it's about choosing and following the right one that suits your journey.
"It was the biggest decision of my career so far," she admits. "Obviously the one to move over here [America] was pretty big at the time too and that's one that I definitely made the right call on. It was a great decision to come out here and it's definitely helped me improve a lot and I've had a lot of good experiences out here.
"This decision is one I'll look back on and it will have quite a lot of influence one way or the other. I don't know right now what that is going to be but all I can do now is not dwell on it.
"I can't look back and go 'oh I could have gone to Q School and should have done this or that.' I think I'd drive myself crazy if I did that. I've made that decision now, I'm happy with that decision and now I'm just going to look forward to the rest of my time out here and try and make the most of it.
"There have been a few comments and I've had a few messages wondering what was the sudden change of heart but the majority of people, and the ones I obviously value the opinion of, think it's the right decision and respect it.
"When I ultimately made that decision I didn't want to be influenced by what other people thought because it wouldn't be my decision then."
Whatever your opinion you can't really argue with that, then.
Maguire has always been confident in her ability but also has an important grasp of the game and sport. Having emerged at such a young age and been exposed to both amateur and professional tournaments all over the world, Maguire's experience already defies her tender years.
A third-place finish at the World U12 Championships (Lisa won that tournament) was a sign of things to come and the pair's stock rose considerably as the years, and trophies, rolled by.
After achieving top honours in the Leaving Certificate, the move across the Atlantic was the catalyst for further development and it wasn't long before Leona's career had taken off.
In her two-and-a-half years at Duke, Maguire has an impressive collegiate CV. She was named 2014-15 National Player of the Year and is the two-time winner of the Mark H. McCormack Medal as the leading women's golfer in the 2015 and 2016 World Amateur Golf Ranking.
The numbers speak for themselves. Maguire has competed in 23 tournaments as a Blue Devil and totalled a 71.25 stroke average to go along with 14 top five finishes, 19 top 10 and 21 top 20 placements. That's in addition to four individual victories.
And her success hasn't been reserved just for the amateur ranks. Maguire has already made waves in the pro-game having finished second at the ISPS Handa Ladies European Masters in August 2015. Then there was that sparkling performance at the Open last summer and a tie for 21st in Rio.
"My game is really good at the moment," Maguire continues. "I had a pretty good summer and have been working on a lot of aspects of my game. Obviously I was able to compete with the very best in Rio and at the Open but there's also a lot of other things I'm working on.
"I'm trying to get a little stronger and working in particular on my putting. I'm in a great situation where I can practice and play all year round with access to great facilities so I'm going to keep working as hard as I can."
The sacrifices demanded by greatness. Maguire has always had a tireless work ethic, constantly looking to improve and to fine-tune the aspects of her game that are considered strengths. It's a relentless pursuit of perfection and the dream of becoming a professional golfer.
That dream has remained the same and Maguire's commitment steadfast even as others were calling for her to make the jump over the last number of years. It would have been easy to seize any of the opportunities along the way.
But then that wouldn't have been her way. The right way.
"There's always going to be people's opinions and expectations because that's a natural part of sport," Maguire says. "I tried to focus as much as possible and not get caught up in all that because once you start getting caught up in all that it distracts you from what you should be doing.
"I'll be keeping my head down and focusing on the things I should be focusing on and people can say what they want but at the end of the day I know what my plan is and I'll be sticking to that.
"I always give 100% to what I do, I don't like half doing anything, so whatever I do I like to do it really well and I think this year-and-a-half will let me hit the ground running when I do go pro and not just figuring it out as I go along and stumble from week to week.
"It isn't a case of me closing the door to the pro game, it's just being delayed slightly and if I want to have a long and successful pro career something like a year-and-a-half isn't going to make a huge difference in the grand scheme of things."
That's the next chapter, but for now Maguire's focus remains on putting the pieces in place to make that step-up as seamless and as successful as possible when the time is right.
Having completed exams before Christmas, the 22-year-old has been able to spend some time at home in Cavan with family and friends over the festive period before returning to North Carolina to begin preparations for the college season.
"We want to win the National Championships as we've got to the semi-final the last two years," she explains. "It would be nice to get over that hurdle and win that this year. I've had a great experience over here so far and it would be great to win that competition.
"The other thing is that I'll also get to play the Open and US Open in 2017 so I want to finish up as high as I can in those. It has been a dream so far with everything I've done and I couldn't have asked for it to go better."
But you get the feeling bigger and better things lie ahead for Maguire. Her foray into the world of professional golf may have been postponed for now but it's only a matter of time before she makes that much-anticipated move.
It's all in the plan.
The42 is on Instagram! Tap the button below on your phone to follow us!