Liveblog
We have one 2019 FAI Cup finalist, it's now time to learn the other.
After Shamrock Rovers' semi-final win under Friday Night Lights, their Western namesake in Sligo Rovers will be hoping to rain on Dundalk's historic domestic treble bid parade as they welcome Vinny Perth's league champions to a sold-out Showgrounds.
Kick-off is 5pm, with live coverage on RTÉ 2. Stay with us through the action.
First and foremost, some team news.
One change for Dundalk after they beat Shamrock Rovers to clinch the SSE Airtricity League title on Monday night — Daniel Kelly replaces Robbie Benson. Andy Boyle is back in the squad.
And here's Liam Buckley's starting XI.
Jessica Farry is at the venue for us today, where the atmosphere is well and truly building as Sligo look to cause an upset. The Lilywhites are
Jessica Farry is at the venue for us today, where the atmosphere is well and truly building as Sligo look to cause an upset. The Lilywhites go in search of a victory that would see them reach a fifth consecutive FAI Cup final. But the hosts will be hoping they can seal their coveted ticket to the Aviva in front of huge home support.
Days like these don't come around too often. Showgrounds filling up quickly. pic.twitter.com/A051ZW2fJx

— Jessica Farry (@jessicafarry) September 29, 2019
Quite a setting and what an ovation the players got during the warm-up #bitored pic.twitter.com/S2oDOFB3CS

— Sligo Rovers (@sligorovers) September 29, 2019
Please note the main stand is now full. Head straight to the Railway End pic.twitter.com/oHhcbbzmCG

— Sligo Rovers (@sligorovers) September 29, 2019
Just under 10 minutes to go. Who will it be?

RTE's Stuey Byrne and Dundalk head coach Vinny Perth before the game. Source: Ciaran Culligan/INPHO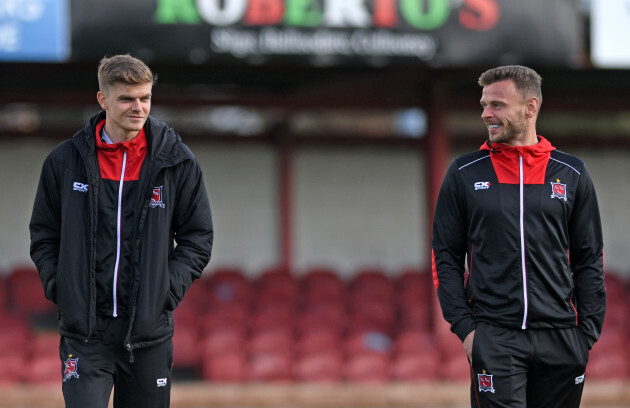 Dundalk's Sean Gannon and Andy Boyle before the game. Source: Ciaran Culligan/INPHO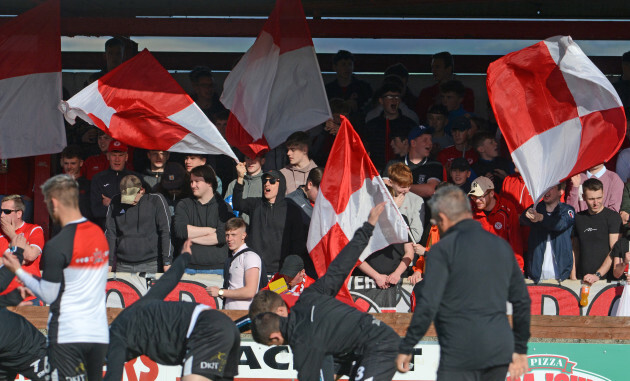 Sligo fans ahead of the game. Source: Ciaran Culligan/INPHO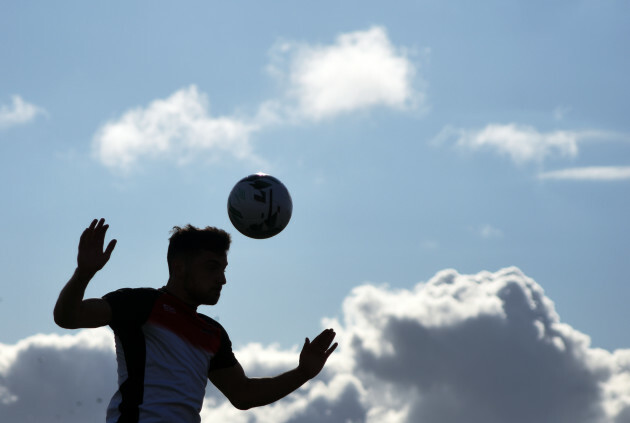 Dundalk's Jordan Flores during the warm up. Source: Ciaran Culligan/INPHO
The sides are on the pitch and the atmosphere is loud. The Sligo fans are definitely up for this one!
Sligo Rovers are the last team to have beaten Dundalk in domestic competition. It's worth noting the Lilywhites have a great travelling support with them too.
KICK-OFF: We're up and running.
Chris Shields dispossessed around the middle and Sligo find their feet nicely with a promising attack. Shaping up to be a tight one.
Dundalk get up the other end with their first attack. Credit to the Sligo defenders, they get out and close Michael Duffy down but he gets his shot away, forcing Ed McGinty into an early – but comfortable – save.
It's Dundalk with much of the early pressure at The Showgrounds, but another chance is kept out by Kyle Callan-McFadden. Good work from Ronan Coughlan down the wing at the other end, he's fouled but David Cawley's free-kick lands firmly in Gary Rogers' hands.
Romeo Parkes is down and looks to be in a right bit of pain, clutching his knee. Looks like this could be his game over, unfortunately.
The game goes on with Parkes being attended to on the sideline. He's being strapped up so it seems as if he's going to go again on it.
That didn't exactly go to plan as he ends back up on the ground in serious discomfort. That's his evening over, with RTÉ's commentators suggesting it's a medial ligament injury. Unfortunate to see him stretchered off.
Ronan Murray comes in.
Michael Duffy with a great chance from a free-kick just outside the box, but it's no trouble to young McGinty. Straight at him.
Sligo get up the field momentarily, but it's soon straight back down with Patrick Hoban goal-bound. McGinty came out bravely to cut it out. Dundalk are piling the pressure on now, with Sligo sitting off them around the middle and letting the Lilywhites play nice football.
First corner of the game goes Dundalk's way but it's kept out. Elsewhere, Daryl Fordyce sees the game's first yellow card for a crunching challenge.
The crowd are really trying to get Sligo going here, who are slightly unsettled since losing Parkes so early on. It's been all Dundalk, with an upset to Rovers' system. They're coming into it more and more now, though, it must be said. Nothing major happening, all the same.
CHANCE! And just like that, Sligo come close…. not once, but twice. Kane wins a freem Regan sends it in but Mahon's header goes just wide.
Then moments later, there were calls for a penalty. Coughlan goes down in the area, the referee has a really good view but he waves play on. Liam Buckley isn't a happy man.
At the other end of the pitch, Dundalk are given a free in a similar area to their previous one, maybe a bit further out. McEleney's effort sails over the bar though. Nothing too troubling for Sligo.
Thoughts on that penalty/no penalty call?
Should Sligo Rovers have been awarded a penalty for a foul on Coughlan? pic.twitter.com/N9pScIrHJE

— RTÉ Soccer (@RTEsoccer) September 29, 2019
Sligo Rovers can feel very hard done by as Ronan Coughlan was indeed kicked by Daniel Cleary. Bad Decision by the Referee a definite penalty

— Leagueofireland.ie (@LOIDOTIE) September 29, 2019
Meanwhile, Patrick McEleney is down getting treatment on what looks to be his hamstring. He's just come off the pitch as the Lilywhites assess what to do next. Looks like Robbie Benson is set to come on in his place.
That switch is done. Two early forced substitutions for both sides.
CLOSE! Cawley's corner is cleared by Dundalk, but Sligo send it right back in as they have all the momentum now. Murray sends in a super ball from the left and Coughlan's effort goes just wide – and out for a corner at that. Nothing comes from the set-piece though.
McFadden becomes the second Sligo player to go in the book after an incident with Hoban. Dundalk will look to regroup now and get a bit more of a handle on the game once again, they're not really in their normal flow at the minute but Sligo have stepped up to defend well.
A brilliant Banks block keeps another Duffy shot out. Then, Benson's delivery from the left into the box lands comfortably in McGinty's hands. He snuffed another a few minutes ago too.
Tony O'Donoghue is on the injury trail for RTÉ. He's learned that it is indeed a ligament injury Parkes sustained but Sligo are hoping it's not as bad as it seems. And hamstring for McEleney, awaiting full assessment from the Dundalk medical team.
Couglan is doing well for Sligo as the lone man up top. He wins another free after a foul from Shields, but they struggle with another set-piece, unable to test Rogers. It's similar circumstances for Dundalk at the other end, nothing coming off Hoare's header from Duffy's corner from the right.
Banks is going well for Sligo, giving his everything for his side as he charges up the field and looks to create more and more chances. The home crowd are loving this. It's a scrappy, tight game, possibly suiting the Bit O'Red more than the visitors.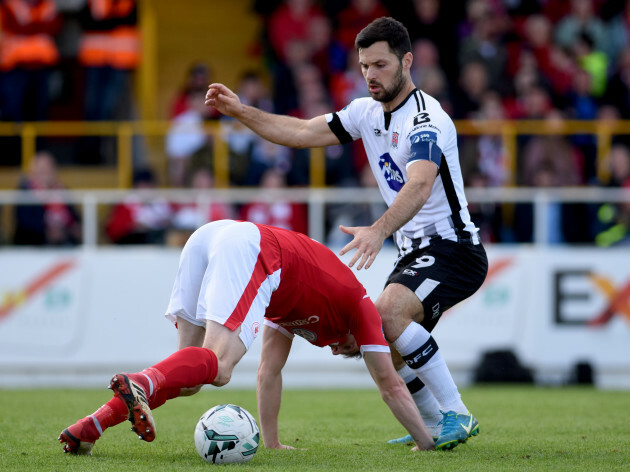 Dundalk's Pat Hoban and Daryl Fordyce of Sligo. Source: Ciaran Culligan/INPHO
Sligo are doing really well defensively, it's about keeping it 0-0 as half-time approaches.
No real clear-cut chances for Dundalk as McGinty comfortably deals with another header that comes his way. McGrath delivers a dangerous ball but Hoban can't get enough on it to trouble Sligo a whole pile.
HALF-TIME: Sligo Rovers 0-0 Dundalk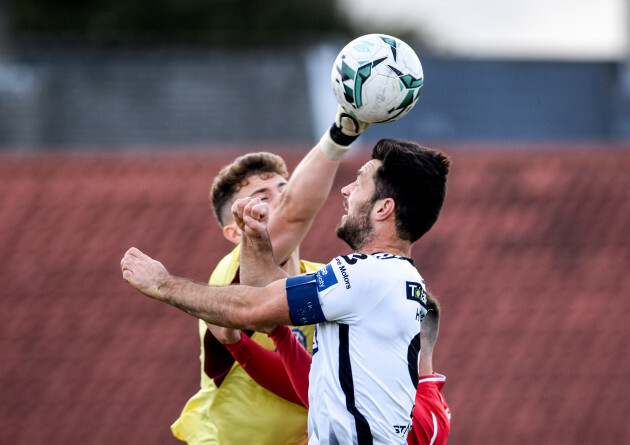 Source: Ciaran Culligan/INPHO
Thoughts on that one? Non-eventful, but eventful at the same time? Early changes through injuries, momentum with both sides at different stages in a scrappy game of ball, and a few chances but none of them exactly clear-cut. The next 45 will be interesting.
SECOND-HALF: We go again as Dundalk get us underway at The Showgrounds. Plenty of talk of a Sligo upset on RTÉ's half-time commentary.
Early chances at both ends, the latest in Dundalk's favour as McGrath's effort goes across the goal-face and wide. Nice team move down the left in the build-up.
Sligo retain possession, throwing the ball around as the look to create a chance. It comes as Coughlan, with some more great hold-up play, is alleged to be fouled by Robbie Benson and they earn a free from a scorable position. Murray's effort goes over the bar, we're still 0-0.
SAVE! Out of nowhere. It starts with a pass from Shields out to the right, Sean Gannon sends a lovely ball in to Hoban who meets it well at the near post. But McGinty does well to keep it out.
Another penalty call from Sligo waved on. Not much in it at all, Kane goes down quite easily in the area as he surges in on goal. May be worth a rewatch though.
Benson sees yellow. Sligo looking more and more confident as the crowd really get behind them at a sun-kissed Showgrounds. Massey goes in the book then for a challenge on Coughlan. The Bit O'Red are frustrating the champions here, 'Rovers, Rovers' rings around the ground.
A poor free-kick, though, as Rogers claims the ball at ease. The noise when the hosts get on the ball is really spurring them on, though.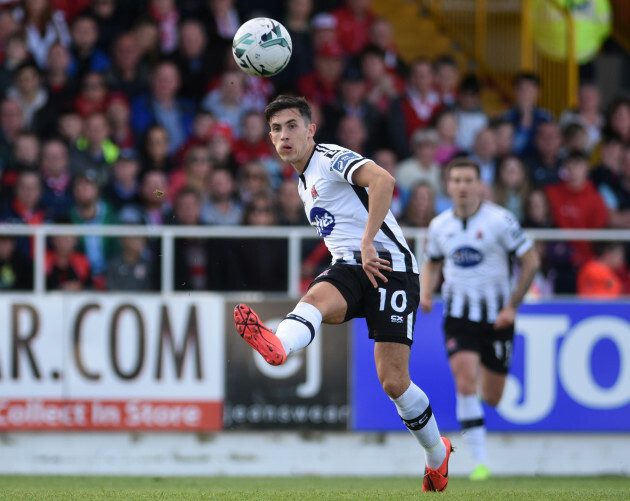 Jamie McGrath on the ball. Source: Ciaran Culligan/INPHO
Coughlan has been brilliant for Sligo today, holding up the ball and leading the line brilliantly. Chance from a corner there, they went for the short option but the delivery wasn't the greatest at all now.
Dundalk race up the field then from Rogers' kick-out, but McGinty comes way out of the goals to cut out the attack and send it out for a throw-in. Great goal-keeping at both ends, it must be said.
A switch for Sligo: 19-year-old Niall Watson comes on for Donelan.
Hoban booked for a sliding challenge on Mahon, deemed too late by the referee. Benson fires an effort wayward to cheers from the Sligo contingent. Big goal needed from one of the sides.
Sean Murray comes on for Daniel Kelly. Dundalk know they need to pile the pressure on here.
Again, excellent defending from Sligo. McFadden clears yet another corner.
Some interesting spectators.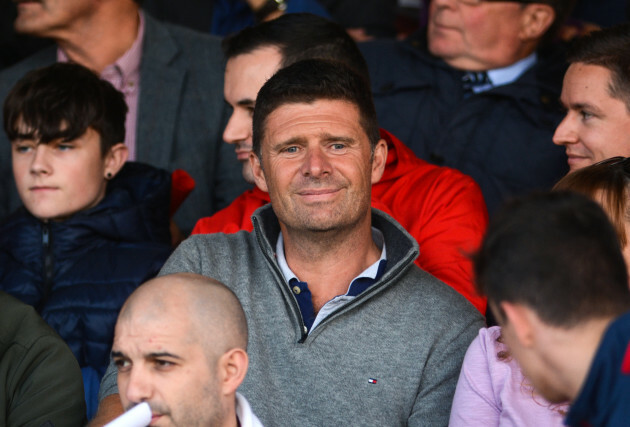 Source: Ciaran Culligan/INPHO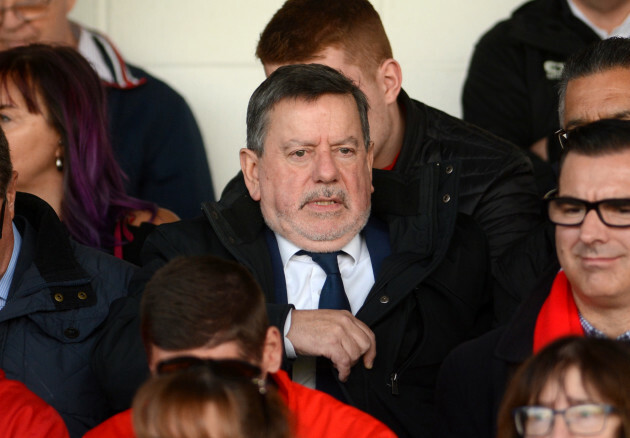 FAI Chairman Donal Conway. Source: Ciaran Culligan/INPHO
If it ends a draw this evening, it'll be over to a replay at Oriel Park on Tuesday week (8 October).
Murray has done well since he came on, his fresh legs adding to the Dundalk cause. His latest contribution is a promising delivery from a long-range free-kick, it hits off a Sligo player and goes out for a corner. Nothing of not comes off that, however.
A little over 10 minutes of normal time to go, will we get an FAI Cup hero this evening at The Showgrounds?
Shields with the latest effort, but the Dundalk man's shot is well wide. He comes in off his right onto his left and the strike is weak. The visitors are pushing on now but Sligo have held firm so far.
An opportunity falls for Sligo, as Gannon looks to send the ball out for a throw but instead he gifts the Bit O'Red a corner. Looks dangerous, but Dundalk clear ultimately through Duffy. From there, Murray surges up the field but his pass across goes astray.
CLOSE! HOW did that not go in? It seemed certain that Dundalk would score there. A let-off for Sligo, Duffy's shot is blocked but it falls to Murray, who was so close to goal. His effort goes over the bar.
Another chance for Dundalk there. Gannon plays the ball into McGrath's feet, he loses his balance and goes down in the area. There are some calls for a penalty around the grounds, but it's clutching at straws as the clock runs down.
Georgie Kelly on for Hoban.
Dundalk continue to press and press. Can they find the winner? Or will Sligo do so against the run of play?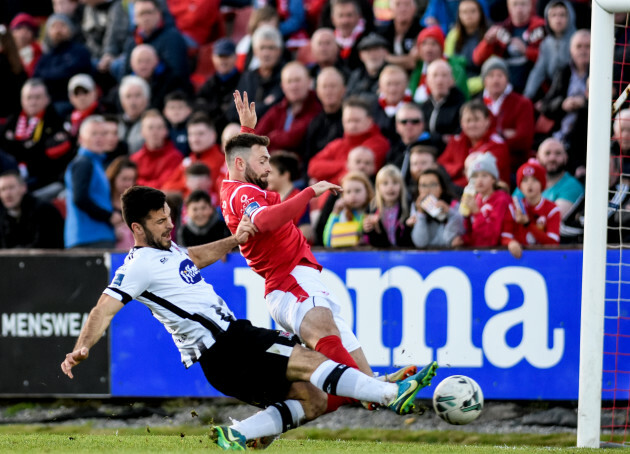 Pat Hoban tackles McFadden. Source: Ciaran Culligan/INPHO
GOAL! Dundalk 1-0 Sligo Rovers (Duffy, 89)
Michael Duffy pops up with yet another crucial goal. Sligo switch off defensively with the tiredness creeping in as Duffy steps up to volley home a loose ball in the area. Late, late goal to put Dundalk in the driving seat. Is that it, so?
Three minutes added, two of them played with all the excitement of that late goal. Sligo go desperately in search of an equaliser. Duffy is named Extra.ie Man of the Match.
FULL-TIME: Dundalk 1-0 Sligo Rovers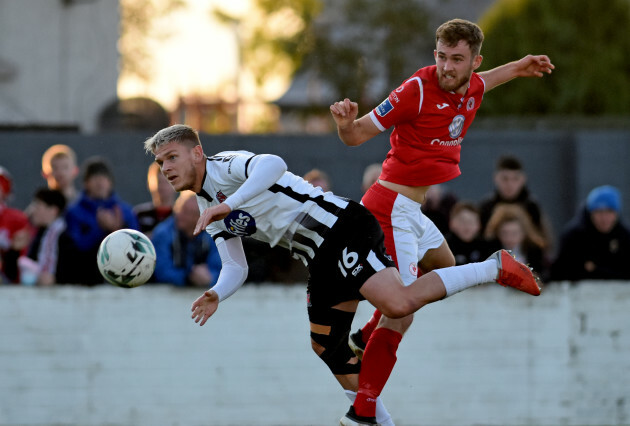 Source: Ciaran Culligan/INPHO
Michael Duffy's late, late goal puts Dundalk in their fifth consecutive FAI Cup final despite Sligo Rovers pushing them all the way at The Showgrounds.
They'll do battle in the Aviva with Shamrock Rovers five weeks from today, as their historic domestic treble bid lives on.
Here's a look at the all-important goal:
GOAL Dundalk

89mins SLI 0-1 DUN

Michael Duffy hammers the ball home for what might be the match-winning goal for Dundalk. pic.twitter.com/1wtDgTEDZ9

— RTÉ Soccer (@RTEsoccer) September 29, 2019
30 matches unbeaten on the domestic front for Dundalk, a new club record. They've done the double, all eyes on the treble now.
Heartbreak for Sligo at the death there, you can see just how gutted they are.
That's all from me, but you can read Jessica Farry's on-the-whistle match report for The42 here:
Thanks for reading, and enjoy your evening.
Contribute to this story: