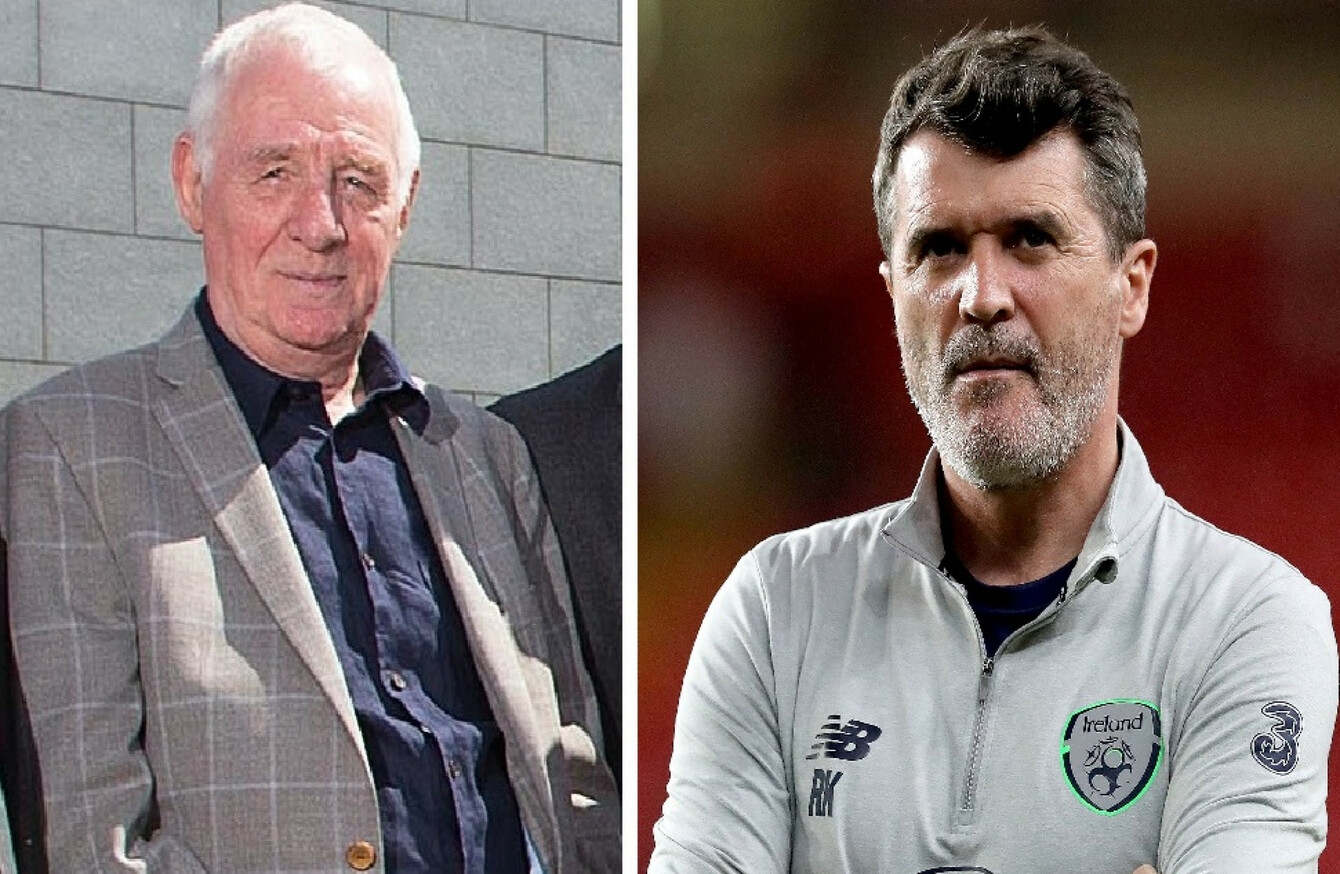 Eamon and Roy.
Image: INPHO
Eamon and Roy.
Image: INPHO
EAMON DUNPHY HAS questioned Roy Keane's decision to work as a television pundit at the 2018 World Cup.
With the Boys in Green failing to qualify for the finals after a humiliating 5-1 play-off loss to Denmark last November, the former Ireland midfielder has been free to appear regularly on the ITV panel this month.
Keane has been quick to criticise several teams, players and managers in Russia, but Dunphy — who ghost-wrote the ex-Manchester United captain's first autobiography — has called out what he believes as hypocrisy, given the brand of football Ireland currently play under Martin O'Neill.
"From Ireland's point of view, it [the World Cup] has been a very bad watch because we are probably the most backward football nation in the world right now," Dunphy said, speaking on 2FM's Game On last night.
Ireland are not playing the same game as every other nation, small and large. We're playing Stone Age stuff, it's an embarrassment.
"I don't know how Roy Keane can actually go on television and open his mouth because someone has only got to say 'you're assistant manager or assistant coach with the team in the world that plays the worst football."
Fellow Game On pundit Alan Cawley added: "I'm glad Eamon highlighted that because I watch him and something that highlights it for me when you hear Keane speak on the telly trying to analyse the game — and he was my hero growing up and an unbelievable footballer — there's nothing.
"That tells me that when he's on the training pitch with Ireland, they are the performances we see. If that's the way he analyses football matches, I'm not sure what he's bringing to the table out on the coaching pitch, because there can't be much.
"That's been throughout Martin O'Neill's tenure. For the three or four years, the football has been horrendous."
Roy Keane on Carlos Quieroz:

"He was a bit disrespectful to me in his second spell, questioned my loyalty"

"I told him where to go. That's one of my biggest regrets in football because I should have ripped his head off.

"But yeah, excellent coach." pic.twitter.com/5dThCCU8rW

— ESWCN (@SemperFiUtd) June 20, 2018
Dunphy went on to question the depth of Keane's analysis, claiming he has become "a caricature" and "a joke".
"He [Keane] has become a caricature and Alan is totally right," he said. "I watched the ITV coverage last night, because he was on it, of the Colombia-Poland game and in terms of insight, he offered nothing.
"There's no analysis. It's smart-arse remarks, ripping Carlos Queiroz's head off and having a go at the English.
I don't think he knows much about the game. Not all the great players were good judges of the game, they didn't know what was going on and a lot of the great coaches, for example Arsene Wenger, Alex Ferguson, were not great players, they were just journeymen.
"When you watch him [Keane], I just watched as an exercise to see what he'd offer and what he offered was nothing. Absolutely nothing. And if you look at Didi Haman, Liam Brady, John Giles, all these people who have worked here [RTÉ], and if you look at Gary Neville on Sky, the knowledge is there, you can see it, you're wiser after you watch them about what's going on.
"With Keane you get nothing except, you know, 'I should have ripped Carlos' head off'.
"So he has become a joke in my opinion and the biggest joke of course is that the team he has got influence with can't play at all."
Listen to the full Game On discussion below (begins at 15:00):
Source: RTÉ2fm/SoundCloud
The42 is on Instagram! Tap the button below on your phone to follow us!