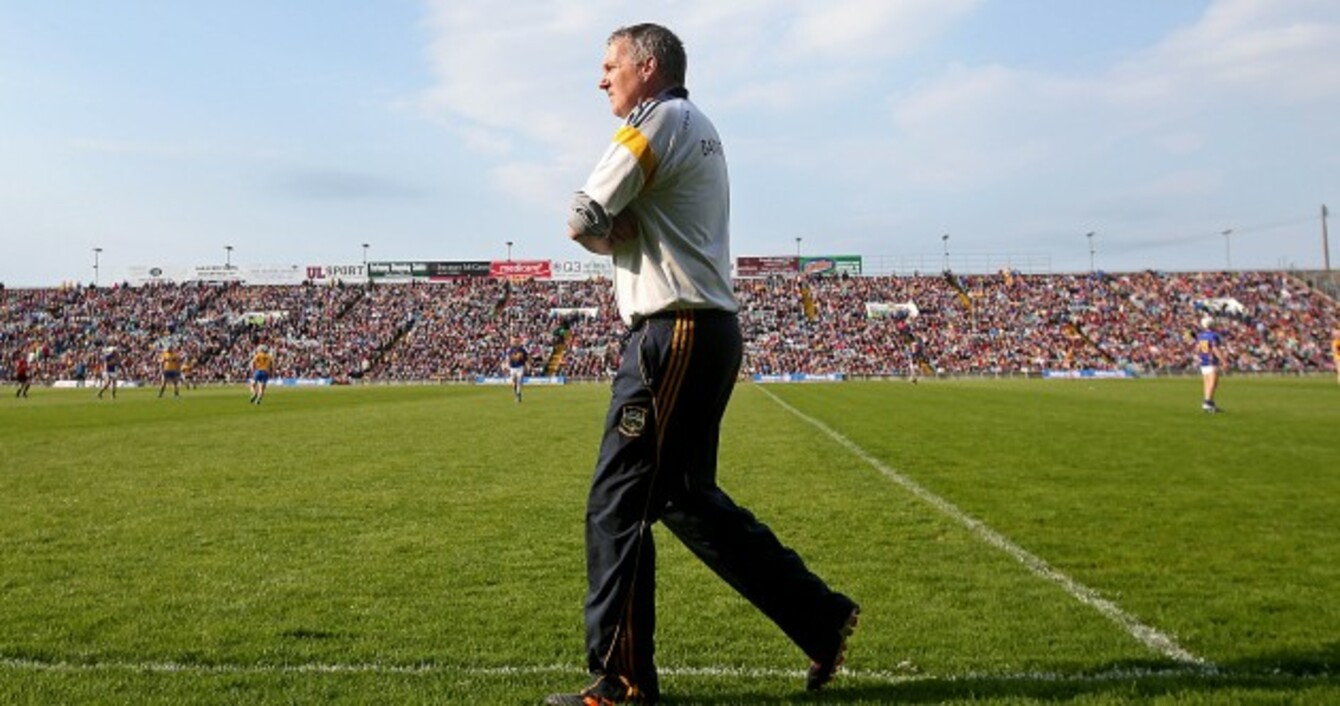 Eamon O'Shea walking the sidelines during yesterday's game in Limerick.
Image: Donall Farmer/INPHO
Eamon O'Shea walking the sidelines during yesterday's game in Limerick.
Image: Donall Farmer/INPHO
IT'S AN ODD time for Eamon O'Shea in his role as Tipperary manager.
Knives were being sharpened last month as the spectre of relegation loomed large for his side but a last day survival act saw them wind up in the knockout stages.
Now the garlands are being tossed in O'Shea's direction after steering Tipperary to yesterday's semi-final win over Clare. A second successive league final against Kilkenny beckons.
"It seems strange to be in a national league final to be honest after the slow start we made (to the league) but the most important thing is the spirit we're consistently showing in our games.
"One of the things people didn't realise when we were losing games was that the team never capitulated. Our hurling wasn't good but in all the games we played we stayed at it. Some times when your team is doing that it's probably better than them winning by nine or ten."
There's still work to be done though in sharpening Tipperary's play according to O'Shea.
"We're nowhere where we should be in the quickness of our hurling. It's a little bit slow. It has developed over the last few weeks, again, not to a level that I'd be going mad about but it's certainly developed and they've worked very hard.
"It's just very early in the year to know what patterns are there and the way the game will go. I'm not sure you could say anything yet. All you had was a good game. It's great to play the All-Ireland champions, they're a really classic team in the way they want to play the game which is a really good way to play the game. We're just happy that we stayed at it."
Tipperary's rearguard put up a fine showing with Padraic Maher and Brendan Maher manning the spine. That complemented the experience of Michael Cahill and Conor O'Mahony along with the youth of Cathal Barrett and James Barry.
O'Shea has tweaked his rearguard during the league but insists he hasn't made wholesale changes.
"I wouldn't say I did a lot of chopping and changing, I don't chop and change. I pick the players I have and any player that goes out to play for Tipperary is able to play hurling, I wouldn't use that phrase. We used players as I saw fit to play, these were quality players."
Next up is Kilkenny in Tipperary's home patch in Thurles.
"Ah it's good to get another match against Kilkenny," admits O'Shea. "I didn't see the first match but we'll look forward to it. Games are the ones that matter, we train too much and play too little at this time of year. The more games the better."