EDDIE O'SULLIVAN HAS seen more than one or two attempts to convert American footballers into rugby players fall flat.
With his strong links to the US over the last 30 years or so, including two spells as the Eagles' head coach, O'Sullivan has also seen a handful of success stories, but he is now part of a project that is coming at this conundrum from an altogether different angle.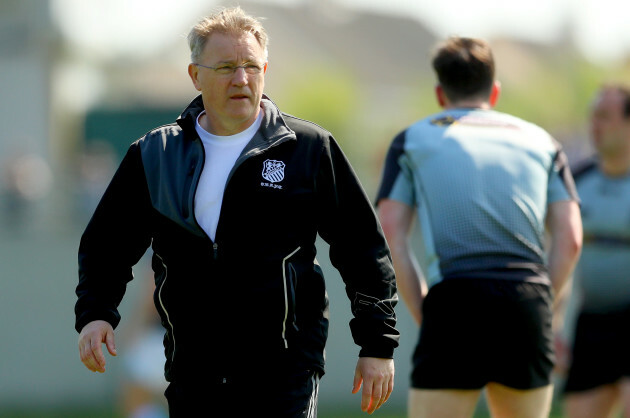 James Crombie / INPHO O'Sullivan is excited about the potential of this new project. James Crombie / INPHO / INPHO
Having teamed up with his friend Wesley Liddy, who has studied the area of talent transfer into rugby in great depth, former Ireland head coach O'Sullivan is convinced that a focus on high school American footballers is the real key.
Already, Liddy and O'Sullivan have had results, helping Hawaiian-Samoan tighthead prop Roman Salanoa to link up with Leinster's sub-academy as he looks to make a career for himself in rugby.
Salanoa is a superb athlete and was an All-State defensive lineman for his school, Kahuku High in Hawaii, but is now making fine progress in Ireland.
After playing only around 10 games of rugby in his life, the 20-year-old started for Leinster Development in a game against the Ireland U20s last month. Even so early in his rugby path, Salanoa held his own that day and made his Ulster Bank League debut for O'Sullivan's Old Belvedere against Naas on Friday evening.
O'Sullivan and Liddy are certain there are more players of Salanoa's ilk waiting to make the crossover.
"The part that interested me is that everyone who has gone about it has gone about it in terms of possibly looking at the wrong demographic," explains Liddy.
"I think taking guys at the age of 25 who are busted up from a football career, and you don't really know their backstory, it's too late to transfer their knowledge. That's only half-worked before.
"If you look at high school football in America, there are five million players at any one time. Of that 5 million, 6% of them make it to college football, then 1% of those college footballers make it to the pros. So you're talking about 0.0016% making a career out of it!
"What you have are all those kids that fall off the scrap heap every year when they leave school."
Athletically, American footballers are streets ahead of their Irish rugby counterparts in terms of power and pace.
Dan Sheridan / INPHO Roman Salanoa makes a tackle for Leinster Development. Dan Sheridan / INPHO / INPHO
O'Sullivan and Liddy describe one 17-year-old who they came close to convincing to take a shot at rugby as "incredible."
This American athlete is 6'7″ tall, weighs over 100kg, can run 40 yards in 4.56 seconds – "about Keith Earls' speed" – and has a vertical leap of 40 inches [Peter O'Mahony is thought to the best in the current Irish squad with a leap of around 24 inches].
The jaw-dropping athleticism is just one part of the picture, however.
"Everyone talks about the power athletes, the obvious one, but the other side for us is the coachability," says O'Sullivan. "Their capacity to learn is extraordinary and I saw that with guys who came into the Eagles' programme during my time.
"Having worked in America, I understood pretty quickly what Wes was talking about – the ability of these athletes who are highly coached from a very young age to transmit from one sport to another."
High school American footballers are essentially in elite programmes from early on, and O'Sullivan outlines how that builds a huge desire to learn.
"They were so coachable it was unreal," says O'Sullivan. "Their learning curves were very steep and they were very challenging for a coach. They'd always be asking questions because that's what they were used to."
Someone like Toulon back row Samu Manoa – who O'Sullivan capped for the US – is a fine example of what is possible, having starred as a quarterback during his high school days in California but come nowhere near being selected for college football.
"If the prototype tight end in the NFL is now Rob Gronkowski – 6'6″ and 19 stone with a 4.68 in the 40-yard dash – then every coach wants that," says Liddy.
"What happens to the guy who is 6'5″, 18 stone and runs a 4.8? He'd still be the best athlete in world rugby."
Getting these highly-coachable and athletically-incredible players across to rugby earlier is the key to their chances of making it in rugby, Liddy and O'Sullivan believe.
James Crombie / INPHO Samu Manoa was a quarterback in high school. James Crombie / INPHO / INPHO
There's another layer to Liddy and O'Sullivan's work, however, and this is the real key to making it unique.
They are not just dipping into America and finding hundreds of football cast-offs who can bench 180kg and run as fast as a rugby wing.
Liddy, who also works in RTÉ's sports department, has studied for a Master's degree in Sports Management at UCD and undertook a thesis in the "psychosocial competencies of the elite rugby player."
He has worked closely with UCD's Dr. Seamus Kelly, a former Cardiff City goalkeeper who is now an expert in the field of "holistic talent assessment," among others, and has worked with professional sports clubs like Man City and Inter Milan.
Liddy, generously accommodated by Munster in particular, carried out an in-depth study of what he terms the "characteristics and traits that are common to people that succeed in rugby, and particularly to converting potential into achievements."
Essentially, Liddy's research has pinpointed the factors that an athlete needs to demonstrate in their character and their traits to indicate that a crossover into rugby will be a success.
"The research we did in rugby basically mirrored every bit of research in talent transfer that's been done all over the world," says Liddy.
"We talked to the AIS [Australian Institute of Sport] quite a bit during our research phase and they've 240 athletes on their books at any one time and about 35% of them are the product of talent transfer. All of them reach international level within four years.
"On a worldwide level, the notion of talent transfer is almost twee at this point, it's beyond proven. It just hasn't really been proven in rugby."
So, the demographic is different this time, and O'Sullivan and Liddy believe that they can better identify the people within that demographic who have what it takes to make it in rugby and also adapt to a new culture.
O'Sullivan stresses that there are no plans to start shipping young Americans to Europe as fast as they can find them, underlining that he and Liddy are very much about focusing on the individual athletes.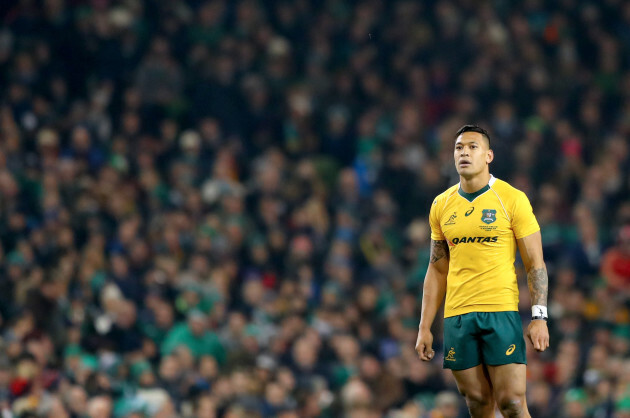 James Crombie / INPHO Australian sport has a history of talent transfer, with Israel Folau having played AFL, rugby league and rugby union. James Crombie / INPHO / INPHO
They speak to parents, mentors, and anyone else who plays an important role in the young man's life.
"It's all about that due diligence and it has to be a slow process because the kid has to be looked after, we have a duty of care to them," says O'Sullivan.
Perhaps most importantly, Liddy and O'Sullivan are highlighting to these young American players the fact that rugby offers them a chance at getting an education.
The thousands of athletes who don't get a college offer to play football in the States are staring at fees of up to $200,000 for an education if they want to pursue it without a scholarship, but rugby could be their ticket.
"In France, for example, the clubs are mandated to educate you in their academy," says O'Sullivan. "So you're saying to these kids that they have a chance of going overseas, getting an education pretty much for free, and at the end of it you'll have that education but you may also become a professional athlete in another sport.
"That's now a different conversation."
O'Sullivan's extensive contacts in the US – including Brown University's David LaFlamme – have been useful in identifying possible converts, while the readily-available nature of athletic information in American football is also an ideal tool.
"You target high schools where they have a pretty high standard of footballer, so really good athletes," says the former Ireland boss.
"It's great if they also have a rugby programme of some sort. Then you engage that school, float the idea to them – we have access to those databases of physical information – and find somebody in that school who wants to help you and help this kid.
Though French clubs have been looking at the Pacific Islands to identify young talent in recent times, Liddy and O'Sullivan believe that Hawaii is a prime example of the untapped potential in the US.
"Samoa, Tonga and Fiji have a population of around 1.2 million combined," says Liddy. "Hawaii has around 1.5 million and many are Polynesian people who have been in an American S&C system and with American high school nutrition from a young age.
Dan Sheridan / INPHO O'Sullivan stresses that young Americans can get an education this way. Dan Sheridan / INPHO / INPHO
"Also, it's much less of a cultural adjustment to come from America to Europe than Samoa to Europe."
"And that's just Hawaii," adds O'Sullivan. "There are 49 other states!"
Now, it's their job to convince clubs in Europe to give some of these young American athletes a chance. Financially, they believe it makes sense for the clubs
"If you spend €10,000 a year in academy wages on a guy and in three years – we think it will take three years – he's ready and solves a problem with a hole in your succession planning, then brilliant," says Liddy.
"The alternative is to go three years later and sign at the top end, a player who costs €300,000 a year. Even if it doesn't work out, the investment is small for the club and the player himself gets an education and there will be a link to the club and place."
The initial stages of Salanoa's conversion have been encouraging and they hope to place two or three players like him in Europe each year – "quality over quantity."
O'Sullivan and Liddy do not accept any payment from the American athletes' families and say they never will, with the possible financial reward more likely to come from clubs for a "finder's fee" in the future.
But they stress that making money has nothing to do with this project right now, and their enthusiasm is obvious.
With O'Sullivan having been long convinced that something like this was viable and with Liddy so deeply fascinated by his area of study, they are simply excited to see how it will work out.
"It's not a get-rich scheme or something that's going to explode overnight," says O'Sullivan.
"For me, it's that coaching side of it – spotting players who could become special. It's also about finding an opportunity for that player and giving him a chance to get an education.
"I've been in America for 30 years, on and off. I've heard every different model and every different way of doing this. I've heard a thousand different ways of skinning the cat and, to me, this one is different and it's a very successful way of helping a player to transfer into a new sport and become a professional athlete.
"They can go from having zero chance in the US to having a great opportunity in rugby. That crossover from football to rugby seems like the easy one, but it's about finding the right person."
- This article was updated at 1.37pm to remove the word 'is' from the caption on the final photograph.
The42 has just published its first book, Behind The Lines, a collection of some of the year's best sports stories. Pick up your copy in Eason's, or order it here today (€10):