"When I get out there, I leave everything out there."
CHRIS BRYAN IS Ireland's representative in a growing world class field of endurance swimmers.
Though he missed out on Olympic qualification by the narrowest of margins, Bryan has bounced back to be a regular contender in the biggest meets around Europe and, over the Marathon 10km distance at last year's World Championships, Bryan touched for home just 21.6 seconds after Spyridon Gianniotis claimed gold.
Even over long distances, the margins are unbearably fine.
To take him through waters heavy with waves and flailing arms, Bryan uses the mantra 'effortless power' to keep his stroke in a rhythm as his arms turn over and over and over again in his shoulder socket.
To ensure he is able to follow up on that promise he makes to himself he must ensure that his body is given all the help it can handle. Good thing then, Bryan already has his degree in sports science to give himself the best possible chance as he lines up on the pontoon.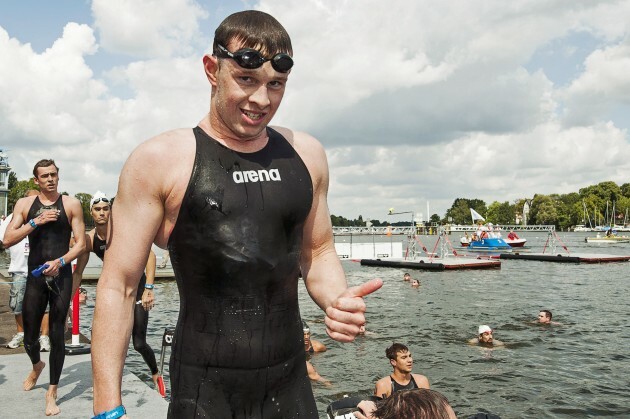 Insidefoto Insidefoto
"First and foremost it's a lot of work," says the Clare man.
"I train in the pool 10 times a week. I've Sundays off. My schedule is 10 pool sessions, two gym sessions, two Pilates sessions and two aerobic circuit sessions.
"In the pool I do an average of about eight or nine km per session – so that's between 80 and 90k most weeks. Then, on top of all that I try to get in the open water maybe once a week or two weeks."
Exclusive Six
Nations Analysis
Get Murray Kinsella's exclusive analysis of Ireland's Six Nations campaign this spring
Become a Member
When we spoke to Bryan he was in the thick of a race schedule that took him into competition roughly twice a month in the lead up to the European Championships where he finished ninth in the brutal 25km distance swim.
Flexible
However, it's the pacier 10km race where Bryan really has his hopes focused.
"Everyone there can swim fast, they've trained their whole life to be there. It's the guys who have prepared the best, cross the Ts, dotted the Is and can adapt to whatever's thrown at them in a situation," said Bryan with a nod of admiration to those who currently dominate the sport. To adapt, Bryan lays a solid routine to give him the platform to be flexible.
"Before the race starts, maybe two hours before I try to have a main meal in," he says mentally beginning to strike off his check-list.
"The caffeine basically prioritises your fats to be broken down ahead of your glycogen [glucose energy stores] stores – basically, you've a lot more fat energy in your body and it's slow release.
"I like to use caffeine an hour before the race. Half an hour before I'll have a banana and I'll constantly be sipping away at a caffeine drink and a bit of water."
That sports science know-how doesn't stop when he hits the water either. It never stops.
"The 10k is about a two-hour race and you have enough glycogen in your body for about an hour and a half of intense exercise.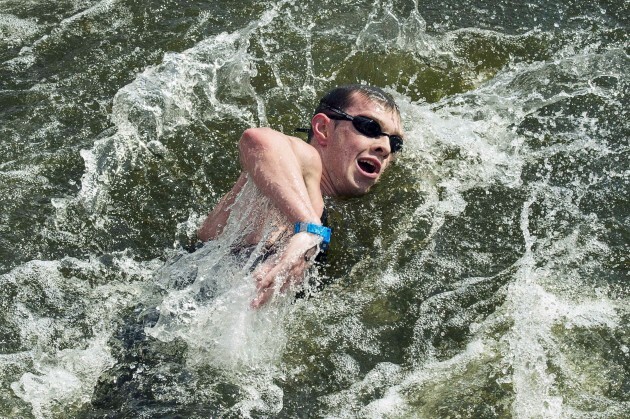 INPHO INPHO
"I try to take on an energy drink at 2.5k, 5k and 7.5k. It can change based on, say, 'the push': you don't want to lose the group. It really does depend how fast the pace goes."
At times Bryan will feel the need to avoid veering off course towards coach Lars Hummer's liquid-baited pole. So he also has small packets of energy gels to take on board in the event he needs to stay with the push and delay a backstroking visit to the refuelling station.
The relationship with gym coach Tom Comyns is surely not always so straightforward. The gym sessions he briefly mentioned above can often include an aggravating test from his coach. It takes the form of Comyns slapping the swimmer's arms during his 'dry land swimming' simulation to get Bryan battle-hardened for the multitude of flying limbs he will encounter during a race.
Throw in water conditions that can rise as far as 30 degrees Celsius on a given race day, and it becomes apparent that a cool head is an absolute necessity.
"As much as you say 'I'm going to be uncomfortable', everyone's going to be uncomfortable and that's just part of the game. You just thrive on the chaos and have to get above everyone else."
A sponsored athlete of Asystec Data Management, he adds: "Obviously I have to go do the work at the end of the day, but I've a full team around me. It sounds impressive but that's what we're doing, but that's what everyone else in the world has.
"In 2012, it was a completely different sport, the strongest field to date was in Barcelona last year for Worlds. 80 men, the strongest field ever put together and every year it's getting stronger and stronger .
"I love to be at the helm of that and to be there when the sport is pushing on. The team we have here in UL – we have gym coaches, a full team of physios, doctor, sports science, video analysis, coaching, nutrition… you know?"
No stone is left unturned so that Bryan can fill, and then empty the tank completely.