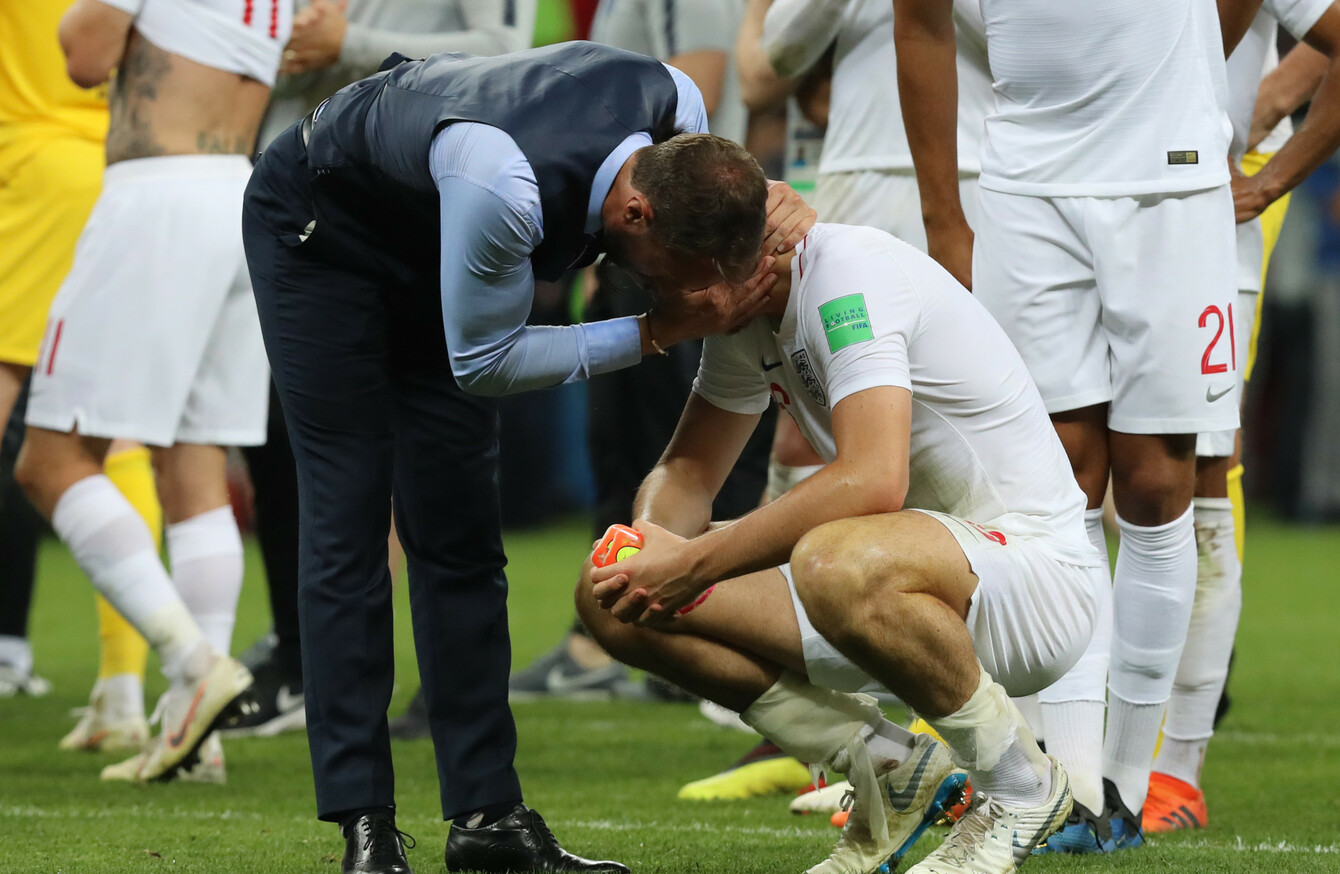 England's head coach Gareth Southgate (L) comforts Harry Maguire.
Image: Xinhua News Agency/PA Images
England's head coach Gareth Southgate (L) comforts Harry Maguire.
Image: Xinhua News Agency/PA Images
Updated at 09.42
DURING THE WORLD Cup, a plain speaker is not always welcomed with open arms.
Roy Keane last night sparked social media outrage, after he castigated English pundits and fans for getting "carried away" with their World Cup success.
Even Ed Miliband weighed in, telling his 742,000-plus followers on Twitter: "Roy Keane is just awful I am sorry."
Many Irish fans, in contrast to their British counterparts, applauded Keane for supposedly telling it like it is and dropping truth bombs left, right and centre much to the chagrin of Ian Wright and a large portion of the millions of viewers across the water.
It felt uncannily similar to another social media storm caused by Keane six years ago. Following Ireland's 4-0 Euro 2012 defeat by Spain, the Manchester United legend was highly critical of the Boys in Green, adding "let's not just go along for the sing-song".
Why can't we be excited Roy? Why can't we be happy? We loved every minute of it! 🤷🏾‍♂️ 🦁🦁🦁 pic.twitter.com/F5rNH6wcHu

— Ian Wright (@IanWright0) July 11, 2018
In light of those remarks, the current Ireland assistant boss briefly became public enemy number one and took some of the attention off Giovanni Trapattoni's under-performing side. During the final game against Italy, some Irish fans even chanted:  "F**k you Roy Keane, we will sing what we want."
Yet amid all the hoopla over whether or not England's fans and pundits should be able to enjoy themselves, Keane made another point that stood out: "Croatia deserved it in the end."
It is difficult to argue against this assertion. England were perhaps the better side in the first half, but Croatia showed remarkable resilience over the course of the 120 minutes.
The stats support the view that Zlatko Dalic's men were superior on the night. According to the BBC's figures, they had 55% possession, 22 shots to England's 11, and seven shots on target compared with two for the Three Lions.
Earlier in this tournament, I wrote about how England were playing with a freedom that was rarely if ever seen during the so-called Golden Generation, and this opinion has not changed.
Yes, the only teams the Three Lions beat (without the need for penalties) in Russia were limited sides in Panama, Tunisia and Sweden, but they still managed to secure these victories while operating with a degree of style, playing out from the back and scoring some superb goals. There was real evidence, such as their remarkable set-piece record, that they were an exceptionally well-coached outfit, while fading star players such as Wayne Rooney and Joe Hart were no longer being indulged on account of past reputations — a failing many previous English managers succumbed to time and again.
In past major tournaments, they also struggled against Sweden on more than one occasion, as well as failing to overcome sides such as USA, Iceland, Algeria and Costa Rica.
It may have been steady rather than spectacular, but there was undeniable progress made by Gareth Southgate and co.
However, it is possible to acknowledge this improvement while simultaneously being critical of the performance on Wednesday evening. Another Keane quote springs to mind: they "might never get a better opportunity" to reach a World Cup final.
In the build up to this tournament, there was much talk of previous England sides and the reasons for their various mishaps. Club rivalries and players' failure to put these issues aside, a theory spread by Rio Ferdinand and Frank Lampard among others in recent months, has become an increasingly popular excuse for past poor performances.
Yet it feels as if the most obvious reason for this perceived underachievement is the one rarely suggested — that England were simply beaten by better teams.
Be part
of the team
Access exclusive podcasts, interviews and analysis with a monthly or annual membership.
Become a Member
In 2002, a Sven-Göran Eriksson-managed team lost to Brazil, who had the better possession (53%), more shots (9 to 6) and more efforts on target (4 to 2).
At Euro 2004, they lost to Portugal, who had 61% possession and 35 shots to England's 16.
At World Cup 2006, they again lost to Portugal, who had 51% possession and 15 shots on target compared with seven for England.
Amid the 2010 World Cup, Fabio Capello's men actually had slightly more possession than Germany (51%), but still suffered an emphatic 4-1 loss.
And during Euro 2012, Roy Hodgson's side lost to an Italy team who had 64% possession and 20 shots on target compared with four for the Three Lions.
The 2014 World Cup and the 2016 Euros were arguably worse than usual, as England suffered the humiliation of exiting in the group stages and at the hands of Iceland, a country with a population of under 400,000 and a markedly less illustrious footballing history.
But for the most part, there seems to be a fairly consistent pattern with England — they have a few decent wins before suffering a heartbreaking loss to a technically superior side as a major tournament reaches its business end.
Last night was no exception, and with the hype surrounding England growing significantly in recent weeks, pressure became more of a factor.
Following an encouraging opening 45 minutes, England wilted and Croatia took control of the game.
Source: MrFootballer Sports/YouTube
Afterwards, Luka Modric told ITV that the apparent complacency within English ranks served as a motivating factor for the Croatians.
"English journalists, pundits from television, they underestimated Croatia tonight and that was a huge mistake," the former Tottenham player said. "All these words from them we take, we were reading and we were saying 'ok, today we will see who will be tired.'"
More damningly still, Croatia and Atletico Madrid star Šime Vrsaljko commented: "The all-round perception was that this is a new-look England who have changed their ways of punting long balls upfield, but when we pressed them it turned out that they haven't."
Indeed, the overriding narrative over the course of this tournament was that this was a different England. A usually all-too-demanding media was willing to give them a free pass and not expect so much of the team this time around.
Instead of being vain and standoffish, the squad were portrayed as humble and amiable. Much was made of the pre-tournament darts games with journalists — it was the antithesis of past ways in which superstars such as David Beckham were routinely cosseted — and this minor detail consequently served as a metaphor for the ostensibly brave new world in which Gareth Southgate was inviting his fellow waistcoat aficionados  into.
Yet with the team 45 minutes away from a first World Cup final since 1966, England reverted to type. They sat back on the edge of the box, invited Croatia on, stopped passing out from back, increased their reliance on long balls, essentially caving under the pressure in the process and reminding us that the more things change, the more they stay the same.
The42 is on Instagram! Tap the button below on your phone to follow us!