IN MAY 1988, firebrand hip-hop act Public Enemy were unlikely headliners at the annual Trinity Ball in Dublin. By all accounts, the militant rap collective delivered a blistering live set to a swaying crowd of middle-class Trinners students, dressed in tuxedos and ball gowns, who seem, largely, to have had no idea who they were.
It was an odd booking. But for GAA fans, a new layer of incongruity was added to this story by Irish Daily Star journalist Kieran Cunningham, who published a very entertaining blog post  on this subject last month, to mark the thirtieth anniversary of the show.
He revealed that among the security staff that night (providing a blanket defence against any inebriated toffs who might attempt to, yo, bum rush the stage) was a first year law student named Joe Brolly. And according to Cunningham, young Mr Brolly seems to have had quite a night of it – as well he might.
Three decades on, in his role as RTE's most outspoken football pundit, Brolly probably considers himself a bona fide firebrand in his own right now. But something odd about the Derryman's brush with hip-hop royalty struck me while I watched Brolly and Pat Spillane preview the Ulster football semi-final for the Sunday Game live this weekend.
Besides Chuck D's incendiary lyrics, Public Enemy's biggest selling point was Chuck's sidekick Flavor Flav, to this day easily the most recognisable hype man in the history of rap music.
The role of a hype man at a rap show, basically, is to big up the main MCs, whip the audience into a frenzy of pre-show excitement, and then again intermittently throughout the set whenever their enthusiasm threatens to wane.
Watching Brolly preview Fermanagh v Monaghan for our national broadcaster on Sunday, it occurred to me that he was performing precisely the opposite to that role.
Here was an RTÉ employee given the guts of half an hour's airtime before a big game his employer had paid good money to broadcast, stating bluntly that, in his opinion, the forthcoming contest would not be remotely entertaining and perhaps, in fact, not even worth the audience's time bothering to watch.
From the outset, he zeroed in on Fermanagh manager Rory Gallagher for subscribing "very much to the blanket defence template: keeping the scores down, preventing the other team from playing."
Comparing modern Gaelic football unfavourably to basketball and hurling, he claimed that a generation of talented Ulster forwards were being driven away from the game, disillusioned by a doctrinal adherence to a coaching philosophy predicated on defence at all costs.
"The psychology of this system is not about passion and excitement," Brolly fumed. "It's about containment. That's why hurling is killing us. We're ruining a great sport for no reason."
PublicEnemyVEVO / YouTube
The online reaction was sceptical.
"RTE sports department must be pulling out their hair," commented one journalist.
"Must be a first to have pre-match analysis where the pundits basically tell you how crap the game is going to be and you may as well switch channels."
Exclusive Six
Nations Analysis
Get Murray Kinsella's exclusive analysis of Ireland's Six Nations campaign this spring
Become a Member
Sunday Game presenter Joanne Cantwell may have been thinking along similar lines. "Our first live game, after being killed by the product of hurling, hasn't even gotten underway," she interjected. "And you're already killing it as a spectacle."
But Joe wasn't backing down. "What do you want us to do?" he asked. "Cheerlead? People see the evidence with their own eyes. I always hear this stuff 'Oh, the RTÉ pundits are very negative about the game.' We're not negative. But we have to describe what we see. Otherwise we become cheerleaders."
By this point, every sports fan in the country was probably praying that Fermanagh and Monaghan would serve up a barnstorming Thrilla in Enniskillen just to wipe that cocky smirk off Brolly's face.
But of course, he turned out to be right.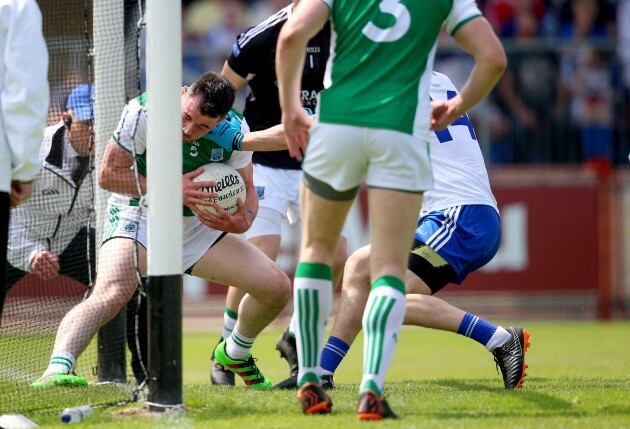 Tommy Dickson / INPHO Fermanagh's Barry Mulrone stops the ball from crossing the line. Tommy Dickson / INPHO / INPHO
As a spectacle, Fermanagh v Monaghan was so turgid it made Mayo v Galway the other week look like Rocky v Apollo Creed by comparison.
From a footballing perspective, I have no solutions to offer here. On the one hand, I kind of agree with Brolly that, in the long term, negative tactics such as those employed by Fermanagh on Sunday, may well turn casual viewers off watching Gaelic football (much as, I suspect, diving and play-acting may in time turn viewers away from soccer in the future.)
But on the other, Fermanagh pulled off an unlikely victory over the hot favourites in that semi-final. And in a sport where smaller counties grapple with massive deficiencies in resources and manpower, I doubt any Fermanagh supporters will gripe if negative or defensive tactics should help land them their first ever Ulster football title on 24 June 24.
From a TV scheduling perspective, on the other hand, I have a tonne of slips for the suggestion box. First and foremost: why not let Brolly apply his brand of scorched earth analysis to other flagship RTÉ shows like Fair City or Dancing With the Stars. Imagine him and Cantwell scoring a half-time slot during the Late Late Show?
"I'm sorry Joanne, but Graham Norton is killing us, He's got Jack Nicholson, Meryl Street and the Dalai Lama on tonight. We've got Francis Brennan and a bunch of rubes trying to win a Renault Clio. I'm not being negative here. The public can plainly see this with their own eyes."
Feck it, I'd watch it at least.
P.S. On a personal note, the Mayo GAA pain train embarks on it's travels again this weekend, when we take on Limerick away this Saturday. Our crack team of All-Stars and household.names will travel to the Gaelic ground to take on on fifteen random Limerick residents who happen to own football boots and have no other commitments on that day.
Given Mayo's history in the qualifiers, the consensus on Mayo WhatsApp seems to be that we'll sweep to a decisive victory by a single point after extra time… Yeah, boyeee!
Originally published at 13.35