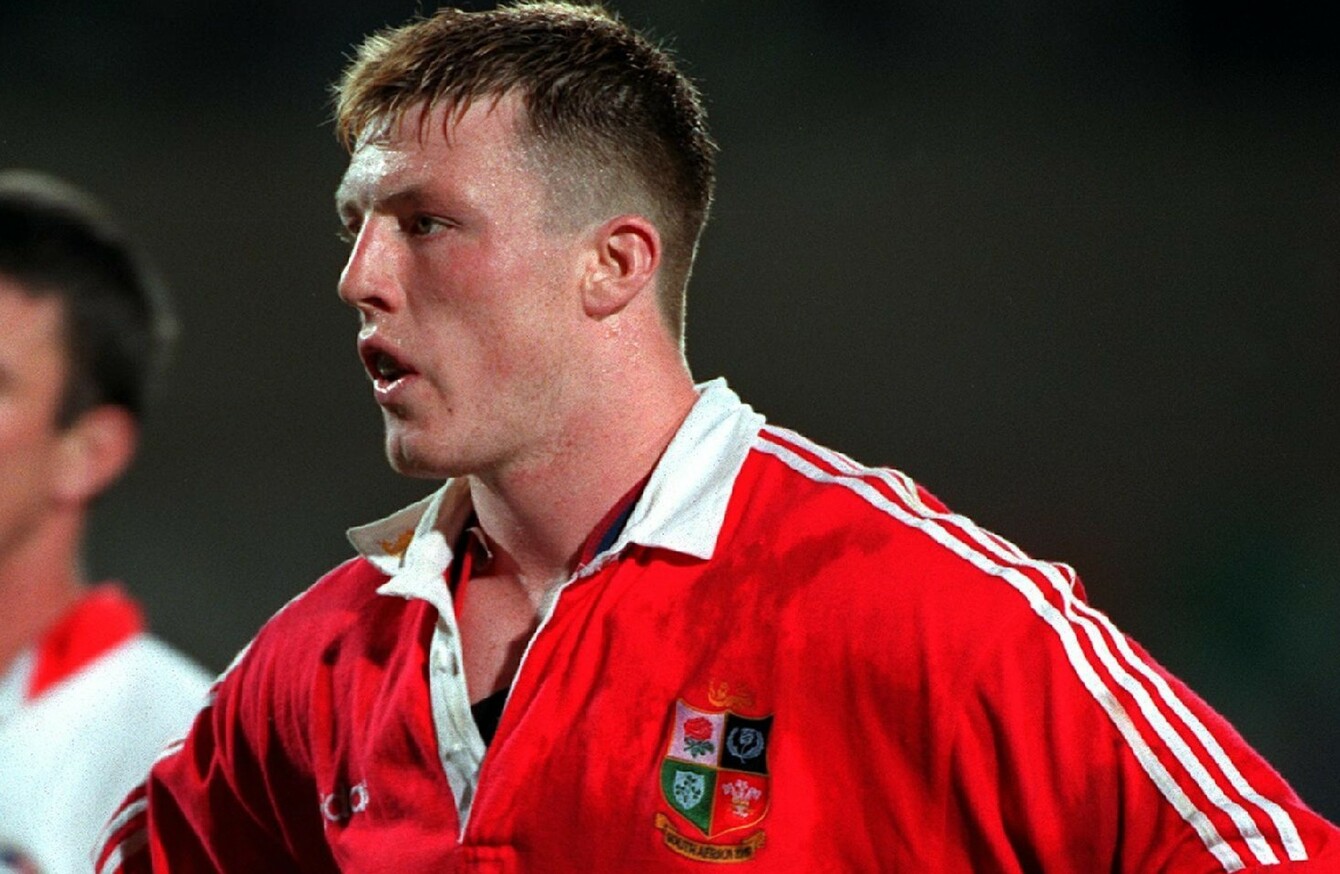 Ireland's Eric Miller in action for the Lions back in 1997.
Image: INPHO
Ireland's Eric Miller in action for the Lions back in 1997.
Image: INPHO
FROM EXHILARATING HIGHS to excruciating lows, life on tour — particularly a Lions one, arguably the most physically and mentally demanding of them all — can be a rollercoaster of emotions.
Rugby, perhaps like no other sport, is a game of fluctuating fortunes. It possesses the ability to serve up thrilling highs followed by crushing lows in the blink of an eye. There's never any warning.
We've already seen that on the 2017 tour, as Stuart Hogg heads home with his Lions dreams in tatters after an accidental collision with Conor Murray. The fickleness of it all underlined in one freak incident and the Scottish full back's heartbreaking words a reminder of how quickly things can change.
Eric Miller very nearly went through similar torment 20 years ago as he found himself sitting in a South African hospital with his Lions fate resting in the hands of a doctor's opinion.
At some stage during his first appearance on tour, Miller, then just 21 and the youngest member of the 1997 squad, sustained a bang to the face in the warm-up fixture against Border. He doesn't remember it happening, perhaps because of the adrenaline, but largely because it only flared up after the game.
"I was taken to hospital as a precaution," Miller recalls. "The doctor instantly knew I had broken my cheekbone. Hearing those words was just the worst nightmare because you know, deep down, that's it. You're gone and heading home."
Miller had been riding the crest of a wave after a breakthrough and remarkable season with Leicester Tigers which also saw him win his first Ireland cap, against Italy.
After helping the English club to the 1997 Heineken Cup final, where they were eventually beaten by Brive in Cardiff, Miller was one of six Leicester players named in Ian McGeehan's squad, with Martin Johnson, Will Greenwood, Austin Healy, Graham Rowntree and Neil Back making up the rest of the Welford Road contingent.
With back row competition strong, Miller made a strong start to the tour by carrying his club form into that second outing, an 18-14 win over Border in East London, but a matter of hours after the game he was confronted by the very real prospect of that being that.
From the highlight of a career heading on a steep upward trajectory to rock bottom in the space of an afternoon.
"My cheek felt numb but nothing compared to what you're feeling when you're told your tour is over," he continues.
"Fortunately for me the Lions doctors were experienced and they deal with these injuries all the time. They decided I was going for a second opinion and that saved me.
"I think it was in the same hospital but a different doctor said that it was in an area which wasn't serious enough to deem me unfit to play and I was given the all-clear. These are the injuries and things that go on on tour that you don't hear about. I was very nearly on that plane home."
After an almighty scare, Miller's dreams and hopes of playing in that first Test match against the Springboks at Newlands in Cape Town were still alive, albeit hanging by a thread.
Whether it was the innocence of youth or just Miller's unflinching confidence in his own ability, the former Wesley College student was able to pick himself back up and not let the injury knock him off course.
There were still six weeks until the serious business of the tour so time was on his side, and further appearances in the warm-up games meant it was becoming impossible to ignore Miller as an option for the first Test.
"I had no baggage going into that tour so it all flowed for me quite well," he explains. "I was only 21 and starting off. It might have been naivety but I knew if I played and played well I could get in the team. Only now do I realise how lucky I was to be selected in the first place.
"We were also empowered with the freedom to go out and play. We played some great rugby and players were allowed to express themselves in a way that isn't always the case on Lions tours."
A year previous, Miller had helped the Ireland U21s win the Triple Crown but such was his rate of development and level of performance he found himself in a back row unit alongside Lawrence Dallaglio and Richard Hill.
Still eligible to line out for Ireland's underage side in 1997, Miller was drafted into the senior squad by the national selectors and featured in Five Nations games against France, Wales and England.
International honours came after his big breakthrough at Welford Road, displacing Leicester stalwart Dean Richards at number eight as the Tigers went on to win the Pilkington Cup (Anglo-Welsh Cup) as well as their European odyssey. Lions selection capped a memorable year.
His inclusion in the travelling party was a surprise, but at the same time it wasn't. He was the in-form back-rower and his outstanding contributions in the provincial matches enhanced his claims for a Test berth further.
"I didn't appreciate how lucky I was because I was so young," Miller admits. "I can't really remember being overly excited about it. It was a bonus to be selected at such a young age but looking back on it, I don't remember sweating like I would have been in other years.
"I took it in my stride without sort of thinking I was going to get it, it was an innocent reaction and some of my team-mates from Leicester were going so it just seemed like a natural progression to go after a good season. I was playing with these guys and I just happened to be going on the Lions tour with them."
The week of the first Test arrived. 21 June 1997.
The Lions had won seven of their eight matches to this point and did so with a stylish and expansive brand of rugby which, as Miller recalls, created a strong bond and unity, as well as a positive atmosphere, within the group.
"Things were going really well," he says. "We had decided as a group that selection for games would happen with a letter through the door. This way lads could share the joy or disappointment with their families but not in front of each other unless they wanted.
"So you'd get the letter under your hotel room door and it would be you're starting, you're in the 23 or commiserations you're not involved."
Miller watched from the sidelines as the tourists beat the Emerging Springboks in Wellington on the Tuesday before the first Test so had a good indication that he'd be involved in some capacity on the Saturday.
He just had to wait for that letter under his door to find out would his involvement be from the start or off the bench — but another sinking low would lie around the corner.
During the final warm-up game, Miller — watching from the stands — started to feel unwell and by the time Wednesday morning arrived, he had been struck down by a flu which had infected the camp.
"I got the letter through the door and I was starting the first Test but it went from elation, just like the Boland experience with my cheekbone, to devastation," he explains.
"The same night I was told I was starting, I was then told I wasn't in the 23 because of the flu. I hadn't been 100% but I was confident I'd shake it off before the match but the management wanted clarity and a fully fit squad so they told me no, I wasn't right.
"Being young it was so frustrating as I knew I'd be fine but I wasn't really involved in making that call. I was quite surprised to be ruled out the same night as being selected."
His own plight of missing out on a game of rugby paled into insignificance when he heard devastating news from home.
Highs and lows, ups and downs.
"It's hard to say, even now, but it was a tough day. My friend from primary school did some harm to himself and unfortunately he passed away. It was a particularly bad day. I remember it now. It was one of those days when everything is just heaped on you but you have to bounce back."
Somehow, Miller did. He picked himself back up and conjured a huge performance in the midweek game between the first and second Tests to earn a place on the bench for Durban.
"After receiving the news on the Thursday before the first Test, they got me in the gym on the Friday. I was distraught but was determined to get back. I ran on the treadmill for a few kilometres and I was just in pieces. It just wasn't meant to be but I was innocent back then and didn't bear any grudges. I just got on with it.
"I just thought I'm going to go out next week and get back in the team and that was probably the right way to go about it but I was naive. It's very hard to break up a winning side (the Lions won the first Test 25-16) but I had a belief that I was going to play. If I got picked for the first Test why wouldn't I get picked for the second?"
Having won the first Test convincingly thanks to tries from Matt Dawson and Alan Tait, the second encounter was a lot tighter as the Springboks looked for a big response at King's Park.
Three tries had put the hosts in the ascendancy but the boot of Neil Jenkins kept the Lions in the game before Jeremy Guscott's drop goal edged McGeehan's side into a 18-15 lead with 10 minutes remaining.
With the contest so delicately poised, it didn't appear Miller was going to get his chance from the bench as the Lions looked to close out the game and claim a famous series victory; but a late blood injury to Tim Rodber gave him the moment he was so desperate for.
"I didn't think of even warming up," Miller jokes. "I didn't really have the chance. Straight after the drop goal there was a blood injury and bang I was on. It was literally 'Eric, you're on' and that was it. I sprung like a rabbit off the bench and it was flat-out defence for the last few minutes.
"It was just a case of doing everything you can and what an amazing feeling it was being out there on the pitch for the win and to celebrate the series victory. It's a game I'll never forget, a day totally fresh in my mind. It was special."
Looking back now, Miller savours those moments and cherishes the memories of that day because he knows it was his one and only Test appearance for the Lions.
The following morning, the former Old Wesley man woke up feeling discomfort in his thigh and it quickly became apparent he had damaged it in those final few minutes holding off a ferocious South African onslaught.
By Wednesday, he was ruled out of the third and final Test.
"I was so naive and looked at it with a long-term view, thinking I'd have a couple more Lions tours ahead of me," he says of suffering that injury.
"As a 21-year-old I thought I'd come again but hindsight will teach you otherwise. I didn't really understand it and certainly didn't realise that was it but that's just how things go.
"A lot of very good things happened to me early in my career and I then struggled to cope with having experienced such highs early. I probably took a bit of a lax attitude as we had won the series and missing that third game wasn't a huge deal at the time. I wasn't as disappointed as I should have been.
"I didn't take it for granted but thought if I played to my potential I would always have a great chance of being picked and that didn't always happen. It was a stiff learning curve as I would have hoped to go in 2001 and 2005 but it didn't flow like that."
Miller would go on to win 44 more caps for Ireland as well as helping Leinster lift the Celtic League in 2001 but he was overlooked for the tours to Australia and New Zealand as a combination of injury and back row competition meant he didn't reach that level again.
On one hand, it gives Miller a greater appreciation of what he achieved in 1997 as he became the youngest forward in the modern era to play in a Test match for the Lions, emulating the feat of the great Willie John McBride who was 22 when he faced the Springboks in 1962.
But there is a certain disappointment and regret there, largely because he got a taste of it and wasn't able to experience it again.
"Every four years I go through a period of mourning," he admits. "The senses are heightened when the Lions are playing and you want to jump back on the pitch and do it all again.
"When you retire you still have an emotional attachment to the game and it's hard to watch as you feel you're missing out but I'm at a stage in my life where I can appreciate it all and watch on.
"Doing that just reminds you that it was me one day and I'll never forget that because not only was it the Lions but as players we were allowed to go out and play with freedom and express yourself.
"You realise how huge it was as the years pass."
– First published 11.45, 14 June
The42 is on Instagram! Tap the button below on your phone to follow us!