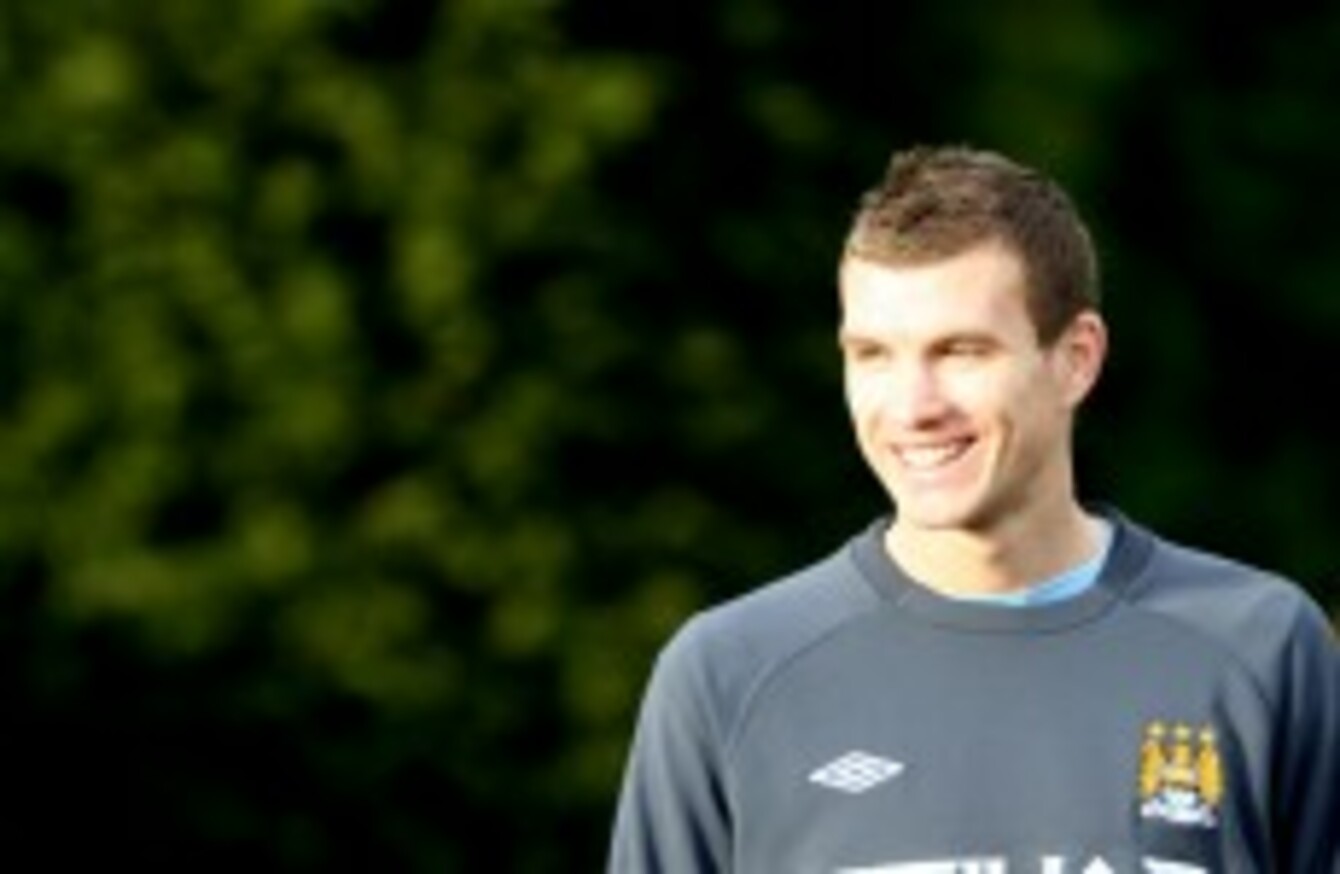 Image: PA
Image: PA
IT FEELS LIKE a while since we did one of these.  Between the FA Cup action over the weekend and our inaugural two-gamer of the season there hasn't been a call for a full weekly preview in a while.
Probably a good thing since I'm sure you needed a break from reading long posts after the holiday fixture congestion and I know I needed a break from writing them.
First things first, welcome Edin Dzeko to Premier League. Nice to have that option with Wolves the opponent and Balotelli out for a month or so.  No guarantee that he'll play at this point but given the expenditure, you'd have to think they'll see what they have against modest opposition.
Elsewhere in fantasy news, Jeremy has officially declared that Liverpool are dead to him.  My sense is that this is mostly due to the fact that he chose Pepe Reina despite the warning that Liverpool have been TERRIBLE on the road and they were playing two away game.
Hard not to see that one coming.  I was pretty upset with the results of my Scott Carson pick in net until Reina made me feel better by being just as bad despite costing more money and squandering two matches of opportunity instead of one.  Oh, and as always Jeremy reserves the right to reverse course on declaring Liverpool dead to him.
In essence making them the new Bolton – never bet on or against them…unless you do.  More importantly, don't spend time watching them on TV, it's hard stuff to view.
Finally, if you're wondering about the title of the post.  Today is the 41st anniversary of my arrival into the world.  The first 40 years have been fantastic and I'm looking forward to what the 41st has to offer.
For those who have offered birthday wishes on Facebook and in the comments section, thank you very much.  I'm sure many of you disagree with my opinions from time to time (and some more often than that) but I'm eternally grateful that you continue to read, comment, "Like" and forward along our posts.
Enough of the sentimentality, and on to your regularly scheduled column
Schedule
Where we separate the matches that are going to provide real value to fantasy managers from those that just LOOK like they'll provide some value.
Real Value
Man City v. Wolves - Looks for all the world like a 2-0 or 3-0 match despite the fact that Wolves have been playing better.  Citeh continue to look more and more serious about contending and this HAS to be a decisive win at home.
Blackpool @ West Brom – WBA are struggling mightily while Blackpool continue to gain strength at 9th in the table with two games in hand (granted one is against ManYoo so we'll call it one in hand really).  Did I mention that Blackpool play five of their next six at home and will be two-gamers again in the next match-week? Seems like a solid time to be in on them.
False Hope
Arsenal @ WHU – I'm divided on this one.  I think Arsenal will win and score goals so I am in on their attacking players but the defense is too stretched to bank on a clean sheet so I'd be cautious with whichever keeper ends up playing and/or any ARS defenders.
Chelsea v. Rovers – On brand name, this should be a whitewashing but I think it's time we all collectively realized that Chelsea are in a major slump.  Be extremely cautious in spending heavily on them.
Forwards
Dzeko – Great match-up plus he has the whole "debut goal" potential working for him.  Oh yeah, he's cheap too.  The only caveat is that you should watch the team news and hope for a decisive announcement about his participation.
RvP – Given the night off for Arsenal's dire performance against Ipswich and that performance will ensure that he's back in the first team immediately.  His price is reasonable and WHU's defense is leaky.  Should be lots of kicks and goal opportunities.
DJ Campbell – This is more of a recommendation for you to get him and keep him for the next three or four weeks as BPL play their series of home matches.  He's got seven goals in the league and seems to be finding his stride.
Sturridge – This is more of an enabler pick than anything.  The rumor mill has Drogba being benched in favor of Daniel and his cost makes him a pretty attractive option.  Why go in on someone who has disappointed in the past? Well, getting to Joe Hart in the biggest reason I'm considering it.
Roque Santa Cruz – Again with the transfer window rumor mill but RSC-(back)-to-Rovers seems to be gaining enough steam that the word is he may start for Rovers against Chelsea this weekend.  With his price low due to his inactivity at Citeh, you probably want to consider getting in on that action either for this weekend or certainly on the cheap for next week assuming the deal gets done.
Tevez – For those looking for a premium striker, he's the obvious choice this weekend with Rooney having a tough match-up against Spurs, Berbs likely to be rotated as SAF does against strong opposition, Torres in a derby match, and Drogs potentially rotated as well.
Midfielders
FBFDB – Haven't used this designation in a while and for those who have joined us relatively recently, FBF means "Former Blog Favorite" and in this case the DB is David Bentley who was a huge blog favorite during his days at Rovers when he was a great fantasy producer.  Having rediscovered his competitive level as a key player on a bottom half team, I think we're all excited about his fantasy potential.  Like RSC, this is the case of a formerly excellent fantasy player moving back to a situation where he'll be playing regularly again.
Adam – Consider me officially back on the bandwagon after a strong two-match effort this past week.  I think he'll be good against WBA and you'll definitely want him at a reasonable price for the two home matches the following week.
Song – I want to recommend one of the higher priced Arsenal midfielders but two things are preventing that – first, their prices are really high and second, I'm not sure who will play.  If pressed, I'd say Nasri is the choice if you want an attacking ARS midfielder.  That said, Song is reasonably priced and he'll definitely be starting. Seems like about time for him to score again too – call it a hunch.
Lampard – I'm more discussing him here than recommending him – what to make of someone who has consistently been a fantasy stud AND takes PKs but hasn't looked the part since Carlo took over? Feels like another PK game for him but I worry about him if he doesn't get one.
Nani/VDV – Obviously keep them if you've got them cheap but tough to buy at current prices.
Defenders
Kolarov/Kompany/Toure/etc - On a weekend with a lot of very competitive matches between teams close in the table along with a few derby matches there aren't a lot of highly likely clean sheets sitting out there.  Throw in Arsenal and Chelsea's frailties and you're looking at almost all of the high probability value coming from the Citeh defenders.
Koscielny – In general, I'm recommending that you stick with whomever you have at the back rather than disrupt things to chase points that are just too hard to predict this weekend.  If you need someone cheap, Koscielny is a reasonable option.  I don't THINK ARS will get the CS but he's one of the few options that could pay off for you.
Blackpool defenders – Evatt is the clear leader here given that all four are about the same price and he has 13 more points than the next closest BPL defender (Crainey) in the Premier League official game format. Like Adam above, I like this as a long term buy as much as for the immediate term.
Keepers
Hart – Without question the best option available if you can afford him.
Stockdale – Strong value pick with a pretty solid match-up
Kingson – As with the other Blackpool players, solid match-up this week, two matches next week and excellent performances thus far. You could do worse for that little money.
Top Captain Choices
Tevez – Best striker in the league this season with a great match-up at home.  Probably too easy but playing the percentages is what this is all about.
Hart – I generally don't like captaining a goalkeeper because so much of the value is tied up in getting a clean sheet and so many things can go wrong there.  That said, this is a good week to break that rule if you're ever going to.
RvP – I was a bit torn between he, Nasri, and Cesc here but Nasri is very dependent on scoring (he doesn't get too many assists) and I'm still angry with Cesc over his crap performance against Ipswich so I'm going RvP here.
Neal Thurman and Jeremy Spitzberg  write what they believe to be the oldest-runningblog focused on English Premier League. They also believe they were the first two people ever paid real money to blog exclusively about the same.
They may be entirely wrong on both counts but that doesn't stop them from writing or telling people that they were first.