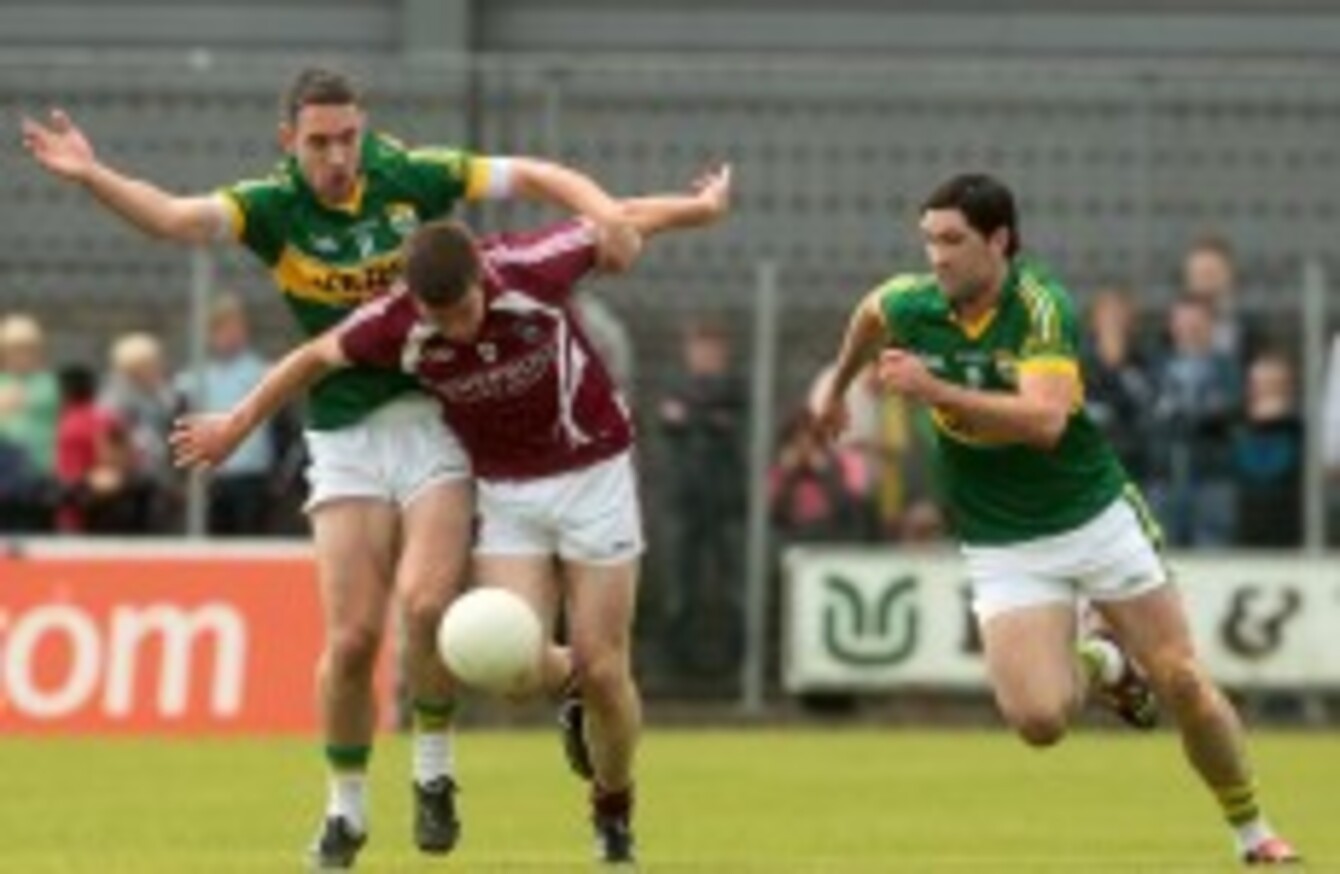 Westmeath's Paul Bannon with Declan O'Sullivan and Bryan Sheehan of Kerry during Sunday's game.
Image: INPHO/Ryan Byrne
Westmeath's Paul Bannon with Declan O'Sullivan and Bryan Sheehan of Kerry during Sunday's game.
Image: INPHO/Ryan Byrne
FORMER MEATH ATTACKER Bernard Flynn has blasted Fermanagh referee Martin Higgins for his controversial decision in last Sunday's All-Ireland qualifier to award a free for over-carrying against Westmeath player Ronan Foley from which Colm Cooper set up Darran O'Sullivan for the crucial goal that turned the game in Kerry's favour.
Jack O'Connor's charges were trailing by six points at the time but were handed a lifeline when O'Sullivan found the net and the Kerry boss highlighted the significance of it afterwards when he stated, 'I don't think we'd have got out of there without Darran O'Sullivan's goal'.
Westmeath manager Pat Flanagan was left fuming after the game as his side lost out by a point, feeling they were denied the chance to claim a famous victory by Higgins decision-making. And Flynn, who is a resident in Mullingar and attended the game, concurred with that viewpoint.
"I just thought it was outrageous and with the big decision in the second-half the referee absolutely done Westmeath. There's no doubt about it.  It was absolutely no free. There were two other frees that he never gave when Westmeath forwards were fouled inside at a crucial time when it was level.
"I thought it was a travesty. They probably should have won it. It would have been great for them. They didn't but the referee had a lot to answer for with four or five crucial calls. They go with the bigger team and the lesser team gets hammered for it."
Flynn continued by criticising the excessive number of frees, 56 in all, that were awarded during the game and outlined his view that the game was another example of marginal calls going the way of high-profile teams.
"I thought it was crazy. If you go over 50 frees in a match, with all the other stoppages, it's going to kill it. I'm fed up with saying it. The weekend before, there were 50 or 60 frees. Sunday, it wasn't a dirty game. It was hard, it was intense and the referee blew for every little fiddle-faddle.
"I just thought overall he was too fussy but the biggest scandal I thought was with the crucial decisions Westmeath were at the wrong end of them. I'm not saying it was premeditated but none of the key calls went against Kerry in the second-half. I think that was the difference.
"I was talking to Darragh Ó Sé and Mikey Sheehy after the match and they just thought the referee was very hard on them. Is it premeditated? I don't know but that's why Kerry got the rub of the green. If it was a lesser team Westmeath probably would have got those calls. But because it was Kerry, and maybe Dublin at times, the bigger teams get those calls."
And Flynn believes that Higgins performance is part of a wider malaise of fussy refereeing that is affecting the whole championship.
"The biggest problem is fussy refereeing. Fellas can't even go for a ball. There are fellas who challenged honestly on Sunday and one hit off the other and there were 10 or 12 frees that should have been let go and let the boys fight for the ball. That's the biggest problem – fussy referees with whistles. Jesus, they can't leave them out of their mouths. Referees think they have to blow the whistle to have a good game – it's ridiculous.
"That's the one disappointing thing for me – Pat McEnaney was one of the best referees and there is just too much attention on referees and him at the helm, I don't know whether it's helping them or hindering them, because it just seems to be drawing an awful lot of attention on them. I just think the standard of refereeing is very poor. I was down at Roscommon and Tyrone on Saturday and the referee (Rory Hickey) was poor there. He incited the crowd. It was ridiculous, very poor."