IT IS THE condition of the sportswriter to freight games, teams and players with too much meaning.
Perhaps we do it as a kind of self-justification, or maybe just out of a natural disposition to hyperbole, but we all do it. 
That's not to say sport does not represent and tell stories about something greater than itself – it always does.
This is most obviously seen in the national football team: if countries are "imagined communities" as the Anglo-Irish historian and critic Benedict Anderson has written, then the football team is a symbol of collective identity that binds citizens to the other citizens they will never meet; if a country is an idea everyone has agreed upon, then the national football team is another of the symbols which renews everyone's belief in that idea. 
But there are limits to the metaphorical burden a country's football team can carry, and the cautionary tale in this regard is France's 1998 World Cup-winning team.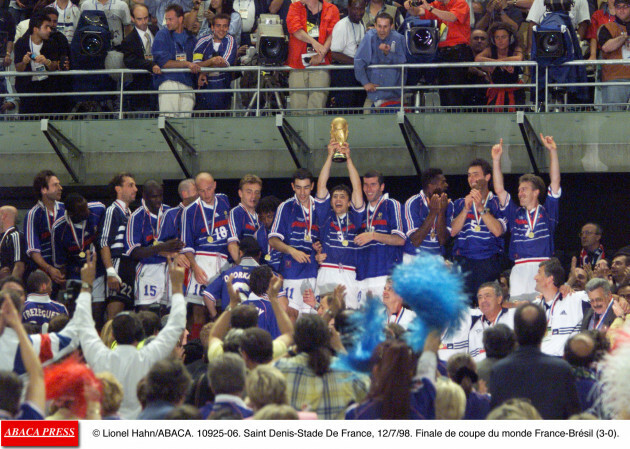 ABACA / PA Images The French World Cup-winning team of 1998. ABACA / PA Images / PA Images
Amid the joyous celebrations after the final, a multi-racial team was held up as a symbol of a modern, inclusive, and diverse France; hailed as the Black-Blanc-Beur' (Black-White-Arab) team, a nickname that drew on the Bleu-Blanc-Rouge of the French national flag. 
"What better example of our unity and diversity than this magnificent team?", asked Prime Minister Lionel Jospin rhetorically. 
There was one problem with all of this: it wasn't true. 
"It was a myth", says film-maker Sonia Dauger, who interrogated the myth in her 2016 documentary Les Bleus: Une Autre Histoire De France.
"All people tell them stories and create myths, not only the French. Every country does it. What is interesting in the Black-Blanc-Beur is that it is related to the myth of the Republic. Black-Blanc-Beur is like a united, indivisible team, just like the Republic, and just like the French people. It was a slogan for the country: for the football, politics, the French symbols, and it sounded good.
"The media love that. It was also a way to surf the very real jubilation of 1998. We were very, very happy, we were dancing in the street. So it was a very accessible slogan, an easy slogan, a flattering slogan, but a misleading slogan. It masked the reality of French society.
"France neglected part of its population: the population from the suburbs, from the working class, and the population coming from immigrant backgrounds. They are second-class citizens. That is the problem this myth masked." 
As per Matt Spiro's excellent book Sacré Bleu, unemployment rates in the neglected parts of the country hovered at around 20% spiking to 40% for those between 18 and 24. 
An irony quickly followed the mythmaking. Rather than obscure these problems in France, the team actually exposed them indirectly. Perhaps buoyed by the notion that football can be used to bridge all divides, a friendly game between France and Algeria was arranged at the Stade de France in October 2001, the first game between the sides since the Algerian War of Independence came to an end. 
"The political class were naive", says Sonia. "They were thinking this match was the match of the reconciliation between France and Algeria. It has evolved since, but at that time, nothing had been done in France about the independence war. Nothing. It was stupid to think football could reconcile two countries."
Young people of Algerian and wider North African descent filled the stands and outnumbered the French fans. La Marseillaise was roundly booed before kick-off and with France 4-1 up and 15 minutes left on the clock, hundreds of fans poured onto the pitch, eventually forcing the game to be abandoned.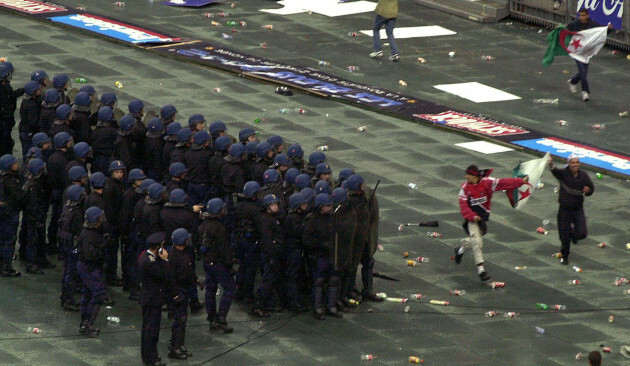 Alamy Stock Photo French riot policemen, in front of Algerian fans after the friendly game's abandonment in 2001. Alamy Stock Photo
"It was very spontaneous and it was not aggressive at all", says Sonia of the pitch invasion, "they were smiling, but they did it the wrong way. They whistled the French anthem, they invaded the field, they were brandishing Algerian flags, and they were laughing, smiling, running. But the people did not understand what they were saying: the politicians and media thought they were delinquents and treated them as savages. So they didn't understand that something was cracking in French society: that people felt as if they were not treated as 100% French." 
The cracks grew wider in the following year's presidential election, when the far-right Jean Marie Le Pen polled well enough to reach the second-round, two-candidate run-off, a major shock with the aforementioned Jospin expected to contest Chirac's position.
 Le Pen had previously sounded the dog whistle during Euro 96, saying the sons of immigrants playing for France were "foreigners", complaining they didn't sing the national anthem. He was quiet amid the joy of the 1998 World Cup but it was merely a moratorium: Sonia's documentary accentuates the symbolism of the usually apolitical Zidane flying home to vote for Chirac in the run-off against Le Pen, and the incumbent was ultimately re-elected. But that Le Pen's seemingly fringe views garnered such a following further damaged the Black-Blanc-Beur myth. 
Years later, the unity of the team itself was shattered. Raymond Domenech's turbulent reign as French manager ended at the 2010 World Cup with the national shame of Knysna, the South African town in which the players refused to train in a show of solidarity with Nicolas Anelka, who had been sent home by the Federation for a dressing room-rant at Domenech which had made its way into L'Equipe. One of the heroes of '98, Laurent Blanc, replaced Domenech as manager, but was engulfed in controversy in May 2011. Blanc was one of the voices secretly recorded discussing the mooted imposition of a racially-based quota system of 30% for the intake of non-white players to the Clairefontaine academy. 
Blanc wanted to move the team's style of play to be more like the successful, technical Spain team of that generation, and associated the number of black players in the team with a more physical style. According to the transcript of the secret recording published in the French press, Blanc said, "The Spanish, they say: 'We don't have a problem. We have no blacks.'" A subsequent government inquiry cleared Blanc of alleged discrimination, though said the comments had "innuendos that very often were borderline tending toward racist."
The publication of the secret recordings created a firestorm, and it led to the final splintering of the Black-Blanc-Beur myth, with players from the team publicly picking sides. Zidane, Christophe Dugarry, and Bixente Lizarazu all supported Blanc, but Lilian Thuram and Patrick Vieira said his comments were a scandal.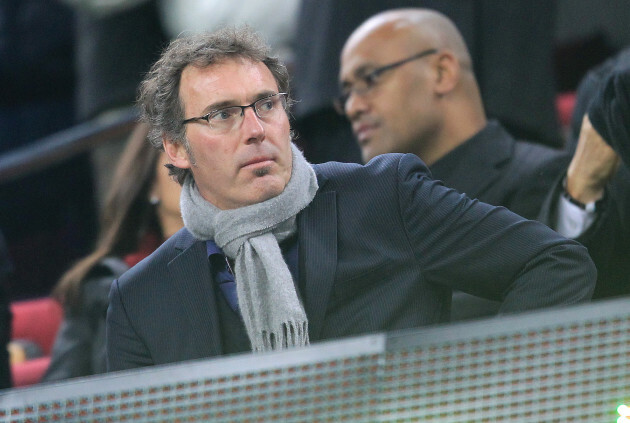 EMPICS Sport Laurent Blanc, pictured in 2011. EMPICS Sport
"Laurent Blanc arrived in 2010 just after the fiasco of the World Cup in South Africa", reflects Sonia. "Just after that episode, politicians and the media attacked some players in the team, especially the Muslim players like Ribery and Anelka, and the immigrant players coming from the suburbs like Evra. These players were denigrated because of their ghetto and suburban culture. Blanc arrived and had to put the house in order, and he agreed with these ready-made ideas that were spreading in France that young people with double nationality were seen as a problem, and they betrayed us in Knysna: 'We have to get rid of them from the national team as they will betray us again, just like they did last year.' It was the end of the Black-Blanc-Beur myth, as Laurent Blanc was a member of that team." 
Blanc left his job after Euro 2012 and was replaced by one of his former team-mates, Didier Deschamps, who has led a fabulous French team to back-to-back World Cup finals, winning in 2018 and denied so frantically by Argentina last year. 
The French sides Deschamps has managed have not been given the same burden of heavy symbolism as the one he captained back in 1998. 
"No metaphor at all", says Sonia. "No politician and no media will take that risk. Black-Blanc-Beur has set a precedent: nobody goes there anymore." 
Instead, she sees something different in the nation's treatment of this generation of Les Bleus. 
"The truth is simple: as long as they win, it's okay. There is no scandal anymore and that is fine. But if  they start to lose and are weaker, there will be controversy. It is a team mostly composed of players from immigration backgrounds, and there is still this idea in France that these people owe something to the Republic. That they have to be good, they have to win, they have to entertain us, and they have to be wise and humble at the same time. We don't like arrogance. Like Benzema: he is arrogant, and we don't like him. I like him, he is a very good player. But we don't forgive them if they are too arrogant or too pushy, like Benzema."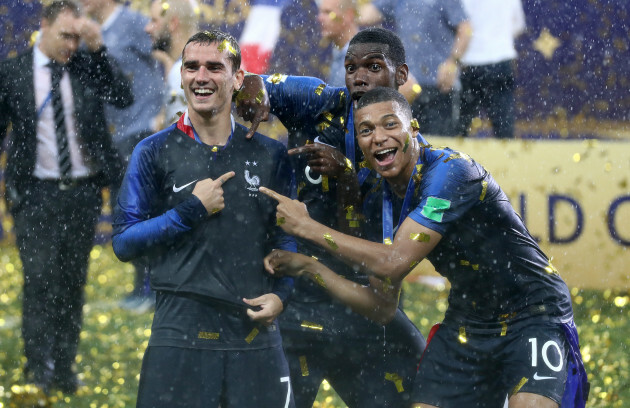 EMPICS Sport Antoine Griezmann, Paul Pogba and Kylian Mbappe celebrate after the 2018 World Cup final. EMPICS Sport
As my conversation with Sonia comes to an end, I return to my original idea on the wider stories that are told through sport, and ask Sonia if it can be dangerous to freight them too heavily. 
"I don't think it is dangerous" she replied. "We shouldn't do it, because it's easy. It is easy to make links between sports and politics, and it is complicated to disassociate sport from politics as politics is always in sport, especially when talking about national teams. Black-Blanc-Beur was not just about the team: we were talking about the country too. Now that was dangerous, as it was not true." 
The lesson: sport will always tell us stories about who we are and how we are…it's just not always the ones we want to hear.