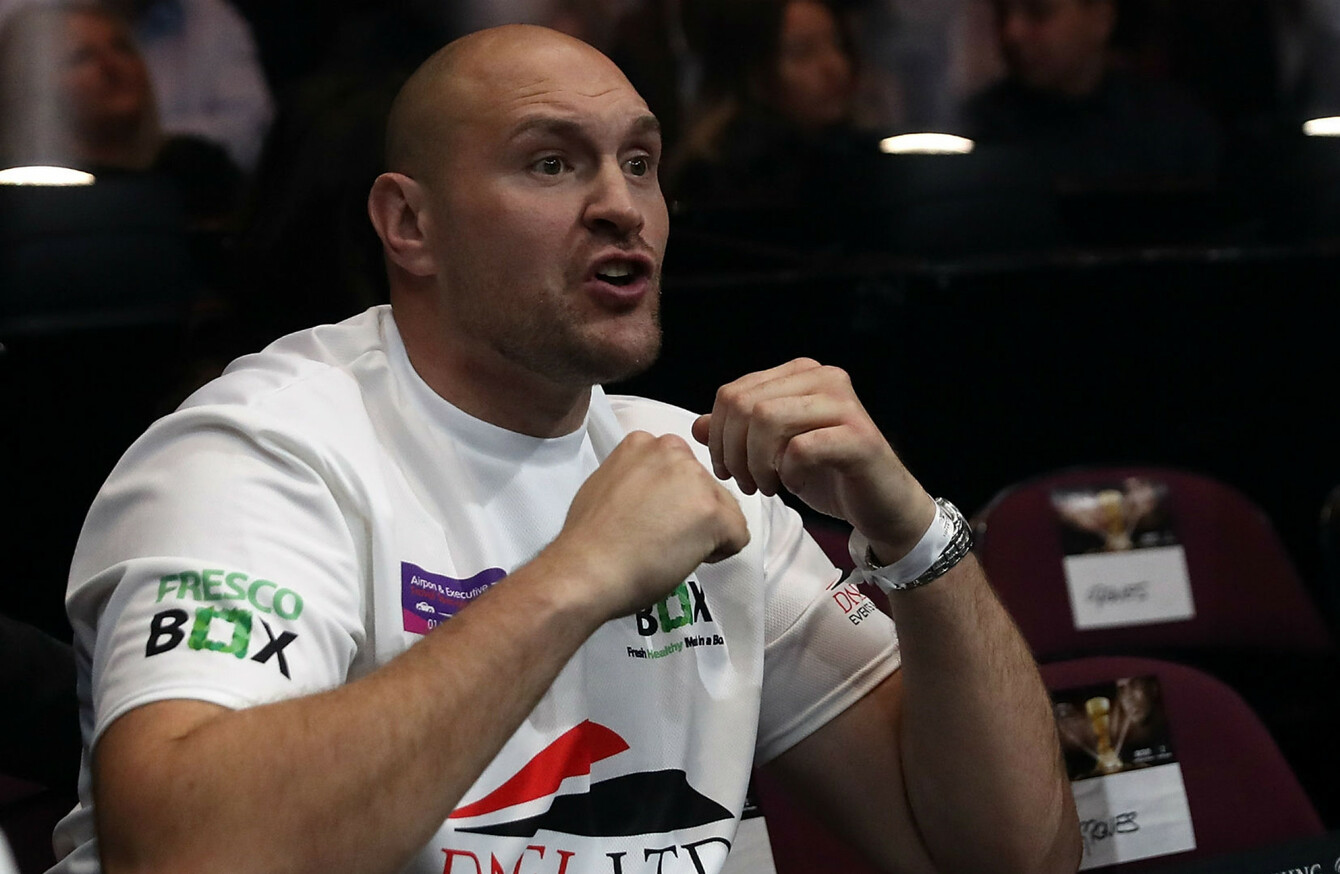 Tyson Fury: takes on Wilder in Los Angeles.
Tyson Fury: takes on Wilder in Los Angeles.
TYSON FURY HAS called for the cancellation of the face-off with Deontay Wilder at Friday's weigh-in after warning his rival he will retaliate if they clash again before Saturday.
Wednesday's press conference saw the two heavyweights pulled apart before a melee broke out around them on stage in Los Angeles.
Fury – who at one point took off his shirt as a scuffle broke out behind him – has apologised for what happened, insisting the behaviour by both men was unacceptable.
With no wish to see a repeat, and the California State Athletic Commission threatening to withhold both fighters' purses if there is any further trouble, the Briton believes the usual pre-fight photo opportunity of the two standing head to head should be scrapped for safety reasons.
"I am quite embarrassed about what happened," Fury said. "It was unsporting conduct with everyone watching around the world and I would like to take the opportunity to apologise on both our behaves.
"It was not how sportsmen should be. It got out of hand, but it was two unbeaten fighters who want to win, badly.
"Deontay Wilder is obviously nervous and rattled and he felt the need to get in my face.
"There should be no face-off at the weigh-in and if it comes to fisticuffs then let's have it. I will not wait until Saturday if he gets in my face before."
Source: ESPN UK/YouTube
Fury admitted he thought about hitting Wilder during the media event after the WBC heavyweight champion confronted him following heated verbal exchanges between the pair.
However, knowing such a reaction would put Saturday's showdown at serious risk, the 30-year-old made sure he did not potentially miss out on a fight he has long targeted.
"He's lucky I did not take his teeth out, I could smell his breath and feel the spit hitting me when he was screaming all that rubbish," the former holder of the IBF, WBA and WBO titles added.
"I was calm but I was thinking about hitting him with a left hook and headbutting him, but I knew that is what he wanted.
"I want this fight to be on, I have been waiting for it since 2012, I picked him as my third comeback fight."