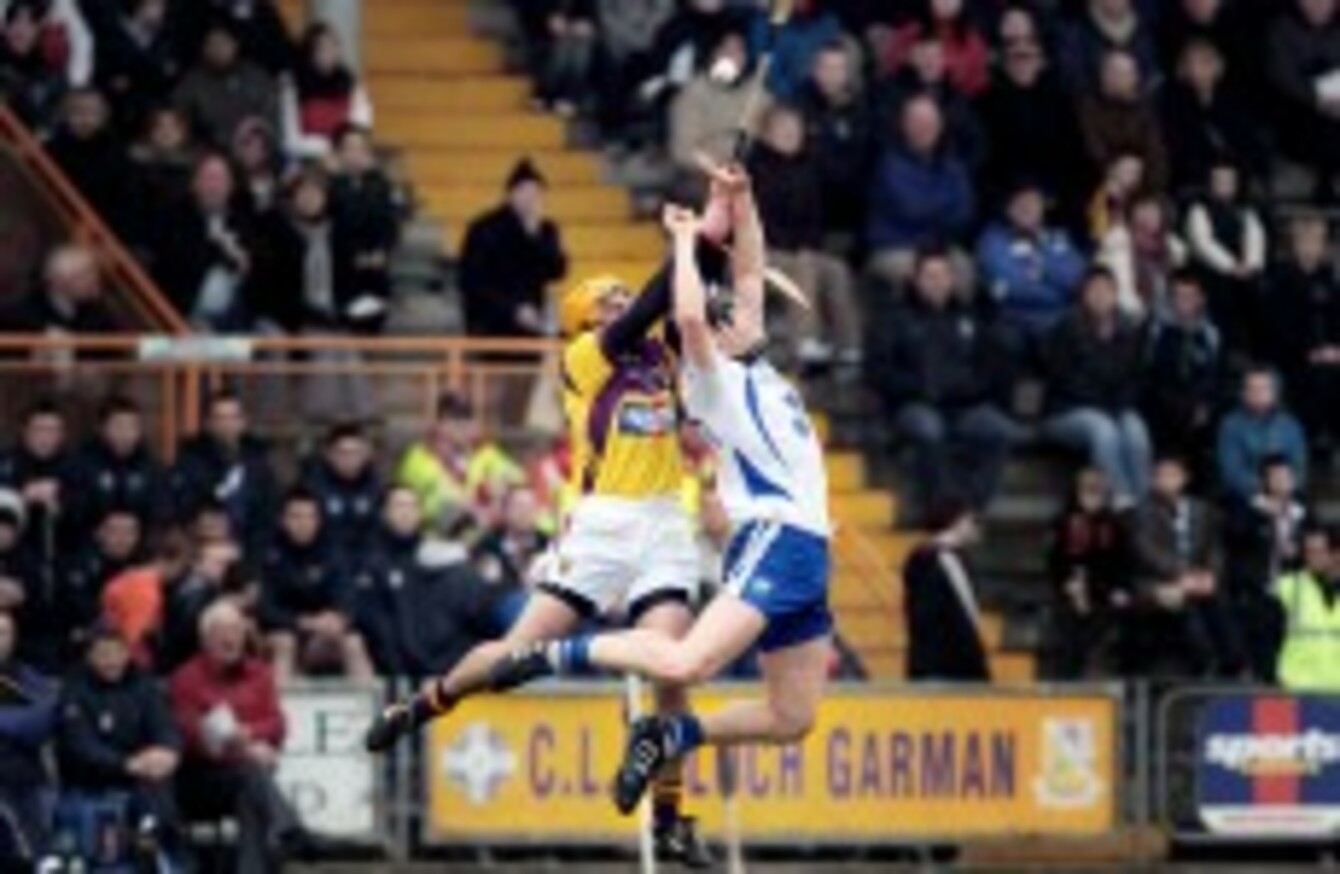 Image: ©INPHO/Cathal Noonan
Image: ©INPHO/Cathal Noonan
National Hurling League Division 1
Kilkenny 0-14 Cork 1-10 Cork very nearly pulled off a memorable comeback at Nowlan Park yesterday. A determined second-half performance saw them claw back an eight-point deficit before Man of the Match Richie Hogan slotted a 60-yard free to give Kilkenny victory.
Galway 1-24 Offaly 1-10 For the second successive week, Galway handed out a hiding to a divisional rival. This week, Offaly were on the receiving end of a drubbing as Iarla Tannian impressed for the Tribesmen, contributing six points on his return from injury.
Dublin 1-16 Tipperary 1-15 For the second week in a row, all of the talk among the capital's hurling fans is about Conal Keaney. The former football star impressed under lights on Saturday night, scoring 14 of the Dubs' 19-point total as they toppled the All-Ireland Champions at headquarters.
Waterford 1-11 Wexford 0-12 On Saturday morning, we said that this would be a big weekend for Colm Bonnar's Wexford. Resolute in defeat, Bonnar's young hurlers proved that they are made of stern stuff, character which may prove vital when the relegation shake-up rolls around at the end of the season.
National Hurling League Division 2
Limerick 1-20 Westmeath 0-15 Limerick weren't outstanding at the Gaelic Grounds on Saturday, yet once Pat Tobin scored a fine second-half goal, they had more than enough in the tank to see themselves past Westmeath.
Carlow 0-20 Laois 2-10 Carlow picked up their first points of this year's league campaign, recording a four-point win over Laois at O'Moore Park.
Clare 2-14 Antrim 2-13 There was late drama in Casement Park as Nicky O'Connell stole an injury-time winner for 14-man Clare.
Kerry 2-23 Down 3-17 Down gave it their all in the second half at Fitzgerald Stadium yet they couldn't reel in the Kingdom who had raced into a 2-16 to 1-5 lead after an impressive opening 35 minutes.
National Hurling League Division 3A
Wicklow 1-11 Meath 0-11 A howler from Meath keeper Shane McGann ultimately proved to be the difference between the sides, Wicklow forward Enan Glynn pouncing on his dropped ball to grab the only goal of the game.
London 3-15 Armagh 2-10 The Exiles made it two wins out of two as a determined second-half performance saw them past Armagh at the Athletic Grounds.
Derry 1-20 Kildare 0-19 Eleven points in arrears after 22 minutes, Derry completely turned this one around to take a four-point win away from their visit to Newbridge.
National Hurling League Division 3B
Roscommon 1-14 Donegal 2-9 Eight points in the last eight minutes was not enough to drag Donegal back into contention as Roscommon held on for a deserved two-point victory at O'Donnell Park.
Louth 3-18 Monaghan 1-4 It took just 20 seconds for Man of the Match Diarmuid O'Sullivan to make his mark, his early goal driving Louth on to a 20-point win.
Mayo 1-13 Fingal 0-9 Kenny Feeney punished Fingal's defensive indiscipline, pointing from six frees as Mayo ran out convincing winners at McHale Park.
National Hurling League Division 4
Tyrone 3-15 South Down 3-11 Tyrone triumphed in a high-scoring affair at Fontenoy Park, with goals from Conor Grogan, Rory O'Neill and Aidan Kelly laying the foundations for the win.
Leitrim 3-19 Cavan 1-8 A goal and seven points from Leitrim midfielder Michael Lane left Cavan with no chance at Ballinamore.
Fermanagh 2-14 Longford 1-7 Goals either side of half-time from Shane Mulholland and John Duffy gave Fermanagh a ten-point victory in this one.