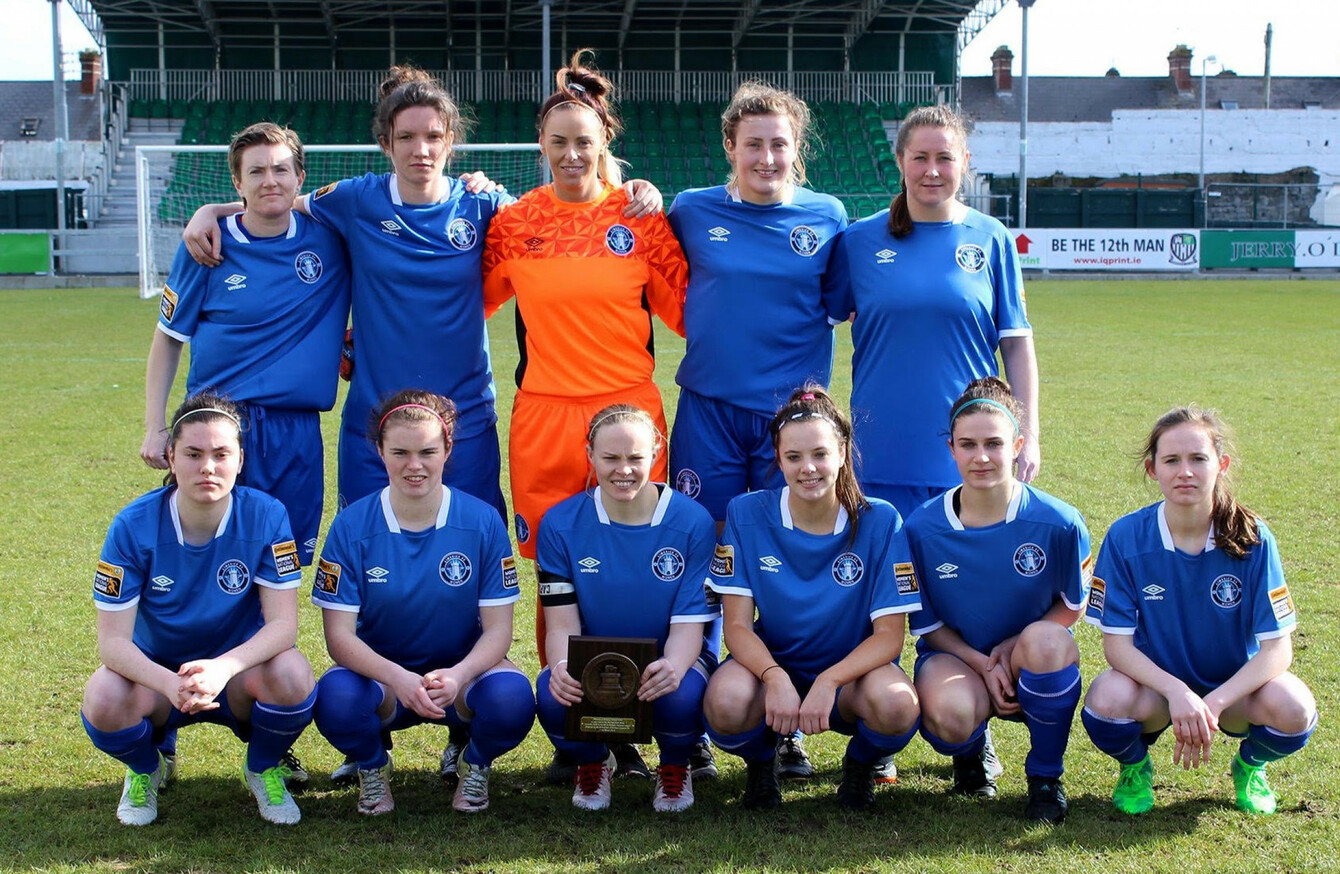 Limerick pictured before their first ever Women's National League game, a 4-0 victory against Kilkenny in March.
Limerick pictured before their first ever Women's National League game, a 4-0 victory against Kilkenny in March.
PLAYERS, COACHES AND spectators were left baffled on Sunday afternoon when Limerick arrived at Eamonn Deacy Park for their final Women's National League game of the season away to Galway.
Neither side was in contention for prizes or a league title. But the absence of any referee's assistants left both sides extremely frustrated as kick-off loomed.
With no linesmen arriving, Limerick's goalkeeping coach and another local man were forced to fill in. 
It is the second time this has happened to Galway Women's FC over the last number of weeks, with no linesmen appearing for their WNL game against champions Wexford Youths a fortnight ago. On that occasion, a last-minute phone call yielded two local assistants, but there was no such luck this past weekend.
Last season, a fixture between UCD Waves and Kilkenny was abandoned at Jackson Park due to no referee. Instead both sides took part in a practice game.
On Sunday in Galway, however, both teams reluctantly agreed to go ahead with the game as a last resort, with Limerick having already paid hundreds to make the 90km journey to Terryland; money their management team says would not be returned or reimbursed.
Coaches and players involved in the Women's National League say that referees not turning up is not a common occurrence in 2018, adding that it represents a lack of respect towards footballers who make significant sacrifices to play at the highest level of the game in Ireland.
On Sunday afternoon, the FAI Women's Cup final will attract significant attention as Wexford Youths and Peamount United clash at the Aviva Stadium live on RTÉ 2. But events like last weekend's in Galway are a major step backwards for women's football in this country, says Limerick manager Dave Rooney.
"We're trying to promote the game and we just keep shooting ourselves in the foot," he told The42. 
We travelled up unawares and got to the pitch. The word then filtered around that there were no linesmen there. The referee spoke to me and the Galway manager and explained that both teams would need to take a sideline each and do the line.
"He said he understood fully if we didn't want to go ahead, but that he needed a decision. My understanding is that referees were appointed during the week, but the two assistants had made themselves unavailable on the Saturday evening due to another junior game being on in the area.
Anything wrong with this picture? #Nolinesman @FAI_WNL @LimerickFCWomen @GalwayWFC @thewnlshow @ExtratimeNews pic.twitter.com/kkZ5ANmJfr

— Limerick FC Women (@LimerickFCWomen) October 28, 2018
"I explained that we had paid €650 for a bus and for a pre-match meal and that it was the last day of the season. Any other day you'd say 'no, we're not playing', but the fact was that the season finished that day and we just wanted to get on with it. We weren't going to get that money back.
So we just played and got on with the game. The referee did a great job, to be fair to him, but we're trying to build standards and trying to promote women's football here. They are signing referees up for junior football ahead of Women's National League games, so it just shows where women's football is at."
This season was Limerick's first entering a women's side in the National League. Speaking to players and staff at the beginning of the year, there was a real sense of excitement and buzz about the Munster club taking a major step forward, giving local players the chance to play at the very highest level in this country.
It has been a tough season for the Blues, with Sunday's 7-1 defeat confirming the side's place second from bottom in the league table for their debut campaign. Initially playing their games at Markets Field, they were also forced to move to Hogan Park as financial constraints at the club took a harsh effect.
Irene Hehir, a coach with Limerick who was also present on the sideline during Sunday's game, says that the lack of linesmen was a deeply disappointing turn of events at the weekend for their side.
"We were extremely frustrated," she explains. "And just disappointed. I know it's Limerick's first time in the league, our first season in the Women's National League, and to be fair all season — nine times out of ten — everything has been absolutely spot on and fine.
"But when you turn up to that, you're just thinking 'oh Jesus'. It's a bit of a kick in the teeth, to be quite honest. If that was a League of Ireland game, do you think it'd go ahead? It wouldn't happen. At the end of the day, both teams decided to go ahead with it because we had paid a lot of money for a bus to get to Galway; we've girls that are coming from Cork and all over to play the match.
It was the last game of the season — if we hadn't ended up playing the game we would have ended up going back down mid-week, and you can't be asking girls to get off work and travel up from Cork and the likes all the way to Galway for a match that should have went ahead at the weekend. This wasn't our fault.
"We just decided to go ahead with it against our best thoughts. We would've preferred to not play the game and make a stance, but we couldn't really do that. Some of us were thinking to ourselves 'Jesus, things are bad enough at the moment'. We're doing the best we possibly can in women's football in Ireland and then something like this happens.
"One of our coaches and some guy from Galway in a jacket and jeans did the role of linesmen in the end. It was crazy, an awful situation. It looks so bad for the girls."
Still scoreless here in Eamonn Deacy Park pic.twitter.com/r6QDx1KYtW

— GalwayWFC (@GalwayWFC) October 28, 2018
When contacted by The42 about the matter, the FAI explained that they were aware of the incident and were investigating what had happened, but said that they would not be making a comment.
A spokesperson for Galway said: "The experienced referee performed well on the day and the absence of assistant referees had no impact."
Limerick manager Rooney says that his club has had no contact from anyone about what took place last weekend and that no explanation for the mistake has been forthcoming from the FAI or the Women's National League over the previous four days.
"Not even a call, not even an email. Nothing," he says. "I've asked our club secretary to write to them [the FAI] and I know Galway were planning to write to them as well, but we've heard nothing. Not an apology, not an explanation, nothing.
What are they
really like?
Rare insights on sport's biggest names from the writers who know them best. Listen to Behind the Lines podcast.
Become a Member
"The thing that annoyed me is that they would have actually known they were only sending one referee to the game, because the linesmen said they would not be showing up the day before. They could have called us before we hopped on the bus and let us know what had happened. That's the FAI all over.
If it was a men's game, it wouldn't have went ahead. It wouldn't have happened, even a men's First Division game. If a referee turned up with no linesmen, lads wouldn't even tog out."
Rooney is keen to stress the difficult situation he and his players were left in on Sunday. Speaking a number of days afterwards, he says that perhaps both teams should have stood their ground firmer and protested the fixture taking place under such conditions.
But the fact that it was the final game of the season, that Limerick had paid well over half a thousand euro for travel and food expenses and that they had made the journey up to Galway left his side just wanting to get the game over with, he says.
Shocking that..... COYGIB

— Patrick Barrett (@BabsBarrett) October 28, 2018
"Maybe we shouldn't have togged out, but from our point of view we would have had to rearrange the game, travel down again and pay another €650 for a bus and a meal for our players," he says.
"If this had happened in July, there was no way we would have played. But because it was the last day of the season, we decided to go ahead. We had paid the guts of a thousand euro to be there and that was money that we weren't going to get back.
It's a total lack of respect to women's football. It's only an eight-team division in the Women's National League. They say a football squad is only as strong as its weakest player — a league is only as strong as its weakest team. It's not a good advertisement for women's football in this country at all."
"We just want to make sure this doesn't happen again," adds Limerick coach Hehir. "We're being asked to pay respect and abide by rules and regulations and the whole lot, I don't think it's too much for that respect to be paid back to us across the board.
"It was frustrating, we can't change what happened. But at the end of the day, really, it should be a marking sign to say 'right, this happened once, we apologise, it's not going to happen again, this is what we're going to do to sort it out'.
That's all you can expect is a corrective action from the FAI, especially with the fact that this has happened twice for Galway in recent weeks. 
"As players and coaches we were all very much disappointed and frustrated on Sunday when it happened.They are tough games out there and you take any edge or help you can get, and the assistants do play a big role in the game.
"The referee trying to decide whether something is offside or not — in every game of football the referee relies on his linesmen and Sunday was no different. We had shouts and Galway had shouts, and the referee playing without proper assistants definitely didn't help that situation."
Originally published at 07.30
Subscribe to our new podcast, Heineken Rugby Weekly on The42, here: