GARRY RINGROSE IS certainly well able to front up in a physical sense, as he showed against Scotland on Saturday, but he has never been keen to add unnecessary kilograms to his frame.
Perhaps it's one of the reasons that so many people enjoy watching Ringrose in action.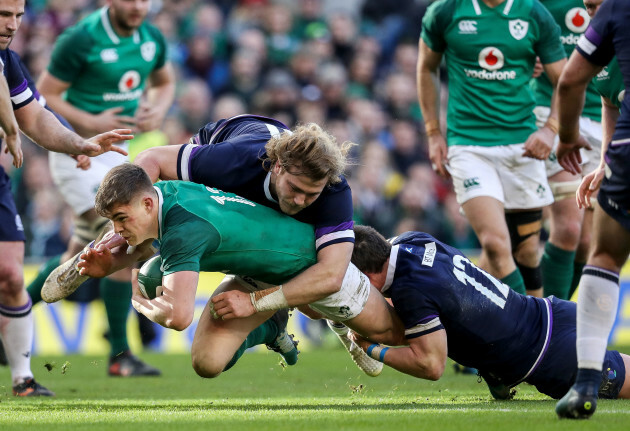 Tommy Dickson / INPHO Ringrose makes a dart for Ireland. Tommy Dickson / INPHO / INPHO
He is a very pure rugby player, a classy attacker whose footwork and darting pace make him a nightmare to mark, and whose intelligence and reading of the game ensure that he is a high-quality defender too.
There were understandably a handful of errors on his return for Ireland against the Scots, having last played under Joe Schmidt on last year's summer tour of the US and Japan, but his performance highlighted once again just how good Ringrose is.
Ireland assistant coach Andy Farrell noted that he felt the 23-year-old had added some bulk during his stint out injured with shoulder and then ankle injuries – the latter forcing him to miss the opening rounds of the Six Nations – but Ringrose said he didn't get too caught up in that.
"It was a bit tricky for the first couple of months with my shoulders, but I was in the gym doing whatever S &C I could, and then when I was out with the ankle it gave me the opportunity to bulk up a little bit," said the Leinster man speaking after Ireland's win.
"I didn't get too distracted with it, it's certainly not the kind of player I am, being an overly big one. So still trying to get skills sessions in was the main focus and then, when I got the opportunity, to work on my fitness and strength stuff."
94kg Ringrose only has to look out to Ireland's left wing for a role model.
"I think someone like Keith Earls is an inspiration for me, he's not the biggest guy but he's one of the most effective on the pitch.
"So personally I wouldn't get too distracted by the number on a weighing scales, it's kind of a combination of loads of different things but it adds to a complete player, so I was just trying to tick off as much as I could within the parameters."
Dan Sheridan / INPHO The Leinster man was excellent against the Scots. Dan Sheridan / INPHO / INPHO
Ringrose is very much a Joe Schmidt-kind of player. Clever, diligent, hard-working, grounded but confident.
He is similar to his coach in not getting ahead of the task immediately in front of him too.
Though he is heading to play at Twickenham for the first time in his life this weekend with a Grand Slam on the line, he delivers a Schmidt-esque answer when asked about the opportunity ahead.
"It would be pretty special for myself and everyone involved," said Ringrose. "I'm trying not to get too distracted about what's at stake next week, and focus on the immediate and what's in control.
"That's recovering and being fresh and ready to go on Monday and taking each day and trying to win each day, as opposed to getting too distracted by it."
Of primary importance for Ringrose this week will be working closely with centre partner Bundee Aki in analysing how they combined against the Scots and also how they are going to nullify and expose England.
Defensively, Ireland weren't perfect against Scotland but they were certainly excellent and Ringrose's performance was huge in that.
"Initially, I was a little bit nervous filling in for Chris [Farrell] and Robbie [Hensaw], with how good they'd been – they'd had world-class performances between them – but then it was just about fitting in and getting my role in the system right.
"Talking to Bundee beforehand, we knew they [Scotland] have got some pretty special individuals out there and they probably caused us troubles so it was about backing each other up and how we reacted.
Tommy Dickson / INPHO Ringrose dealt with Huw Jones superbly. Tommy Dickson / INPHO / INPHO
"If I was beaten, how he covered me and vice versa. I think it was evident and you could feel out there how hard we were working for each other."
Ringrose admits he was "sucking diesel a couple of times" as he made his comeback for Ireland after only a single appearance for Leinster following the aforementioned ankle injury.
But that fatigue didn't prevent him from cutting the Scots open with ball in hand at important times, as he played a central role in some of Ireland's best set-piece attacks.
"Once or twice we managed to make… I made a linebreak [in the first half] and could have done with passing to Johnny [Sexton] inside me.
"He let me know but I knew myself! It had been a few months since I'd made a break like that, so it's nice and reassuring when things come off like that.
"Certainly from a forwards' point of view, and they scrum so well to get us ball, when they come up and they're actually moving forward and not having to chase back if we're hit behind the gainline. It's good for them."
A few more creative involvements like that would go some way to helping Ireland towards their third Grand Slam ever.
Ringrose was a student in Blackrock College the last time Ireland did it in 2009, but he's all about getting his job done this week.
"I was in second year in school," he recalled. "I think I just watched it with my family.
"It would be amazing to be part of something like that but there is no point getting too distracted – certainly from my point of view and what seems to be the group's point of view. There is no point getting distracted by that."