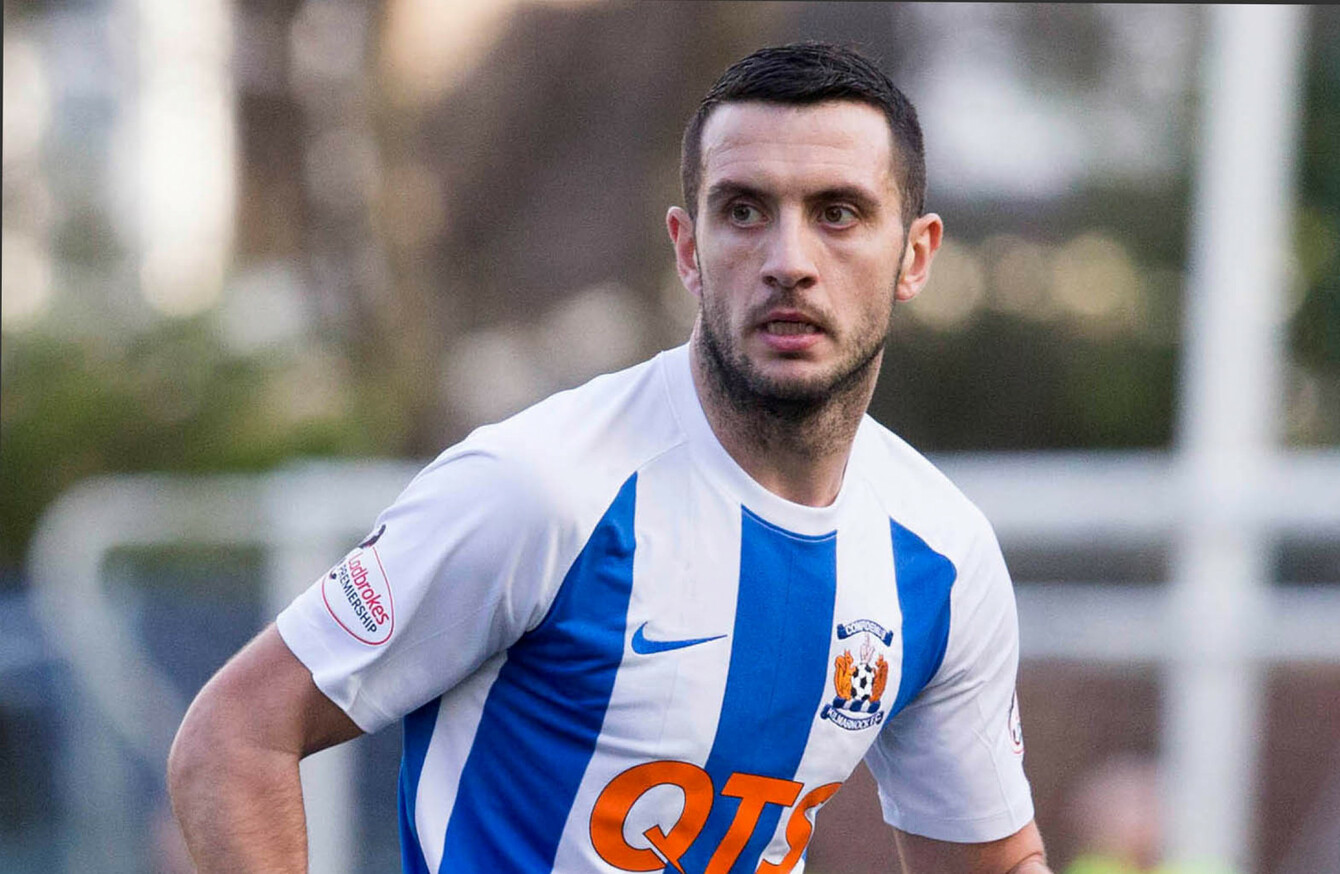 Image: Jeff Holmes
Image: Jeff Holmes
SIX STRAIGHT WINS in the SPFL. An unbeaten run that stretches back 14 games in all competitions. Three successive Manager of the Month accolades for the man in charge.
You'd be forgiven for thinking we're talking about Celtic and Brendan Rodgers. But we're not. We're talking about Kilmarnock and Steve Clarke.
Yesterday, they dug in again and came through with a 2-1 away victory over Hamilton. The result meant they moved to within four points of fourth-placed Hibernian with five fixtures left.
It's been a remarkable turnaround. Clarke arrived in October, with the team rooted to the bottom of the table with a measly three points from eight games.
Since then, they've racked up 52 points from 29 matches. If the season started once Clarke took over, Killie would currently sit in second place, six points behind Celtic but with a game in hand.
Gary Dicker admits it's been a rollercoaster.
Last season, there was the relative tranquility of an eighth place finish. But when the current campaign started poorly, it brought back traumatic memories for the Dubliner.
He'd signed for Killie on Deadline Day in early 2016, his time at Carlisle having proved frustrating. He wanted starts, which he got. But he also got a team sliding towards the drop.
At the end of the season, there was a relegation play-off against Falkirk.
For Dicker – an experienced midfielder – it was all radically new.
"That was mental," he says.
It's a tough one. I've been involved with play-off games before but they were about getting promoted. This was a different pressure, probably because you knew the effect it'd have on the club. Like, people losing their jobs. It wasn't a nice feeling. I didn't sleep for two weeks, to be honest. It was strange. And a bit scary. You see people every day and, not that they're putting it on you, but it does affect everyone. You know you're affecting people who aren't in control of their own destiny. And we were. We're the lucky ones in that we can control it."
"It was a crazy time and hard to explain, really. I've played in bigger games, in front of bigger crowds but it was just the build-up. And also just how strange it was being in a play-off for relegation. We lost the first leg 1-0, a game we never should've lost. But we won 4-0 in the replay. It was strange celebrating. A bit embarrassing, to be honest. Celebrating staying up after a play-off. So a strange game to be involved in and one that I hope I won't be involved in again."
It's the reality of a smaller, close-knit club. It's a community. The faces and the names are familiar. There isn't that huge divide between players and staff. Everyone is in it together. And when it's good, it's great.
But when it's bad, there's an extra burden of responsibility. And for Dicker, it weighed heavily on his mind. It was impossible to shake. Even at 3am, he was staring at the ceiling and fretting about the inevitable lay-offs if the club went down.
"It makes you lose touch a bit at the bigger clubs where there's more and more staff," he says.
But here, everyone knows everyone – from the groundsman to the kit-man to the girls who work in the office. You see them every day. They have the same worries as everyone else. They think about paying their bills. And you do feel responsible. They're doing their job everyday but what happens on the pitch is what affects them. So, it was a nice day when we did stay up because the whole place felt a bit of relief. If we had gone down, it would've been a sad time for a lot of people that have been at the club for a long time."
"When you're younger – and not that you worry only about yourself – but you think you'll get another chance and that there's always tomorrow. But as you get older you realise you can have such a big effect on other people."
After some relative respite last term, things nosedived quickly again and manager Lee McCulloch was sacked. Former West Brom and Reading boss Clarke was subsequently appointed and Dicker has been very impressed.
"He's had a great playing career too and maybe some people are too quick to forget that," Dicker says.
"Maybe he's not the most fashionable name as a player but you don't play that many times for Chelsea without being really good. I think he was even voted their best-ever right-back. You look at the players he's played alongside – Zola, Di Matteo, Poyet, Desailly. And then there's the managerial side. He's worked with Bobby Robson, Mourinho, Dalglish and he's obviously managed himself too."
You're always asked about the better managers you've played under and why. But I think it's like when you were in school and you'd get a good teacher and they'd get their point across really well. Maybe people look at the coaching badges and the really fancy sessions and this and that but we don't do anything outrageous. He's come in and it's been back to basics, really. But it's how he gets his point across which is the most important. He doesn't overload you with silly information that other people might do."
Dicker began the season on the sidelines thanks to a niggling abdominal injury so didn't get his first taste of competitive action under Clarke until the very end of November. But, he's been indispensable and instrumental ever since. The influence he's wielded was reflected in him signing a new deal last week and committing himself to Rugby Park until 2020.
Be part
of the team
Access exclusive podcasts, interviews and analysis with a monthly or annual membership.
Become a Member
"Given the way the season started – with me being injured and then the club having a bad run – it's been excellent," he says.
"To spin things around and finish the season as strongly as we have, getting a really good manager in place and getting a new contract to top it off…things are good."
I think some people are quick to knock Scottish football but there are some big clubs up here and I'm enjoying what it has to offer. I always wanted to come up here and play. I think everyone is always trying to compare things with England. The facilities are top-notch, the grounds are good, we get well looked after up here off the pitch too – something that others might take for granted. We're in the middle of probably getting a new training ground built here as well. The club's definitely going places and there are improvements all over the place."
Not that Dicker ever doubted his ability but Kilmarnock and Clarke have ensured he's been rehabilitated a little.
Under Keith Curle at Carlisle, the pair's relationship wasn't acrimonious but it certainly wasn't rosy either. A fan favourite at every club, especially at Stockport and Brighton, Dicker was finding it hard to impress his boss.
"We were playing a Johnstone's Paint Trophy game – I think it was Tranmere away or something like that – and the assistant manager pulled me to one side and said, 'The manager doesn't think you can play in a 4-4-2′", Dicker says.
"I would've been about 28 then, or 29. You can put anyone in a 4-4-2 and tell them to run up and down. But you can get someone quicker and then you're never going to come out the better. The higher you go up it's a bit more tactical and it probably suits me. And with the manager here, he's a bit more controlled. He's a thinker, too. He doesn't do anything rashly. He'll think about every decision he'll make. Every training session is geared towards how we're going to play in a game. I've played in a 4-4-2 in every game under him so I think it throws that opinion out the window.
I played centre-half for a good bit last year as well which I actually enjoyed. There was less running, to be fair! I didn't think I'd like it as much as I did. It's another string to your bow and I learned a lot playing back there. You see a different game. I'm learning all the time from the manager and he's opened my eyes a little bit. As I've said to the boys here, we're lucky to have a manager like him here and you've got to soak up all the information you can."
There's another harmonious aspect to Dicker and Clarke's relationship. While they're in Scotland, their respective families are still based south of the border. Dicker's wife and two kids are in Brighton and settled there. 450 miles apart but the best decision for everyone.
"Football is pretty selfish," he says.
You get up and leave and expect everyone to follow you all the time, something I've done all through my career. It's always been pretty one-sided. So, we made a decision this time for the family to settle down and move back to Brighton."
"It's been tough but it's not a career that's going to last forever either. It's the first time I've done the commuting thing. We get a few international breaks or free weekends because of cup games and the kids come up here whenever they can. And to be fair, the manager has been good to me too. He also does the commute and his family are down in London so he can relate."
Dicker, who played underage for the Republic of Ireland, turns 32 in the summer and has already started his coaching badges. He's in no rush to step aside just yet but the next step is pretty inevitable.
"I've got a week left on my A licence," he says.
"I've already passed my assessment with that and I'm hoping to start my Pro licence next season. It's something I've always wanted to do, even from an early age. You're thinking ahead. I'm helping the Under-20s up here too at the moment, which is a great learning experience. It's just about getting stuff in place for when I do step away from playing because it's a route I want to go down in football."
And Dicker is keen to point out that the Scottish experience has been invaluable. The vast majority will always focus on the Old Firm. But there are other decent sides. Other decent coaches. Other decent players.
"I made my debut for Killie down at Ibrox which was an unbelievable place to go and play, just because I'd seen it so many times on TV," he says.
"But Tynecastle is probably one of the better atmospheres I've played in, even down in England. The fans are on top of you and breathing down your neck. And it is hostile and it's one you enjoy as a player. There's Hibs and Aberdeen too – good crowds, good stadiums. And it's opened my eyes a bit more as well. Scottish football probably doesn't get enough praise for all the other teams up here that are doing well."
It's a long way from Ballyfermot and Cherry Orchard.
"It's always a proud moment," Dicker says.
"When you start out as a young boy, the dream is to just play one professional game. I've played in some unbelievable stadiums. Nearly every ground, I'd say, bar a few of the bigger Premier League ones. All the Championship grounds, Anfield, Wembley, Celtic Park, Ibrox. I know I've come a long way but it goes pretty quickly as well. I play with some younger lads here and not so long ago I was 20 or 21 too but it can go in a heartbeat. You think there's always next week or there's a next game. So you've got to enjoy every moment."
The42 is on Instagram! Tap the button below on your phone to follow us!