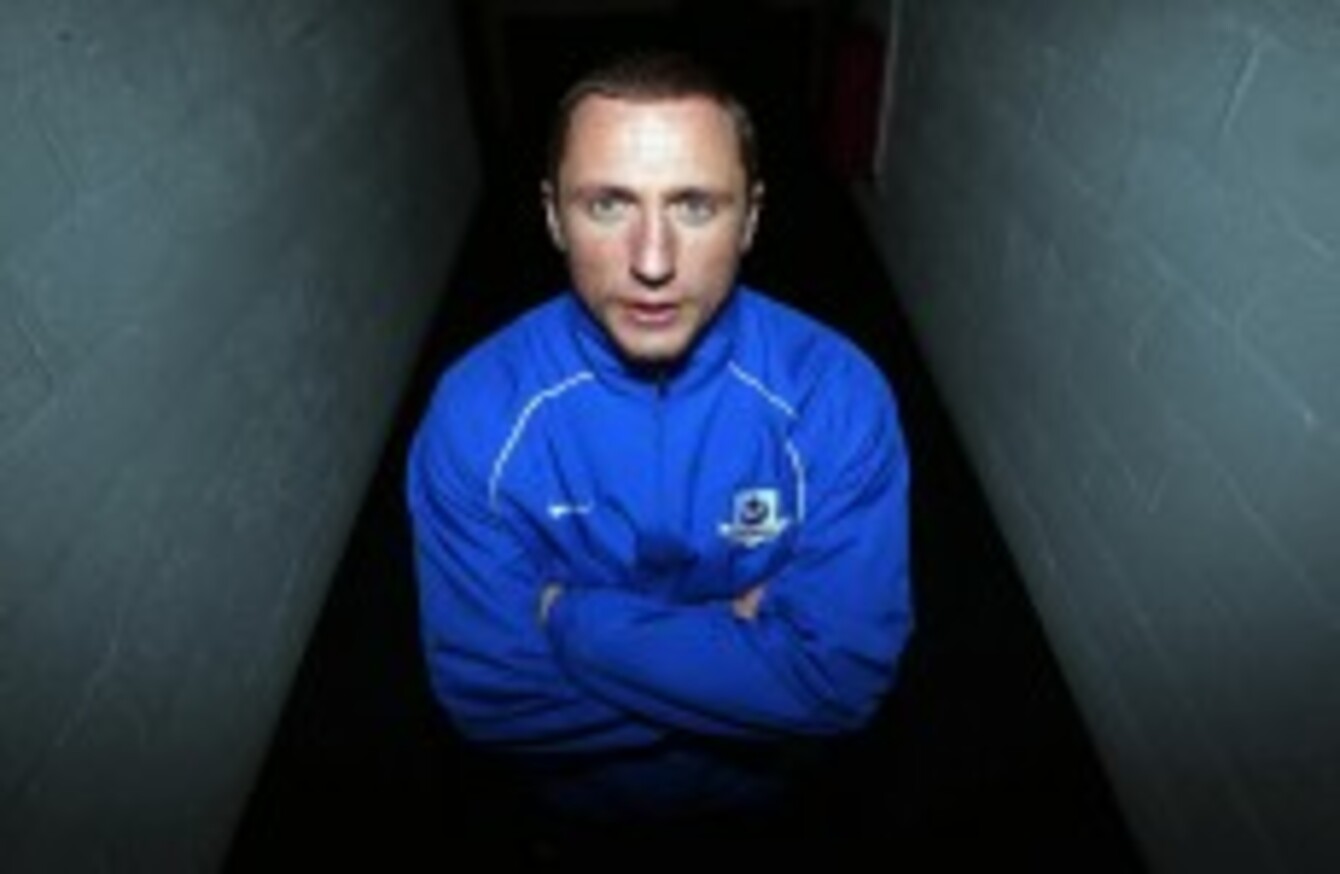 Drogheda United's Gary O'Neill is looking forward to the new season after recovering from cancer.
Drogheda United's Gary O'Neill is looking forward to the new season after recovering from cancer.
JUST FOUR MONTHS on from being diagnosed with testicular cancer, it's a near miracle that Drogheda United's Gary O'Neill is back playing again.
Not only did the 31-year-old striker feature in the pre-season friendly against Glebe North on Tuesday night, he also managed to get on the scoresheet, volleying spectacularly past goalkeeper Alan O'Connor after coming on as a substitute.
So did this goal feel extra special, given what he's been through?
"It was as special as any goal in a pre-season friendly can be," he tells TheScore.ie. "It was just good to be back out there and back training. It's been enjoyable to be back in the swing of things."
Yet despite this encouraging start, O'Neill still faces a long, arduous process to completely restore his fitness.
"I know myself I'm not 100% physically right where I'd like to be as regards my physical condition. I'm back in the hospital later this month and hoping that I can crack on more into the training. I've a little bit of work to do physically because I've missed so long, but we've seven or eight weeks left until the start of the season, so I'm hoping to catch up pretty quick."
Upon his return, O'Neill was handed the role of player-coach — a task he says he has yet to fully become accustomed to.
"We've only been back for a week or so, so it's been a lot of running drills and things like that. We're just doing the basics for pre-season, so I haven't done much yet at the training ground. But I'm looking to get my feet wet with that as well when the time is right, and whatever Robbie needs me to do, I'm there to do."
And have the players treated him any differently since his elevation into a more authoritarian position?
"The players have been great," he says. "I've obviously taken a fair bit of stick… The banter's been great."
Though O'Neill recalls that football was the "least of my worries" after being told that he had testicular cancer, the former St Pat's player managed to retain a level of optimism during this difficult period.
"It happened in September, and I said to myself, if I can get this done, this done and this done, why not set myself a goal and try to get back for the start of this season. I did think at the time it would be optimistic, but things went well and things are going well. I go back [to the hospital] in a couple of weeks, but I try not to think about it too much and try to get on with my life as normally as possible. If I go back to the hospital and they say something else, then I'll deal with that in due course."
During his recovery, the league showed considerable support for O'Neill, organising pre-match tributes to voice their support following the diagnosis, with the player acknowledging that he will always be "in debt" to people such as Stephen McGuinness and others at the PFAI.
(Ger O'Brien of Pat's and teammates wear t-shirt's in support of O'Neill ahead of last year's FAI Cup quarter-final — INPHO/Donall Farmer)
"For me and my family, it was absolutely unbelievable, the level of support we received. It helped me immensely. And I like to think it's because of the support I received from people that I'm back to where I am at the moment."
The support of two individuals, in particular, gave O'Neill a boost. While recovering from cancer, he received a call from former Everton and Celtic star Alan Stubbs — who himself survived two bouts of testicular cancer — as well as one from his boyhood hero, Roy Keane, who also popped round to his house to wish him well.
"I spoke to Alan on the phone and obviously he'd been through a fair bit himself. It was great to speak to him about how it was done or how it felt at certain stages. I appreciated the call from him, it was just great.
"And Roy came round, which was special for me. He's a hero of mine, I can't say enough about the man, he's absolutely brilliant. Even now, he still texts me the odd time and it gave me such a lift at the time. He got my number and I spoke to him and he said he was going to be over and did I mind if he dropped up. So he came around to the house.

"People say you should never meet your heroes, because you'll be let down, but I had the totally opposite experience. I think even more of Keane now."
The news also served as a timely reminder that every footballer's career is finite, prompting O'Neill to think about life after retirement and his desire to continue in the sport in some capacity. He therefore says he would "definitely" consider a long-term career in coaching, and adds:
"When I got the [cancer] news, it came to my mind a lot quicker that if my playing days were cut short, I'd stay involved, because I love the game so much. The club have been fantastic to me. Robbie [Horgan], the manager, and the club as a whole have been great to me. So [coaching] is something that I'm really looking forward to."
And speaking of Horgan, the new Drogheda boss who took over from Mick Cooke ahead of the 2014 season, O'Neill says he has already stamped his mark on proceedings.
"Robbie's his own man. He brings his own ideas. There have been a few changes. He's very meticulous and intense — he works very hard. I know from working with Robbie at a few different places — there's no one else that will work as hard as him."
(O'Neill received support from Roy Keane during his cancer recovery — @PFAIOfficial)
Despite reaching three cup finals last year, most Drogheda fans will have considered the 2013 season to be somewhat of a disappointment. Having finished second in 2012, they could only manage an eighth-place finish in 2013. So where did it all go wrong?
"I just think last year, we dropped too many points in matches that we were ahead in. We drew 20 games — games where we were ahead and games where we gave away late goals and games that we should have won and didn't. Every team probably says that, but we had too many draws and that's something we need to be improving on.
"The squad has been changing and people have moved on and come in, so we've just got to dig together as a group this year and make sure that we have good home form. No one likes coming to our place — it's a small, tight pitch, and we always seem to do really well there. So if we can get that right and then get a couple of results away from home, who knows? Another cup run and [better] away form would be great."
During the close season, the club have lost some key personnel, while also making a number of valuable additions, including promising youngster Paul Andrews and striker Carl Walshe, both of whom played for Shelbourne last season.
"The lads have settled in well over the last week. We lost a lot of big players from last year — the likes of Ryan [Brennan] to Shamrock Rovers and Paul O'Conor to Sligo. People have moved on and it's part and parcel of the game. The lads that are coming in, it's a great opportunity for them to play and the lads there from last year, I'm sure they will be looking to crack on again."
Last season, despite being good enough to reach three cup finals — while competing for the Setanta Cup, the EA Sports Cup and the FAI Cup — Drogheda ultimately emerged from the campaign empty handed. Do the team feel they need to work on their big-match mentality?
"Obviously, we've no complaints about the Setanta Cup Final. We were beaten on the day by a far superior team… But then the FAI Cup final, I still can't get over it even though I wasn't playing. We were really unlucky. If you were to ask Robbie now if we were to get to two cup finals and have a pop at them, I think he'd rip your arm off to get it. And then if we get there, we can address the issue."
(O'Neill believes the recent arrival of his former teammate, Keith Fahey, at Pat's, will help strengthen the League of Ireland considerably — INPHO/Donall Farmer)
O'Neill, however, is under no illusions as to the challenge his side is facing, particularly with last year's champions, St Pat's, further strengthening their squad with the addition of Ireland international Keith Fahey — a move that he believes will significantly strengthen the overall standard of the Airtricity League.
"Keith coming back obviously strengthens the league and strengthens Pat's a hell of a lot. He's an outrageous talent and a great fella. But now that Pat's have gotten stronger, it's up to other teams to get stronger as well. The better the players that play in the league, the better the league gets. So it's great news for the league that Keith's back."
Yet despite the return of O'Neill's illustrious former teammate, the league and Irish football in general has come under considerable criticism of late. Low domestic attendances and financial problems at various clubs, coupled with the disappointing recent performances of the national team, has led many to suggest that a complete overhaul of the system is needed, from underage level upwards. And O'Neill acknowledges that problems exist within the current set-up.
"I think it needs to be looked at alright. When I started playing for Bohs, it was in a reserve league — it wasn't great.  I know they've come a long way with the U19s league, but I still think we need more players coming into first-team squads from underage level. I'm not sure how we'd go about that but it is something that should be looked at — the whole structure of it needs to be looked at, but I'm not the man to say how."

YouTube credit: Tony Breen