IN TERMS OF conjuring memorable football moments, games between the Republic of Ireland and Turkey have fallen a little short.
With the notable exception of their last competitive encounter (a European Championship play-off in November, 1999), there's been a general lack of drama and controversy. But, dig a bit deeper and you'll come across the tale of a 0-0 draw that occurred between the sides prior to Jack Charlton's side competing at the 1990 World Cup and the major repercussions it had.
The Irish side had arranged a number of warm-up games in advance of their tournament opener against England on 11 June.
There were three friendlies in Dublin between late-March and mid-May: 1-0 wins over Wales and the Soviet Union and Liam Brady's testimonial against Finland which ended in a 1-1 draw.
Then, it was crunch time. The plan was for Charlton to name a 22-man squad for a tune-up fixture in Turkey later that month. Then, the group would leave for Valetta in Malta, base themselves there for a week, play one final friendly and then leave for Italy.
On 17 May, Charlton offered up the 22 names that would, barring some extenuating circumstances, be going to the World Cup.
On the list was Gary Waddock, then of Millwall. After picking up a string of senior caps in the early-to-mid-80s, he ruptured his medial ligament in 1987 and was told he'd never play again. But, determined to defy medical advice, he dug in. Let go by QPR, he turned things around with Belgian side Charleroi and made a full recovery. Millwall brought him back to the UK in 1989 and having impressed Charlton, he returned to the Irish fold and started against the Soviets.
His rehabilitation was complete.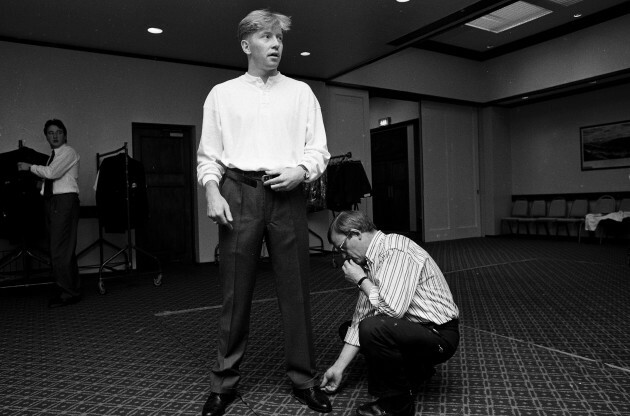 Billy Stickland / INPHO Gary Waddock is measured for his official World Cup suit. Billy Stickland / INPHO / INPHO
There had been concerns about the fitness of a number of first-choice midfielders like Ronnie Whelan and Ray Houghton and Charlton required some depth. Waddock still represented a gamble, having only played once for his country in the previous four-and-a-half years but there weren't many dissenting voices.
"I thought I had a slim chance after I was called up for the game against the Soviet Union but I daren't even dream about making the cut for Italy for fear that something would go wrong", he told reporters at the time.
This is one of the happiest days I've known in football and I am grateful to all those who, in one way or another, made it possible. These last four years have been difficult but thankfully it has now all come right and I've got the prize I've always coveted."
Like the rest of the squad, Waddock was measured for his official World Cup suit, posed for the promotional photos and then boarded a plane.
In Izmir, right on the western tip of Turkey, he got another chance to impress Charlton and was named in the starting lineup for the game. But he didn't last long and John Byrne replaced him shortly after half-time in what was a seemingly inconsequential scoreless draw.
Charlton had made other early changes so it didn't seem he was purposely singling Waddock out. More that he was just assessing his options. And, anyway, the World Cup squad had already been selected. The wheels were already in motion. Camaraderie was building. The atmosphere in the camp was incredibly positive and everyone seemed buoyed by the trip to Malta and how the World Cup was inching ever closer.
But what happened next was remarkable.
When the team touched down in Valletta's airport and waited at a carousel for their luggage, Charlton pulled Waddock to one side and told him he was being cut from the squad.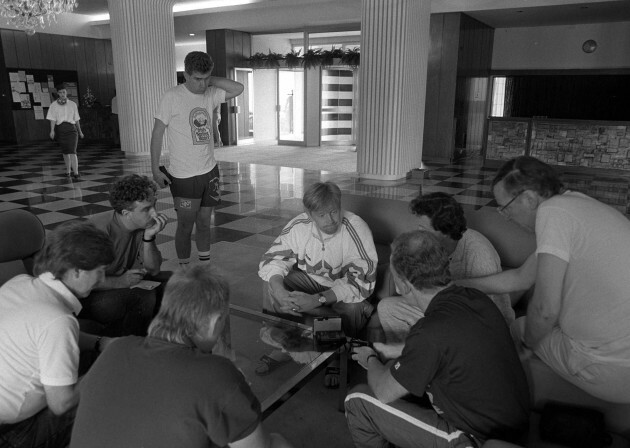 Billy Stickland / INPHO Waddock speaks to reporters after he was cut from the Irish World Cup squad. Billy Stickland / INPHO / INPHO
Instead, Waddock was informed, Swindon's Alan McLoughlin would be joining the group. There was no negotiation. The decision was final and the official selection passed onto FIFA before their deadline closed. Charlton told Waddock he could remain with the squad if he wished, no hard feelings. Waddock told Charlton exactly what he thought of him, his decision and his offer and, understandably, arranged a flight back to the UK for as soon as possible.
Still, for 24 agonising hours, Waddock had to stay there. His team-mates knew immediately, as did the press pack. So, for 24 hours, he had to bottle his fury and frustration and indignation and play the role of the model pro. When he stepped in front of the media, there was a communal sense of awkwardness. It was uncomfortable for everyone. Waddock's face said everything but reporters still had to ask the questions, however silly they seemed.
"How would you feel?" Waddock responded to the inevitable opening gambit.
It's very hard for me, but I cannot really say anything. I didn't know it was coming but, obviously, until the final 22 is named you cannot say that you are in it. I wish Alan McLoughlin all the best and I congratulate him on getting into the first division. As far as Ireland are concerned, I hope they win the World Cup, it's as simple as that. I've no hard feelings."
Later that day, McLoughlin arrived at the hotel and headed straight to the restaurant to meet the team. But Waddock was still there, waiting for a cab to arrive and take him to the airport. As McLoughlin slowly walked towards his new team-mates, Waddock got up from his seat. He strolled towards McLoughlin. And he extended his hand and wished him the best of luck for the tournament.
McLoughlin's previous experience with Ireland amounted to one appearance in a B international. It seemed a curious decision from Charlton and he seemed to fudge his reasons for bringing him into the squad.
"It's my job to balance out the 22 players and see that I've got cover for everywhere and the way we see things, this was the only move," he said.
"McLoughlin is a very good runner, he sees things, supports people and scores goals. He's a good player, we've been very impressed with him but we haven't been able to get hold of him in the last three months because of his club commitment."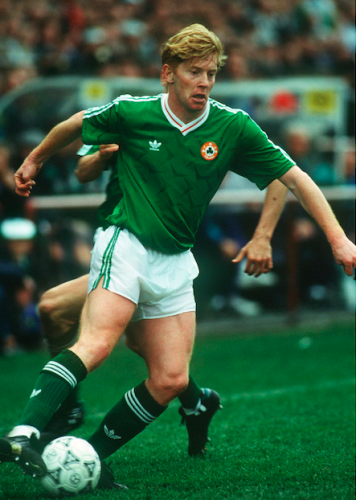 Charlton and Maurice Setters had ample opportunity to make a call on McLoughlin and decided against calling him up for a litany of games that were a crucial part of World Cup preparation. McLoughlin had been a key part of Swindon's run through the Second Division play-offs, but those games only began in mid-May.
Exclusive Six
Nations Analysis
Get Murray Kinsella's exclusive analysis of Ireland's Six Nations campaign this spring
Become a Member
If the Irish management team had been so taken with McLoughlin's club performances, why hadn't he featured in the build-up to the World Cup at any stage? Why was it left until the eleventh hour?
Considering there were such extensive doubts about the fitness of influential midfielders, it would've made sense to have plenty of back-up and include both McLoughlin and Waddock. But instead, Charlton seemed to be guided by sentimentality.
Years later, Charlton changed his story and told Paul Rowan in the excellent book The Team That Jack Built that dropping Waddock was the 'biggest fucking mistake I ever made'.
"I should have kept Gary because Gary was a smashing lad and he wanted to play," Charlton said.
I left him out to take Frank (Stapleton) because I wanted him (Frank) to finish on a high note. But he knew he wasn't going to play because I told him he wasn't going to fuckin' play".
"I've got Niall (Quinn), Cassy (Tony Cascarino) and David Kelly. I don't need Frank but I took him."
In terms of strikers, Charlton had also included John Aldridge and Bernie Slaven. Neither the latter or Stapleton saw a single second of action. So much for Stapleton finishing on a high note.
Meanwhile, McLoughlin came off the bench twice during the tournament: against England and Egypt. He went on to rack up another 40 caps for his country and single-handedly qualified the Republic of Ireland for the next World Cup with that iconic strike at Windsor Park in Belfast.
©INPHO Years later, Charlton admitted he actually dropped Waddock from the squad to keep veteran striker Frank Stapleton. ©INPHO
And what of Waddock? Immediately after leaving the Irish camp in 1990, he returned home and brought his entire family on holiday to the US in an effort to escape the World Cup completely. But it proved an impossible task. There were reminders everywhere.
He continued his club career up until the late-1990s with Bristol Rovers and Luton Town. After initially being handed a coaching opportunity within the QPR academy, Waddock's first permanent management role was at Aldershot in 2007 while he's also enjoyed spells in charge of Wycombe and Oxford. He's currently in his second stint as Aldershot boss and battling to push the club out of the Conference Premier.
That friendly against Turkey was the last time he ever pulled on a green shirt.
The42 is on Instagram! Tap the button below on your phone to follow us!