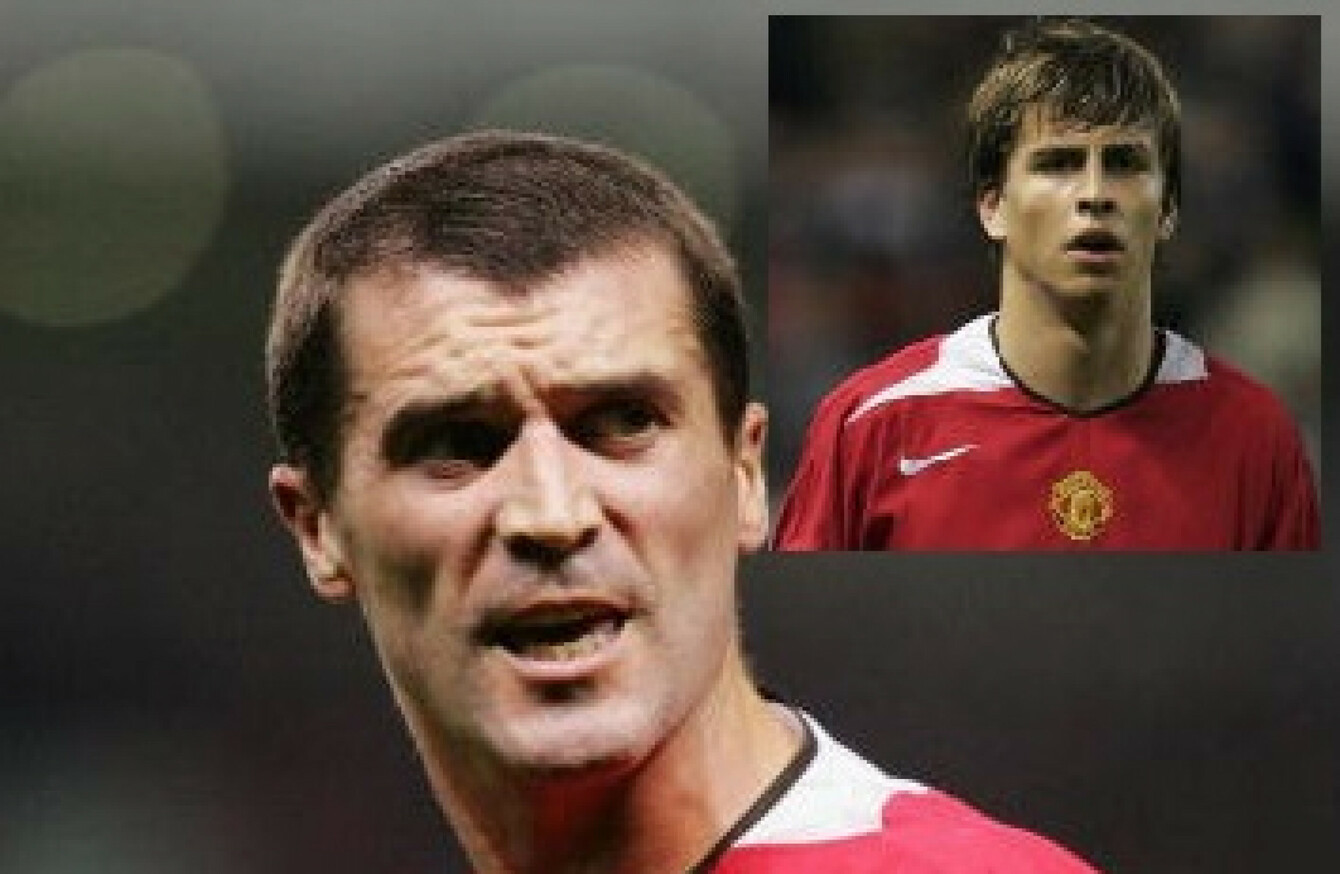 Keane and Pique.
Image: Getty Images
Keane and Pique.
Image: Getty Images
IT HAS BECOME an infamous exchange.
Roy Keane, a young manager at Ipswich Town, gives one particular journalist a tongue-lashing for allowing his phone to ring out during his press conference.
The Cork man has never suffered fools and, writing in The Players' Tribune today, former Manchester United team-mate Gerard Pique today tells another story involving an ill-timed call.
Pique, who has gone on to win the World Cup and European Championships with Spain as well as three Champions Leagues and numerous La Liga titles at Barcelona, was a teenager hoping to break into the United first-team when the incident occurred.
Let him take up the story:
"My whole life could have turned out very different if it wasn't for Sir Alex Ferguson.
"I arrived at Manchester United a boy, and I left a man. It was a crazy time for me, because I had never been away from home before. I spent my first 17 years growing up in Spain in Barcelona's youth academy, and it almost felt like I was playing for the local school team or something. I knew everybody there, and I was close to my family. So, to me, football was just fun. I didn't understand the business side of the game at all. Then I arrived at United, and honestly, it was a complete shock.
"One of my very first matches at Old Trafford, we were in the dressing room getting ready, and I was nervous as hell. Imagine it — I'm 18 years old, and I'm sitting in that little dressing room putting on my socks next to Ruud Van Nistelrooy and Ryan Giggs and Rio Ferdinand. I wanted to be invisible. I was thinking, Just do your job and go unnoticed.
"So we're sitting there waiting for the gaffer to come in and speak to us, and I'm literally sitting right next to Roy Keane. The dressing room is so small that our legs are almost touching. There's no space at all.
"It's dead quiet. All of a sudden, you could hear this little vibration. Very soft.
"Bzzzzzz ……
"………….. Bzzzzzzz.
"Roy is looking around the room.
"Bzzzzzzz ….."
"Oh, shit.
"I realise it's me. It's my cell phone. I left it on vibrate, and it's in the pocket of my pants, stuffed in the clothes bag that's hanging right behind Roy's head.
"Roy can't find where the noise is coming from. Now he's looking around the room like a maniac. His eyes are darting everywhere, and he's trying to figure it out. You know the famous scene with Jack Nicholson in The Shining, when he bursts through the door? That's what he looked like.
"He screams out to everybody, "Whose phone is that?!"
"Silence.
"He asks again.
"Silence.
"He asks a third time.
Whose. Bloody. F*****g. Phone. Is. That?!"
"Finally, I spoke up, like a little boy. Very softly, I said, "I'm so sorry. It's mine."
"Roy put his arm around me, and he laughed, and he told me not to worry about it.
"….
"…. No, come on, of course I'm joking! Roy lost his mind! He went nuts in front of everybody! It was incredible. I almost shit myself. But it was a good lesson."
It must have been, as the centre-half has gone to on win just about everything you can in the game after that run-in with Roy.
Read the full piece in The Players' Tribune here
The42 is on Instagram! Tap the button below on your phone to follow us!