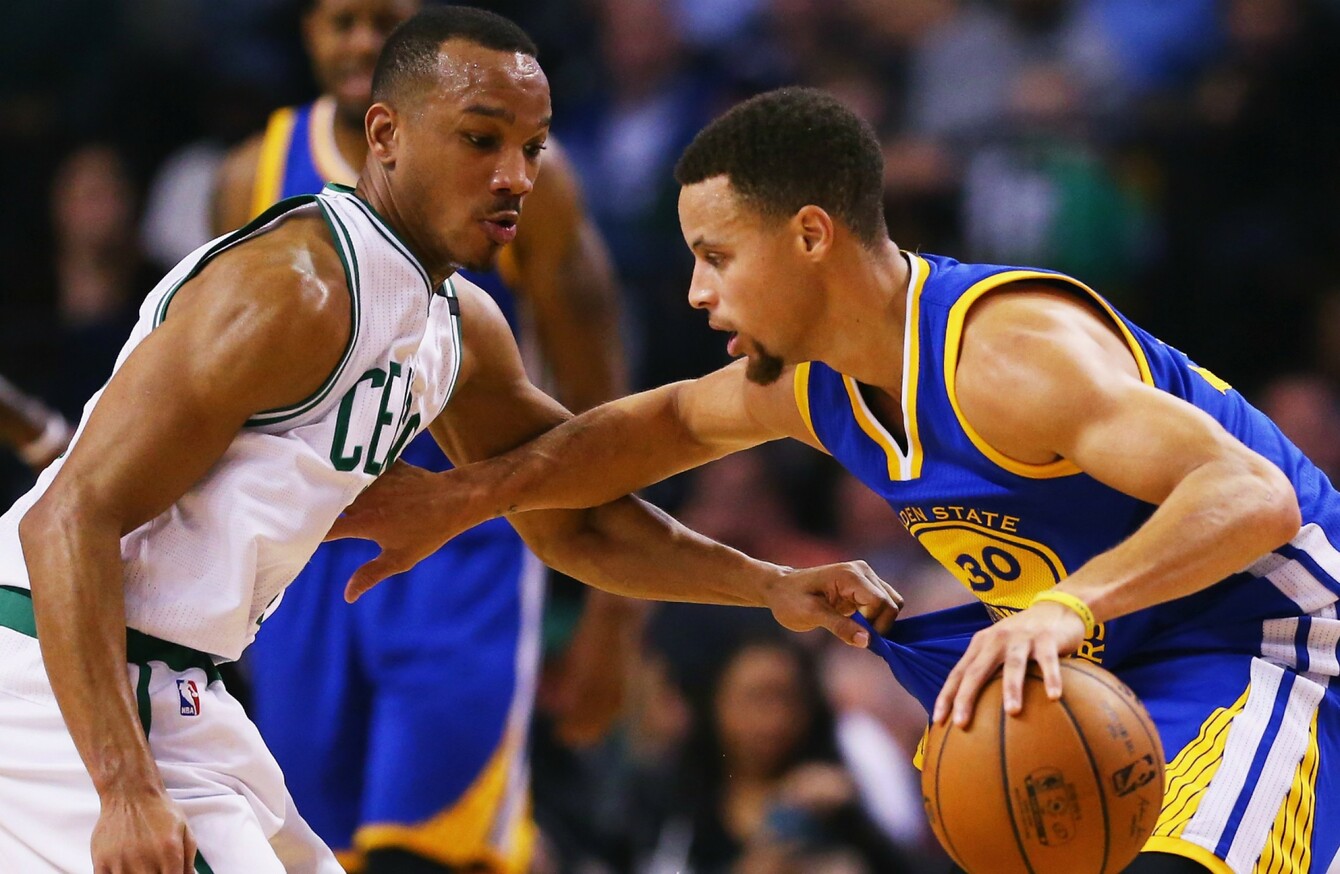 Golden State Warriors star Steph Curry
Golden State Warriors star Steph Curry
THE GOLDEN STATE Warriors defeated the Boston Celtics 124-119 in double overtime on Friday to preserve their 100 per cent NBA record this season.
Steph Curry finished with a game-high 38 points and added 11 rebounds while going a career best 14 of 14 from the free-throw line as the Warriors improved to 24-0.
Curry's three-point basket with 46 seconds remaining tied the game at 103, forcing the first overtime, and he later scored to force a second additional period.
Source: Basketball Channel/YouTube
"It's just pressure packed and intense every possession. It was just about who wanted it more," Curry said after the game. "It was a huge win for us. Most people probably thought we were gonna lose."
Draymond Green scored 24 points, grabbed 11 rebounds, dished out eight assists and came up with five blocks and five steals in nearly 50 minutes of court time for the Warriors, who have now won 28 regular-season games in a row, eclipsing the Miami Heat's record for the second-longest winning streak.
Kelly Olynyk led the Celtics with 28 points, while team-mate Avery Bradley had 19 of his own.
The Charlotte Hornets extended their winning streak to four games after seeing off the Memphis Grizzlies 123-99.
Kemba Walker starred with 33 points and six assists, while Nicholas Batum contributed 20 points to lead the in-form Hornets.
Marc Gasol (17) and Mike Conley (16) combined for 23 points as the Grizzlies lost for the first time in five outings.
The Cleveland Cavaliers made light work of the Orlando Magic, easing to 111-76 win on the road.
LeBron James was the pick of the players, scoring 25 points and tallying eight assists.
Kevin Durant (21 points) and Russell Westbrook (24 points) teamed up to help the Oklahoma City Thunder past the Utah Jazz 94-90.
Elsewhere, the Toronto Raptors downed the Milwaukee Bucks 90-83 thanks to DeMar DeRozan, and the Detroit Pistons accounted for the lowly Philadelphia 76ers 107-95.
The New Orleans Pelicans rallied to beat the Washington Wizards 107-105, the Portland Trail Blazers were 106-96 winners over the Phoenix Suns and the Miami Heat lost 96-83 to the Indiana Pacers, the San Antonio Spurs crushed the Los Angeles Lakers 109-87, while the Denver Nuggets edged the Minnesota Timberwolves 111-108 in overtime.