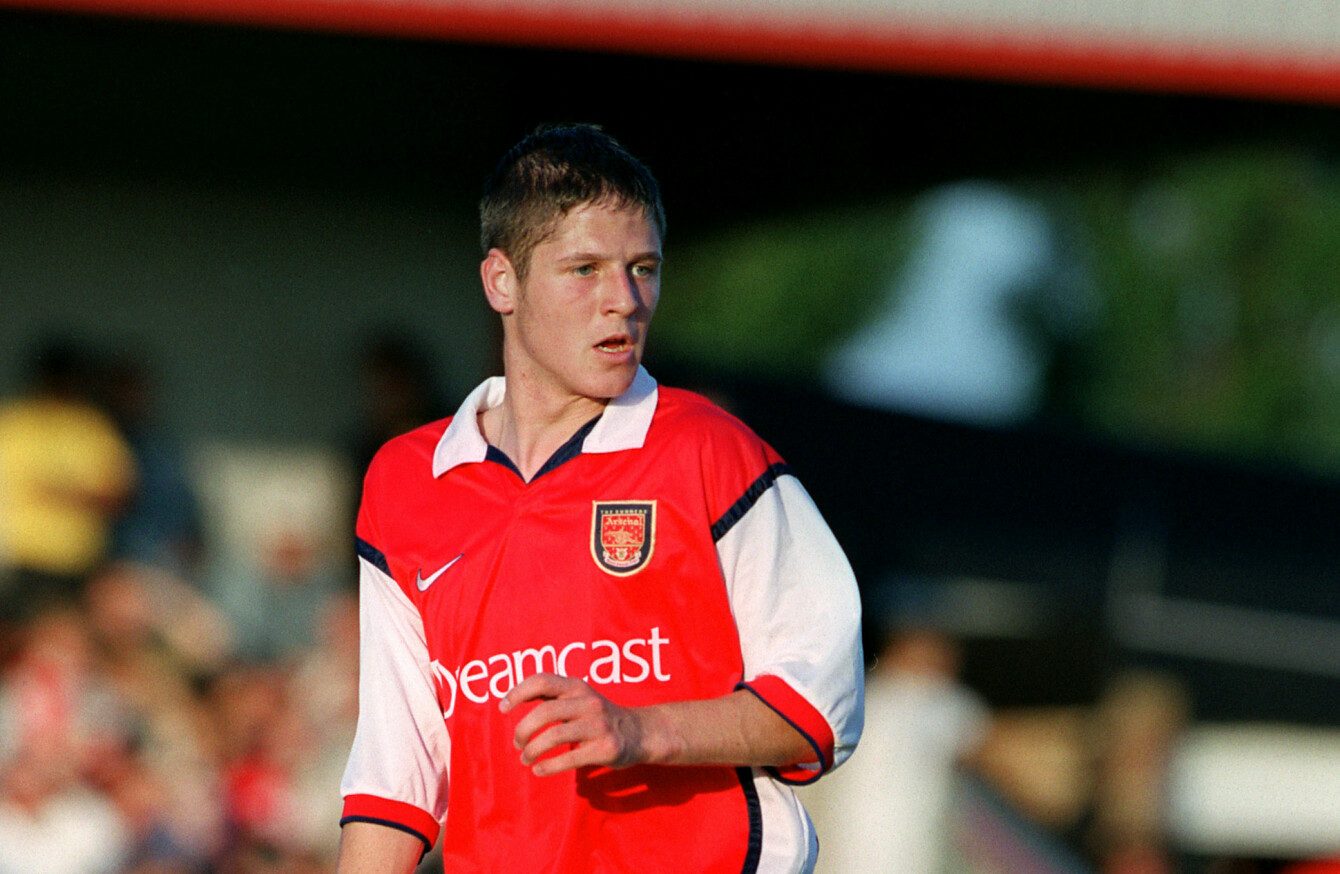 Graham Barrett pictured during his time at Arsenal.
Image: EMPICS Sport
Graham Barrett pictured during his time at Arsenal.
Image: EMPICS Sport
Updated at 13.23
THERE WAS A time, especially in the 1970s, when Arsenal, more so than most English clubs, had an association with Irish footballers.
There was Liam Brady, David O'Leary, Frank Stapleton, Pat Rice and Pat Jennings to name a few.
Yet times have changed. The onset of the Premier League led to an era of astronomical fees and the increasingly international nature of the English game, meaning that fewer Irish players were getting opportunities with the top clubs owing to greater levels of competition than ever.
Consequently, the Premier League's rise, and Arsene Wenger's emergence, coincided with the increased marginalisation of Irish footballers in the English top flight.
Not since Eddie McGoldrick in the 1994-95 campaign has an Irish player started a Premier League match for Arsenal. Indeed, McGoldrick is one of only two Irish players — along with David O'Leary in 1992-93 — to have started a game for the Gunners at Premier League level.
A couple of notable individuals have spent time in the youth system, including Keith Fahey, who would go on to feature for Ireland at international level, and Stephen O'Donnell, now a key part of Stephen Kenny's impressive Dundalk side. Anthony Stokes, who would go on to play for Celtic and Sunderland, even managed a League Cup appearance.
Yet there is another player, aside from McGoldrick and O'Leary, who featured in the Premier League, albeit from the bench.
Graham Barrett was first spotted by Liam Brady playing in an Ireland U15s game against England in Blackburn.
Brady was Arsenal's Head of Youth Development and Academy Director at the time. After difficult spells as a manager with Celtic and Brighton, the Gunners legend in July 1996 returned to the club where he made his name as a player. Arsene Wenger would be confirmed as manager of the North London side the following September, although the signings of French players Patrick Vieira and Remi Garde prior to that announcement suggested he had been already working hard behind the scenes long before the appointment was made official.
After seeing Barrett play against England that night, Brady offered him a contract. The Dublin-born attacker agreed professional terms with the club in 1998. It was one of the most memorable periods in their history. They had won their first Premier League title by the end of the 1997-98 campaign, with Wenger attracting an array of exciting foreign talent to the club coupled with a solid English rearguard that included good pros such as Tony Adams, Martin Keown, Lee Dixon and Ray Parlour.
Arsenal had, of course, achieved significant success before, notably under George Graham. However, the Scottish manager's sides were best known for their organisation and defensive acumen, in contrast with the flair and panache that characterised this new dawn for the club.
A transitional period followed Graham's departure and the Wenger era's sense of adventure would be hinted at in 1995, when world-renowned Dutch international Dennis Bergkamp moved to the club from Inter for £7.5 million and in the process became then-manager Bruce Rioch's first signing.
But it was Wenger who took the club to another level where they would consistently challenge near the top of the Premier League and Barrett had a first-hand view for part of this unforgettable revolution, which silenced sceptics who taunted the new arrival with quips of 'Arsene Who?'
It was Brady, rather than Wenger, however, that the teenage Dubliner largely dealt with originally.
"Liam's job was to revamp the youth structure," Barrett tells The42. "Arsene's job was to improve the first team and both of them were very successful over a considerable period of time."
Indeed, Brady lasted almost as long as Wenger — in May 2014, the ex-Ireland international finally stepped down as Director of the Arsenal Youth Academy, while he continues to work at the club, serving as an ambassador of The Arsenal Foundation.
Barrett also enjoyed significant success with the Gunners at underage level. In 2000, he captained them to an FA Youth Cup triumph.
The young striker was also making waves for Ireland, as he was a member of Brian Kerr's famous side that won the 1998 Uefa U16 Championship.
Barrett's progress was such that he even made a first-team debut in the 1999-2000 campaign. Although it may have been fleeting, given that no Irish players have made a Premier League breakthrough under Wenger before or since, the achievement should not be scoffed at.
You need only look at the Arsenal starting team that day to get a sense of the level Barrett was playing at: Alex Manninger, Lee Dixon, Tony Adams, Matthew Upson, Gilles Grimandi, Silvinho, Nigel Winterburn, Marc Overmars, Emmanuel Petit, Thierry Henry and Nwankwo Kanu.
With Arsenal 3-0 up against Martin O'Neill's Leicester in the 89th minute, the teenage Irish striker replaced Thierry Henry in attack. It meant that Croatia legend Davor Suker was left as an unused sub.
I remember Pat Rice coming to ask me to go home and get my tracksuit, because I was coming up with the squad for a game against Leicester City the next day," Barrett remembers.
"So I went on, travelled with the team and I didn't expect to be involved, but the manager put me on the bench and actually brought me on.
"So that was my first encounter with him. Obviously, he said 'hello' and stuff before, and he knew your name, because he took a great interest in the youth structure.
"At that time, I was only 17, I was still making my way. He would have been very visible, he would have attended the majority of youth team games and he would have interacted with the young players.
"My first involvement with the first team was Leicester City and then I got to be around him a lot more after that."
Inevitably, as a teenager spending a long time away from home, Barrett felt homesick on occasion despite enjoying fairly impressive success at a relatively early stage in his stint with the Gunners.
"I think every young player that goes away from home, whether it be Irish or European, they'll all suffer from homesickness," he adds.
"Liam would have been very good for us, Don Howe, Don Givens, they were the sort of guys with the youth team at the time. There was an easy transition to the first team, because the manager took a great interest in young players, spoke very well, filled you with confidence when you trained with the first team, you'd go out and enjoy it and express yourself.
"There was a good atmosphere, good older pros like Tony Adams, Lee Dixon and David Seaman were there, Patrick Vieira, he brought in, Thierry Henry, I was around that period of time as well, the atmosphere he created [meant that] when you did go up and play with the first team, you were encouraged by him and his staff and all the senior players. It wouldn't have felt in any way awkward when I went to train or play with them."
Wenger changed the culture at Arsenal, bringing in new ideas regarding dieting and training techniques that the rest of English football would take some time to catch up with. Traditionalists may have baulked initially, but Wenger's communication skills and the success that followed ensured he had little difficulty persuading the vast majority to trust his judgement.
"That side of it [involving dieting and training] was all I knew, because I was only starting," Barrett says. "I didn't know any different, because I was only a kid. That was the first thing I was taught.
He had an incredible gift of simplifying things. There were subtle changes, clever changes. In terms of injury prevention, he encouraged players to stretch a lot more after and before games.
"In terms of the way he wanted players to play, he wanted them to express themselves, to enjoy themselves and play a brand of football that was exciting for the fans.
"Another simple change was to instil confidence in the players and actually show that they're players and play a brand of football that everybody wants to play.
"In terms of recruitment, he was the first one to start looking towards the central European market and the African market as well. The other clubs tried to follow suit then, because his recruitment was so successful.
"When you look back on it, he didn't do anything that was too complex, he just made some very smart changes very quickly.
"I think he recognised that he was working with smart people and some good professionals. When good professionals get good ideas, it doesn't take a long time to get them onboard. Obviously, [Arsenal] hit the ground running in the first season he was in charge and then they won the league the next season."
Another well-known trait of Wenger was his calmness. The French boss was never an Alex Ferguson-esque manager and so there were no famous 'hair-dryer' moments during his reign, or none that Barrett witnessed anyway.
"From Monday to Friday, he worked very hard in terms of preparing the team and I was around the first team for a good four or five months, travelled a lot with them and got to train every day with them, played a little bit.
I never saw him raise his voice. He gave information very accurately, very easy to understand. They prepared very hard during the weeks, so they were ready for whoever they were playing against and he trusted the players to go and execute what he'd asked them to do and that was his strategy."
Yet there was a supreme passion in Wenger that may not have been immediately apparent from his invariably cool exterior.
The 68-year-old always was and continues to remain obsessed with football. Writing for Sports Illustrated during the week, Jonathan Wilson gave a telling example of this characteristic: "The question remains of what he will do next. He has little or no hinterland. Football is his life. Asked on his 60th birthday what he intended to do to celebrate, he said he would be watching that evening's mid-table Bundesliga game. Faced with incredulity from the media, he eventually agreed to place a candle on the television to make it feel special."
Barrett also saw this side of Wenger's personality.
"He was the first in in the morning," the Dubliner recalls. "He was the last to leave at night. All the stuff you hear about Alex Ferguson was replicated at Arsenal in terms of how Arsene Wenger went about his business.
Great managers are easily the hardest workers. When you were playing the reserves, he was there, when you were playing youth team, he was there. So he took a great interest in all facets of the football club. It's not going to be easy [for Arsenal] to replace him."
Following his debut at Leicester, Barrett would go on to play one more Premier League game for the Gunners in addition to featuring in the League Cup.
His second appearance took place in similar circumstances to his first. Arsenal were leading 4-1 against Sunderland at Highbury, when the Irishman was introduced off the bench in the 83rd minute, again replacing Henry and this time partnering Suker in attack.
There was genuine optimism thereafter that Barrett would go on to add to these two appearances. However, as is often the case in football, fortune was not on his side.
Competition for places remained intense, with Kanu, Henry, Bergkamp and Suker all vying for the forward spots. After Wenger sent Barrett on loan to Bristol City to gain first-team experience, he played just once before being struck down with glandular fever. He lost a stone in weight and spent six months out of action as a result. By the time he returned, the youngster seemed to be further away from a first-team start than ever, with French international attacker Sylvain Wiltord brought in for a club record fee of £13 million.
After a few more loan spells amid increasingly slim chances of getting his game at Highbury, Barrett decided it was time to move on. Not that he feels any ill will towards Arsenal, on the contrary, he is grateful for the opportunities the club afforded him.
"Arsenal's a very special club, I'd still go back there a few times a year," he says. "They'd be very accommodating and you're remembered in terms of when you're in and around the training ground — that's the sort of club they are. They have a history with a lot of tradition and respect.
"Around that time when I was ill [with glandular fever], Liam Brady, Don Howe, Wenger, Pat Rice, all these guys would have been very good to me and along with the medical staff, tried to get me back to full health and get me back on the football pitch, so he's a good person, Arsene Wenger, and obviously an exceptionally good manager. I couldn't speak more highly of him."
The French boss' empathy is often highlighted as a defining trait, to the point where some critics have even suggested there were times he was too nice and unwilling to dispense with certain players who had been offered chance after chance.
One particular anecdote from Barrett about the end of his time at the club sums up why so many ex-players continue to hold Arsenal and Wenger in particular in such high esteem.
"He cared about the welfare of his players, especially the young players that had to leave. During that season, I was on loan at Brighton, prior to going to Coventry [in a permanent switch], and Arsenal offered me a new contract.
In January time, I think Preston had bid for me. In the end, I spoke to the manager about it and he said, if you want to stay, we're happy for you to stay, but we understand if you want to go to play games more regularly, we respect that.
"At that time, I played up front or on the wing. There was Pires and Ljungberg in the wide areas, and Kanu, Bergkamp, Henry and Wiltord up front. So it was a difficult area of the pitch to break into on a regular basis. But [Wenger] handled all those situations very practically.
"In the end, I didn't go to Preston, I ended up going to Coventry at the end of the season. Coventry had financial difficulties in terms of paying transfer fees at that point in time. I know Preston had offered a few hundred grand four months before in January and I wanted to go to Coventry and they didn't have the money to pay the fee.
"And Liam Brady allowed me to go on a free transfer, which was incredible when you think of it. They looked after my welfare instead of the business end of the club, and that says a lot for the people at Arsenal, for Arsene Wenger, Liam Brady and guys like David Dein in the background, who are businessmen, but at the same time want to look after the players' interests first and foremost."
In addition to scoring two goals in six appearances at senior level with Ireland, Barrett went on to enjoy a decent career in the lower leagues, playing for Coventry, Falkirk, St Johnstone and Shamrock Rovers, in addition to further loan stints at Sheffield Wednesday and Livingston, before retiring in 2010 amid persistent injury problems.
Now 36, Barrett works as an agent with Platinum One, and has some interesting views on player development, penning an articulate and thought-provoking Irish Times article on Irish football's future in 2016.
Though it will be exactly 15 years next month since his Arsenal career came to an end, Barrett says Wenger's influence on him remains to this day.
I think he's influenced everyone he's worked with. And if someone's gone into coaching or dealing with young players, anyone that's worked with him for sure will have taken an awful lot from what he did and applied it themselves.
"I would coach U9s and I've done that for around two years now as a hobby, but I do it quite extensively, so they train four or five times a week.
"I'm not there all the time, but people who work with me are there when I'm not there. The sort of programme they're in in terms of the technical stuff and the way we speak to them and encourage them is largely to do with the influence guys like Arsene Wenger had on me as a player.
"Brian Kerr, Don Howe, Liam Brady, you do take these things and pick them up subconsciously. You might not realise it at the time, but generally, you hold on to things that you respect and admire, then you apply them in later life yourself, so I expect I'm probably one of maybe 500 players that have applied things they've learnt at Arsenal under Arsene Wenger."
The42 is on Instagram! Tap the button below on your phone to follow us!