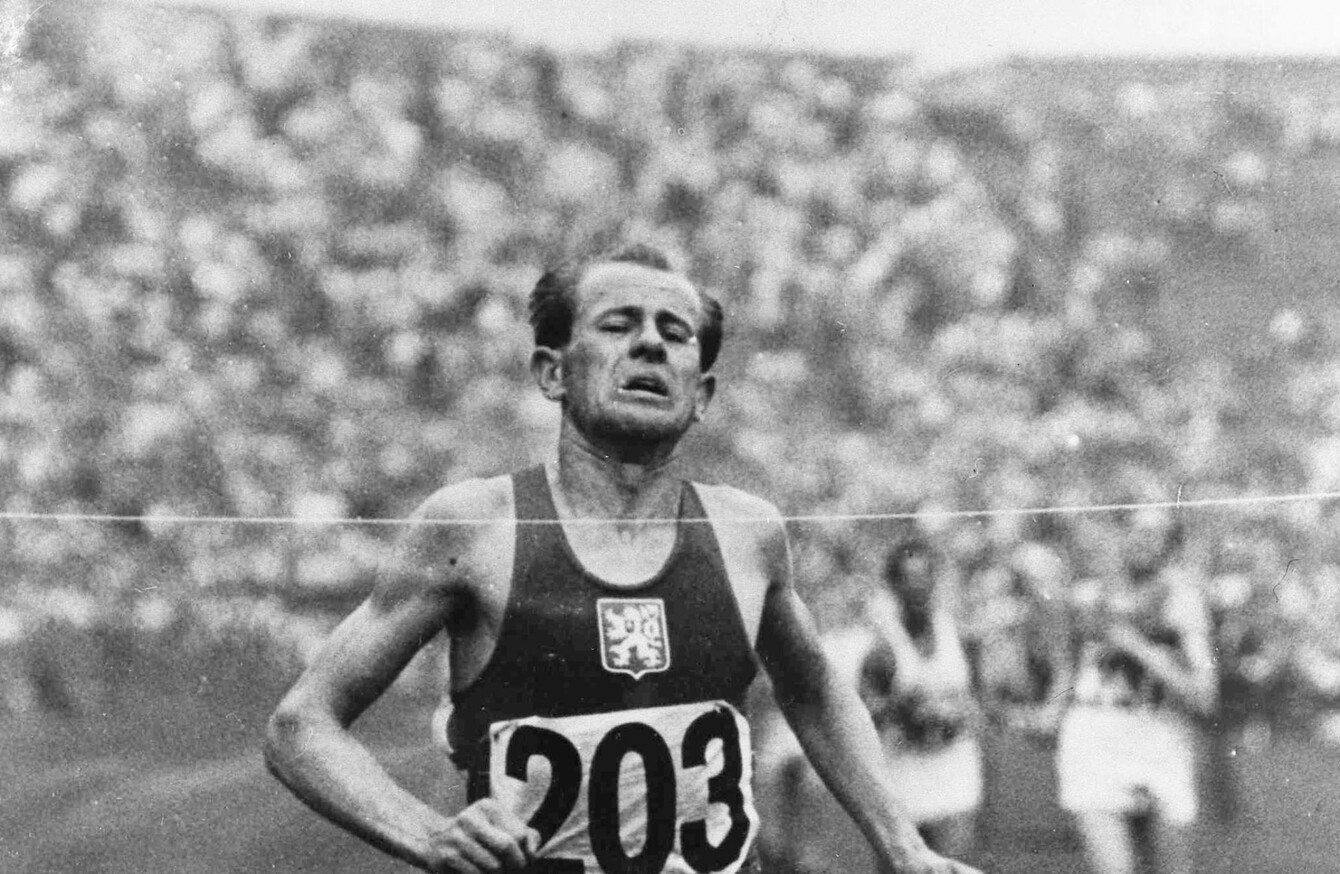 In this July 30, 1948, file photo, Czechoslovakia's Emil Zatopek breaks the tape to win the men's 10,000-meter Olympic Games race at Wembley Stadium, London.
Image:
AP
/Press Association Images
In this July 30, 1948, file photo, Czechoslovakia's Emil Zatopek breaks the tape to win the men's 10,000-meter Olympic Games race at Wembley Stadium, London.
Image:
AP
/Press Association Images
Updated at 18.07
THE OLYMPIC GAMES has created countless legends, but few can compare to Emil Zatopek.
The legendary Czechoslovak long-distance runner was the sixth child in an impoverished family. Zatopek's talent for running was discovered at the age of 16, when he came second out of a field of 100 in a race organised by his superiors at the shoe factory in which he worked.
Zatopek decided to take up running seriously as a result of this fateful moment, and within four years, he would break the Czechoslovak records for 2,000, 3,000 and 5,000 metres (he would set 18 world records in total during his career).
In addition to joining the army, the Kopřivnice-born athlete began representing his country during international events and his star soon skyrocketed, as Zatopek won gold (10,000m) and silver (5,000m) medals at the 1948 Olympics in London, before claiming an unprecedented three gold medals in the Helsinki Games four years later. In addition to gold in the 5,000m and 10,000m events in 1952, he also won his third medal in the marathon, the first marathon he had ever competed in, which he had only decided to participate in at the last minute.
The first athlete to run the 10,000m in under 29 minutes (he would also go unbeaten in this event for six years), in 2013, Runner's World named Zatopek the greatest runner of all time.
Zatopek also revolutionised the types of training expected of a long-distance athlete, while his prodigious speed earned him the nickname the 'Czech Locomotive'.
After suffering from persistent injuries and failing in his bid to win more medals at the 1956 Olympics, the athletics icon reluctantly retired from running competitively in 1957.
And while his career in sport was over, Zatopek himself remained a high-profile and influential figure in Czechoslovak life in the subsequent years after he had hung up his running shoes.
A new biography, Today We Die A Little: The Rise and Fall of Emil Zatopek by the British journalist and acclaimed author Richard Askwith, looks not only at the athletic achievements of the fabled star but also the various political controversies in which he became embroiled both throughout the course of, and in particular, after his career as a high-level sportsman had ended.
During the 1968 Prague Spring, when Soviet tanks intervened to crush Czechoslovakia's new freedoms, Zatopek was heavily punished for his part in the failed revolution. Having been a hero to Czechoslovakians everywhere and one of the most famous athletes on the planet, he suddenly descended into obscurity and was forced to spend years away from his wife, devoting himself instead to arduous and humiliating manual labour tasks.
Amid much change in the country, however, Zatopek was eventually rehabilitated by new president Václav Havel in 1990, and could finally return to a life of relative peace and stability. The iconic Olympian died 10 years later in Prague on 22 November 2000 aged 78 following complications from a stroke.
The42 recently caught up with Askwith to chat about the long-distance legend.
How did you come to write this book?
I admired Zatopek for as long as I can remember even as a teenager back in the '70s. I was reading about people wondering what had happened to him after the Prague Spring. I became a runner and got keen on running in my 20s. It was then that I started to think of him as an inspiration — I'm sure millions of runners did.
And even though we didn't know much about him, everyone sort of had a vague idea about him — he used to run in his army boots and was always cheerful and never deterred by hardship or bad weather or anything like that. He did these amazing training sessions.
So I always thought of him as a role model or a patron saint of running almost. I never really got round to writing about him until a publisher friend asked me if I knew of anyone who might write a book of his and I said: 'Well actually, I could.'
I was slightly worried that it would be too difficult, because it was so long ago and most of the research would have to be done in the Czech Republic and I didn't speak Czech, so it was quite daunting and I was a bit doubtful at first but then I couldn't stop.
Once you delved into the research, what surprised you about Zatopek that you didn't know before undertaking the project? Was there anything that reversed your initial preconceptions about him?
He turned out to be a much more complex figure than I thought within the popular perception. The superman figure who runs his first marathon and wins an Olympic gold medal and who chats to his rivals in the middle of races. He comes out of hospital and the next day he's winning gold at the European Championships.
But what I found from talking to people who knew him was that he was actually a vulnerable human being and who was under enormous pressure from various quarters. Not just pressure to win his races, because he was living under a very difficult communist dictatorship, and when he became a winner, he was going to keep on winning or he was going to be in trouble because his fatherland depended on him.
Off the track he was under pressure to perform propaganda duties and conform with the ideology and I've known all along that he was very heroic with the Prague Spring when the Soviets invaded to crush 'socialism with a human face' as it was called in 1968. He was out in the street and ironically, they were calling for the Russians to be banned from the Olympics, just as they are today.
I then discovered that he was facing that challenge right the way through his adult life really. Sometimes he was heroic, standing up to the party, and sometimes he wasn't. By the time I'd finished the biography, I was aware of a much more flawed and vulnerable figure than I had (perceived him to be initially).
The other thing I wasn't expecting so much was just what a kind person he was. Wherever I went and whatever ages I was talking to, anyone who ever had contact with him were all saying he was so kind, he always had time for me. He always had time for people no matter how unimportant they seemed.
There was tale after tale of him just doing unnecessarily generous things. 50 years ago (to the exact day this interview took place), he gave away one of his Olympic medals to (the legendary Australian athlete who famously never won an Olympic gold) Ron Clarke.
He was always inviting strangers into his house. Dana, his widow, who is still alive and told me vast amounts about his life, she was saying that he was at one point inviting strangers into his house so regularly that she had to put a ban on it. At the local campsite, when it was full up, they were just re-directing people to Zatopek's house and he would always take them in.
His fellow athletes would all say that 'he shared his training tips, he encouraged us'. He was just held in so much affection that, from that point of view, the reality is more wonderful than the myth.
You write about how after his death, critics honed in on the more negative aspects of his life — his ostensible reluctance to take a stand on the controversy surrounding Milada Horáková, the Czech politician executed by Communists on charges of conspiracy and treason, the rumours that he may have been working for the government as an agent at one point and other contentious issues that don't portray him in a positive light.
Does this problematic side to him diminish his legacy and is he still viewed in a largely positive fashion in the Czech Republic with the exception of a few naysayers?
I think what you say is correct. His general reputation took a big hammering after 1968. He had been this amazing national hero. Every Czech, every child at school was taught about him. He was always appearing everywhere. He was sort of the idol of the nation.
After 1968, when he opposed the Soviet invasion, the hardline communists said he betrayed them.
Then he spent these years as an itinerant labourer. He wasn't allowed to work in Prague, he was just living in a caravan, hundreds of miles away from his wife having a miserable time.
Eventually, he sort of caved in to party pressure and made a couple of very public climbdowns. I think he was probably manipulated into those, but he sort of blotted his copybook with the dissident movement. So, in the last years of communism, he wasn't a heroic dissident. He was just trying to keep his head down and stay out of trouble.
He wasn't allowed to be talked about much in those decades between 1968 and 1989. Those who did know about him or talk about him didn't admire him as much as they used to, so his general reputation did suffer.
Since then, he hasn't quite recovered (reputation-wise) in the Czech Republic, except that now, literally in the last year, the Czechs are suddenly trying to reclaim him.
After his death, his brother said he travelled all over the world and he was welcomed everywhere he went, but in his own land, he was an outcast.
Sometimes a nation turns on its hero. Now, this year, the Czech Republic are actually finally reclaiming him. He had friends on the Olympic committee but the old Czech sporting establishment probably didn't approve of him and never quite forgave him even after he'd been officially rehabilitated.
But if you watch Czech athletes coming out in the opening ceremony at the Olympics in Rio, or just around Rio, you'll see they're wearing these little squiggles on various parts of their kit, which are based on Zatopek's autograph. He used to do this little cartoon of himself for people.
They have these strange sculptures and can be put up on brass buildings in Rio, these moving legs which represent Zatopek's legs, because they are shorts with military boots on, because he used to train with military boots.
And Dana has just brought out her memoirs, and they're bringing out a Czech documentary about him. Suddenly, they decided that his country needs to recognise the fact that he's the greatest sporting hero they ever produced and they need to reclaim his reputation.
But until then, I think you're right, there's a slight gap between the private perceptions of him and his public reputation has just diminished a bit.
As you alluded to, there were moments where he had to perform a climbdown and sacrifice his ideals to avoid trouble or at least minimise it. But he was also often very brave, and one moment you focus on in the book is how he almost missed the greatest moment of his career when he won three gold medals at the 1952 Olympics on account of his principles. You go on to explain how there was so much at stake and it was only the fact that he did so incredibly well that prevented him suffering the consequences of his actions.
Well when we say he sometimes climbed down to avoid trouble, the trouble was pretty nasty trouble, compared to what we might think of as trouble — being sent off to concentration camps, working in these horrendous uranium mines. I've been to the uranium mines — and if you got sent to a concentration camp, your life expectancy was 42.
It was pretty brave anyway just to take on the regime at any point, and generally speaking, any sane person wouldn't most of the time. The plane that flew to the Helsinki Olympics was (during the era) when he won his medals in all three distance running events and it was the absolute peak of his career. It was the moment that he just achieved sporting immortality.
The day before his plane is due to take off, he discovers that his friend and teammate Stanislav Jungwirth hadn't been given a ticket. Then they discover that he'd been dropped because his father was politically dodgy. The party had decided that it wasn't right for him to travel abroad.
And Emil was so furious about this that he said if Stanislas doesn't go, I'm not going either. He just decides to go train by himself in the stadium. There's a huge standoff which goes on for several days and the plane actually takes off without him, which is extraordinary.
It's the greatest athlete the world has ever seen and he's refusing to go to the Olympics. Eventually, the party officials thought: 'If we have to go to the president and say 'I'm sorry Zatopek's not going to be in the Olympics,' then we're going to be in trouble ourselves, so they climbed down and got Zatopek and Jungwirth to fly to Helsinki on a later plane.
According to Emil, because he was in the army, they prepared this punishment for captain Zatopek. So in Helsinki, he knows he needs to win some medals or else he's going to be in big trouble and secondly, he's going to be in double trouble now because of what he's done with Jungwirth.
But somehow, he doesn't let the pressure get to him. A) He's fantastically charming and friendly to everyone throughout the Games and B) He wins these amazing three gold medals. He said after news of his third gold medal, the plan for the exemplary punishment of Captain Zatopek was torn up.
So that was all forgotten, but I suspect that there were people in the party who never quite forgave him. When he was punished after 1968, that built-up resentment, there was a certain amount of vindictiveness in it.
He was clearly affected on a human level by the inevitable pitfalls of age and the fading ability that it causes. Politics had always been in the background of his story while occasionally coming into the foreground, but particularly after his best days as an athlete were over, he became very politically engaged.
It brought him a lot of trouble ultimately, but initially, was the rebellious behaviour such as his strong opposition to the invasion during the Prague Spring something that gave his life a renewed sense of purpose after he retired that he had been searching for for a while?
I'd suspect so. I remember someone once saying the definition of a champion, a real champion, is they can tell the moment you have to seize. A great sporting champion is someone who produces their best performance at the moment that matters the most.
When he heard about the Soviet invasion, he was out on the streets within hours. Some people might have hesitated for a few days and wondered what to do. He just was out there talking to the crowds, talking to the soldiers and talking to the foreign media. He could do all this because he spoke so many foreign languages.
Despite all the risks and the horror of it all, there must also have been a certain thrill. I suspect, like any champion, there was a boredom about retirement and not having that real thrill of what you can really do, and this would have given him an opportunity, briefly, to be heroic again, and I think he took it.
He was heavily punished ultimately, but unlike many protestors and dissidents during that time, he was never jailed or murdered. Did it ever come close to happening during his life?
By the time you get to 1969 (when Zatopek was at his most rebellious), they weren't locking as many people up and they'd closed the concentration camps. Although thousands of people were punished after they crushed 'socialism with a human face' and re-established hardline communism, only a few hundred were actually sent to prison.
For the vast majority who were punished, it was really just harassment and you weren't allowed to get a job or do this or that. Your life was wrecked in more subtle ways, which is basically what happened to him.
If you look in the military records you can see people talking about how steps will have to be taken involving his personal liberty, but I think he certainly expressed fear that he was going to be put in prison for 20 years.
The fear of (being arrested) must have played a part (in his outlook), but generally speaking, the '70s weren't as bad as the '50s in terms of people being virtually killed for their opposition. It was more just you were horribly harassed if you opposed the administration.
Finally, one aspect of Zatopek's era that really comes across in the book is how noble a sport running was back then. Zatopek was thought of as a hero-figure not just by people in Czechoslovakia and other communist countries, but for more or less anyone who watched him.
If you look at athletics today and the various doping scandals it has become mired in, there's such a stark contrast. Moreover, Zatopek was someone who really believed in the idea and the spirit of the Olympic Games. I'd imagine he wouldn't have a very favourable opinion on the competition today, given everything that's happened.
I think he'd be absolutely horrified by what's happening today — the rise in cheating. For every nation, it's win-at-all-costs. It's all about which country comes first in the medals table. There's so much money involved and everything like that.
He famously said that an athlete can't run with money in his pocket, an athlete must run with hope in his heart and dreams in his head. He was a real idealist and a romantic about sport.
He had really warm friendships with people in Australia, America, France, Belgium, Germany and England. He said he wanted to win but not at all costs. For him, sport was primarily a vehicle for friendship and only secondly a route to glory.
He wanted to win and he sacrificed enormous amounts to win, and he could soak up the fun like no one else before or since. Nonetheless, it was about friendship too and in some ways, that was one of the things that inspired me to write the book and why I think it was an important story — because Emil Zatopek understood what the Olympic spirit means and an awful lot of people today have forgotten.
Today We Die a Little: The Rise and Fall of Emil Zátopek, Olympic Legend is published by Yellow Jersey. More info here.
The42 is on Snapchat! Tap the button below on your phone to add!