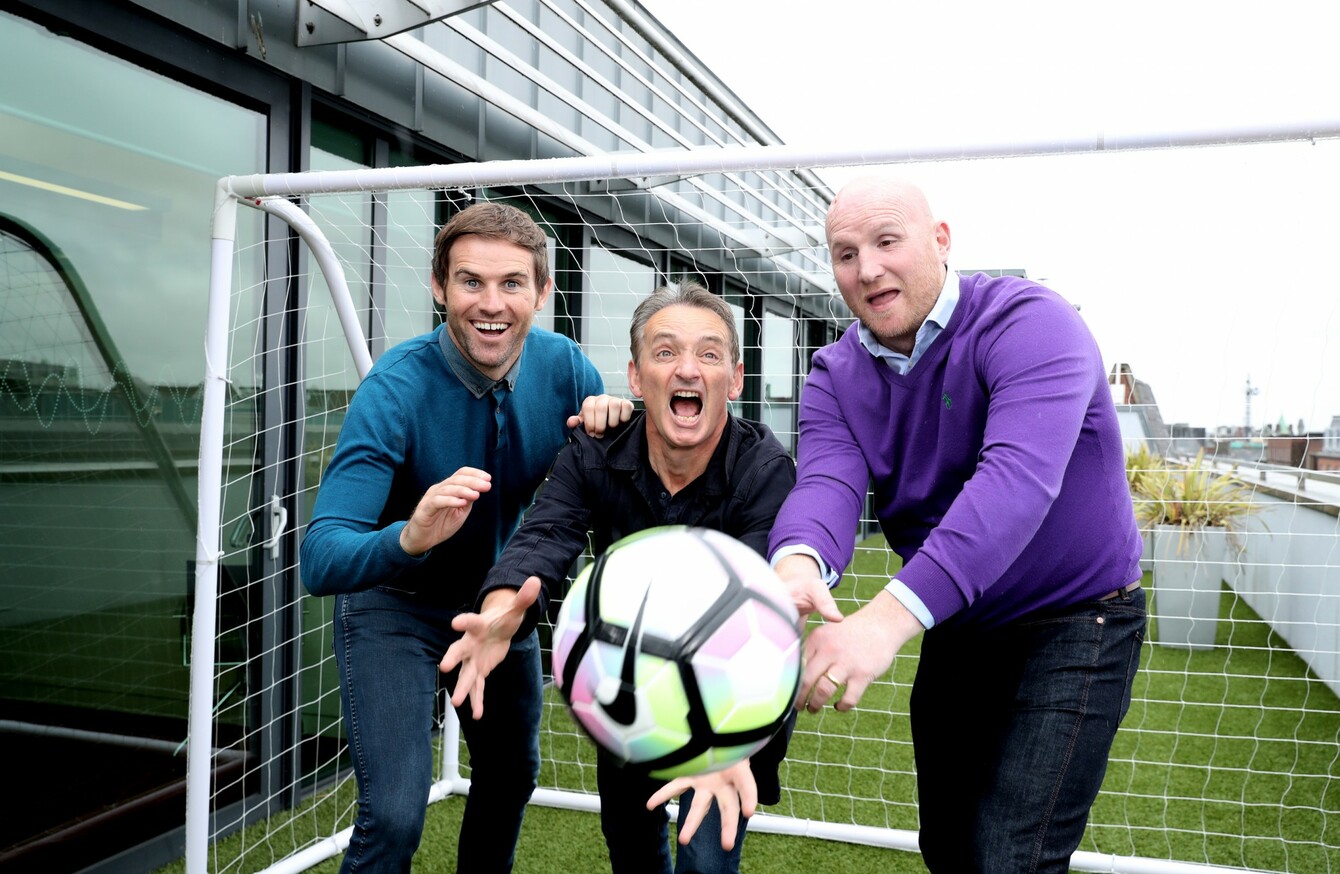 The three pundits were in Dublin yesterday.
Image: MAXWELLS DUBLIN
The three pundits were in Dublin yesterday.
Image: MAXWELLS DUBLIN
ONE TABLE, THREE pundits and three vastly contrasting predictions.
With the Premier League making its return this weekend, John Hartson, Pat Nevin and Kevin Kilbane sat down for half an hour to look ahead to the new season — and it could have been a conversation between any three football fans.
They didn't agree on much but the prevailing opinion was that this top-flight season has the potential to be one of the most intriguing in quite some time.
A host of big-money signings, four of the game's leading managers and, according to the pundits, six genuine title contenders.
Leicester, Mourinho, Pogba, West Ham and a top four prediction were all discussed.
After the year of the underdogs last season, will the top dogs come to the fore again?
John Hartson: "You'd have to think so. Look at Mourinho going to United, Guardiola to City, Conte to Chelsea. Klopp has had half a season with his players. You never know how a season is going to go but they've all added, apart from Arsenal, which is no surprise.
Pat Nevin: "Miaow! (laughs)".
JH: "What Leicester did was absolutely remarkable but I don't think it will ever happen again. I'm excited about this season. Excited to see how United do in terms of their line-up and who they're going to play. Will it be Ibrahimovic and Martial? Will Rooney play alongside Ibra? Will he play in the hole? Man City – Sane,Gundogan, Stones. Put that in there with Aguero, Silva, De Bruyne – I think City have got the strongest group and they've got a wonderful manager in Pep Guardiola. It's a hard one to call if you're going to put your neck on the line. There's five or six teams in it, I think, but maybe City because they've got the players. Yaya Toure is still there and can Raheem Sterling push on – he was poor at the Euros for me. Will Pep Guardiola coach him to become better? There's all these questions to be answered."
PN: "Oddly enough, I think it can happen again, that an unexpected team (can win the league) and I wouldn't be surprised if it was West Ham. I think Bilic is a fantastic coach. Everton are another if they spend well. But it is going to be tough purely because of the managers John mentioned. The coaches are phenomenal and as exciting as any of the players. My thought is that very top echelon of player still doesn't play in the PL in England. So the next group of players below that is a wider group so, in actual fact, you can go and get a certain forward from France – if you're Manchester United you pay 60 million and get Martial and if you're West Ham United you pay 12 million and get Payet. Who's best? A question mark. So, yes, there is actually a possibility of the other clubs, or at least one club, having a good run every year. Not saying they're going to win it but it's not beyond the bounds of possibility that one of those clubs can sneak into the top four. In fact, I don't actually think there's a top four any more. City, United, Chelsea, Arsenal, Liverpool, Tottenhan – I don't think there is a clear top four and if they all batter the hell out of each other, someone else could sneak in."
Kevin Kilbane: "It will be interesting to see how Leicester respond to what they did last season – the pressure will be on the players and the manager now, to an extent. I don't think they will finish in the top four but a good season for them would be a top six,even a top eight finish. But I'll go with City to win it. I also think Chelsea will do much better this season, Conte will get a lot more out of them. But I think City have strengthened well. I'm intrigued how he's going to get the best out of John Stones. Is he going to make him a better defender? A prime example is Jerome Boateng. He made him this top class defender now. So is John Stones going to kick on to the level everyone expects him to. Untied? I watched them last week in the pre-season against Everton and it was pretty much the same as it was last season. I think you'd be expecting a bit more from a player like Mkhitaryan though Ibrahimovic does make a difference – he gives them a presence and character in the side. But I think City will win it, yeah."
Is Paul Pogba the answer to United's problems — and as good as his price tag suggests?
JH: "When you pay that sort of money for a player you also have to look at the potential for selling him on. You have to look at his age, 23, which is perfect. You get four or five years out of him, win two or three titles and you'll sell him for the same if not more. Because he's not even in his prime yet. In terms of what he does – he does a bit of everything. He can defend, he's a presence in both boxes. Do Utd play him in a more forward role? Or if they play him more defensively, then they can put Rooney in the side as well. Pogba scores goals, he's a winner – at Juventus he's cleaned up in terms of Serie A. And he's the most sought after player in the world. That's what he is. Every manager would sign him if they had the money."
KK: "I think there's a lot of questions to be asked of him. I think he probably could have gone to Real Madrid. I not so sure he'd fit into the Barcelona side, the way they play. But from what I've seen of the big, big games he's played in, Champions League, the semi-finals that Juve have been in, I don't think he's been a dominant figure in those games. I think there's been better players than him. So he can progress, he can get better. I think the money is irrelevant because we've gone to such a level in the PL now that whereas a 30million signing for Man U seven or eight years ago was a marquee signing, United now can blow any team in the world away regarding signings. I hope but I still don't know if he's going to be a top player for United. Is he going to be a Keane or a Scholes?"
PN: "I would add two other names. Keane's a good name. If he's that good he's going to be worth the money. Or if he's going to be a Vieira or a Yaya – he's got to be at that level. And that's easier said than done. Because those guys had an incredible effect on the group they were in."
KK: "He didn't take the big Champions League games by storm, against the Barcas and against the Real Madrids over the last few years; those big games. Would I put him on Bale's level, or Messi's or Ronaldo's? I'd have to say probably not."
JH: "He's at a club where he has got a manager who has spent that amount of money, who believes in him and trusts him, and I just feel he is at a club to shine. He has been given the platform. We will have to wait and see."
KK: "It's good for the Premier League though."
JH: "Every other club would have signed him, but United went for him. Pep Guardiola would have liked him. For me he is at a great age and I think he has got everything; powerful, he is six-foot-four, he can head it and get forward, he has really good feet."
PN: "Are his numbers good – goals scored and created? Not as great as a hell of a lot of guys out there. That's part of being a midfielder, which goes back to the discussion we had before, which is where he is going to play. What system are they going to play? For me the most interesting thing this season is the tactics that the new coaches will use. It's fascinating this season because we have had years of 4-2-3-1 coming out of our ears. Is he going to be a number 6 or 8? It may not be like that under Jose."
JH: "I think he is going to take it by storm. He is going to absolutely cruise it. He is going to come in, he'll have Carrick or Schneiderlin alongside him, he'll have Rashford running in behind to hit, he'll have Martial willing to run beyond the defenders, he'll have the likes of Ibrahimovic coming short, Rooney going and taking it off him, Mkhitaryan; he's the perfect fit for what United have and I think he will take the Premier League by storm. He is what they needed.
"It's not just him – it's the other signings they have brought in. Ibrahimovic will take pressure off him. He'll slip into the team. I just think when a big-money signing arrives at the club, if he is joining other big signings, then he can fit in slightly easier, because he is not the only one everyone is talking about. What system will Mourinho play? Ibrahimovic is a big question mark – he is 34. He has started his United career brilliantly already. He is a presence. If you get legs in around him, then he won't have to do that much. If you play Pogba in a deeper role, that allows Rooney to play more forward in behind, because he will do his work for him."
The super gaffers — does Mourinho have a point to prove after last season?
PN: "Mourinho has done it with Porto, with a Chelsea team he had to build. Pep is fantastic and I adore him and I adore his football more than I adore Mourinho's. But Pep took over that Barca side. Where were Bayern when he took over? This is his biggest challenge by a million miles and I adore him for it. It's a test for Mourinho but I would disagree with the lads in that I would probably slightly edge towards United this season, purely due to the Mourinho knowledge of the Premier League. He knows how to win things ugly. And how good is he in his first year, wherever he goes? Now whether players keep buying into that for a second or third year has always been a question. But it won't be a question this year."
JH: "I'm not sure Man United will even finish in the top-three. Yes they have added new players and Pogba for me is a great signing, but in terms of the way they were playing last season, dreadful, awful football to watch, the Mourinho factor, yes, that will add to it. They have Baily at the back, Shaw who is back fit, Mkhitaryan who is a really good player; it's about how quick they all bed in. The fans there are looking for massive improvement from the team and I'm not so sure. I certainly wouldn't put them as title contenders. They've an awful lot of do."
KK: "I think they have got to be considered title contenders. You are looking at four or five teams realistically."
JH: "I think Liverpool will get better under Klopp. I fancy them for a top-four finish this season. Arsenal, I think they need to go into the window. I know they are after Lacazette and defensively I think Gabriel is okay. There was a bit of panic over him in terms of the first game against Liverpool at the weekend. Defensively he might have gone for Chambers and the new lad who has signed from Bolton. But Gabriel is fit. Chelsea will be stronger. Conte, very impressive CV. So I'm not so sure about Manchester United. I'm positive about Pogba, but I don't think United will get near the top."
Can anyone emulate Leicester's exploits?
PN: "West Ham."
KK: "It's a good shout, I suppose. I'm expecting Stoke to be better again this season. We had a lot of expectations for them last season with the signings they made and they had an initial impact and they had that inconsistency throughout the season. I think Stoke could be a dark horse, again I don't think they could be top four but top six/eight."
JH: "West Ham have just signed Ayew and Andy Carroll was magnificent against Juventus last week. He was just so powerful and he's played every pre-season game and that just tells you that Bilic is going to play him and a certain way. They kept Payet, massive for them, Reid and Ogbonna, two strong defenders, a good goalkeeper in Adrian and a new stadium. They've got good players, Valencia, Noble had the season of his life. I agree with Pat if one can push into the top four possibly. West Ham have Europa League again this season."
PN: "But they've got a lot more players now. Those attacking midfielders just behind the striker, they've got six or seven really good players there. Payet is brilliant and another thing is the manager, I think he's different class."
And, who will finish in the top four?
JH: "Manchester City, I would say Arsenal, Man United and Liverpool. I would say Chelsea will just miss out but again it's a prediction. I'd rather be someone who gives a prediction rather than someone who react. We're pundits, we're meant to give opinions, that is what sells papers. That is my prediction. City, Arsenal, Man United and Liverpool."
PN: "I prefer honesty. And the honest answer is I don't know, I don't know and I would be a liar to say and I won't ever know."
JH: "Pat, you're not meant to know – it's a prediction."
PN: "You can't know what a prediction is before you have all the facts."
JH: "It's half a guess."
KK: "Come on Pat, give us a prediction. I think Chelsea will finish top four."
PN: "If Chelsea don't sign anyone, I don't think they'll finish in the top four but if they sign a left back and a centre back and get Zouma back I think they'll be challenging for the title. I think Man United will probably win it because of the Mourinho effect."
JH: "A minute ago you just said Chelsea won't finish in the top four and now you're saying they can win the title!"
PN: "I'll try it again, this is what it goes like. Right now Chelsea don't finish in the top four but if they sign a left back and a left centre back then they've a chance of winning the title. It's all about Zouma. He's their best player, their best defender by a mile."
JH: "There's seven contenders."
PN: "As we stand right now. United, City just behind, Arsenal."
KK: "United for the title? Bloody hell. I think City, I think City will win. I think the top four will be City, United, Tottenham and Chelsea. I think Chelsea will Conte will have enough in there to come fourth and it will be between United and Tottenham for second. I think this is the season Arsenal miss out on the top four. Unless some signings are made, this will be the season Wenger finally doesn't make the top four."
The42 is on Snapchat! Tap the button below on your phone to add!